An eight-year-old boy is yesterday's kid, full of a thirst for knowledge, dreaming of becoming an adult as soon as possible.
At this age, self-esteem is formed, plans are made for a future profession, idols appear. This is the time for new skills, discoveries, meeting interesting people. It is important for adults to support and develop a variety of hobbies of the child.
We have selected more than a hundred great ideas for what to give a boy of 8 years old for his birthday.
For this long list, we have used ideas from all walks of life for today's children. At the same time, we decided to warn against not the most successful presentations and give some tips on finding a good gift.
TOP 130 ideas What you can give a Boy for 8 years
Here is a wide variety of gift options, if you are tormented by the question of what you can give a boy for 8 years.
Trampoline

 . If a child spends the summer in the country, this simulator-attraction will be very useful to him. The trampoline distracts from the tablet, trains the vestibular apparatus and coordination of movements. Choose a safe option – sports equipment, fenced with a net.

Air hockey

 .

Beyblade set

 . This is a modern top – a toy of their cartoon of the same name. The multi-player set includes several powerful spinning tops and an arena with launchers. Brings up a competitive spirit in a child: the one whose beyblade has scrolled longer than others wins the game.

Boxing set:

 bag on the rack and a pair of gloves. A convenient collapsible projectile can be taken on trips, it takes up little space in the room. Gives many hours of training without leaving home, and pleasant leisure.

Nerf blaster

 with foam suction cups. Although the blaster shoots up to 20 meters, soft bullets are safe.

Unusual alarm. 

If your child is difficult to wake up, present an interesting and very useful thing – a non-standard alarm clock. As an original gift, you can choose models that take off or run away, an alarm clock with puzzle folding, a product with the functions of a ball or a grenade.

Swedish wall

 . If there is a place for a simulator in the apartment, be sure to buy it as a gift for your son. Wall exercises improve posture, pump up different muscle groups. Daily exercise on the simulator, your child will become strong and dexterous.

Mini-game Football

 .

Set for drawing on the water

 .

Rope track with cars

 . The set includes tension cables, a cable track, various obstacles: waves, bars and springboards. Small cars drive upside down on two wheels and perform real miracles on the road. Your son can independently model the track and control the trajectory.

Children's nunchaku

 . Present for fans of Japanese martial arts: judo, karate, jiu-jitsu, aikido, taekwondo. The nunchucks are made of lightweight material, so they will not cause injury.

Transforming robot aircraft

 . Instant transformation: in just a couple of actions, the robot turns into a plane, and vice versa.

Finger trainer

 . These include: a finger bike (fingerbike) and a mini-skate (fingerboard). It's amazing how many fun tricks kids come up with when they play with these little toys. During these classes, fine motor skills, dexterity, perseverance develop. Complement the gift with a special springboard or a whole finger park for more spectacular workouts.

Board game

 . The choice is varied: Mafia with masks, Jenga, Crocodile, Imaginarium, Scrabble, Evolution, Sea battle, Scrabble, Sudoku, Monopoly, Cucaracha, etc. These games have long been classics. Choose based on the character and hobbies of the child. Perhaps you want to develop some qualities in your baby? In a fun way, this is much easier to do. But, most importantly, the gift should be of interest to your young relative.

Magnetic maze

 . An exciting game is to move the ball from one point to another. You can come up with different variations of the game: for example, sort the same-color balls.

Instant camera. Snapshots are very interesting!

Cannon for sweet tooth. Players are waiting for a whole cannon of whipped cream! This game is a real explosion of emotions! The main thing is to stock up on cream: for gamblers, the more rands, the better!

Jumper boots or pogo sticks – jumping stilts "a la grasshopper".

home planetarium. You can't think of a better gift for an 8-year-old godson!

Board game for training diction and articulation. The player must pronounce the phrase from the card he got, but the task is complicated by special mouthpieces. Players must guess the phrase, which is quite difficult! Entertainment gives a lot of fun and positive emotions.

Magician's set.

Frameless furniture. An unusual soft ball chair with the emblem of your favorite football team or a pear chair of the original color with the image of superheroes will be very liked by the birthday boy.

Playmobil. The collections are different: pirates and ships, knights and a large knight's castle, a sphinx with a desert, cowboys and the wild West, a police station and helicopters, a fire suitcase…

Repeating hamster.

Magformers with remote control. The multifunctional set is an excellent addition to the collection of a young inventor. The magnetic construction kit consists of unique details – arches, rectangles, sectors. The assembled structure is set in motion by controlled wheelsets and a remote control. The toy develops logic and imagination.

Constructor-stuck. A good way to keep yourself busy while traveling.

Gear constructor. This is a platform with a gear, under which a mechanical rotational element is hidden. A carousel park is assembled from the elements. The assembled toy is battery operated.

Glowing car track. All elements are easy to assemble and disassemble, and the race track can be bent in any direction by 360 degrees. The car and the track glow with blue and red diodes. When the lights are off, real miracles begin! What to give a child for 8 years to a boy so that his joy is immeasurable? Of course, the autotrack! This is the coolest present ever!

Children's periscope. A toy in the form of a funny shark or dinosaur will make your child feel like a real detective! If you are thinking about what to give your child's friend, pay attention to the periscope.

Font map with scratch layer or scratch globe. A wonderful gift for learning geography.

Robot constructor on a solar battery. For a child who is passionate about modeling. The assembled robot will be able to move on land and water. It does not require conventional batteries – it receives energy from the sun. For assembly, designs of two levels of complexity are offered.
Simple models include: a dog, a beetle, a turtle, a walking robot, a quadrobot on four legs, a robot on wheels.
For more complex ones – a robot car, a crab, a tumbler, a zombie, a crawling robot, a surfer or a rower. Thanks to such a variety of options, the designer will not get tired of your child for a long time.
An additional surprise is a transparent case through which you can observe the work of bright gears.
Inflatable pool.

Swimming vest.

Inflatable water gate or basketball hoop.

Suspended swing-cocoon, swing-nest, swing on chains.

Skateboard.

Roller Skates.

Badminton.

Bike.

Set of protection against bruises: for wrists, knees, elbows. Or protection for shoes, thanks to which you can safely ride a bike and not be afraid for new sneakers.

Protective helmet.

Skates.

Sledges, ice rink, inflatable sledges, tubing cheesecake. Something from this range is sure to please the "winter" birthday man. Another option is ice shorts. It is so convenient to ride downhill without any equipment!

Snow scooter.

Snowblaster.

Snowflake. A simple design will last more than one winter. The device resembles large tongs with round tips. You need to pick up snow with tips, press the snowcap, and get an even ball. From snowballs you can build fortresses or arrange a fight.

Tank battle on radio control. This is a set of two tanks with infrared indicators.
Two players can have a real battle! Toy fighting vehicles overcome obstacles, shoot with infrared rays, and the sensor catches the damage signal. The fight is accompanied by sound effects, incredible fun.
Thanks to an interesting game, the child develops thinking and the ability for tactics and strategy.
Lego constructor based on the star saga. With a set of many elements, intergalactic equipment is assembled, unusual plots are created.

Toy blaster with soft rubber cartridges. Such weapons do not leave bruises even during the most exciting battle. The blaster is suitable for playing with a friend, or in a large company. Trains agility, endurance, physical strength, teaches teamwork.

Electronic game Tetris.

Interactive globe. The device is designed to expand the knowledge of the child about the world around us and the political structure of our planet.
The model of the globe shows the location of the continents, talks about the relief, climate, states and their capitals, historical facts, population, flora and fauna.
The globe has sound and light effects, an augmented reality option for observing realistic holography. The product is equipped with a special coating that reacts to the touch of a touch pen.
Unusual lamp. A night light imitating the starry sky. Lamps in the form of various objects: a soccer ball, a robot, a funny animal, a ship, a rocket, a hero from your favorite movie. Transformer lamp, three-dimensional puzzle lamp, plasma ball.

Tracker watch.

Interactive beetle. Able to transform, jump and fly. A wonderful flying beetle is an exciting activity and a great mood!

Interactive spy robot. It responds to commands with sound and glow, can quickly perform up to 50 actions: move its arms, walk back and forth, ride, turn, dance, reproduce speech. The toy has a built-in memory, records conversations, turning into a spy device.

Radio-controlled toy: quadcopter, car, robot boxer, helicopter with a gyroscope, airplane, jet, boat, SUV tank.

Electronic lightsaber. With this sword, the son will become the hero of large-scale space adventures.

Water gun.

Metal rifle. A realistic model of a gun with exquisite carvings will delight any child who is fascinated by the romance of westerns and chases. Perfect for playing law enforcement and daring bandits.

Bow with arrows on suction cups.

Marble karambit. Wooden knife with a rounded blade "tiger claw" from the popular game is painted with an iridescent gradient and stylized as marble. Durable and safe. It is also interesting in that it needs to be held with a reverse grip.

Glowing map of the starry sky.

Electromechanical machine gun with sight and illumination. Realistic "shot", light effects and vibration when shooting.

Mechanical ratchet. The weapon has realistic black coloring with green camouflage patterns. The built-in ratchet is activated when the trigger is pulled and creates a noisy atmosphere of game firefights.

Blaster crossbow. The compact miracle weapon is distinguished by its range and rate of fire. The kit includes lightweight polyurethane arrows with rubberized tips, which provide projectiles with high aerodynamics.

"Tornado" in the bank.

Shield with magnetic mounts. The child will feel like a brave savior of the world, for example, Captain America.

Slingshot with balls on a blister.

Pistol with laser, flashlight and bullets.

Projection shooting gallery 3D with blasters. Lovers of shooters and active games will like it.

Giant soap bubbles.

Backpack. Roomy, comfortable and unusual: with a print of your favorite hero, camouflage.

Illuminated sneakers.

Ceramic or plastic piggy bank in the form of a Stormtrooper helmet or Darth Vader.

Set with trap plates and a ball.

Baseball bat, ball, glove.

Cross-country or downhill skiing.

Clothing, accessories for judo or karate.

Tent or sleeping bag.

Compass.

Portable solar battery.

Children's netbook. The computer was created specifically for children of primary school age. It has a swivel touchscreen, tablet capabilities and adult netbook specs.

Boomerang.

Magnetic darts.

Ball pump.

A set of young electronics. If the son began to be interested in electronics, do not hesitate – buy this set! This is a great base for a beginner. Using a kit (a soldering iron with solder, a multimeter, wire cutters and parts), you can assemble a real lamp or a programmable voltage level indicator.

Glowing constructor. It will "ignite" your child's imagination! Game constructor for "pipeline" races. You can independently create the most incredible dead loops, tunnels, steep descents, turns and climbs up the walls of the tubes. The car will overcome any proposed route! Great gift for nephew!

Game console.

Unusual piggy bank-vortex. Coins will not boringly fall to the bottom – the piggy bank creates a real money tornado!
Coins are twisted along a helical trajectory, literally hypnotizing those present. The piggy bank will fill up very quickly – because no one will miss the opportunity to watch such an action!
Thanks to the device, the child will understand some of the laws of physics: a falling coin uses centrifugal force, as if defying gravity.
Favorite hero mask: Guy Fawkes, Darth Vader, Ichigo Kurasaki, Jason Voorhees.

Glowing neon mask.

Special forces mask or warming balaclava mask.

Gel pen with disappearing ink. The secret weapon of a real special agent! A good gift for lovers of surprises and mysteries. The inscription lasts only a quarter of an hour. Then the ink gradually brightens and disappears without a trace (after 5-6 hours).

Soaring flying saucer. UFO flies like a real one! All the friends of the birthday boy will be delighted with it! Does not require power sources, floats in the air, due to the balancing of the magnetic and gravitational fields, arouses interest in the knowledge of physical laws.

Glowing nipples. Bicycle wheels will become bright and creative! The price of tuning is very democratic and is completely incomparable with the joy of your child, who will gladly brag to his comrades.

Puzzle of magnetic cubes. You can create sculptures, skyscrapers, cubes and cones – the fantasy is limitless.

Laces with LED lighting. Make your child look creative.

Collectible model of the solar system. The child himself will assemble a mini-planetarium, paint the planets with the necessary colors, and install them on a tripod. The paint is saturated with solar energy and glows in the dark.

The magic ball of decision making. The toy will answer funny and serious questions!

A set of straws for cheerful companies. Plastic tubes and connectors are used to make a long tube, similar to an ornate water pipe, for drinking from several glasses together. Holiday fun guaranteed!

Multi-coloured finger lanterns. A luminous accessory is great to stand out from the crowd and attract everyone's attention.

Kite. For example, in the form of a funny octopus.

Illuminated disk for air football in the apartment.

Basketball on the head. This is a lightweight construction, fixed on the head of one of the participants in the game. The task of other players is to throw the balls into the original basket.

LED flying missiles with launcher. The range of the projectile can reach 100 meters!

Set of a young artist with an easel. The case with accessories easily unfolds and instantly turns into a convenient place of work for the artist. Inside the suitcase there is an insert that transforms it into a comfortable easel.

Burner. A wood burning device will help you create original crafts that you can give to relatives, friends, teachers. The process of creating something new is always so exciting!

3D pen with LCD display. An amazing accessory will introduce you to 3D modeling and printing. With it, you can form various figures right in the air!

1:56 format tank model kit.

Young detective set. Each person has a unique pattern on the fingertips. Now the child will be able not only to learn this fact from books, but also to explore it personally. The toy develops logic, attentiveness and accuracy.

A set for conducting experiments on the generation of electricity. Zinc and copper plates in an aquatic environment (water, pieces of fruit or vegetables) actuate the battery. There will be enough energy to turn on the diode lamp. The kit will prove that the simplest items can become a full-fledged source of electricity. The game develops technical thinking and allows you to conduct interesting home experiments.

Interactive magnetic anti-stress toy. The toy contains many small spheres with a powerful magnetic field. By moving the balls, you can fashion three-dimensional animals and various geometric models. An entertaining item for long trips and travel.

Kinetic ring. This steel band creates the illusion of a magical silver bubble that can be used to perform mesmerizing tricks.

Flexible piano. This is a great alternative to a bulky tool. A mobile device with a full-size keyboard of 49 keys rolls up, you can even take it outdoors and entertain friends. The sound is almost as good as a stationary synthesizer. You can connect headphones to the device and not disturb anyone. Melodies can be recorded. The piano does not require storage space. Pluses – a lot. Your child will be very happy with such a gift!

Radio controlled flip car. The car can move in any direction, has wheels with anti-slip effect and air suspension, instantly responds to commands. What to give to a boy of 8 years old to make the present the best? The flip car is not just the best gift – it's a dream!

Anti-gravity machine with remote control. Able to ride on walls and ceilings.
What is her secret? Built-in turbines suck in air, creating a vacuum, and a flexible suspension maintains this vacuum, so the machine is easily supported by weight.
The toy has two driving modes: normal, and for vertical movement. She will never bore a child! This original gift can give a whole extravaganza of positive emotions!
Electronic LCD tablet for drawing.

Submarine on radio control. Swims across the bath in different directions in a few seconds, sinks to the bottom, emerges. Watching a toy will cause a lot of vivid emotions in a child.

Radio-controlled helicopter. It flies high and far, has light effects.

Crystal growing kit.

Aqua farm or aquarium.

inductive machine. It's just magic – the car goes along the drawn path! And it's all about the magic marker!

Children's LED projector. The compact device will help with teaching foreign languages ​​and mathematics, watching videos and listening to music. Connects to any device.

Robotic droid. Cool toy for a Star Wars fan.

A kit for creating harmless washable tattoos.

Radio-controlled robot transformer. With the push of a button, it easily transforms into a racing car.

Robot tank with remote control. He knows how to shoot bullets on suction cups and go where the owner tells him to. The game is accompanied by sound and light effects.

Wood burning kit.

Glowing sticks in a tube.

Inflatable lamzak sofa.
Original gifts for a boy for 8 years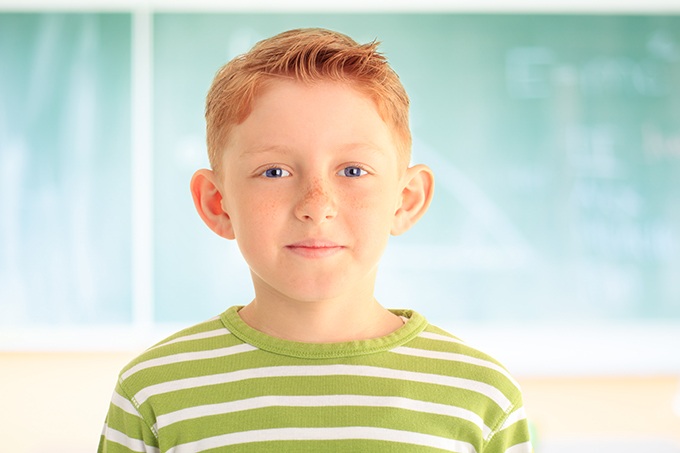 A great option is a present in the form of a lamp with a photograph of the birthday man. At the age of 8-10, the child's personal formation takes place, it is important for him to feel his uniqueness. "Egocentric" souvenirs with their own image raise self-esteem.
Children love to stand out from their peers with extraordinary accessories. These are laces or illuminated watches, a hat with a "beard", socks "a la Kashchei" with the image of bones on a black background, indoor tank slippers, a funny travel pillow hat in the form of an ostrich.
The birthday boy will definitely like unusual things: powder for a colored fire, a "terrible" werewolf mask, multi-colored smoke, a set for painting with light.
"Treasure Hunt"
A great way to present a gift to a child for an 8th birthday from young relatives is to search for a "treasure". The guys can give their brother an "ancient" map with a difficult route: with obstacles, puzzles, tests. The task is complicated by tasks to decipher secret inscriptions or physical exercises.
The "treasure" will be a nice souvenir: a keychain, a jar with an electronic firefly, an anti-stress ball, dumbbells or a package of sweets.
Impressions for a lifetime
A holiday in a cheerful company – what could be more exciting for boys? Invite your son and his friends to visit a water park, a dolphinarium, play paintball, go hiking or have a picnic.
An exciting adventure for a little birthday boy will be a horse ride with a master class. Having received riding skills, the child will feel like a real knight.
You can organize a fun theme party: a pirate holiday or an exciting quest with an obstacle course. In order not to tire the young birthday boy, choose children's quest rooms.
Your imagination can only be limited by the possibilities of the place where you live.
What to give with your own hands to a boy for 8 years
An unusual "author's" present or an original way of presenting will really please the birthday man.
Sweet "tech"

Here are the options for "assembling" original gifts from sweets to a classmate . The little guy will love it!
Creative chair-ottoman from … the chamber
To make an unusual chair for your brother, you will need a car camera, several skeins of braid or thick knitting yarn, scissors and a pillow.
Inflate the chamber with a compressor or pump.

Tape the camera. First, securely tie the ribbon into a knot and wrap evenly, leaving no gaps. We advise you to start with the nipple of the camera and move to the left.

When the skein ends, turn the camera over, tie a knot, cut off the ends and hide it under the braid.

Take a new skein and tie it to the braid, disguising the knot. Make all knots at the bottom of the base so that they are not visible.

Continue wrapping until the entire chamber is wrapped.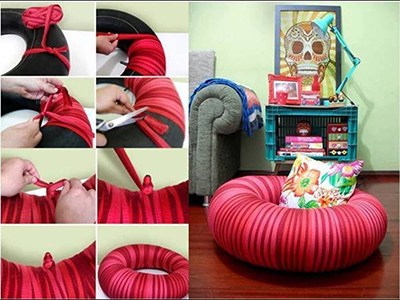 The pouf is ready. Place a pillow inside for a soft seat. Convenient and cool!
Tips on how best to choose a gift for a boy for 8 years
What to give a boy for 8 years so that the gift brings real joy? Many eight-year-old boys are restless mischief-makers. They are in constant motion, jumping, running and playing. And this is normal, because activity is an indicator of a child's development.
Direct the seething energy in the right direction. A good sports equipment will be appreciated by every boy. If your son is passionate about football, give him a portable goal or a real soccer ball. With a professional projectile in his yard, he will become a real hero.
Sports equipment will appeal to children who dream of improving their reaction speed, becoming strong, agile and hardy, like their idols. It's quite simple to find out what the birthday person "fans" from. Pay attention to the posters in his room – they will be a good clue.
An excellent gift would be a set for modeling airplanes or sailboats. A self-assembled copy of a real ship is a great reason for pride, motivation for further study of technical sciences.
A good option is devices aimed at intellectual development and interest in understanding the world around us. These are sets for physical and chemical experiments, biological and archaeological research, a microscope, a globe, a telescope.
If the kid is interested in creativity, he will like sets for drawing, burning, a set of carving knives or a jigsaw for sawing. Such activities contribute to perseverance, develop a sense of beauty, and give the boy manual skills. Many children of this age are fond of modeling, so a set of polymer clay can be a great gift.
A wonderful present for a boy of 8 years old will be a colorful edition with illustrations on the favorite theme of the hero of the occasion:
historical essays or legends about knights;

a book about sports (for example, the history and achievements of your favorite football team).

a collection of schemes for creative modeling;

a book that reveals the secrets of tricks and practical jokes.
Always an appropriate gift – an encyclopedia. Topics should meet the child's hobbies: wildlife, dinosaurs, aircraft, cars, military equipment, history, geography, shipbuilding.
Older people are not so well versed in children's hobbies. That is why grandparents can give money to their grandson in a beautiful envelope. Children at this age are already aware of the value of money. They will be able to properly dispose of the gift and buy themselves what they want most. Or put it in a piggy bank in order to turn larger desires into reality over time.
What is better not to give a boy for 8 years
If adults take their birthdays calmly, for kids this is the event of the year. A bad gift can ruin a child's mood for a long time.
Do not give children clothes and shoes. Firstly, you may not guess with the size or model, but the main thing is that you will absolutely not impress the child. The exception is cool accessories or stylish studded sneakers, like an idol.
The birthday boy will not appreciate stationery, hygiene products, bedding, a blanket (unless it is decorated with images of your favorite heroes of strategic games). Soft toys like cats and bears delight kids, but older boys are no longer interested.
And do not forget: even the most delicious cake needs to be backed up with a gift.
Conclusion
For a child, his birthday is a very important event, a real holiday. Your son is waiting for surprises and fulfillment of desires. We hope we helped you find a bright gift that will surely please the hero of the occasion. Give children joy!