Finding a good gift for your sister for the New Year is not at all difficult – just gather your thoughts and connect your imagination.
In the article you will find the best ideas for what to give your sister for the New Year. You will also learn how to properly make a gift to a loved one, and what things you definitely should not give. All this will help you make this New Year's Eve unforgettable.
TOP 77 ideas What you can give your Sister for the New Year
List of the best gifts for a sister for the New Year, if she is not so small anymore:
A warm bathrobe that will keep your sister warm on cold winter evenings.

Soft pajamas or kigurumi (pajamas in the form of a funny animal).

Poncho or large plaid with sleeves.

Warm wool blanket.

Mittens in the form of animals.

A picture in which the sister is depicted as a Snow Maiden.

Beautiful earrings with Christmas trees or Christmas balls.

Instant camera.

Sweatshirt with deer or snowflake designs.

A thermal mug with a bright New Year's image or a photo of a sister.

Set of sweet Christmas toys.

Sweater for a mug.

A bottle of my sister's favorite perfume.

A panel or photo holder with your joint pictures.

Terry or woolen socks with a New Year's image.

A set of spa products for taking a bath.

Hand cream that will protect the skin in the cold season.

A set of nail polishes, as well as stickers in the form of snowflakes, Christmas trees and other festive attributes.

Delicious gingerbread fortune cookies in a gift box.

New Year's bouquet of sweets and other sweets.

Spices for making mulled wine.

Huge chocolate egg.

A set of exclusive tea or coffee.

A gingerbread house is a delicious gift that can be used to decorate a festive table.

Set for self-growing spruce.

Panel with Swarovski crystals, which depicts the symbol of the coming year.

Inflatable sled.

A set of singing champagne glasses.

Balls with luminous garlands inside.

Luminous table for interior decoration.

A set for making chocolate or cheese fondue.

Skates with a set of protection (elbow pads, knee pads and a helmet).

Handmade soap in the form of Christmas trees, with pine needles aromas.

Bath bomb set.

Washable map of the world, where you can mark the places where your sister has visited or plans to visit.

Jewelry box.

Funny carnival glasses and a big hat.

Dream Catcher.

Chocolate figurine of Santa Claus, Snow Maiden or snowman.

Decorated spice jar.

Florarium – a composition of plants, for example, Christmas tree branches and other decorative elements.

A large ball with a photo of a sister to decorate the Christmas tree.

Magic ball or pendulum for divination.

Mirror with built-in lighting.

Beautiful carved candlestick.

Christmas vase made from a bottle or jar.

Home planetarium or night light projector of the starry sky.

A set of souvenir Christmas candles.

Tray on soft cushion.

Large and soft headphones.

Orenburg downy shawl.

Aroma lamp with a set of oils with forest aromas.

Wall key holder for the house, decorated with spruce branches.

Humidifier or air ionizer with pine aroma.

Exotic fruits in a hatbox.

Organizer for cosmetics.

Transparent snowball.

A small artificial Christmas tree decorated with a garland.

Warmer toy.

Luminous decorative pillows.

Smart alarm clock with nature sounds and star projection.

Snowflake kitchen potholders.

Evening bag or clutch, which are perfect for celebrating the New Year.

Mat for yoga, gymnastics or other sports.

Sky lantern for making a wish on New Year's Eve.

Music box playing New Year's melodies.

LED LED-garland.

Board game for two or a large company.

Digital photo frame.

Juicer for maintaining health and well-being in the winter cold.

Shaker for preparing various cocktails.

A device for making popcorn, cotton candy or ice cream.

Electronic butterfly in the bank.

Wall or desk calendar for next year.

Big basket with tangerines.

Travel set – neck pillow, eye mask.

Molds for creating New Year's cookies with deer or snowflakes.
What to give the Little Sister for the New Year
The little sister should give the best gift. Usually, little girls believe in magic and Santa Claus, who comes on the eve of the New Year and gives gifts to all obedient children.
Support this magical mood with something special. Ideas for what to give your little sister for the New Year:
Set for creating herringbone toys. If the girl is still small, most likely she likes to make something with her own hands. With the help of this set, the little sister will be able to take part in creating a magical festive atmosphere and make a beautiful toy that will find its place on the Christmas tree.
Soft toy in the form of a symbol of the coming year. Children simply adore soft toys, especially if they are donated by loved ones and close people. Buy your sister a cute soft toy from yourself or say that Santa Claus gave it to her. The girl will be satisfied and happy.
Large coloring on the New Year theme. A girl who is interested in drawing can be presented with a series of coloring pages with various fairy tales. The main characters of such coloring pages can be Santa Claus, Snow Maiden, snowmen and others.
New Year Gift Ideas for Big Sister
An older sister is a role model, as well as a person who will always support and understand.
That is why it is worth paying attention and giving one of the most dear people a special gift.
You can give your beloved older sister:
Luminous photo-light. A floor lamp, a small volumetric cube or a figured lamp. A funny thing that will please the eye and remind your older sister of you and your care. You can also personalize the gift by inserting your shared or family photo into it.
Brush for facial cleansing and spa massage. In winter, more than ever, the skin needs care. Such a gift will allow the sister to professionally clean her face, as well as properly moisturize it.
The device replaces cleaning in the salon – with its help, you can save money on beauty, carrying out all the necessary procedures at home.
Jam from spruce cones. Great alternative to honey. In the old days, such jam was used as a tonic, anti-inflammatory and immunostimulating agent.
It will come in handy for your beloved sister if she is often sick or just loves different unusual tastes.
Original gifts for Sister for the New Year
Many people prefer classic New Year gifts – bright balls for the Christmas tree, garlands, sweets in a bag.
However, if you want to diversify the holiday and give an unusual and original thing, pay attention to the following ideas:
Poinsettia. A flower also called "Christmas Star". This plant starts flowering in December, and lasts four to six months. If your sister likes unusual flowers, be sure to give her a poinsettia – her beauty will save her from frost and bad mood.
Wish card. With the help of such a tablet, the sister will prioritize, organize her time and make plans for the next year.
You can make a wish visualization card with your own hands, or you can buy it – plastic options are usually sold with bright stickers in the kit. The sister will hang the card over the desktop, and her wishes and dreams will begin to come true faster.
Heated slippers. Inside the sole of such slippers there is a special heating element that will not allow the legs to freeze even in the most severe cold.
You can give a model with batteries, USB charging and even slippers with the possibility of heating in the microwave. They are comfortable to work at the computer, play games and even do household chores.
Tips and tricks: how best to choose a gift for your sister for the New Year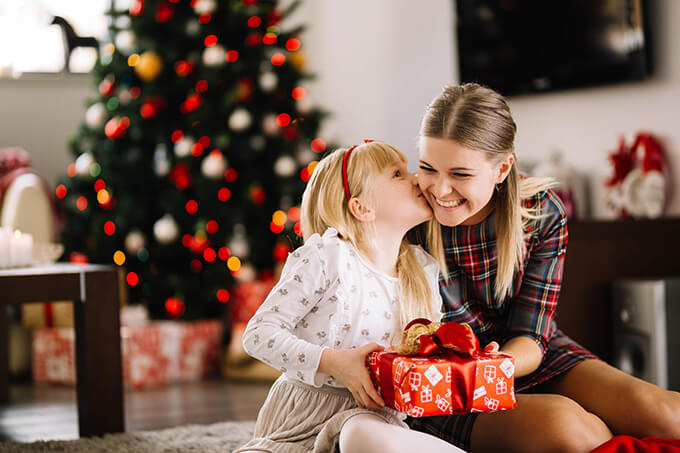 Choosing a gift is not at all difficult – you can buy the first trinket that comes across, but it will not bring proper joy and surprise.
To make this New Year not only the most magical, but also the most memorable holiday, follow the following recommendations and tips:
If the sister is an adult, it is enough to put a gift under the tree. If you are making a surprise for your little sister, arrange a real performance – a mini-quest around the house in search of a present, prepare a letter of congratulations from Santa Claus, or think of something else. For young children, the New Year is a special, magical holiday.
When choosing a gift, rely not only on a huge assortment, but also on the tastes of your sister. Not all girls like to decorate the Christmas tree and create a New Year's mood – in this case, you can give something practical.
Don't forget to decorate your surprise. Properly chosen packaging will create a magical New Year's mood and keep the intrigue – opening such a present will be much more interesting.
If you are afraid of not guessing right with a gift, call your sister for a joint shopping – there you can pick up something interesting together, or find out what thing the girl has been dreaming about for a long time, and you can buy it later.
If you do not know what to give your sister for the New Year, think about what thing she wants to have, but cannot buy.
Perhaps your sister hasn't had a good phone case for a long time, or she needs a new hair dryer, but she couldn't get it on her own? In this case, you can give your sister the missing item.
What is better not to give your sister for the New Year
Not all gifts are suitable for giving to their beloved sister for the New Year.
Some may offend your loved one, others simply will not be useful to her and will be abandoned to the far shelf.
The following presents are definitely not worth giving:
Money. 

Money is a bad option for what to give your sister for the New Year. Exceptions are situations where a close relative is in dire need of financial assistance. In other situations, it is better to turn on the fantasy and give something more practical or cute.

Useless souvenir. 

New Year is the time when it is customary to give beautiful souvenirs and memorabilia. However, do not get carried away and purchase, for example, ordinary and banal fridge magnets. Even a souvenir can bring some benefit.

Clothing and footwear. 

Even if you know your sister's size well, you can easily be mistaken with her tastes, especially if you choose a gift for a teenager – their interests and desires change almost daily.

Poor quality and cheap cosmetics. 

You should not buy cheap fakes of popular brands, it is better to purchase goods from an unknown but good company. Otherwise, the sister will have to change or throw away the gift, because low-quality items usually do not last long.

A gift that points out flaws. 

Even if you have a good relationship, you should not give a gift with a hint – the book "How to lose weight in a week", scales, dumbbells or a certificate for visiting a sports club. You must be completely sure that your sister will be delighted with such a gift.

Theater or concert tickets. 

On New Year's holidays, people have a lot of plans and troubles, and there is a possibility that your sister will not be able to go to the performance you presented. If you're buying this kind of thing, make sure the tickets are open dated.
Conclusion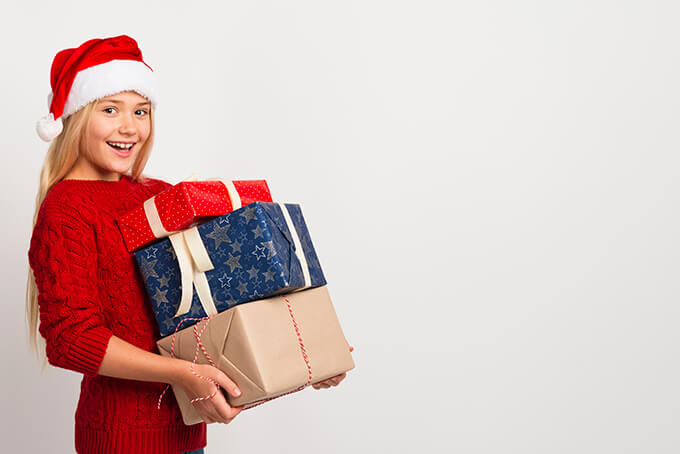 A gift to your sister for the New Year should be special, because this is one of the most dear and dear people in your life.
If you love your younger or older sister, listen to her words and take into account interests, it will not be difficult for you to choose the most interesting and really desired gift.