It is customary to come to a solemn event in honor of the marriage with gifts for a reason. They helped and continue to help a young family to start a new life, to equip their life and live in abundance.
If you are invited to a wedding, it would be impolite to come without an offering. Even an inexpensive wedding gift will delight people close to you if it is made with love and care for them.
Surely the bride and groom are aware of your modest financial capabilities, if you are studying, have just started working, or are older relatives.
Choosing original and inexpensive wedding gifts is one of the most extraordinary decisions that every person is capable of. To do this, you should connect all the resources: your own imagination, talents, the wish list of the newlyweds, advice from friends, relatives of the bride and groom.
When you were invited to a wedding, but you cannot come, you still need to make a gift to the young. It can be handed over personally or by courier service on the eve of the holiday.
TOP 74 ideas What can be presented for a wedding inexpensively
Rugs with lighting in the bedroom.

Picnic set for two persons.

Kissing bell.

Travel map.

Message in a bottle.

Nozzle on the crane with illumination.

A pair of terry bathrobes.

Desktop biofireplace for romantic evenings.

Double duvet – bamboo or camel.

Coconut doormat.

A set of floor mats for the hallway or bathroom.

Porcelain pair of swans or doves, symbolizing the strength and fidelity of a married couple.

Plaid with sleeves for two.

Kettle. Transparent models made of glass or plastic look especially interesting.

A cookbook with recipes from different countries and peoples, so that the bride would please her husband with dishes. And to the spouse – a book on home repair.

Electric clothes dryer.

Gift box of honey with edible gold for food and massage.

Mobile room air conditioner.

A board game with a romantic theme.

Aromatic floating candles with massage oil.

Toaster for delicious breakfasts.

A small rug in the form of an animal skin for the bedroom.

Wall key holder.

Collapsible portrait nesting doll of a family.

Nice dishes in sets: plates, tureens, glasses.

Copper Turk for coffee.

Checkbook of desires.

Family piggy bank.

A set of clay pots for baking.

Freezer.

Cappuccinatore.

Gingerbread, cupcakes and other sweets made in a wedding style.

Air ionizer.

French press complete with fragrant teas.

Decorative pillows in the form of hearts.

Compass of love.

Pair of slippers for home.

Umbrella for two in the shape of a heart.

Cooling jug for drinks.

Cetraria tree – will purify the air and fill the room with the aroma of the sea and forest.

A wish book in which each guest writes wishes to the young.

Chocolate making set. So that joint evenings are not only interesting, but also delicious.

Kerosene lamp for warm evenings.

Desktop weather station.

Yoghurt maker.

Bag chair.

A pair of pendants in the form of halves of a heart. One part – to the groom, the other – to the bride.

Cotton hares-lovebirds in wedding dresses.

A small gift box with exotic fruits or berries.

Pair pajamas.

The original tray, for example, made of wood, glass.

Fryer.

Souvenir key "For happiness".

Bonsai tree as a symbol of a strong family.

A box with sweets-wishes for the newlyweds.

Engraved shoehorn.

Large bath towel with hearts or an embroidered monogram.

A plaster set that allows you to make a cast of two hands.

Plush bedspread for the bedroom.

Glowing glasses.

A set of colored smoke is a pyrotechnic product for a colorful photo shoot.

Box for home spa treatments for two.

Wedding lock with a commemorative monogram.

Small hookah.

A barrel of honey for a sweet and rich life.

Candlestick in the shape of swans, complete with scented candles.

Paired aprons.

Desktop air purifier.

Sun loungers.

Weather vane if young people live in a private house.

Pillowcases with the inscriptions "Husband" and "Wife".

Pair of soft pillows filled with down, feather or bamboo.

Decorative plate with the image of the newlyweds and the date of the wedding.

Bell – wind music for well-being in the house.
Original and inexpensive wedding gifts
If you want to make original wedding gifts for newlyweds, they can be purchased inexpensively.
Here are some options for such surprises:
Soap lamp . A symbolic representation of light and pure love.
Culinary and carpenter's hammer . Tied with a ribbon, these little things will remind young spouses that each of them will forge happiness in their own way, but already next to their loved one.
Bucket for champagne . Let every new day be a holiday for the family.
Aquarium with goldfish . Let magical helpers help to forge happiness for a new unit of society.
Pud of salt . It is not necessary to buy 16 kg of salt, but you can give a small bag to the newlyweds. According to folklore, this is how much salt you need to eat together in order to get to know each other well.
Whatever your gift, remember that it should bring positive emotions to the bride and groom.
This will make the day of creating their common family unforgettable for them.
If the newlyweds begin their family life in their nest, then all the interior items will be a universal and appropriate gift. For example, one of these:
A fruit tree is  a warm, sincere, exotic, and, most importantly, an original wedding gift. A houseplant will delight a couple for more than one year, creating comfort and uplifting mood in the house.
So, for a home mini-garden, young people can be presented with: tangerine, coffee tree, dwarf pomegranate, indoor cherry and even pineapple. The cost of small copies does not exceed 1000.
Himalayan salt bar for frying, grilling. Inexpensive, but worthy gift for young people. When heated, salt releases trace elements that are very useful for humans.
In addition, products cooked on such a tile acquire a unique taste and at the same time retain a greater amount of minerals and vitamins.
Palo Santo sticks  are made from a woody plant native to Peru. Where it is considered a "holy tree".
When the bars are set on fire, the guaiac oil contained in them releases a very pleasant aroma – subtle notes of rose, citrus and smoke. This fragrance blend relieves tension and acts as an aphrodisiac.
Eco-friendly home textiles.  At first glance, it may seem that there is nothing interesting in such a gift, but thanks to the natural materials from which such textiles are made, it is able to fill the house with comfort and harmony.
So, you can donate: a set of bed linen made of cotton or nettle, a linen tablecloth, kitchen / bath towels made of bamboo, which is durable and wear-resistant. Plenty of options to fit any budget.
Pillow for two. The bedroom, maybe any, but when it becomes the bosom of lovers, it takes on a special atmosphere.
Give a couple pillow for lovers with unusual, romantic or even funny images.
Anticlock. Cool clock with a reverse stroke has a bright design. The most popular models for a couple are "what's the difference" watches, Kama Sutra anti-watches (where instead of numbers there are erotic illustrations).
No wonder they say that happy hours are not observed.
A selection of inexpensive equipment for newlyweds
Below is a list of inexpensive, but at the same time functional, modern and very useful equipment that will definitely come in handy for a young family.
The marinator is  one of the most popular devices in the kitchen of many families. When young people try to marinate meat, fish or vegetables with a marinator, they will no longer be able to refuse it.
Only 9 minutes and the product will be completely marinated and ready for cooking.
Sandwich maker –  will allow a couple to have a quick and tasty breakfast in the morning. The device is easy to use, so even a child can handle it. The cost does not exceed 1 thousand.
Blender –  will be a good gift if the young are expecting a baby. And just a handy item for hostesses who like to cook all kinds of dishes.
A multi-baker is a  modern inexpensive device and a welcome present for a young family – a newly-made wife will be able to pamper her husband with delicious dishes and pastries.
The multifunctional appliance combines the functions of grilling, frying and baking and allows you to cook, for example, donuts or cookies in 10 to 15 minutes.
A popcorn maker  is a cool gift for a young family. The couple will be able to enjoy fresh popcorn in just a few minutes.
The device is great for parties, watching movies, or any other entertainment.
Inexpensive wedding gifts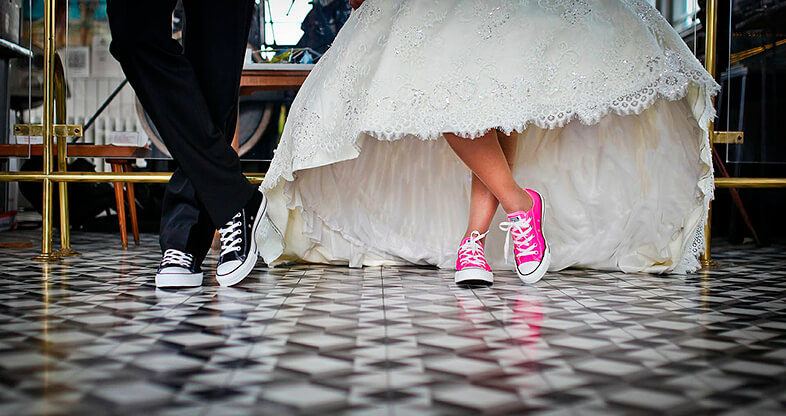 Are you looking for something unusual, and, most importantly, budgetary, to give to the newlyweds for the wedding, then what exactly will not be on the list of presents? Then this collection is for you:
Wine set  – includes a couple of glasses and a bottle of good rose wine. Such a symbolic gift for marriage, young people will be able to open a wedding anniversary, for example, in 5 years.
Such a set can be purchased ready-made or assembled independently in a gift box or wooden pencil case.
Mailbox . Yes, yes, a rather unexpected, but pleasant kind of gift – on which "Husband and wife and surname" can be signed.
You can make such a surprise yourself if you take a standard box and decorate it as you wish. It will be relevant if the couple lives in a private house.
Another modern novelty is a  luminous photo . This picture (any, at your discretion) is printed on special paper with a luminescent coating, which accumulates the energy of sunlight during the daytime and then begins to glow in the dark. The cost depends on the size of the photo and the type of frame-design (from 1 thousand).
Flexible wall heater with photo. For example, a snapshot, from a wedding or a romantic image. This is a gift of a new generation, giving warmth.
Such gifts will bring to the house not only warmth, but also aesthetic pleasure, without harming the interior.
The film heater in the form of a beautiful picture is absolutely safe and easy to use. One of the main advantages is the ability to choose a picture for any interior.
Aroma alarm clock  is an unusual idea of ​​what to give for a wedding. It is a cube with a connector for an aroma capsule. For young people it will be enough to insert a capsule and the morning rise will be easy and pleasant.
Each capsule contains odor molecules (chocolate, freshly brewed coffee, vanilla, etc.), which, under the influence of warm air, heat up and spread throughout the room.
Symbolic and funny wedding gifts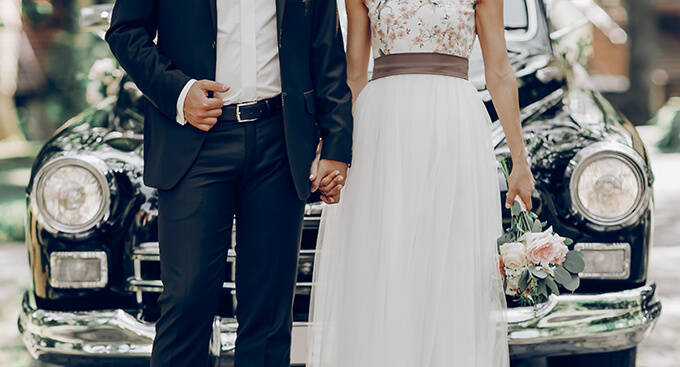 Do not want to be banal, surprise young you and give them a good mood in a gift? Then to help you a few options for cool gifts for young people:
A light bulb and soap 

 is a cheerful set as a symbol of pure and bright love.

Boxing gloves

  to resolve differences and seek compromise.
A quest game for newlyweds for a whole year is  a way to remind yourself as many as 52 times after the celebration. The author's program "Magic Jar" is a  bank in a stylish tube  and 52 entertainments invented by you for a couple for the whole year.
Family look clothes. With such a gift, young people during their honeymoon will stand out in the crowd and receive a lot of admiring glances from others.
It can be t-shirts or sweatshirts with something in common or just the same pattern.
The mug is a chameleon,  with a cool inscription appearing. The main feature of such a mug is a special thermal coating, thanks to which, as soon as hot liquid is poured into the mug, a picture, photograph or inscription magically begins to appear.
Such a mug can be purchased with a ready-made image or ordered with any one of your choice, for example, with a wedding date or a photo of the newlyweds.
Inexpensive, but memorable wedding gifts
A wedding is a lifetime memory, so memorable surprises don't have to be boring, even if they're inexpensive. We offer the following ideas to help you:
A picnic gift set  is a wonderful gift not only for lovers of comfortable outdoor recreation, but also for a couple who likes to have a barbecue for friends in their country house.
Poster "Where it all began"  – looks like a fragment of the map, which marked the place of the first meeting and the couple's monogram.
The cost of such an original gift does not exceed 600 rubles.
Turkish oriental coffee set . The top gift in the category is budget wedding gifts.
The gift set allows you to cook fragrant coffee on the sand, prepared in this way, it turns out to be more tasty and aromatic. The set has everything you need: a brazier, cezve, coffee spoons, sand.
The Plant a Tree set is  a great option if you're low on cash. Everyone knows that it is imperative to build a house, plant a tree and raise a son … Of course, you won't help with a house and a baby, but with a tree it's easy.
The kit contains everything you need to complete one of the tasks for a young family. Over time, the couple will be able to transplant the tree into the garden or near their home.
Inexpensive romantic surprises for the wedding
A romantic gift for two is a wonderful opportunity to give them joy and bring them even closer.
Set for mulled wine. The most inexpensive good gift for a wedding, and it is also a truly romantic drink. The aroma of spicy spices and delicious grape wine will give a warm and cozy atmosphere and mood. This set is available in both alcoholic and non-alcoholic formats.
Inexhaustible Led – a candle , as a symbol of bright, warm and ardent love. Candles, twilight, wine – it's very beautiful and romantic. Safe, inexpensive, looks like a real one, blows like a normal one – and all this is a led candle.
Jar "100 reasons why I love you."  If you have not yet figured out what to give inexpensively for a wedding, then such a gift will be the perfect solution to this issue.
Such a romantic surprise will cost quite cheaply, but it will give a lot of warm emotions. The set comes with 100 notes that the couple will need to fill out based on their feelings and emotions. From such a gift, the newlyweds will definitely be delighted!
The love meter  is a glass flask with a highly sensitive liquid inside. A device that will calculate the slightest changes in feelings and emotions. The gift will definitely cause a smile and delight the newlyweds.
Gift  spoons for a couple  are a great wedding gift for lovers. On one spoon the word "Together", on the other the word "Forever". Both spoons on a satin pillow in a wooden case.
One of the best gifts will be the one thanks to which the newlyweds will be able to spend time together.
It can be a photo session or  a set for two "Love  as  art".  With such a gift, their bodies, in tandem with safe organic dyes, will be able to create an amazing masterpiece on canvas. With which the couple can decorate their nest.
Universal Gifts for the Wedding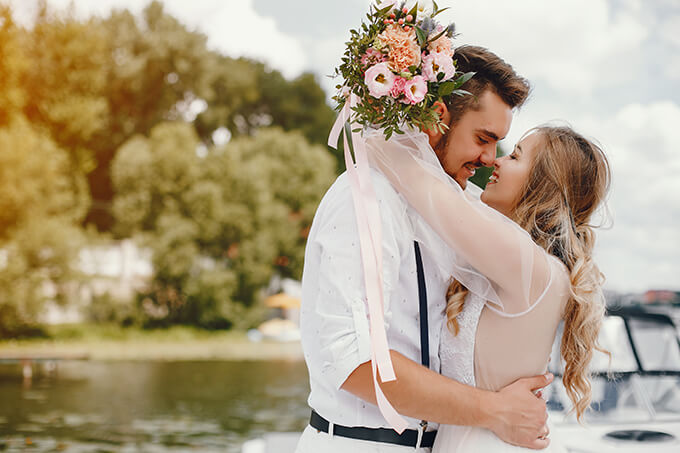 Look for inexpensive wedding gifts – choose edible gift options and you won't go wrong!
Various unusual bouquets, fashionable wedding flower arrangements, original sweets and much more will attract the attention of guests, and, most importantly, will bring pleasure to the young.
Champagne in wedding design is a  win-win option to congratulate friends or a colleague at the wedding symbolically.
And if you get creative and decorate a bottle of sparkling wine with your own hands or with the help of a design studio, then it will definitely become a decoration of the festive table.
You can complement the surprise  with luminous champagne glasses. Such a present will become an incredible decoration during the wedding, and such a glass will make any drink unusual and interesting.
Gift baskets  are a fashionable novelty this year.
Firstly, the basket itself is already an interesting gift that will always come in handy at home.

Secondly, such a gift looks creative and expensive.

Thirdly, any person will be curious to delve into such a box and examine its contents.
There are a million filling options. You can collect, having any budget, for example:
For a romantic evening (honey candles, a board game for two, a bottle of wine, etc.).

Sweet basket (macaroons, gingerbread with natural honey, berries and fruits in chocolate, candied fruits, etc.).

Wedding composition of flowers with a small porcelain figurine, for example, in the form of newlyweds, hearts, etc.
The composition of macaroons and flowers  is a beautiful and spectacular surprise that will impress any couple. The set consists of a mix of fresh flowers and fragrant French cookies.
Gift set for sushi –  a gift for lovers of Japanese cuisine. If you know that young people love this cuisine, feel free to give this gift. It can be a set for making rolls and sushi or a set for serving them, with a dish and gravy boats.
Box with desserts for adults (jams and sweets with alcohol). An unusual present that will surely stand out from the rest of the presents.
Such sweets are modern sweets with unusual flavors and combinations, such as fruit jam with champagne or mojitos.
Bound tea and tea pair is  a real Chinese tea in the form of a ball with a very pleasant citrus aroma and sweet-fruity taste.
The peculiarity lies in the fact that in the process of brewing a nondescript ball turns into a bright flower that opens like a real bud towards the morning rays of the sun. It looks very impressive and is quite inexpensive.
A couple more interesting ideas for what to give for a wedding inexpensively
Choosing an inexpensive wedding gift for newlyweds is not an easy task, but it can be solved.
To solve it, show perseverance and a creative look at familiar things.
Barrel of honey . When you've run out of gift ideas, remember the tradition of giving honey to your wedding. The first three months for the spouses were also called because they were obliged to eat a barrel of honey together during this period in order to be happy.
Rescue bracelet Jusenda . Worn on the hand, a small accessory can turn into a balloon. Even those who do not know how to swim will not drown with it. Newlyweds on the waves of family life are the same newcomers. To prevent their family boat from sinking, present them with a couple of these symbolic gizmos.
Ball of fate . When it is difficult to make a common decision, this funny magical assistant will help the newlyweds.
Scale cleaning brush . The price of this item for cleaning kitchen appliances is low. Buy a package of such brushes so that the young couple will have enough for a long time.
Breakfast table in bed . Having a snack or drinking coffee under a common blanket is so romantic! The newlyweds will appreciate the portable table at its true worth and will definitely remember more than once who gave it!
Inexpensive DIY wedding gifts
The above ranking of inexpensive offerings proves one simple thing. Budget options for gifts for a wedding celebration exist.
If for some reason they did not fit your idea of ​​a good surprise, create inexpensive wedding gifts with your own hands.
Coffee table.

Cork rug.

Original lamp.

Painting from fabric or other materials.

Warm blanket.

Bag chair.

Baskets made of knitted yarn.

Wall hanger.

Housekeeper.

Towel holders.
Charm doll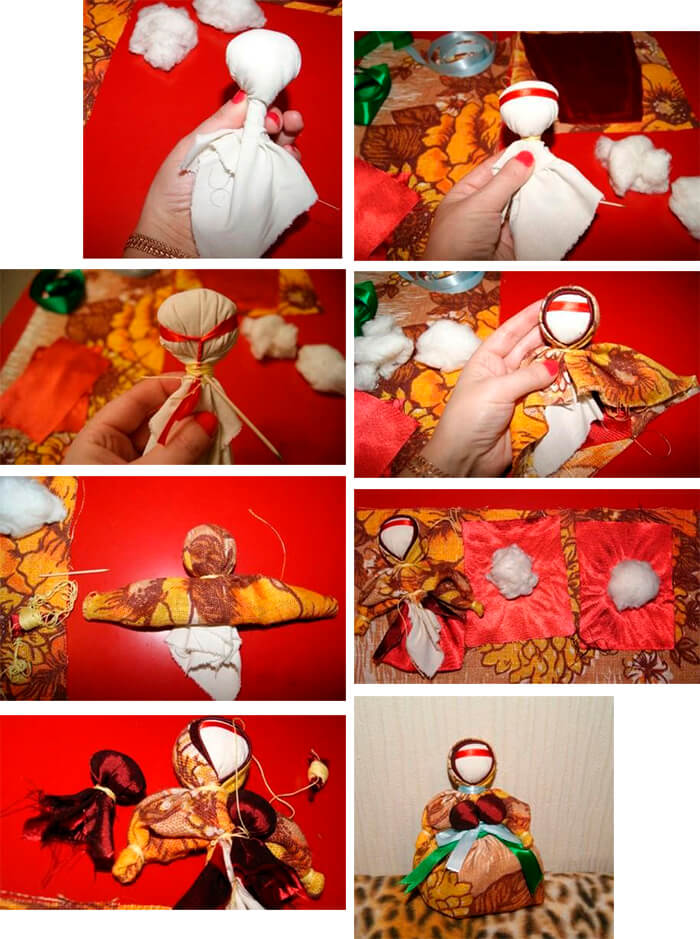 For work you will need:
cotton fabric about 20 * 20 cm – several cuts;

satin ribbon or braid;

filler;

threads;

scissors.
Working process:
Form the head of the future doll from light fabric. For this, stuffing the part with cotton wool or other filler is suitable.

Insert a twist of fabric and stuffing into the neck area.

Straighten the fabric on the head, remove the folds at the back of the head. Decorate your face with ribbon.

Wear several layers of scarves on your head.

From a piece of fabric, make hands in sleeves. Align the edges, fold the excess fabric inward, hide in the middle.

Roll the filler into two balls. Wrap in small pieces of cloth. Sew on the chest.

Fold a rectangular piece of fabric in half and sew to the doll in the waist area.

Hide the raw hem of the skirt inside and hem.

Decorate the doll with ribbons on the belt. The amulet doll for the future family is ready!
round shelf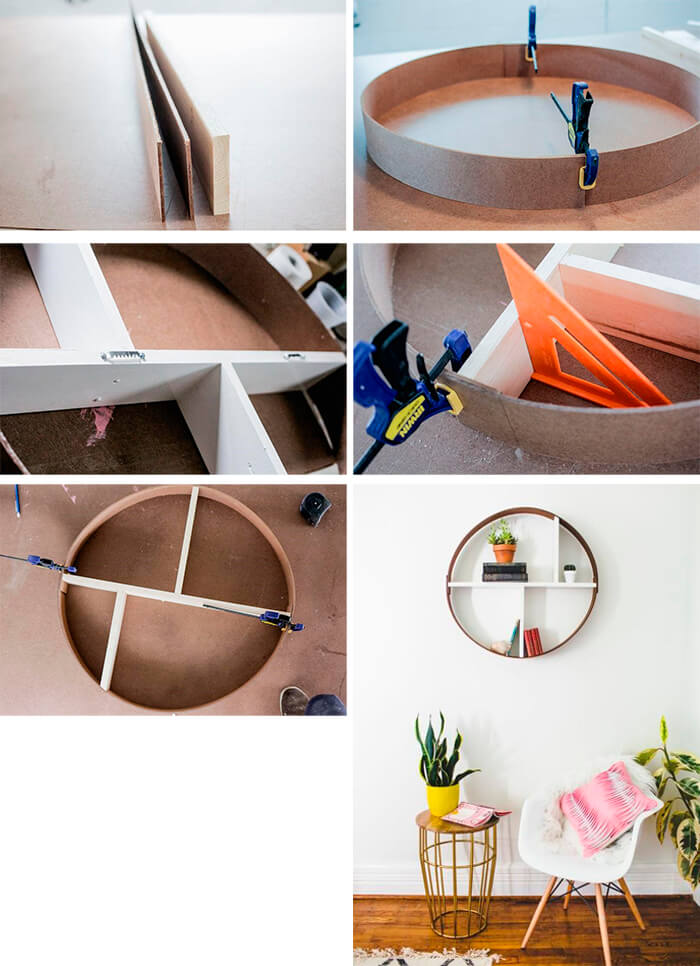 For work you will need:
sheet of thin fiberboard;

board (with a section of about 2.5 * 15 cm);

10 screws;

paint, varnish, polyurethane or varnish;

hacksaw;

square;

drill;

clamp – 2 pcs.;

picture clip with serrated edge (optional).
Working process:
Cut out two pieces of 15 * 120 cm from fiberboard. Cut 71.7 cm from a board 1.5 cm wide for partitions.

Retreat 7.5 cm from each short side of the fiberboard. Bend the strips so that they form a circle. Their edges should overlap each other by 7.5 cm. Fix the edges with clamps.

Gently bend the circumference of the future shelf, correct it. Insert a 71.7 cm long prepared board in the center.

Fit two more blanks of the board to the dimensions for the vertical partitions of the future shelf. Check the perpendicularity of the parts with a square to balance the product.

Fasten the parts with screws.

Paint parts with paint, varnish or other finishing agents.

On the back side, you can add several furniture eyelets for future fastening of the shelf to the wall.
Adviсe
The main question is what to do when there is no money? Don't get upset. Abandon the idea of ​​NOT going to the wedding  due to financial problems. So you will upset the newlyweds, or, it may be perceived as disrespectful to them.
Remember that young people are calling you to a celebration in order to share with you the importance of the moment in the first place. So  buy a gift that you can afford.
You can simplify the choice of a gift –  ask the newlyweds . This will solve all problems. If this is not possible, or you want to make a surprise,  try asking relatives, friends or colleagues.  They might throw in some good ideas or a gift category.
If possible, try to  discuss the proposed gifts with the rest of the guests  so that you don't have a match.
If you want to make an expensive gift, but are experiencing financial difficulties, you can  join forces  with one of the wedding guests.
The gift you choose  should be intended and useful for both the bride and the groom . If you want to please specifically one of the young, take care of a separate surprise.
According to the etiquette, it is customary to give flowers for registration, and the main gift at the banquet.
It is also important to consider  the type of newlyweds:
So, if young people live with their parents, you should immediately abandon household appliances and dishes.

Young people live in their own apartment and have just moved in. Everything is simple here – give everything that can be useful for arranging their nest.

The newlyweds are expecting a baby. Give gifts for health and relaxation, such as an air ionizer or an inexpensive multicooker.

The couple has been living together for a long time. In this case, the search for a gift should be approached more carefully. Give them something they most likely won't buy for themselves, like a large poster with a symbolic image.
Believe  the absence of a check and a price tag , but keep it with you: all of a sudden the thing will need to be exchanged or handed over in case of a breakdown.
Browse the social networks of the young , there you can learn a lot about the hobbies and interests of the couple.
Do not forget that  most of the original and affordable wedding gifts can be found in online stores . Online stores not only offer goods, but also take orders for unique things (engraving, handmade). It is also important that wedding gifts here will cost much less compared to regular outlets.
You can donate money for a modern wedding. If you yourself are limited in funds, you can team up with one of the invited guests and buy a common gift together.

Save the receipts and give the gift to the young people along with it if you have chosen a technique or other item under warranty. Such a gift must be bought 1-2 days before the ceremony, so that the warranty service is maximum in time.

Pack your gift carefully. Choose a light material palette for this.

The gift must be accompanied by a postcard. Your signature will help the young spouses understand that it was you who gave them this or that surprise.
Remember, the main thing is that your  present is chosen in an original and tasteful way, neatly decorated  and presented with love and warm wishes.
What is better not to give for a wedding
When choosing surprises for newlyweds, it is important to remember those items that are not customary to give for a wedding celebration.
We present a short list of offerings that can darken the mood of the bride and groom.
Mirror

 . In many world cultures, this thing is presented as a kind of door between the worlds. In order not to accidentally let evil forces into the new life of a young married couple, refuse such an offering. Even if you yourself are not superstitious newlyweds, a mirror is a rather fragile thing, and may not "live" intact until the end of the feast.

Knives and souvenir weapons

 . Whatever message you are guided by when choosing such a gift, remember that cutting and stabbing objects are considered harbingers of quarrels, discord, and rupture. Surely this is not what you wish for young spouses?

Brooch, pin, hairpin, tie clip

 . All these items also have sharp ends. Because of them, misunderstanding and quarrels from scratch will begin in a young family.

Vase

 . An empty accessory will bring emptiness to the life of a newly created family. If you want to give a vase, fill it with sweets or flowers. A piggy bank, a suitcase, a box and a purse will obey the same rule.

Pearl jewelry

 . Giving pearls is a bad omen. This portends sadness to the young spouses or the bride, if the product was intended only for her.

Alcohol

 . He will take away the health of the young, according to signs. Are you really so "devious" to present alcohol to the newlyweds, who have so many hopes for the future?

Amber products

 . Another material that can provoke the separation of two hearts in love, amber, is not worth giving for a wedding.

Items for the future child

 . First, the newlyweds are waiting for a gift for themselves. Secondly, the modern family is not necessarily built on the desire to have children. The third reason again relates to superstition. In Russian tradition, it is not customary to buy a dowry for future children in advance in order to avoid trouble and the death of the fetus.

Icon or cross

 . With such an offering, you can bewilder not only the newlyweds, but also the rest of the guests. In a holy way, children who marry are blessed by their parents or other older relatives. The rest of the guests should refuse such an offering.

Antiques

 . Even if you are familiar with the style of the future home of the young, presenting a picture or other rarity is not worth it. It can carry negative energy in itself, and also does not fit into the concept of a new life. Such an item is itself old.

Single item

 . If usually the thing you paid attention to has a "second half" in the interior, do not give it in the singular. Such items include chairs, portraits and much more.

Baubles

 . Do not give wedding items that will not bring any benefit or aesthetic pleasure to the young spouses, even if your budget is very limited.

Underwear

 . These things are very personal. Due to this circumstance, it is impossible to give sets of underwear to young spouses. So say the rules of etiquette.

Fan

 . Any cooling technique is not suitable for a wedding gift. Signs assure that she will quickly cool the relationship between husband and wife.
And finally, about  money . Giving a small amount in an envelope is a sign of bad taste, "brushing it off", but it's better to congratulate with a small amount than to give something from this list.
Conclusion
If you find yourself in a situation where there is practically no budget for a wedding for friends and a gift for them, arm yourself with our ideas, your own imagination, and an analysis of the life of the newlyweds.
All this will tell you what surprise they will enjoy at their own wedding. Gifts are remembered for many years if they differ in a creative approach to choosing and presenting a present.
As you can see, there are a lot of options for what you can give the newlyweds for an inexpensive, but original wedding, everything is limited only by your imagination. After all, uniqueness can be achieved by adding only a couple of strokes to ordinary things.
Most importantly, remember that a gift should bring positive emotions, and the newlyweds will be happy with any of your congratulations, because for them, the main thing is to share such an important and magical day with you.