Any parent wants to buy the best gift for their daughter for the New Year. Even if the girl grew up a long time ago and stopped believing in Santa Claus, you can make this holiday special and magical – the main thing is to choose the right New Year's present.
From this article you will learn what you can give your daughter for the New Year, depending on the age of the girl. You can find DIY gift ideas as well as tips and tricks for choosing the best gift.
TOP 87 ideas What to give your daughter for the New Year
Any girl is looking forward to the day when she can find a gift under the tree that she has long dreamed of. The best practical, original and interesting ideas of what to give your beloved daughter for the New Year:
A personal book of fairy tales or a collection of New Year's stories from famous writers.

A set of coloring books on the New Year theme in hardcover.

A scarf around the neck or a warm winter scarf.

Touch sensitive gloves for your smartphone, which will allow you to use it even in the cold.

Felted slippers made of sheep wool.

Children's handbag or small urban backpack.

Nominal decorative anti-stress pillow with soft filling.

Several wooden Christmas decorations for hand painting, as well as special paints and felt-tip pens.

A gift set of honey or jam in colorful New Year's packaging.

Gingerbread cookies with New Year's predictions inside.

Finger theater toys.

Home planetarium or starry sky projector.

Night light in the children's room.

Electronic butterfly or firefly in a glass jar.

Illuminated dance music mat.

Educational tablet or laptop.

Magic ball of predictions and decision making.

A flip flop portrait that my daughter can make herself.

Box for storing jewelry and small things.

Set for drawing with water or sand.

Tablet for drawing with light.

Board game ("Jenga", "Monopoly", "Activity", "Svintus" and others).

3D pen with LCD display for creating three-dimensional models.

Roombox is a room designer with which a girl can create the room of her dreams.

3D puzzle in the form of a world landmark.

A set for creating jewelry, cosmetics or perfumes with your own hands.

A special children's mannequin for creating makeup and hairstyles.

A set for beading or making a jewelry box using decoupage technique.

Snowball machine or snow castle kit.

Glacier or sled.

Special children's skis.

Snow scooter.

Ice skates with protection included.

Gyroscooter, unicycle or balance board.

Skipping rope with a counter.

A set for chemical or physical experiments, if the girl is interested in science.

Microscope or telescope.

Modern wrist watch.

Music box with a dancing ballerina.

Warm plaid with sleeves.

Slide projector – with its help you can display the image from your smartphone on the wall, and watch movies or cartoons on the big screen.

Children's sewing or knitting machine.

Quality earmuffs with fur for cold weather.

Overhead luminous headphones or laces.

A set of crayons and colored overhead strands for hair.

Kaleidoscope.

Encyclopedia dedicated to the girl's hobby.

Aqua farm – a self-regulating system, an aquarium with a fish and a plant on top.

Gel anthill (formicarium).

Ecocube, with which you can independently grow a real plant – for example, spruce.

A set of colorful face painting to create different looks.

Cooking set for making Christmas cookies.

Toys-characters from your favorite cartoons.

A radio-controlled toy – a car or a princess limousine.

A flying fairy that hovers over a special stand.

Soft toy warmer.

Easel, professional drawing paints, bright pencils and felt-tip pens.

Kigurumi pajamas in the form of any animal (bunny, tiger, panda).

Bedspread, pillows, bed linen with the image of the girl's favorite cartoon character.

Expensive diary in a beautiful cover, with a lock.

Personalized pendant with engraving.

Children's easel.

Tilda doll.

Matryoshka.

Children's earrings.

Picture for embroidery.

Little nurse kit.

Pillow with your favorite cartoon character.

Bright children's mug.

Set of children's cosmetics.

Girly wallet.

Piggy bank.

Pottery set for creativity.

Festive princess dress.

Bright backpack.

Large set of markers.

Set of children's jewelry.

Young actress kit.

Stroller for dolls.

Children's play kitchen.

Wooden bed for dolls.

Children's manicure set.

Set for making homemade soap.

Bath bombs.

Toy pony.

Big poop.

Children bicycle.
What to give a girl 1-5 years old for the New Year
Not all small children realize the value of such holidays as the New Year, but this does not mean that they should be left without a gift. List of ideas that you can buy a little daughter for the New Year:
Christmas tree toy depicting a baby. Inexpensive, but very warm and memorable gift. Order a Christmas tree toy with a personalized engraving or a photo of a child in a specialized photo store, and then hang it on the Christmas tree. The face of your beloved daughter will delight you every time you come by.
Ponycycle. A funny mechanical toy made in the shape of an animal – a horse, zebra, donkey or lion, which at the same time is a full-fledged vehicle. With the help of this toy, my daughter will develop coordination, learn to keep the correct posture and strengthen her muscles.
Play tent. Before the age of 5, children enjoy crawling, running and exploring the things around them. Give the girl a tent in which she will play, and if you also buy a special tunnel, you can not worry about the safety of the baby – all her attention will be occupied by a new interesting little thing.
Other ideas that you can give your daughter under 5 years old for the New Year holidays:
Bath toy – clockwork duck, bath cubes, squeaky animals.

Talking baby doll, as well as a stroller for him.

Children's kitchen or set of utensils.

Sound and light iron.

Shopping trolley and cash register for games in the store.

Children's colorful photo album with pictures of my daughter.
Ideas of what to give a daughter aged 5-10 years for New Year's Eve
At this age, the girl has certain desires and dreams, and she already knows what she wants to receive for the New Year as a gift from Santa Claus or her parents. A girl aged 5-10 years old can be presented with the following gifts:
Big snowball. A popular all over the world souvenir, inside of which there is a house, a snowman or other object. If you shake the ball, beautiful artificial snow will fall on the model located inside. Many children dream of such a ball, if your girl is one of them, give her this souvenir for the New Year.
Piggy bank in the form of a symbol of the coming year. Children are happy to save up money for various souvenirs, things and sweets, and with the help of such a gift this process will be more interesting and active. You can also pick up an electronic model in the form of a safe or an ATM, if you don't want to give a piggy bank in the form of an animal for any reason.
Interactive pet. Soft toy in the form of a cat, dog or dinosaur, which will help the girl to study and spend her free time. Such toys can tell poems and fairy tales, tongue twisters and proverbs, they teach the child the alphabet and help prepare for school. An older girl can be presented with an interactive robot that can walk and even maintain a dialogue with the owner.
Some more interesting gift ideas for a daughter from 5 to 10 years old:
A set of hair accessories (comb, rubber bands, clips in the form of flowers).

Microphone for singing karaoke.

Barbie or princess doll (Anna and Elsa from Frozen, Rapunzel, Snow White or Cinderella).

Puppet palace with carriage and furniture.

A set of children's caring cosmetics.

Carnival princess costume complete with a chic tiara.
The best gift for a girl for the New Year? Of course, doll!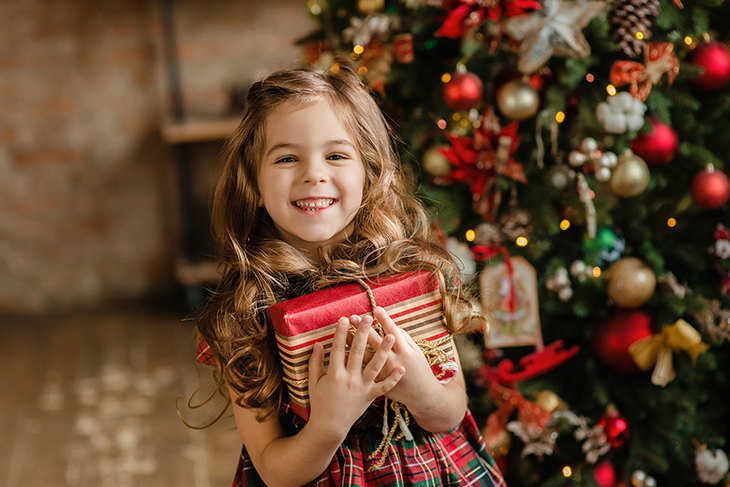 No matter how much they argue about whether it is useful for little girls to play with a Barbie doll (and other similar models), little ones will still dream about her day and night.
When the Christmas tree is dressed up, it seems that a miracle is about to happen, and Santa Claus will give exactly the Barbie that the girl dreamed of the whole previous year.
Of course, it is best to choose such a gift for the mother herself. After all, it will be easier for her to imagine herself in the place of her daughter, to remember her own aspirations for New Year's gifts. It is worth remembering that a doll is different for a doll. You can also buy an expensive Barbie in a certain costume – say, a jockey outfit. And the girl who dreamed of a toy in a fluffy pink dress with sequins will definitely be disappointed with such a gift.
Another point to consider when buying such a gift for your daughter for the New Year is additional accessories for the doll. First of all, you can't forget about additional clothes: skirts, dresses, shoes. A wedding dress is an indispensable attribute of Barbie.
If we are talking about a girl of 3-6 years old, it is recommended to purchase a few more character dolls along with Barbie (we will talk about role-playing games below). You can purchase a doll with a miniature baby doll-daughter. Or paired with the well-known Ken.
Also, in different sets, you can purchase many other relatives and friends – from girlfriends to grandparents. And another great accessory for such a New Year's gift will be a horse – a unicorn, a pony, and perhaps a winged pegasus.
Original New Year's gifts for a girl for 10-15 years
But what if the daughter has enough dolls already? And the girl herself really wants to receive something unusual as a gift for the New Year.
From the age of 10, a girl is already considered a teenager. Perhaps she no longer believes in Santa Claus and the Snow Maiden, but she is also waiting for a gift and attention from her parents. Here are the options for what you can give a girl 10-15 years old for NG:
Musical instrument. 

Many in adolescence are fond of music, and therefore you can make a gift associated with this hobby. It can be a harmonica, a children's drum for a smaller girl and a guitar, violin, synthesizer for an older child. Other ideas: a pick, a case, or a tutorial on how to play your favorite instrument.

Instant camera. 

With the help of this popular gadget, the girl will be able to take pictures immediately after the camera shutter is released. Some models are equipped with a special selfie mirror, which means that a teenager will definitely like such a gift, especially if the girl is fond of photography and wants to connect her subsequent life with it.

Hair care device. 

At this age, the girl actively cares for herself, and hair requires special care. Good gift ideas: straightener, thermostatic curling iron, professional hair dryer, electric curlers or all-in-one device. You can also purchase a high-quality comb, a pocket mirror and attach to a gift.

Electronic dog. 

Why not move away from generally accepted stereotypes and give the baby such an unusual "four-legged friend"? In general, an electronic dog is like a robot. She can bark and follow commands. Some models are even capable of wagging their tails. Others are "sharpened" for obedience to only one owner, and do not respond to extraneous voices. These toys are funny because they look like real dogs.

Music carousel. 

A bright carousel will create a festive mood, and will be a good gift for the New Year and Christmas. Some carousels are made with a backlight function, so that a similar present can be used as a night light.

Mini donut

 making machine . Not the cheapest gift, but it will delight a young fan of culinary skills. There is also a similar toy with which you can make cotton candy.
Ideas for what else you can give your beloved daughter 10-15 years old for the New Year:
Dressing table with a mirror in the girl's room.

Smartphone, tablet, e-book or other gadget.

Set for manicure and pedicure.

Volumetric paints for fabric in different colors.

A sweatshirt with a picture of your favorite band or a glowing T-shirt with an equalizer.

Device for portable charging of gadgets.
Gift ideas for an adult daughter
Let's pay attention to what to give an adult daughter for the New Year:
Luminous hair dye. 

Such a gift will appeal to both a teenage daughter and a young woman of 20-25 years old. After all, with luminous paint you can have fun and get together for a party, creating an unusual "out of this world" image. After this paint is easily washed off without harming the hair.

"Live" piggy bank. 

Now you can find such souvenirs-piggy banks, in which the front part is made in the form of a human face. A coin is placed in the "mouth", which is then "eaten" and put into the box. Such a funny gift will be appreciated by a daughter with a sense of humor.

Infrared keyboard. 

If the daughter has to work hard at the computer, then she will definitely be surprised at such a gift. The meaning of such a keyboard is that it is, in fact, virtual: the image of the keys is projected onto the surface of the table using infrared rays. With such a gift, your daughter will immediately feel like a real "guest from the future", and will be able to surprise her friends and girlfriends.

Rug-alarm clock. 

All girls want to sleep in the morning. If your daughter is constantly late for classes or skips classes, give her such a rug: it stops ringing heart-rendingly only when you stand on it with both feet.

A printer that prints photos directly from your phone. 

Given that now children are great with gadgets from an early age, a girl or girl of almost any age will be delighted with such a gift. If your schoolgirl understands technology better than both parents combined, she will definitely appreciate the photo printer. After all, you can have fun with a friend, take a selfie or even take a picture with your beloved boy. And print the pictures right away, surprising your friends and girlfriends.

Cosmetic cabinet. 

If your daughter has a ton of makeup, then this gift will help clean up and deal with countless tubes, palettes, jars and bottles.
DIY gifts for your beloved daughter for the New Year
Even if there is not enough money for an expensive and chic gift, you can surprise your child and give him a handmade item. You can also make any item from the list as a souvenir or an additional present. List of best ideas:
Handmade soap. Cooking it is not at all difficult – you will need a soap base, dye and a special flavor. You can buy molds in the form of cones, Christmas trees, gingerbread men or the symbol of the coming year and make themed soap.
Gingerbread house. Such a gift will definitely appeal to children and adults of any age, and will also come in handy for the festive New Year's table. However, it is difficult to make a gingerbread house on your own, so you can order a gift from professional confectioners.
Mittens, scarf and hat in one style. If you know how to knit, you can give your daughter a set for the New Year, consisting of warm winter clothes – a hat, scarf and mittens in beautiful colors.
New Year's sweets. A great addition to the main gift that every child will love. No New Year's holiday is complete without a sweet children's gift. Collect one by putting the girl's favorite sweets in a beautiful themed bag, and then hide under the tree.
Night light with your own hands. If you cover a jar or bottle with spray paint, you can put a small flashlight or garland inside. Thus, you will make a cute New Year's night light as a gift for your beloved daughter.
Tips: how to choose the right Christmas gift for your daughter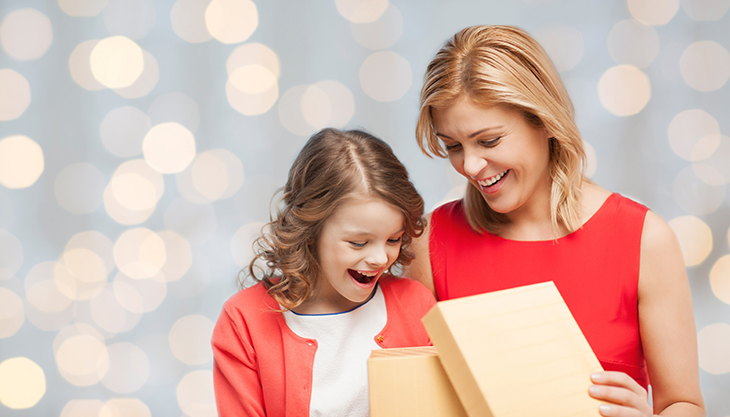 One of the main recommendations for parents planning to buy a gift for their daughter is to be sure to pick up a good present and not use the New Year holidays as a means of control. Sometimes parents threaten a child: "Now, if you love your mother, then Santa Claus will bring you a gift." Yes, it also happens that you need to rein in girls.
But the only problem is that if in the end the child does not receive a decent gift for the New Year (or, God forbid, is left without a present at all), this affects his attitude towards parents, studies, and so on even worse.
First of all, mom and dad should put themselves in the place of the child for a minute. "If Santa Claus left me with nothing, then I am worse than other girls. So, I will continue to be naughty, and I will generally abandon mathematics with a letter!
Also, when choosing a gift, it is worth considering the age of the girl:
Babies from one to three years old are well suited for safe toys designed specifically for babies. From 1 to 3 years old, a child usually buys educational toys. You can give a doll to a little daughter for the New Year. Another great gift would be a set of finger paints.

Between the ages of 3 and 6, children begin to play with each other, playing scenarios from adult life. Therefore, for a baby of this age, a toy for a role-playing game is well suited. For example, girls are very fond of playing "Family", or "Daughters-Mothers". You can give a dollhouse set with a house. But there should be as many characters as possible in this game: at least "mom", "dad" and "child".

At primary school age, most often girls still love toys. The difference is that in this case the toy should be as realistic as possible. If this is a baby doll, then it is very similar to a real baby. Also at this age, the girl can be presented with a set of children's cosmetics. After all, you already want to be "like a mother", rather become an adult.
And, of course, any creative set will be a win-win gift for a younger schoolgirl. These are all kinds of home farms, kits for sewing, decor, making soap, candles and so on with your own hands.
A gift for a girl must be chosen carefully and with special attention, even if she is still very small. Follow these helpful tips and tricks to help you make the right choice:
An ideal gift would be that will support the New Year's mood and will not allow the girl to be sad for long gone warm days. You can buy your daughter what she dreamed of, and then she will remember this magical New Year's Eve for many years.

If you want to give a gift to your little daughter, ask her to write or dictate a letter to Santa Claus. This way you will know what she would like to receive as a gift. This can become a good tradition, even if the girl is an adult and no longer believes in Santa Claus.

New Year's surprise should be sincere. Choose a gift for your beloved daughter with positive thoughts and good mood. In this case, you will transfer your energy to the child, and the girl will be very pleased with the attention you have given.

If you are raising independence in a girl, let her choose a gift herself, having previously agreed on a price range (otherwise the daughter may choose a gift that you cannot afford). In this case, there will be no surprise, but the girl will become the owner of the thing that she dreams of.

Well, if the surprise will be accompanied by mandatory additions. A New Year's gift would be incomplete without a beautiful postcard, colorful balls, a bar of your favorite chocolate or a chic package with a bow. Until the girl gets to the main gift, she will experience many positive emotions.

The main thing is to take care of your daughter's health. It is important that the thing or toy you buy is made from materials that do not cause allergies and are not harmful to the health of the child. Choose only trusted manufacturers and stores.
What is better not to give your daughter on New Year's Eve
Do not overdo it with sweet gifts. Previously, they were given to children literally in tons, but parents did not think about their content. In fact, sweets and all kinds of chocolate hares contain a lot of harmful substances. These can be modified oils, preservatives (for example, often found in the composition of E220, or sorbic acid), dyes. And in some even ethyl alcohol.
When buying a New Year's gift, sometimes it is even impossible to find out about its composition, since it is not written on gift packages.
Caring parents can make a sweet gift on their own. For this, a festive package is taken, and various delicacies are collected in it, purchased separately in a children's or healthy food store.
It can be marshmallows, marshmallows, gingerbread, bars with the addition of healthy dried fruits and nuts. The main thing is a short and understandable composition of the product. Then you will not have to treat rashes and damaged teeth after the New Year holidays.
By the way, the child's holiday table should also be as healthy as possible. All kinds of drinks, lollipops and sweets should not cause allergies and intestinal upset. A holiday can be arranged without a ton of foreign sweets: classic salads and dishes, led by traditional red caviar, are a great solution for both adults and middle-aged and older children.
Not all gifts that can be found in a children's store are suitable for giving them to your daughter for the New Year. A list of bad ideas that are best abandoned at the stage of choosing a present for a child of any age:
Money. 

A gift that in no case should be given for the New Year holidays. On this day, children are waiting for something magical, unusual, they expect their little dream to come true. Money is an absolutely emotionless present, and it is better to refuse it for the New Year.

Gift for your interests. 

Even if you want to captivate a girl with something that you really like, it is far from a fact that she will also like it. Example: a book to get a child to start reading or a sports uniform to get a girl to play sports. Remember – any gift in the first place should be desired.

A gift with a hint. 

You should not give acne creams, a weight loss tutorial, especially if a teenage girl is waiting for a New Year's gift. They are very impressionable, and such a rash present is likely to upset the girl.

Summer gifts. 

It is best to make a gift that will be useful to the girl right now. If you buy, for example, a skateboard, scooter or roller skates, your daughter will not be able to use your gift until the warm days come, and this will upset her.

Animals. 

A controversial gift for the New Year and other holidays, even if the daughter really wants to receive it. Pets should be given only if you are sure that the girl is old enough to be able to take care of a new family member.
Conclusion
New Year is always a festive atmosphere, the smell of a Christmas tree and tangerine, shining balls on a Christmas tree.
Now you know what you can give your daughter for the New Year and how best to do it. Remember that the main thing is to create a magical atmosphere and charge the child with a positive mood for the year ahead. Choose a gift that the girl dreams of, and she will remember this holiday and your care for her for a long time.
To make your daughter remember the holiday for a long time, spend it together with the whole family. Sometimes the attention of parents is just what the kids lack so much. And if mom and dad are nearby, then New Year's magic will not keep you waiting.