It is impossible to accurately answer the question of what to give a girl for 15 years. Sometimes even the closest friends and relatives cannot solve this puzzle. All girls at this age are very different! Some are already dreaming of true and sincere love, others are seriously thinking about their future profession, and still others are still children. This is a difficult, but unforgettable and very exciting period for a young lady. Your task is not to get confused and make the right choice!
One thing can be said with certainty – a gift for a girl on her 15th birthday should be fashionable, stylish, preferably necessary and memorable. Agree, it is difficult to find a thing that meets all these qualities. But nothing is impossible! Your attention is presented a list of the most relevant and popular presentations. Believe me, every fifteen-year-old teenager will be happy to receive any of the gifts offered.
Here you will find presents for every taste and color, find out what you can give inexpensive, but pleasant. Do not rush to leave this page, sit back and plunge into the world of unusual, interesting and useful gifts!
TOP 86 ideas What can I give a girl for 15 years
Manicure set.

Handmade chocolate set.

Luxurious bouquet of flowers in light shades.

A pear chair or a nice ottoman in the room.

Kanekalon set.

Perpetual calendar.

Magic colorful curlers.

Silver or gold jewelry.

Rollers for shoes.

Bright scarf or snood.

Lava lamp.

Instant camera.

Interior lightbox.

Dressing room mirror with lighting.

Growing pencils.

Aqua farm.

Bedside rug with long pile.

Big set of the artist.

Electronic book.

Wireless headphones.

Fitness bracelet.

Mug with temperature sensor.

Stylish umbrella.

Luminous LED sneakers or ugg boots.

Electric scooter.

Fashion perfume.

Nail printer.

Handmade soap set.

Neurorope.

Mountain bike.

DIY chocolate making kit.

Luminous night pillow.

Makeup brush set.

Fashion sunglasses.

Fashion gadget (tablet, phone, etc.).

Stylish jewelry (choker, bracelet, brooch, etc.).

Orthopedic pillow with memory effect.

Bright keychain.

Skates or rollerblades.

Hair care device (styler, curling machine, hair straightening comb, electric curlers, hair dryer, etc.).

Skateboard.

T-shirt with equalizer.

Massage hoop.

Compact cosmetic bag.

Portable speaker system.

A set of temporary tattoos.

Fortune cookies.

Voice picture.

Interactive piggy bank.

Glowing headphones.

Multi-colored mascara for strands.

Selfie flash ring.

Jewelry holder.

Nail Dryer.

Cool alarm clock, for example, with a target.

Garden for growing plants.

Thermos mug.

Self-drinking planter.

Luminous shoelace.

Florarium.

Set for growing plants.

Mousse for hair coloring.

Apparatus for making cotton candy or popcorn.

Shaker or water bottle.

Sports equipment (dumbbells, yoga mat, fitness ball, etc.).

Needlework kit (for example, sewing dolls, quilling, decoupage, soap making, etc.).

A set of sheet masks for the face.

home planetarium.

Notebook with a pen.

A set of nail polishes.

Badminton or beach tennis rackets.

Keychains and badges (they can decorate clothes or a bag).

Storage containers for small items.

Karaoke system.

Bath set (bombs, powder, salt, foam).

Flowering houseplant.

Kigurumi slippers.

Bathrobe with personalized embroidery.

Dream catcher or wind chime.

Mask for lucid dreaming.

Macarons with flowers in a box.

Quadcopter with camera.

Home suit or pajamas.

Keychain made of natural fur.

Electric face brush.

Angel wings (can be used as an entourage for a photo shoot or as a carnival costume).
Original gifts for a girl on her 15th birthday
15 years is a significant date, which means that the gift should be special. Very often, the impressions of a presentation have nothing to do with its value, so you should not get hung up on the price. The main thing is that the donated item should have a creative connotation.
If you doubt your choice, you don't know what to give a girl who has everything, then you will definitely like the following presents!
Glowing map of the starry sky. An unusual and useful gift from parents. This is a miniature starry sky.
The girl will easily remember the constellations and will be able to find them in the sky on her own. In addition, a card that glows in the dark will create a special atmosphere in the room.
The present will last more than one year, help develop imagination and increase the level of education.
Nail ring. Great gift from a friend. The original decoration will help emphasize individuality. This fashionable novelty will definitely not go unnoticed by the birthday girl.
The girl's finger will look more graceful. Do not worry that such a ring can fly off the nail, due to the fact that it is made narrower, the product will not cause inconvenience to its owner.
Reusable notebook. A suitable option if you do not know what to give a girl of 15 years old. The sheets in this notebook are laminated.
You can write on them with a marker, and then erase everything and start over. The notebook comes in different formats: A4, A5 or A6. This ingenious invention will be useful to both the student and the future student.
Notepad will always be at hand. This is very convenient in cases where you urgently need to write down an idea that just came to mind, make a sketch, make a plan for the day, etc.
Plaid in the shape of a mermaid tail. Interesting birthday present. The girl will be delighted at the sight of this gift. Surely, she dreamed more than once to turn into a little mermaid, now her wish can finally come true.
To do this, it is enough to have on hand only a soft and cozy blanket. A cocoon cover for legs and torso will help keep you warm and create a special magical atmosphere.
What is useful for a birthday present for a girl of 15 years old
Teenagers do not really like to receive useful, necessary things as a present. But if you are a supporter of practical gifts, then choose something from the following list.
Any of the proposed items will certainly come in handy for the birthday girl, bring her joy and will be remembered for a long time.
Leg hammock. Pay attention to this gift if you still can't decide what to give a 15-year-old teenage girl. A hammock is not only an interesting interior decoration.
It is attached to the legs of the table and improves posture, relieves leg fatigue, and increases efficiency. This is a real find for those who spend a lot of time at the computer.
When the girl feels tired, she will want to relax, just put her legs on the hammock. The circulation will return to normal, she will feel much better.
Smart notepad. A rather unusual idea of ​​​​what to give a child for 15 years. This product is also known as smart notepad.
They write or draw in it with a regular pen and on plain paper, but the whole secret is that your notes can be instantly converted to digital form, with just the click of a button. They can then be edited, organized, distributed, and so on.
Such a present is guaranteed to appeal to teenagers who are used to thinking in images. You can safely embody your ideas on paper and be sure that every stroke will be recorded.
Illuminated pocket mirror with heated hands and Power Bank. The product has two halves, is equipped with LED backlight, so that the girl can fix her makeup at any time, even if the room is poorly lit.
In addition, the mirror can also be used as a charger. And its lower part can be heated up to 65 degrees, so it will serve as an excellent hand warmer.
The mirror is small enough to fit in even the smallest purse. Take this option into account if you don't know what gift to give to a girl for 15 years.
Inexpensive gift ideas for a 15-year-old birthday girl
A good gift doesn't have to be expensive. If it is chosen and presented with an open mind and a pure heart, the girl will not even think about its value.
Take a closer look at the following options if you don't know how to surprise a birthday girl and not go broke.
Keychain with search function. A suitable gift for a girl who spends a lot of time looking for a phone, keys or any other thing.
A tiny and cute keychain will quickly solve this problem. It can be attached to any item, and in case of loss, just whistle, the key fob will immediately emit a sound and light signal.
In addition, the product is equipped with an LED flashlight, which can be useful in dimly lit rooms.
Faucet LED. With such a device, washing your hands will be much more fun.
The nozzle is suitable for any faucet, it can change color depending on the water temperature. LEDs are mounted inside the product, which are activated, one has only to turn on the water.
The nozzle is designed not only to determine the temperature of the water, it can decorate the interior of the bathroom, kitchen or shower room, and can also be used as a backlight at night.
Perfumed body spray. A good option if you want to give the girl cosmetics, but are not sure of your choice, as you are not familiar with the preferences of the birthday girl.
The spray gives the skin a pleasant aroma, charges with vivacity and self-confidence, gives a feeling of comfort. It absorbs quickly and leaves no streaks.
Able to moisturize the skin, relieve irritation. Improves its appearance, making it smooth and pleasant to the touch.
Gifts for beauty and health
The most popular and sought-after gifts for a 15-year-old girl were and remain cosmetics and other stylish and fashionable things.
If you are afraid to miscalculate with a present, choose universal options that will definitely be accepted with enthusiasm and gratitude.
Beauty box. A real find for a fashionista who wants to try all the new cosmetics.
The beauty box contains a variety of products (decorative, care or perfume), so you can choose exactly what suits you.
This is very convenient for a teenage girl who is learning how to properly apply makeup, choose perfumes and more.
Smart ear stick. An interesting piece that will definitely come in handy. She delicately cares for the ears, doing this procedure quickly, efficiently and safely.
The wand quickly synchronizes with any electronic device. It turns on instantly, you just need to remove the cover from it.
A variety of attachments provide professional ear care, without harm to the skin of the auditory canals and the eardrum.
Glitter gel for face, hair and body. Thanks to this invention, the girl will be able to wrap herself in playful sequins, without looking defiant. The young lady will feel like a dazzling beauty, the star of any party.
Glitter can also be used to capture videos that teens love to post on Instagram, Tik Tok and Likee. The gel is sold in convenient packaging, which will make the transformation process even faster and more enjoyable.
The method of application is very simple: just apply the glitter on any part of the body, and then just wash your hands.
Smart dumbbells. With such dumbbells, it is easy to keep yourself in shape, devoting physical activities to just 10 minutes a day.
They are compact and lightweight, so training with them is a pleasure. The dumbbells are equipped with smart sensors, thanks to which the results of the workout are transmitted to the smartphone via bluetooth.
Dumbbells are powered by a battery that charges in half an hour, on average, the charge is enough for 5 workouts.
Cool gifts for a girl of 15 years
15-year-old girls are quite touchy, but if you know the birthday girl well, you are sure that she will not miss the opportunity to have fun, then feel free to choose gifts with humor. It will be fun for her and you!
Kigurumi. This is a pajama or home costume, with which you can easily turn into any character.
The clothes are made of velsoft, so it is cozy and warm in it. The jumpsuit does not wrinkle, retains its shape for a long time. The main advantage of kigurumi is a thoughtful cut, thanks to which you find yourself as if inside a cozy house.
In order to make the image as complete as possible, complement your gift with Kigurumi slippers. Such a gift will cause a lot of positive emotions and will be remembered for a long time.
Cool hangers. These are the signs on the door handle. A suitable gift for a teenager who has his own room. Thus, the girl will be able to inform the household about her mood.
Hangers can be with different inscriptions, for example: "Do not disturb", "Cleaning", "No entry to strangers", etc. These labels will bring fun to everyday life, will please the birthday girl and everyone around.
A set of non-extinguishing candles. Of course, a cake is supposed to accompany such candles, so this is rather an addition to the main gift.
After they are inserted into the cake, they need to be set on fire and allowed to burn a little, after that, invite the girl to make a wish and blow them out.
Each time, almost extinguished, they will light up again. Enjoy the reaction of the birthday girl and, when she completely loses hope, just blow out the candles with your fingers.
Musical disco ball. Many girls like to arrange bachelorette parties or friendly parties, family celebrations at home, so this ball will definitely come in handy for them.
This device will decorate the room in all the colors of the rainbow, create a festive atmosphere.
The light music is also equipped with loud speakers, supports a USB flash drive, and is controlled using a remote control, so the disco ball can be safely called a full-fledged entertainment station.
Gifts for creativity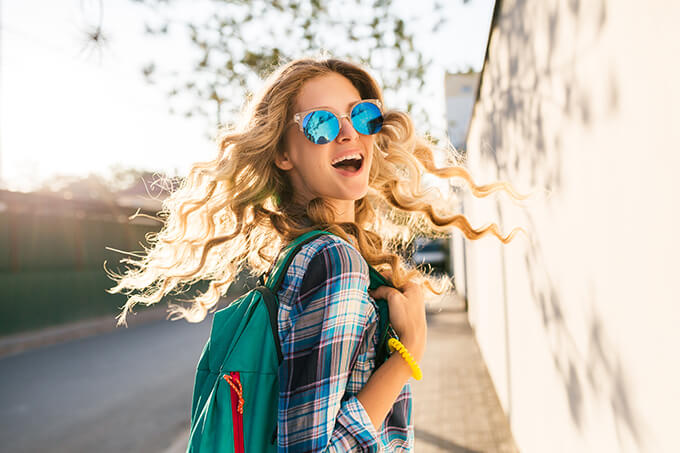 Picking up gifts is easy if you know what the birthday girl is passionate about. But the following presents can be given to any girl, she will definitely find a use for them.
Your gift will either help a young lady develop her creative abilities or push her to a new hobby.
Illuminated table for sand painting. Sand animation is not just entertainment.
Experts say that people who have such a hobby discover new creative ways in themselves, learn their inner world, live in harmony with themselves and others.
Such a gift will allow the whole family to have fun, it is also an opportunity to surprise your guests by showing them an enchanting show!
Painting by numbers. One of the best gifts for a girl who is fond of liveliness. This picture will make you feel like a real artist, while it is not necessary to have professional skills.
Great results guaranteed! The process of creating a picture is very exciting, allowing you to calm down, give the brain a rest and relax.
Sketchbook and a set of markers. The sketchbook will be very popular with the birthday girl who loves to draw.
The sketchbook can be safely filled with your drawings and sketches anytime and anywhere, as it will always be at hand.
Due to its small size, the notebook will fit in a backpack or even a purse. Now the girl will be able to embody her fantasy on the go.
A set of markers for drawing on fabric. Many girls dream of becoming a fashion designer, let them feel in this role by giving special markers.
You can draw with such felt-tip pens on any textile material, and to fix a masterpiece, it is enough to iron it on the reverse side.
The ink of the markers is very resistant, odorless, can withstand many washes, but not more than 60 degrees.
Adviсe
Teenage girls are a special category of birthday girls. These are formed personalities with their own opinions and hobbies. If the young lady herself does not say what she would like to receive as a gift, it will be quite difficult to choose a good thing. But do not despair, feel free to plan a surprise, armed with the following recommendations.
The girl will still enjoy the soft toy. However, it should not be a cartoon character, but a cute bear or a cute bunny.
Even if the desire of the birthday girl seems unusual to you, you should not argue with the girl. After all, everyone has different tastes, so to see happiness in the eyes of a teenager, try to fulfill his dream!
You rarely meet a teenager who will not be happy to receive an unusual little thing as a gift, for example, brought from another country: a charm stone, an amulet, etc.
Many girls at the age of 15 love to be in the spotlight, if your birthday girl is one of them, feel free to organize a magnificent celebration for her: rent a hall, order a huge cake, invite animators, etc. Such a birthday party will be remembered for a long time!
Many people think that money is a banal gift. However, just such a present can be the best for teenagers. Perhaps the girl is raising money to make her dream come true, so why not help her with this.
Most girls at this age have already decided on their future profession, so they will gratefully accept a thing that is useful for work: a camera, a sewing machine, a set of professional makeup brushes, etc.
In order not to get confused in a rich assortment of presents, it is better to first make a list of the most suitable things. Next, determine for yourself the amount you are willing to spend. Then from the list you need to gradually cross off the items that are least suitable. As a result, you should have a couple of interesting presents that you can afford to purchase.
You need to give a gift in a beautiful package. Be sure to accompany this moment with pleasant words. It is advisable to complement the present with a bouquet of flowers in light shades and a postcard.
Consider the degree of relationship as well. You can give your girlfriend something symbolic. For a relative, try to choose more substantial presents.
If there is a significant age difference between you and the birthday girl (10 or more years), remember that what is interesting to you may not please the girl. Fashion changes very quickly and the gift that you wanted to receive at the age of 15 is most likely no longer relevant.
What is better not to give
Do not forget that the 15th birthday girl is very vulnerable. Bypass ambiguous, defiant, offensive presents, then you will appear in the eyes of the girl in the best possible light. Carefully study the list of gifts, the acquisition of which is best to avoid.
Cloth. 

 Teenagers are very critical of their appearance. Therefore, you should not buy jeans, dresses, etc. for a girl without her participation. Remember that giving underwear is indecent.

Gifts with a hint. 

 These include scales, a gym membership, weight loss products, cosmetics for problem skin, etc. With a similar present, you will hurt the girl, as a result of which you risk becoming enemy No. 1 in her eyes.

Presents designed to correct a teenager. 

 You should not give a birthday girl a collection of encyclopedias if she does not like to read, and a rock lover will not like a ticket to the opera.

Boring gifts. 

For example, dull home clothes, a bank deposit, a set of bed linen, things for growth, etc. These gifts will not cause positive emotions in a teenager.

Pet. 

 Many girls at this age dream of a four-legged friend, but do not rush to make such a gift without first consulting with the birthday girl's parents.

Symbolic gifts. 

 It is unlikely that you will surprise a 15-year-old girl with balloons. If you have absolutely no money, you will have to get creative by organizing a small performance, so you can somehow compensate for the economical surprise.

Souvenir products. 

Figurines, figurines, etc. will not cause joy to the birthday girl. However, if you know that a girl, for example, collects porcelain dolls, then feel free to give a copy that can replenish her collection.
Conclusion
There are a lot of gift options. However, it is much more important that the birthday girl, through your present, be able to feel love, attention and care. After all, these feelings will not replace even the most expensive things!