Do you know what an unusual gift Lilya Brik received from the poet Vladimir Mayakovsky? He handed his beloved a ring with the initials of Lily Yuryevna Brik: L. Yu. B.
The originality lay in the fact that the letters going in a circle created the word " LOVE ".
A touching idea turned a simple ring without gems and inlays into a unique piece of jewelry and a symbol of intense feelings. Years later, the ring became out of size, but Lilya Brik did not part with it and wore it as a pendant.
Synonymous with the original – unusual, original. Every birthday person dreams of getting something unique on their birthday. And the child, and the one who remained with him in his soul.
We have selected a wide variety of original birthday gifts :  for any age, character and budget.
TOP 132 ideas What to give an original birthday
Book holder with magnetic inserts in the form of a katana. For the avid print collector.
Portrait figurine from a photo.
Clock made from vinyl records. A spectacular designer thing is able to revive and complement the interior.
Gilded panel. A spectacular present will emphasize the status. Let the theme of the presentation be related to the work of the birthday man. For example, it is appropriate to present a panel with a coat of arms to a politician, and gilded laurels to a purposeful person at the beginning of a career.
Massager in the form of a cat's paw. Nice and inexpensive present.
Toilet lighting.
Globe bar. These things are usually made in the old style. They look very interesting and presentable.
Collectible handmade board game: chess, backgammon or roulette.
Plaid with photo printing. It is unlikely that the birthday boy already has such a thing.
Souvenir "To the man who has everything. Brush for cleaning the navel.
Unusual air mattress in the form of a pearl shell, a bag of popcorn, popsicle.
Origami set.
Game Crocodile.
The original umbrella with a pattern that appears when wet.
Premium square trampoline. Expensive gift, more than 100 thousand rubles.
Alarm clock powered by an aromatic capsule with the smell of coffee, sea, chocolate. A nice bonus is a gentle melody and backlight.
Decanter for wine. The device will separate the sediment, saturate the wine with oxygen and reveal its taste. The drink will have an unusual serving!
"Liquid" clock in the style of Salvador Dali. They seem to have stepped off the canvas of the creative artist The Persistence of Memory. At the same time, a real chronograph: they perfectly show the exact time.
Snow blaster – a device for sculpting and launching snowballs using the slingshot method. Fun that has no age.
A t-shirt with a creative slogan, such as "I'm not a dollar for everyone to like."
Portrait from a photo of a birthday boy, burned on a tree.
Business card holder with a cool inscription "Addresses, passwords, appearances."
Piggy bank for wine corks "Save water – drink wine!".
Cold accumulator.
The dispenser for the bottle "Let's think for three." Are you able to pour simultaneously for the whole company? With this device, gatherings will become even "warmer". This playful gift can be given to a colleague for his birthday.
Alarm clock dynamite. The menacing design of the explosive makes the alarm clock original.
Phone in the shape of a pink shoe.
Dog Pillow. Plush friend with a kind doggy smile.
Cute little feet for your phone.
Eternal stainless steel soap against the strongest odors.
Cooling stand for drinks.
Mini fridge powered by USB.
Painting from a photo of 20,000 rhinestones.
Wall decor – decorative hooks for clothes in the form of the word "Love".
Bed linen with an unusual print.
Fan without blades.
3D fireworks light bulb.
Keychain with the function of light projection of time.
Illusion piggy bank. Small box for magic tricks. Throw a coin into the piggy bank and it instantly disappears! Great gift for a teenage friend.
Scarf-transformer. A unique women's accessory replaces several items of clothing. If necessary, the scarf becomes a fashionable hat or an elegant dress for a romantic dinner. Any girl will be happy with such an original gift.
Clock running on water.
Mini baker. The compact assistant can bake, fry, toast, reheat meals and much more.
Compact heater with remote control. Gives heat in seconds, does not have any wires, favorably replaces a noisy fan heater and a bulky heater.
Electromagnetic globe with backlight.
Set for self-growing hard or soft cheese.
Flexible waterproof keyboard.
Useless device USELESSBOX. The most useless wooden box ever!
Large sparklers or colored smoke are the perfect element of a festive event. Photos with colored smoke puffs are exclusive and mysterious.
Glowing glass or hourglass.
LED shower head.
Glasses for reading lying down with lenses in the form of geometric prisms.
Electric brush for face care. Nice gift for a teenager.
Silicone keyboard.
Call for music lovers in the form of keys.
Mirror – a drop. It will make the room cozy and mysterious!
Wooden puzzles "The Little Prince".
Pillow with hole for hand. The best pillow for those who like to sleep on their side.
Polaroid (modern model). Functional present nostalgia from the 90s.
Support for the pool. Approaches along with snacks using the remote control.
Horizontal hookah. Compact, travel-friendly. Party star (has a backlight function).
Long pillow with photographs. The elongated pillow is comfortable to hug, and the print collage will bring memories.
Portable portable fireplace. Personal hearth for a small apartment.
Marmalade from premium alcohol. The surprise will definitely be to your taste and will leave a heady aftertaste of joy.
Tray for laptop and breakfast in bed.
Scratch poster "150 best films".
Table for the car. Convenient stand for food and gadgets will make the trip even more comfortable.
Tritium keychain. An almost eternal firefly is a real helper for searching in the dark.
Pillow imitating brick.
3D printer. The presentation has no competitors in the field of a wide variety of hobbies. This gift will outshine all the others!
Chocolate puzzle.
Express sculptor Pinart 3D.
USB aquarium organizer.
Painting by numbers according to the photo. This is a canvas art kit with an accurate coloring chart. Even without knowing how to draw, you can create unique paintings.
Electronic musical gloves.
Magnetic pen-transformer.
Unusual gold brooch. For example, in the form of a bright tropical bird, with corundum, cubic zirkonia and turquoise.
Thread picture. Made by hand on a wooden base from a kilometer of strong thread, a unique product.
A lamp with a levitating switch or an unusual 3D lamp.
Luminous LED sneakers.
Inflatable sofa.
"Cage" for vodka "Ministry of Health warns".
Apron with a fun print.
Portable steamer. Clothes will always be in perfect condition. Gift set "Parcel from the forest". The birthday boy will readily believe that the forester gave him a set of meat delicacies.
Cool jug-udder for milk.
Romantic letter on papyrus.
Magic magnet. A spectacular desktop relaxer that will rotate as much as its owner wishes!
Funny plaid 3D with the image of pizza or pita bread.
Mini barrel organ.
Glowing stained glass.
Acoustic ocean wave projector "Blue Lagoon". Simulates the underwater world.
Unfolding Lumobook lamp. Designer luminaire with LED lighting.
Pillow with a cartoon from a photo.
A set of labyrinth plates.
Growing Green Stick pencils: a gift with two lives. After grinding, they will not return to their original state, but they will give spicy greens or flowers. Watching the flowers grow brings a lot of pleasant emotions.
Smart pen. The device consists of a handle and a Bluetooth receiver. Allows you to digitize a record (create a text file) right at the time of writing. The device is suitable for people who prefer traditional writing.
Jumpers. Fancy bouncy vehicles are the perfect sports gift. A simplified model is called "pogostik" – a steel rod with handles and a spring.
Watch-board for records.
Photopuzzle. Puzzles made of plastic according to the picture train logic and develop visual memory. Pleasant leisure, and after assembly – an elegant decoration of the interior.
Balloons emoji.
The name laid out from the photo of the birthday boy.
Ant farm.
Polygraph. The toy diversifies leisure at a friendly party.
Video postcard with a screen.
Glasses in a stylish frame made of natural wood. For those who have everything and even a little more.
Souvenir Hollywood star with the name of an idol.
Flexible piano with silicone keys. Adjusts the sound level, allows you to create and record melodies, has headphones.
Hanging chair. The special shape and soft pillow inside will conquer any heart.
The thinnest robot vacuum cleaner. Its thickness is only 3 centimeters, it is almost silent and indispensable for cleaning under the wardrobe and sofa.
Music box with your melody.
Umbrella LED.
The HOMESTAR R2-D2 EX planetarium, in the form of the charismatic R2-D2 droid from Star Wars, will display the night sky right on the ceiling.
Candle-chameleon, changing color when burning, LED-candle.
Cream honey set.
Ice mold "Fresh-frozen fish".
"A year's supply of socks" in a case. A necessary and practical gift with a playful touch.
Quadcopter. You are mistaken if you think that this is a toy for teenagers. An amazing device will brighten up walks and family vacations. And if you equip it with a camera, you can get beautiful videos.
A box of jerky. Any man will appreciate! And order next year!
Piggy bank "Electronic safe".
Set of sky lanterns.
Games and toys
Interesting devices and puzzles have a lot of fans. With such objects, life becomes brighter!
Rubik's ball.
Aerofootball. A flying disk in the form of a soccer ball.
Magnetic levitron. This wolf can soar!
Jedi lightsaber. The unique design will be appreciated by Star Wars fans – both adults and children.
Unique toys: desktop Mokuru (flip stick) or Munchkin, kinetic Helicone.
The Hoberman sphere is an expanding and contracting ball that transforms from a small ball to a huge sphere.
Anti-stress cube Fidget Cube. The relaxant is useful for people who often experience emotional and mental "overload".
FUSHIGI anti-gravity ball for contact manipulation.
Appearing cane. Magic props for real tricks!
Flip ball. An interesting toy with unusual properties. A tossed ball can "turn out" by changing the color of the faces.
Chain of Heron. Spectacular toy demonstrates the laws of physics, will entertain both the birthday boy and the guests.
TETRIS LINK. An exciting game with plastic "bricks" will give a large company a lot of fun evenings.
The Tangle toy is a closed system that takes on an infinite number of shapes and shapes, an excellent relaxant and anti-stress. Gives a mesmerizing effect. It was created after getting acquainted with the Tibetan symbol – the Infinite Knot of Eternity.
Original gifts
What to give an original birthday present to a person who already has everything?
Only something very non-trivial! Or emotional.
The best gift leaves warm feelings and bright memories. Presenting a master class or an unusual quest as a gift is unforgettable.
It is important to choose the right path of adventure for the birthday boy. Do you need to remember or quietly find out who a person dreamed of becoming in childhood? What do you want to try and what do you lack the courage to do? Maybe he has some kind of talent, long forgotten, but still alive and requiring implementation?
An original present experience can be extreme and active, or it can be calm and peaceful, one of those that slow down the passage of time and allow you to enjoy every moment.
Choose an emotional present, taking into account the possibilities of your city:
air walk on a hang-glider;
motorcycle driving course
exit crossbow shooting;
beauty salon for a pet;
soap making lessons;
pony rides;
ballroom dancing;
walk on a segway;
romantic week-end in a country hotel;
Thai massage;
extreme buggy;
cock-fights;
kitesurfing;
swimming with dolphins;
skydiver;
Italian cooking lessons;
school of survival;
fashion braids;
scrapbooking course;
divination on tarot cards;
zorbing;
rendezvous in the clouds;
donuts show;
fusing master class;
magic lessons;
make-up artist secrets;
outdoor retro shooting;
children's body art.
And even off-scale creativity … an unreal flight on a fighter.
For those who are happy, an emotional gift will make them even happier.
For those who are loaded with deeds, it will reboot the picture of the world, give strength for new achievements.
Those who are sad will return a smile to their faces.
Your gift will forever remain in the memory of the birthday man and even be able to change his life for the better.
5 more interesting ideas on what to give the original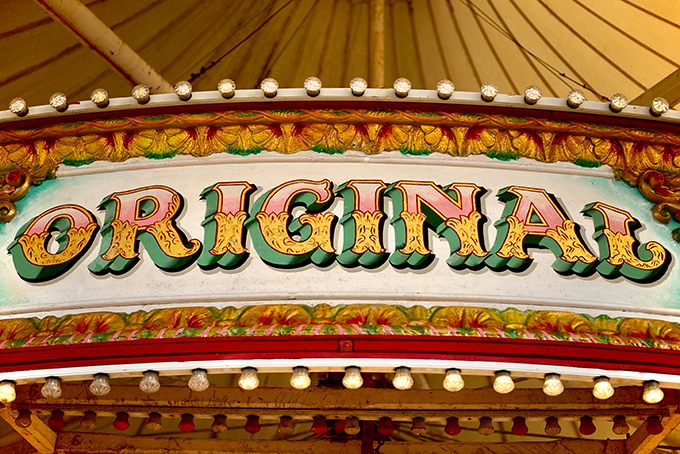 A set of funny dust jackets "Women's Fiction" . Here is such a decent female set to attract positive can be ordered on Internet sites:
"Solitaire". 700 success strategies";
"Fortune telling on the keyboard";
"Short course of quantum physics and striptease";
"What to wear to the library?";
"War and Peace" in comics";
"Self-Defense Techniques at Sales".
Dressing a romance novel or a detective story in a cool cover and reading enthusiastically in the subway is a 100% way to recharge yourself with cheerful emotions from those around you!
DNA test for belonging to an ethnic group . Order a fascinating journey into the history of distant ancestors for the hero of the occasion. Perhaps he is a carrier of genes of different nationalities?
Family coat of arms with motto . Refer to a specialized site, provide information about the birthday man and his family, interests, hobbies, life achievements. Specialists will make a family psychological portrait, agree with you on the motto and sketch of the coat of arms. Your birthday boy will become the happy owner of the coat of arms and blazon (its interpretation), enclosed in antique wooden frames. You can order a volumetric 3D version.
An unusual present is not cheap, but it is a great idea for an anniversary. It can also be implemented together: a group of friends or a group of relatives.
In the old days, many families had their own coat of arms. It was passed down from generation to generation, it was kept by fathers, children defended it in battles. Let your hero of the day have a symbol of family, home and Motherland!
Photo portrait printed on canvas in POLAROID style . A nostalgic gift that will be appreciated by everyone who is 30+.
MANBOX set . The present will correspond to the brutal essence of any man. No gift wrapping, ribbons or bows. Only a serious man's presentation – a wooden box with a crowbar, a stylish cardboard box or an imitation leather briefcase.
You can choose the content for every taste: a mini-brewery for craft beer; fisherman box, bartender set with shaker, muddler, jigger, geyser and more; tea set with Belgian chocolate; army boxing; bath box; Survivor set. A gift for those who love "their own, homemade" – a moonshine still. And even a present with which a hot night awaits with the temptations of the Kama Sutra – a set of "You and me".
Tips: How best to choose an original gift
Do not overdo it with originality, know the measure.
Remember, the best gift is the one that gives a person the feeling that they thought about him, picked them up with care and attention.
Consider the character of the birthday man, his sense of humor, health and temperament.
Unusual gifts should not be aimed only at the wow experience. They should please, surprise the future owner. Well, if they do not remain just original, but will also be in demand.
What is better not to give
We remind you of the most insidious gift in the history of mankind. It was presented by the Greeks to their enemies – the inhabitants of Troy. They left the huge figure of a horse at the gates of the city and returned to their ships.
The Trojans liked the horse and accepted the gift. With this, they signed a death sentence for the inhabitants of Troy – Greek soldiers were hiding inside the horse. Under the dusk of the night, they managed to let their army in and destroy the Trojans.
Moral: if you want to present an original gift, do not allow it to somehow humiliate a person, turn out to be obviously unsuitable for him (due to health, because of a phobia, completely different interests).
We sincerely wish that you not only give, but also receive the gifts of your dreams!