Don't know what to give your husband for his birthday? Such problems arise even more often when a man is no longer 20 years old, but, for example, 34 years old or 40 years old, and a simple, banal gift bought in haste will look ridiculous.
Below you will find super ideas on what to give a husband under 30, for 31, 32, 33, 34 years, 35, 36, 37, 39 years, 40 -45 years and older.
TOP 64 ideas What to give your husband for his birthday
Good perfume . Choose your husband's favorite scent or choose your own perfume if you know your man's tastes well.
Folding Swiss knife . For men who appreciate quality things. This gift will definitely come in handy in the household.
Coffee machine .A useful device for a lover of an invigorating drink. In addition, you can give several types of elite coffee as a gift – so you can immediately try out the coffee maker.
Quadcopter . Many men dream of such a gift – with its help they can explore their hometown and just have fun.
Tool . What to present to the husband useful? A good expensive hammer drill, an electric drill, as well as any other tool or set that he has long dreamed of.
Binoculars . An unusual gift for lovers of outdoor activities. If your husband is a hunter or a traveler, he will like this present.
Set of men's underwear . You can pick up products of famous brands – Armani, Burberry or Tommy Hilfiger. Nice and useful personal gift for husband.
Wish box . Make a box with your own hands as a gift to your husband, where you put 20-30 tubes with original congratulations and wishes. Alternatively, you can put fun tasks for you or the birthday person in the box – then the birthday celebration will turn into a fun game.
E-book . If your husband loves to read, a book would be the best gift for him. But what if there are several books in one handy portable gadget? Don't forget to upload some of your husband's favorite pieces.
Board game . A gift for a fun time together or with friends. You can choose any game from a huge list – "Munchkin", "Monopoly", "Colonialists", chess, backgammon or any other interesting "tabletop". The gift is ideal for a man at 31, 32, 33, 34 years old.
Balanceboard . If a man likes to play sports, you can give him a balance simulator. The balance board will tone your muscles and teach you how to control your body, and this device will also help you feel more confident on a skateboard, snowboard and surf.
Sonic face brush . An innovative gadget that will help you effectively cleanse your face, visually reduce the number of wrinkles and prepare your skin for shaving without irritation. With such a gift, your beloved spouse will be able to take care of himself – this is not only useful, but also interesting.
Stylish men's watch . People always keep track of time, so a watch is an ideal gift for a husband's anniversary, regardless of his occupation. Choose the original design and color, you can choose a classic or sports watch. A perfect gift for an anniversary at 30, 40, 50 years.
Car organizer. Use for bottles, stationery, gadgets.
Telescope. They can include the function of creating photo-video materials and displaying them on the gadget.
Mini smokehouse.
Compass navigator. In addition to counting steps, it determines the pulse rate, heart rate, calories burned. Shows notifications, calls, time.
Picnic set – a stylish bag with cutlery, napkins, glasses, dishes, cutting board.
Diode clock. There are no familiar arrows, numbers. Time is displayed in an original way (each model has its own version).
Metal puzzle (moon rover, rocket).
Decorated comb for beard, mustache. Sometimes decorated with skulls, movie symbols.
Anti-storm umbrella. Works comfortably even during a hurricane.
Wireless headphones.
A set of cooling stones for drinks.
Portable thermos mug.
Brazier.
Book lamp. This is a small magnifying glass-backlight that directs the beam to the desired point.
Virtual reality glasses.
Home trainer.
Mini printer.
Home brewery.
Radio-controlled helicopter.
Edible meat, cheese bouquet.
Safe.
Copper Turk.
Classic games (chess, dominoes).
Bed thermal underwear, thermal socks, warming rug. These warming mechanisms operate at low voltage, so they are safe. Warm up instantly.
Caricature, painting based on the picture of the birthday boy.
New keyboard.
External battery.
Portable hookah.
Rocking chair.
Music column.
Cooler bag.
Portable weather station. Attached to the wall.
Air ionizer.
Electronic piggy bank.
Posture master. Controls posture. Light vibration is triggered if the posture does not match the set parameters.
Globe.
Gyroscooter.
A series of books with one design. It can be a series of one author or a library of classics.
Musical instrument.
Perpetual calendar. This is an ancient device that is adjusted monthly.
Table fountain.
Souvenir models of cars, cars, planes.
Guitar.
Action camera.
Camping lantern. A light-emitting diode device resembling a kerosene lamp with a handle.
Polaroid.
Anti-theft backpack. A special system does not allow the possibility of penetrating under the fasteners.
An echo sounder is an indispensable tool for a fisherman. Shows the depth of the reservoir, the presence of fish at a given point.
Sneakers from his favorite brand.
Big TV.
Polo of an expensive brand.
Soulful and warm ideas of what to give your husband for his birthday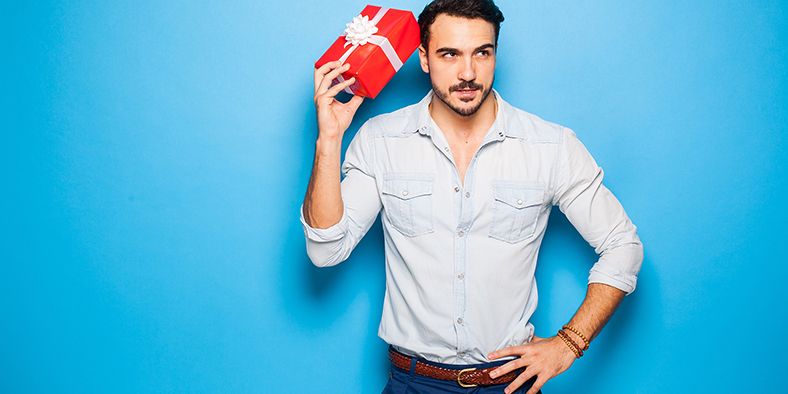 A person with a romantic nature will definitely appreciate the original gift in the form of a dinner for two, organized by his wife. For the event, you should choose an unusual place that could surprise your chosen one.
There are a lot of options: an interesting restaurant, the roof of a multi-storey building, a mansion with a chic interior, a hotel room, a sauna , etc. It is also important to take care of the evening menu and complement the table with touching gizmos related to your relationship.
If your spouse is the soul of the company, he will certainly be delighted with a theme party in his honor.
The organization will be successful if all guests are invited in advance, the room is properly decorated, costumes are prepared and the entertainment part of the evening is thought out.
Don't forget to order a birthday cake that matches the theme of the holiday.
A male aesthete will definitely like such gifts as:
Chic table lamp;
Painting by famous artist, etc.
There will be no problems with what to give your husband something useful if he is an avid motorist . You can consider the following options:
Set of covers for car interior;
Massage cape for chairs;
Motorist organizer;
Battery powered coffee maker;
Steering column.
A hunting spouse , whether he is 31 years old or 45 years old, will like such presents as:
Spyglass;
Hunter scales;
Case or case for storing weapons;
Camouflage suit;
Miniature smokehouse;
Weapon cleaning kit.
How to surprise your husband for his birthday who loves to travel :
Pedometer;
Electronic tracker;
Compass or watch with navigator.
Gift-impression
If your husband has been dreaming of doing something unusual and extreme for a long time, think about a certificate for some kind of activity.
This could be a parachute jump, a hot air balloon or wind tunnel ride, an SUV trip, a single-engine plane pass, a diving lesson, or a horseback riding lesson.
If your spouse at 32 or even 40 appreciates extreme sensations and new experiences, give him:
Descent into a dungeon or cave;
Certificate for a couple of hours of paintball play;
Flying in the air in a helicopter or skydiving;
Visiting a shooting range or shooting range;
Tour of the night city;
Mountaineering or rock climbing lesson;
Horse riding;
Buggy riding.
A couple more interesting ideas for what to give your husband for his birthday
If among the above presents you did not find what gift you can give your spouse, for example, for 31, 32, 33, 34 years, we recommend that you take a closer look at the following options:
Set of personalized skewers .If the husband loves to eat and cook kebabs, such a gift will remind you of the attention shown by the woman he loves and will delight with its practicality for many years. The skewers are made by hand and decorated with miniature images of animals. For the manufacture of handles, natural wood and brass were chosen. The advantage of these materials is that they do not heat up during operation. The exclusivity of the case is given by the personal initials of the owner, embossed on the skin;
Gift set for beard care .If your husband is the owner of a thick beard, extravagant sideburns or a stylish goatee, such a gift will definitely be relevant. High-quality cosmetics will allow you to maintain facial hair in a well-groomed form at any time and do without the help of professional barbers. The set includes oil and beard balm, as well as mustache wax;
Picnic set . Many women, thinking about what to give their husband for an anniversary or just a birthday, prefer practical presents that could benefit the whole family. If you are sure that your spouse will appreciate this approach, then a family outing kit will come in handy. There is everything that can be useful in nature: plates, glasses, knives, forks, spoons, napkins, and all this in 4 copies. In addition, the set includes a salt and pepper shaker, a wooden cutting board and a sommelier knife. All items are neatly stowed in a stylish shoulder bag.
What to give your spouse for his 35th birthday
At the age of 35, a man can be considered accomplished and an adult, but no one has canceled the share of boyishness, so the gifts should be appropriate. Ideas for what to give your husband for his birthday:
Diode LED clock . This device differs from ordinary watches in that to view the time you need to press the side button, and their original design will not leave indifferent any man who appreciates stylish things, whether he is 31, 35 or 40 years old;
Portable lie detector . By means of such an apparatus, one can measure the truthfulness of the spoken words on a five-point scale. He who tries to deceive immediately feels a slight electric discharge, due to which he will certainly be appreciated in a friendly company as the main means of entertainment;
For a spouse whose work occupies an important place in life, a present in the form of an organizer in a genuine leather case is suitable.
Such gifts will surely find a place of honor on the desktop of the birthday man and will remind you of your beloved wife for many years.
What to give your husband for his birthday
If your spouse is celebrating a round date – 30, 40, 50 years old .., the choice of a gift should be approached even more responsibly. We must not forget that the anniversary is a special holiday, which means that the present should be memorable and outstanding.
What gift is suitable for a lover of discovering new places? Of course, travel! It is believed that giving your husband something expensive for an anniversary is quite acceptable, therefore, if finances allow, fulfill the dream of a loved one and give a trip to where he has wanted to visit for so long. At the same time, you can pick up something suitable even with a small budget. In such a situation, a certificate for an individual city tour or a weekend itinerary will come to the rescue. An invaluable advantage of such a gift will be the opportunity to enjoy it together or even the whole family.
An original and very useful gift to a spouse for an anniversary is a mini-brewery . In addition to its unusualness and practicality, the device has another important advantage – the whole family will be able to enjoy the results of its work.
What to get your husband for his 45th birthday
45 years for a man is a special date, because at this age the representatives of the stronger sex, as a rule, have already achieved success in family and career terms and are absolutely mature people. For such held birthdays, the following presents are perfect:
Decanter for spirits in the form of a globe . Such a product can be placed both in your personal account at home and at work. The convenience of its use is ensured by the presence of a special faucet and a sealed lid. Absolutely any drink can be stored in a carafe;
Set of games "Seven in one" . Who said that only a serious present can be given to a spouse for his birthday? In fact, both at the age of 34 and at the age of 45, men will appreciate such a kit, because you can find everything you need for your favorite games: dominoes, chess, cribbage, checkers, etc. in it. In addition to the entertaining function, the gift is beneficial – it develops logic and thinking. In addition, thanks to its compact size, the set can be taken with you on any trip;
Genealogical tree . There is no doubt that giving your husband such a thing for his 45th birthday is a win-win option. It is at this age that the understanding of how important the roots comes. And who among us does not have such ideas of elementary interest ?;
A set of elite cigars . It is excusable not to appreciate such a gift at 33, but after forty men, as a rule, know a lot about such things. It will be pleasant for a beloved spouse to smoke a cigar in the evening and think about the eternal, or to share the pleasure in the circle of close friends;
Gorgeous skin of a wild animal . Many people think that it is possible to give such a present to a husband for his birthday only if he is fond of hunting. In fact, he is able to delight everyone who appreciates luxury.
How to choose what to give your spouse for his birthday?
Choosing an original and, most importantly, a suitable gift for your beloved spouse, for example, at the age of 33, taking into account the following points will help:
Interests, hobbies of the birthday man ( an avid hunter is unlikely to be pleased with a soccer ball );
His needs ( perhaps your husband needs some tools or wardrobe items );
The age of the hero of the occasion ( you should focus on how old the man feels, and not on the numbers in the passport );
The cost of the present ( it is important to know whether the spouse will be delighted with an expensive gift if you have a general budget; the same applies to a cheap present – perhaps your chosen one will be disappointed with a low-cost option if there is an opportunity to purchase something more worthwhile ).
What is better not to give your husband a birthday?
Ideas for bad gifts for a spouse are given below:
Too expensive gift . Psychological studies say that you should not give your husband gifts that cost more than his income. It is believed that such presentations can negatively affect his self-esteem. However, you must decide for yourself how much you are willing to spend on a gift – perhaps your family does not have such prejudices.
Souvenirs . Such a gift is suitable for friends as a "hello" from other cities and countries. Souvenirs for a husband's birthday are a bad option. Perhaps your man will be upset because of the lack of attention from you.
Bathroom accessories . This category includes all kinds of shampoos, shaving foams, shower gels, bath kits, creams and other things for hair and body care. This is too banal a present, and it is unlikely to delight your loved one.
Ticket to the theatre, opera or ballet . If your man is not an avid theatergoer, he is unlikely to like such a present. Remember – the gift should first of all be intended for your loved one, even if you really want to get to this or that performance.
Socks . As well as the notorious bouquets of socks. Perhaps such a gift looks original, but the husband's joy will not be long – these are all the same socks that are a terrible birthday present.
Clothing . Casual wear is also on the no-go list. This is a banal gift that will not bring any pleasure to a man. In addition, most men prefer to choose their own clothes.
Household items . The gift should be intended for the birthday person, and used only by them. The exception is the situation when the man himself dreams of such a gift.
Things of poor quality (a present that breaks in a couple of weeks will bring one disappointment, so it is better to give preference to things that are simpler, but with a higher service life).
CONCLUSION
It doesn't matter how old your husband is – 32 years old or 45 years old – the main thing is that the gift is original and given with soul. To do this, it does not have to be expensive at all, it is enough to take care of the present in advance and take into account the preferences of your chosen one. In this case, a surprise for your husband on his birthday will cause genuine delight in the birthday man, and you will be able to demonstrate your most reverent feelings to your beloved.