Despite the closeness, it often turns out to be difficult to come up with what you can give a friend for his birthday, because you really want the present to be remembered and liked.
In order to make it easier for you to cope with this task and decide what to give a friend for his birthday, below you can view a ready-made list of gifts.
TOP 83 ideas What to give a friend for his birthday
Car accessories (handy organizer, tool box, a set of new tires, a set of car chemicals, seat covers, a GPS navigator, a video recorder, a car refrigerator, a car charger, etc.);

Fishing paraphernalia (spinning rods, fishing rods, folding chair with the inscription "The best fisherman in the area", etc.);

Expensive engraved folding knife;

Collectible weapons;

Certificate for attending a master class on a topic of interest to the birthday person (for example, extreme driving, cooking, dancing, snowboarding, etc.);

Test drive your friend's dream car;

Subscription to the gym or sports equipment for home workouts;

Electronic book;

Wireless headphones or speakers;

3D virtual reality glasses;

A picnic set consisting of a set of folding furniture, plastic dishes, a barbecue or grill, skewers or tongs and many other useful things that can come in handy in nature;

Stylish men's umbrella;

Pop art portrait from a photograph by a professional artist;

Collector's edition of the birthday man's favorite book in a gift cover or a copy signed by the author;

Favorite board game of the hero of the occasion (chess, checkers, backgammon, poker, Monopoly, etc.);

Rare specimens for a friend's collection, if he is fond of it (stamps, coins, banknotes, models of aircraft, cars, tanks, etc.);

Multifunctional flashlight (in addition to a lighting device, it can also be used as a radio receiver, charger, alarm siren, etc.);

Smart watch or fitness bracelet;

Holder for smartphone or tablet in the car;

A pair of branded sneakers;

Organizer bag for a bike, which is attached to the handlebars and allows you to carry with you all the necessary things;

External battery for smartphone or tablet;

Home mini-brewery;

Pillow or plaid with the best photos of the birthday boy;

Stylish smartphone/tablet case or laptop bag;

Desktop organizer made of wood or metal;

Thermal mug with personalized engraving or photo printing;

Game console;

Solid purse or cardholder made of genuine leather;

Heated cup holder connected to a computer via a USB port;

Handmade belt with engraving;

Action camera;

Portable hard drive;

Elite alcohol;

A bean bag chair that allows you to relax your back after a hard day's work or, conversely, work comfortably at a laptop;

A radio-controlled car or a Lego constructor, if a child still lives in the soul of a birthday man even at the age of 25;

Gift set of elite varieties of cheese;

A thermal bag that allows you to keep food fresh and warm at any temperature outside;

Robot dog;

A set for assembling polygonal figures (this can be the head of a bear, unicorn or even an elephant);

A set of high-quality Belgian chocolate tools;

Tent or sleeping bag (for outdoor enthusiasts);

The Pravda newspaper with photographs of the hero of the occasion and articles about him (the best solution would be to dedicate the title page of the newspaper to the birthday man and arrange the page in an expensive baguette frame);

Gift-adventure (passing the quest, flying in a wind tunnel, parachuting, etc.);

A coffee lover's set, including several varieties of coffee and spices for making the perfect drink;

A set of cosmetics for a beard or a certificate for visiting a barbershop;

Stylish flip clock on the desktop;

Beverage dispenser;

Things with the symbols of your favorite football team, if the hero of the occasion is an ardent fan of this sport (scarf, apron, hat, etc.);

Jar of honey with gold;

A key holder, decorated in a brutal style (for example, wall-mounted made of natural wood or "mobile", made of leather);

Personalized whiskey glass with special stones for cooling the drink;

The latest model of electric toothbrush;

Certificate for a session of Thai massage of the whole body;

Personalized flask for drinks;

Voice picture (it is enough to record a congratulation for a friend in a special studio, after which it will be transferred to a graphic image and printed on canvas);

Schepokol (for barbecue lovers);

Globe bar;

Electronic cigarette and a set of liquids for it;

Portable speaker system;

Geographic puzzle made of wood (you can assemble the picture completely right away, or you can add details as you conquer new places);

Balance board (a simulator with which you can learn to keep balance and improve coordination of movements);

Chocolate with photographs printed on the wrappers of each piece;

A picture with words from photographs (absolutely any words can be encoded in the image – "happiness", "dream", "friendship", "20 years", etc.);

Shoe shine set in a vintage case;

Magnetic darts;

A bottle of good wine with a set of spices for making mulled wine;

Smart scales that can show not only the total weight of the user, but also indicators such as body mass index, muscle mass, percentage of body fat, bone mass, percentage of water content, etc.;

An annual supply of socks (can be issued in the form of a stylish case, tin can, etc.);

A set for making cocktails, consisting of a shaker, a measuring cup and a cocktail spoon;

An oak barrel for alcohol, which has the ability to preserve the taste and aroma of the drink (it would be even better if you fill this container with your favorite birthday drink in advance);

A T-shirt with a cool inscription (for example, "The most real friend!", "If life has become tight, look at your friend's face!", "I spoil photos to friends", "Only cunning friends are worse than smart enemies", etc.);

Dumbbells, punching bag, expander or other sports equipment for practicing at home;

Erasable world map for the avid traveler;

Stylish lamp, table lamp or night light;

Modern quadcopter;

High-quality urban or hiking backpack;

Trimmer or electric shaver of a well-known company;

Camera with instant printing capability;

A cigarette case or a beautiful figured ashtray (if a friend smokes);

Computer mouse or wireless keyboard;

New game for console or computer;

Piggy bank in the form of a safe.
What can you give a friend inexpensively
Often, puzzling over what to give to friends as an original gift, we are faced with another problem – a lack of finances, because, as a rule, other people's holidays come suddenly and at the wrong time.
In this case, do not despair – despite all the deplorable situation, there are many options to surprise the birthday man with an inexpensive present. Here are some of them:
Keychain for finding keys by whistle . This miniature device can make life much easier for a man, especially if he is lonely and his bachelor lair is not distinguished by a special order.
With the help of this gadget, finding the keys will no longer be a problem – just whistle within the range of the accessory, and it will give a response sound. Naturally, the keychain itself must first be attached to the keychain;
Rubik's cube . This puzzle will arouse the interest of the hero of the occasion, regardless of how old he is – 17 years old, 21-23 years old or 40 years old.
With its help, a man will not only be able to pass the time, but also arrange a real mental exercise, because the game develops reaction speed, memory, resistance to stress and generally improves thinking.
There is a choice of different models – from the simplest to high-speed or, as they are also called, professional. You can also choose the size of the cube yourself, which will subsequently determine the level of complexity of its assembly;
Cover for passport or driver's license . When choosing what to give a friend for his birthday, you should remember that men prefer practical things. A cover for the most necessary documents will be useful to any birthday person, because everyone has such papers.
When choosing a model, it is worth focusing, first of all, on the age of the gifted. For example, for a young man of 16 years old, some cool option will do, with a funny inscription ("Tsar, just a tsar!", "For viewing 1000 rubles", "Passport of a real kid", etc.). For a man 25 years and older, it would be more appropriate to present a cover made of leather or textile with a concise design;
Pizza ordered to a friend's address . Such a delicious present will definitely appeal to any member of the stronger sex, whether he is 18 years old or 30 years old. You only need to choose a good pizzeria, which will undertake to deliver the culinary masterpiece home to the birthday boy at the appointed time.
In addition, the quality of food itself should also not let us down, so it is better to warn the operator in advance that pizza plays the role of a gift and its preparation should be taken with even greater responsibility. Among other things, you can ask the chefs to put numbers on top indicating the age of the birthday person (for example, from tomatoes or mushrooms).
A few more inexpensive but nice birthday gifts for a friend :
Mug with original image or inscription;

A set of spices for mulled wine;

Ordinary or engineering compass;

Stylish diary or notebook in a masculine style;

Thermos with original design;

Male bouquet consisting of beer, fish and pistachios;

Cheerful helmet with fasteners for drinks;

Jam in a jar with personalized engraving;

A set of flavors in the car;

A kitchen apron with funny inscriptions or a pattern is a cool birthday present for a friend.
What to give a male friend from a woman, made by hand
As practice shows, the idea to create a present with your own hands comes most often to the representatives of the beautiful half of humanity. And this is not surprising, because it is they who have a richer imagination and a craving for creativity, as well as a desire to spend personal time to please a loved one.
Any man, even if he is exclusively on friendly terms with the donor, no doubt, will be very pleased to receive a hand-made present from a friend. In this case, the most advantageous options would be:
Knitted accessories . We are talking about hats, scarves, gloves, sweaters, etc. Women who know how to handle knitting needles and threads are able to create true masterpieces of high quality and uniqueness – you definitely won't find such ones on store shelves.
Coming up with a model for a guy 17-19 years old, you can show a sense of humor and knit a hat-helmet for him, resembling a real knight's helmet with a visor. As for other accessories that keep us warm in winter, bright colors and unusual badges and stripes will help to make them original. The older generation is more suitable for classic dark or pastel colors;
Cake or pastries . If you know how to surprise loved ones with your culinary skills, use this talent in thinking over a gift for a close friend – please him with delicious pastries.
Moreover, it does not have to be sweets – no one forbids you to bake pizza or a pie with salty filling.
Do not forget about the festive decoration of the results of your efforts – you can decorate the product with various sprinkles, cream, figurines or numbers from the dough, or simply place it in a beautiful box and write a warm congratulation on it.
Postcard in formal style
You can please a friend with a cute postcard in the form of a shirt and tie in an official style. This will be a great addition to the main gift. To create a handmade postcard, you will need colored cardboard and stationery, which can be found in any home. Creation instructions:
Cut a rectangle out of cardboard, make an incision for the collar in the upper area (width – 2 centimeters).

Trim the edges of the strips carefully on both sides.

Cut out a tie from a different color of cardboard and glue it under the collar.

Add some touches to the card – stickers, sequins, buttons or threads, as well as write warm words and wishes.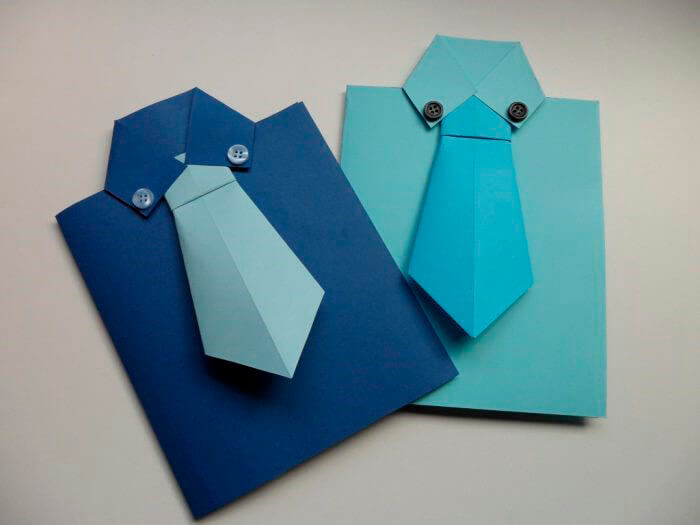 Panel of threads
A cute handmade painting is a great birthday gift for a friend. Prepare for work:
plywood or a piece of board the size of the future picture;

image template on paper;

threads (yarn or floss);

thin nails;

masking tape;

hammer.
Master class on making a gift with your own hands for a friend :
Sand plywood or wood with sandpaper, varnish or paint if desired.

Draw an image on paper or make an inscription – this will be a template. Use masking tape to fix the pattern on the base.

Hammer nails along the contour of the drawing (the interval should be the same).

Remove the paper. Tie the end of the thread to one nail and wrap the rest of the nails in random order.
How to choose what to give a friend on DR
No matter how strong your friendship is, this is not a reason to be negligent in choosing a present for your best friend. In order not to disappoint a loved one on an important day for him, we advise you to listen to our recommendations, which will help you understand how to give a gift and what is better to choose:
When choosing a gift, consider such parameters as age, hobbies, place of work, status, dreams, marital status of the recipient;

If you have come up with, in your opinion, a brilliant idea for a present for your best friend, do not rush to run to the store – take an interest in the opinions of others. At the same time, it is better to listen to both close people of the birthday man, and those who have absolutely nothing to do with him;

In an effort to come up with something original to give to friends, we often forget that someone likes more familiar and practical things. For example, a man who has no idea what a "barbershop" is is unlikely to be sincerely happy with a certificate for visiting it. Thus, take into account the lifestyle and temperament of the hero of the occasion;

If the present is for a close friend with whom you are accustomed to discussing everything, do not be afraid to directly ask him about desires. So you will save yourself from the torment of choice, and the birthday man – from things he does not need;

If you still don't want to ask "on the forehead", ask a friend to make a so-called wishlist. This is a list of gifts that would please a man. This idea is very popular among young people, for example, among young people aged 18-19 who put it up for public access on their pages on social networks. Each invited guest just needs to follow the link and choose the option that suits him;

Before presenting a present, consider a congratulatory speech that will accompany this important moment. Use less common phrases, but more touching words that can find a call in the heart of your birthday person. It is also important to remember that you must congratulate a friend in person or at least by phone – no written messages;

If you are faced with the question "should you give flowers to the hero of the occasion?" Keep in mind that it all depends on your gender. Presents of this kind are not accepted between men, but a laconic composition from a lady will look quite appropriate.
What not to give a friend for his birthday
If you do not want to see disappointment in the eyes of a close friend on his birthday, refuse such presents as:
Shampoos, shaving gels, deodorants, soaps , etc. (belong to the category of banal and rather personal things that the birthday man is able to purchase on his own);

Clothing and shoes

 (the representatives of the stronger sex are not fans of this kind of presentation; in addition, there is a high probability of miscalculating the size and appearance of the product);

Gifts intended not only for the hero of the occasion, but also for everyone

 who lives with him on the same territory (for example, household appliances for the home);

Things, the delivery of which is associated with bad omens

 – sharp and cutting objects, empty wallets, mirrors, watches, etc. (if a friend is overly superstitious);

Pets

 (if responsibility is not your friend's strong point);

Useless things

 – figurines, photo frames, souvenirs, etc. (the stronger sex, for the most part, recognizes only practical things that can be useful);

Too expensive or cheap gifts

 (the former can confuse the recipient, the latter can offend and impose the idea that his friends do not appreciate him and spare money on him).
Conclusion
At first glance, it seems difficult to decide what to give a friend – you really want to please a loved one and present something you need, but he seems to have everything or what he wants is very expensive … In fact, as you have already seen, lots of options. The main thing is to turn on the fantasy and take into account all the features of the person being presented – then the right decision will come to your mind by itself.