Caring children always think about how to please their father, but it can be very difficult to answer the question of what to give dad inexpensively. After all, this is one of the closest people who stands guard over the family, is always ready to help out and support, so such useless things as figurines, photo frames, vases are not suitable as a gift.
Even with a small amount of money, you need to carefully approach the choice of a surprise.
Thinking about what you can give dad inexpensively, you should pay attention to presents with a masculine character. These should be original, practical things, perhaps with a touch of humor.
Don't worry, here you will find gifts that meet all these characteristics. Now the search for a gift for dad will not turn into excruciating torture. You can not only please your father, but also express your feelings through a present: love, respect, care, gratitude, etc.
Do not forget that you can not only buy a gift, but also prepare it yourself. Just show your imagination, ingenuity, try to find a present that will match the character of a man, his lifestyle. And if you do not want to waste your time and nerves, just ask for help from the proposed list of presents!
TOP 115 ideas what you can give dad inexpensively
Electric shaver or hair clipper.

Wireless headphones.

Road blanket.

Electric Toothbrush.

Basket of beautiful delicious food.

Heated slippers.

Thermos or thermo mug.

Orthopedic pillow.

New keyboard or computer mouse.

Leg hammock.

Vacuum cleaner for cleaning the car interior.

Massage pillow.

Anti slip car mat.

Newton's pendulum.

Dedicated laptop stand

Universal waterproof phone case.

Tool storage organizer.

Special flashlight for reading books.

Heating blanket.

Pedometer.

Stationery set.

Universal control panel.

Floor lamp for reading in the evening.

Convenient tray with handles.

Fishing rod, spinning and other tackle for fishing.

Waterproof shower column.

Powerful flashlight.

Faucet LED.

Foot massager.

Desktop organizer.

Board game (checkers, chess, backgammon, etc.).

Digital meat thermometer.

Light alarm.

Original strainer for brewing tea.

Stylish tie or suspenders.

Hat with wide brim.

Gloves for working in the garden or in the garden.

BBQ set.

Festive cake with a themed decoration.

Beach or bath towel.

Folding chair (if dad is a fisherman or likes to relax in nature).

Anti-fog shaving mirror.

Scarf and hat knitted by hand.

A set of bath accessories.

Aquarium with fish.

Tie clip.

Delicious tea or coffee in a gift box.

Original case for phone or tablet.

Glass for cooling drinks.

Shaving set.

Magnetic car holder for phone.

Siphon for soda.

Personalized apron.

Lamp with motion sensor.

Fragrance for car interior.

Household appliances (electric kettle, toaster, etc.).

Keychain.

Electric heating pad.

3D night light.

Painting by numbers.

Notebook with original cover and pen.

Mixer mug.

Travel bag for the car.

Name hanger.

Bathrobe and cozy slippers.

Wood burning kit.

Tourist hammock.

Fountain pen from a famous brand.

Cooler bag.

Timer for the kitchen.

Stand for watches or glasses.

"Sweater" for a mug.

Pajamas or home wear.

Puzzle set.

Heated lunch box.

Men's paracord bracelet with compass.

Set for a bath or sauna.

Stormglass (weather forecaster).

Stones for cooling drinks.

Coffee or tea pair.

Solid men's umbrella.

Touch screen gloves.

Sports water bottle.

Plant growing kit.

Anti-radar device.

Projector of the starry sky or ocean waves.

Case for business cards.

A set of growing pencils.

Fortune cookies.

Nominal autoframe for the number.

Thermometer "Galileo Galilei".

Scratch map of the world.

Shoe shine kit.

Driving gloves.

Apron with BBQ set.

Men's skin or beard care set.

Heated mug.

Multifunctional shovel.

Folding multifunctional knife.

Flip clock with backlight.

Case for glasses.

Leather cover for ID.

Nominal purse-clutch.

Water filter.

Hip flask.

Sticks for Nordic walking.

Trouser belt made of genuine leather.

French press or Turk.

Lamp with wireless charging.

Clip for banknotes.

Set of tools.

Convenient knife sharpener.

Hand chipper.

Magnetic slate board for refrigerator.

Home mini-brewery.
Original gift options
Thinking about what to give dad for his birthday inexpensively, you should pay attention to the original options. Even with the minimum amount in your pocket, it is not difficult to find a present that will truly surprise a man. Hurry up to make sure.
Star map. Unusual gift option for daddy. The most important thing in a surprise is emotions. And with such a present, positive impressions are guaranteed! All you need is to choose the place and time of the event (it can be a birthday or any other important date).
The stars on the map will be located exactly as they were on the specified day, regardless of how many years have passed since the significant date. Don't forget to come up with a touching caption for your gift.
A glass with a glass holder. A suitable idea for what to give dad on DR inexpensively. To make your surprise memorable, you can personalize it by engraving it on the coaster.
Such a present looks impressive, stylish and spectacular. Suitable for daily use.
Space nutrition. Original gift for father. Astronaut food consists exclusively of natural ingredients.
Dad will be able to try borscht, mashed potatoes with cutlet, cottage cheese cream, dried fruit compote, etc. This is a unique opportunity to enjoy products designed for Soviet space explorers.
Tree sapling. Since every man must build a house, raise a child and plant a tree – it is a worthy gift option from his son. The gift will become even more valuable if dad is the owner of his own plot of land.
This is a sincere, warm, ecological gift for many years. In just a few years, the sapling will turn into a large and strong tree, will become a symbol of the family, and will delight more than one generation.
Inexpensive but useful gift ideas
Speaking of an inexpensive gift, for some reason many of us immediately imagine useless things: souvenirs, figurines, etc.
However, if you try, you can find a practical thing, the acquisition of which will not hit your pocket. Let's consider several of these options.
Inflatable head pillow. An actual gift from a daughter who takes care of her father, who is often on the road. The gift can be supplemented with a sleep mask, earplugs.
When folded, the pillow does not take up much space, but inflates in just a couple of breaths. The product will help out on a trip, hike and even at home. It will make your stay even more comfortable.
Wooden Power Bank. Use this hint if you don't know what to give dad for DR inexpensively. This is an accessory that will allow a man to always stay in touch with loved ones.
In addition, such a thing looks very solid. To impress the hero of the occasion even more, apply a personalized engraving to the gift.
Sofa armrest organizer.  The design is suitable for armrests of any width and height. This is a handy item with lots of pockets designed to store small items (remote controls, newspapers, magazines, glasses, etc.).
It is also convenient to arrange all sorts of goodies in them, which you can enjoy while watching TV. Such a gift will fit into any interior, it is not difficult to make it with your own hands, having simple sewing skills.
Pocket heating pad. A good gift if you don't have much money. The reusable heating pad heats up in a few seconds, thanks to its overall dimensions, it fits in a bag, pocket, sleeping bag, etc.
The product will help prevent hypothermia of the hands, and will also prevent the phone battery from being discharged.
What to give a stay-at-home dad
If dad spends most of his time at home, then you need to choose a gift that will brighten up everyday life, provide warmth and comfort.
The following inexpensive gifts for dad will not go unnoticed.
Warm vest. A piece of clothing made from natural materials will warm you in the cold season, especially when the heating has not yet been turned on in the house. This is a wonderful gift from my daughter, which will provide lightness and convenience.
Dad will be able to do his own thing, while the vest will warm and not hinder movement.
Blanket with sleeves. A useful and inexpensive gift for a father. This is a cozy, soft product that will help out on cool evenings. The plaid resembles a large robe, only it is worn backwards.
It is convenient to wrap yourself in this blanket, it will warm the whole body, but your hands, although they will be warm, will remain free, so you can do your favorite things (work on a laptop, read a book, watch TV, drink tea, etc.).
Salt lamp. An unusual and practical gift for your beloved dad from children. A lamp made of environmentally friendly material will make a positive impression on the hero of the occasion.
There is a light bulb inside the lampshade. As soon as it starts to heat up, salt releases negatively charged ions into the air, which have a beneficial effect on human immunity.
Name pillow. A suitable gift option if there is no money. It is not difficult to sew such a pillow or even knit it yourself. To do this, you can use any materials (old jeans, t-shirts, sweaters, etc.).
To give the product individuality, to make it unique, letters can be sewn onto the pillow (for example, write the word "dad", or his name, initials).
What makes an active dad happy
Dad, who is not sitting at home, needs to give appropriate gifts. Whoever your father is: a professional athlete or an amateur, a tourist who prefers outdoor activities, he will love each of the presentations below.
Soccer ball. An essential attribute of a football fan. Do not hesitate, even if dad cannot be called an avid football player, he will not mind warming up and kicking the ball. Even among the budget options, you can find a quality thing.
To do this, when buying a product, you need to pay attention to such nuances: the material of manufacture of the outer and inner layers of the ball, its size and weight, the purpose of use (training, friendly matches, etc.), the type of surface on which the game will take place.
Dumbbell set. Regular exercise will help keep your body in shape. If dad does not always manage to visit the gym, then such sports equipment will definitely come in handy for him. They do not take up much space, they will always be at hand. Dad will be able to train without leaving home.
It is best to purchase stacked dumbbells. They allow you to adjust the weight at your discretion, and rubberized models are characterized by noiselessness, which is especially important in a multi-storey residential building.
A set of utensils for a picnic. If dad can be called the "soul of the company", then he will definitely like such a gift. The picnic set includes the most necessary utensils, which are located in a convenient portable box.
Thanks to cutlery made in a modern style, outdoor recreation will become even more pleasant. And bright plates and glasses will be easier to find in the green grass.
Thermal underwear set. Dad, who loves winter fishing, walks in the forest in any season, needs to be presented with underwear that guarantees excellent thermoregulation.
Thermal clothing will not allow you to overcool or overheat. Due to the absence of seams, it does not rub, does not cause discomfort, and provides freedom of movement.
Cool gifts for dad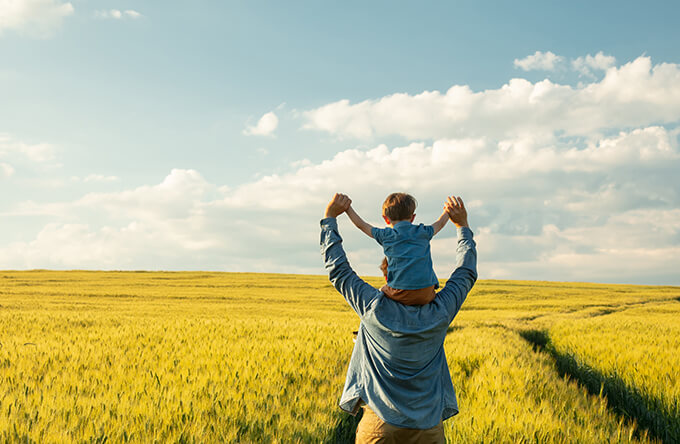 If humor is welcome in your family, then do not miss the opportunity to play a trick on dad. You don't have to worry, none of the proposed presents will offend a man, on the contrary, it will cause a lot of positive emotions, and therefore will be remembered for a long time.
Radio control toy. Since men, no matter how old they are, remain mischievous boys in their hearts, such a gift will please and will surely amuse the hero of the occasion.
Choose a car, a helicopter, a radio-controlled boat for your father and enjoy his enthusiastic reaction.
Alarm clock with a target. If dad is a sleeper, then such a present will come in handy. As soon as the specified time comes, the target rises on the alarm clock, in addition, the product starts to make an unpleasant sound.
In order for it to stop, dad must hit the bull's-eye with a laser pistol. Such an activity will definitely invigorate, charge you with positive energy for the whole day.
Annual supply of socks. Surely, you have watched more than once how dad walks around the house in confusion, looking for a second sock.
To make such situations as rare as possible, present him with a supply of socks that will last for a whole year. The father will be able to choose them depending on the season, shoes, etc. This is a practical gift that will not only please dad, but will definitely come in handy.
Desktop punching bag. An excellent present for dad, whose work is associated with strong emotional stress.
As soon as a man feels that negative energy has accumulated over the edge, he will be able to throw it out by punching a punching bag. The product is securely attached to the table, so you can hit it very hard.
How to Surprise a Dad Who Loves Food
Many men love delicious food, so if you don't know what to give dad, use a win-win idea by giving him something tasty. Below are the most original options for delicacies.
Big jar of honey. To impress your father, you do not need to come up with something extraordinary, just give him a large jar of honey.
In addition to the fact that such a gift will be remembered, it will cheer you up, it will strengthen the immune system, serve as a prevention of colds, and replenish the supply of vitamins. However, before giving a present, it is important to make sure that dad is not allergic to honey.
Edible bouquet. It's hard to come up with a more original gift. Such an edible bouquet consists exclusively of male delicacies. If dad loves meat, sausage, then collect a gift that includes different types of these treats.
The bouquet can be supplemented with vegetables, cheese, nuts, snacks, crackers, chips, your favorite drink, etc.
Set of meat delicacies. No man will leave such a surprise unattended. Even with a small amount of money, you can buy several types of meat masterpieces, such as sausage, jerky, jamon, lard, etc.
Decorate your present beautifully. You can use a gift box, basket, board, etc. Do not hesitate, dad's delight will not have a limit.
A set of themed cupcakes. Dad is a sweet tooth, he will definitely be delighted with this gift. Cupcakes – miniature cupcakes, topped with cream, edible mastic figurines, confectionery powders, applications, etc.
Such sweets are the perfect solution for any holiday, be it Father's Birthday, February 23, New Year, etc.
DIY gifts for dad
The best gift is a handmade one. After all, he says that you thought about a present for dad in advance, did not spare your time, effort, energy, connected your imagination, etc. You can be sure that such a surprise will definitely not go unnoticed.
Salt Text Craft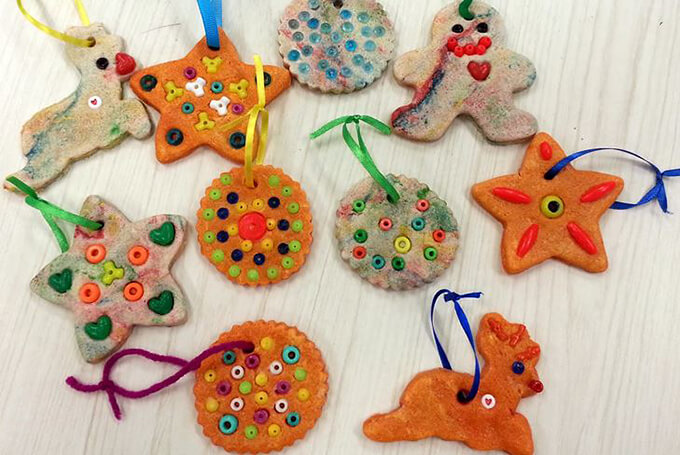 Even the smallest child can make a figurine from salt dough. And the materials for its manufacture are in every kitchen.
What you need:
a glass of wheat flour;

a glass of salt;

half a glass of cold water;

a bowl;

decoration elements.
How to do:
take a bowl, pour a glass of flour and salt into it, mix the ingredients well;

Add water to the resulting mass and knead the dough. When it ceases to stick to the hands or crumble, it can be considered suitable for modeling;

mold any figure. It can be a heart, an animal, or just a circle. At this stage, you can decorate the craft, glue the beads or make a hole for the ribbon in advance;

when the craft dries, it should be very hard. It is advisable to make it brighter by painting it with felt-tip pens or paints.
Handmade chocolates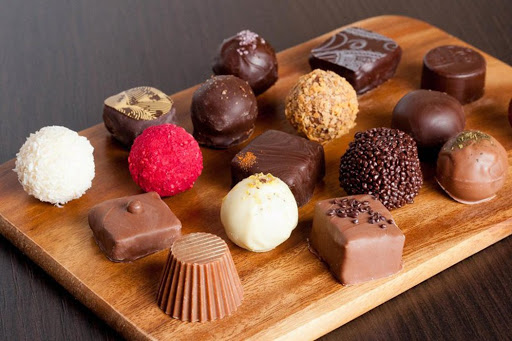 If dad can be called a sweet tooth, then he will definitely like such a gift. To make sweets at home, you do not need to have special skills or professional tools. Just follow the step by step instructions.
What you need:
chocolate (both black and milk or even white are suitable);

confectionery dressing;

dried fruits, candied fruits or nuts;

molds for chocolates.
How to do:
if chocolate is in bars, it must be broken into small pieces;

melt the chocolate in a steam bath, carefully making sure that not a drop of moisture gets into the mass;

add nuts, dried fruits or candied fruits to chocolate;

then it is necessary to pour the mixture into molds, making sure that they are wiped dry;

send to the refrigerator for 15 minutes;

after, you can decorate the sweets at your discretion.
Jar "100 reasons why I love my dad"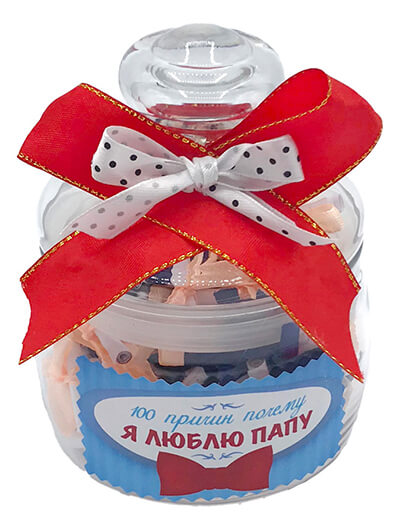 The best way to confess your love to your dad. Such a gift touches even the most severe man.
What you need:
glass jar with a lid;

paper on which confessions can be printed;

narrow satin ribbons;

decorations (fabric, lace, beads, colored paper, etc.).
How to do:
print confessions on paper, then cut them into thin strips;

roll each strip into a tube, tie with a ribbon;

decorate the jar. To do this, you can use any decoration elements. Be sure to stick the inscription on the container: "100 reasons why I love my dad";

fold inside the jar of papers with confessions. The gift is ready for delivery!
Adviсe
The question of what to give dad inexpensively is both simple and complex. It would seem that it could be easier than choosing a gift for a loved one. However, when it comes down to it, problems start to arise. To please your father with a gift without spending a lot of time on his choice, read the following tips.
Straight Talk.  You can always directly ask your dad what thing would be a pleasant surprise for him, and it is important to indicate the amount of money that you are willing to spend on its purchase.
Beneficial item.  A gift should not be useless, even among budget options, you can find practical gifts. Then the donated item will not become a subject of disappointment.
A gift is a piece of the soul.  The best gift comes from the heart. Therefore, even a simple postcard, decorated with shared photographs, can make a much greater impression than an expensive but soulless present.
Interest gifts.  Think about what dad is into. A gift for his hobby is the best option. So, a person who loves to cook can be presented with an original apron or unusual kitchen utensils. Such a surprise is inexpensive, but will cause a lot of positive emotions.
Items for daily use.  Think about what dad might miss at work. Perhaps this is a desktop organizer, a thermos or a lunch box. The father will certainly be flattered by such a sign of attention.
Wrap your dad in love, attention and care.  A thing donated for comfort and coziness will also please the hero of the occasion. It can be a hand-knitted sweater, a soft blanket, a warm scarf, etc.
Give Dad some attention!  Draw bright posters and hang them around the house in the morning. Or, while dad is sleeping, fill his room with balloons, as soon as he wakes up, go to him with the whole family with gifts and congratulations. You can cook a holiday breakfast for your father, because, as you know, the way to a man's heart lies through his stomach.
What is better not to give
The opinion that dad will like any gift, just because it was presented by a child, is wrong. Therefore, before making the final choice, it is advisable to familiarize yourself with the list of anti-presents.
Medicines and medical equipment. 

 Even if the father needs some medicines, etc. do not time their purchase for the holiday. Moreover, giving such a present on a holiday means once again reminding a person of his health problems.

Animal

 . If you decide to please dad by giving him a four-legged friend, be sure to discuss this purchase in advance. Since not every person is ready to spend their time and money on caring for another creature.

Underwear, socks, personal hygiene products. 

These are banal gifts that do not deserve attention. Seeing them, dad may not only not be happy, but also offended, because he will think that you bought the first thing that came to hand.

Items of clothing. 

 It is not worth the risk if you are not sure that you will guess 100% with the size, color scheme or style. If you decide to update your father's wardrobe, invite him to go shopping together.

Gifts associated with superstitions. 

 It is not customary to give piercing and cutting objects, empty wallets, vases, slippers, mirrors, watches. Of course, not all people believe in omens, however, it is better to play it safe and sell the birthday man a gift for a symbolic price (for example, for a ruble).

Decor items. 

 Men prefer practical things, so handing your father a beautiful tablecloth or cute curtains does not count on an enthusiastic reaction.
Conclusion
On a significant day, your dad should not be left without a surprise. However, remember, no matter what gift you choose, it should be presented with love and respect, accompanied by warm words. Only then the gift will make a good impression, will be remembered for a long time!