This article was written with the help of a professional hunter . Hunting is not just a hobby, it is a state of mind and a lifestyle. Many men spend almost all their free time on this hobby, and they will be very happy to receive an appropriate gift. What to give a hunter for his birthday? The article will discuss the basic principles for choosing a gift for those keen on hunting, give examples of budget and relatively expensive gifts, and also consider typical mistakes.
Hunting is a special hobby.
Regardless of the type of hunting, there are general principles for conducting it – to hunt down an animal or a bird in nature, get them, properly process them, and deliver them to your home. Each of these stages is equally important to achieve the ultimate goal of the hunter, and the hunt itself is not only shooting or taking prey out of a trap. An approximate understanding of the process will allow you to choose a gift depending on the budget or secret wishes of the addressee.
TOP 74 ideas What can be presented to the Hunter
Sometimes even close relatives cannot decide what to give a hunter for his birthday, February 23, or any other holiday. In fact, there are many good gifts:
Hunting gifts. 

Relatively standard and hobby-related gifts that appear in the assortment of tourist, hunting and fishing equipment stores are considered. The key to success will be a quality choice based on budget, and an accurate understanding of size, appropriate use, and intimate familiarity with the "gifted" hunter. The range of goods for hunting in specialized stores is being expanded by professional merchandisers, and in order to surprise with a gift, a creative and non-standard approach to business is required.

Equipment.

It is best suited as an answer to the question "what to give a hunter husband." Wives know the size of their husband's clothes and shoes. After washing the existing clothes after the hunt, they see what exactly would be good to update. The main thing is to choose the right color and quality level corresponding to the existing hunting equipment. They don't go hunting naked, and the gift will definitely appeal to you, even if you already have a jacket, pants or shoes, the second set in bad weather will be very useful.

Ammunition. 

Hunting cartridges are sold only upon presentation of a hunting license, and if a hunter's friend has the same type of weapon, then high-quality ammunition will always be received with gratitude.

          

Binoculars. 

Children, up to a certain age, do not like hunting very much, and giving an accessory to the hunter associated with the extraction of an animal is not always correct from a child's point of view. But parents are not chosen, and if dad is a hunter, then binoculars may well be donated by children. The device is universal, and whether his father will use it for hunting or just watching birds, this is a secondary matter.

A folding table for cleaning weapons and a set of tools with consumables. 

The weapon requires regular cleaning after use and lubrication. A folding table with stands, high-quality brushes, ramrods, tools for disassembling and assembling weapons, give the process a certain ritual. And if earlier a hunter needed two stools for cleaning, then a specialized table and tools will be appreciated.

Backpack – for lovers of walking or running hunting. 

Preying an animal is not the cheapest hobby, and a budget backpack bought at the beginning of a "hunting career" may well cease to satisfy the hunter with its characteristics. Being too big or small, getting wet, uncomfortable during transportation – having such reviews, it is quite possible to choose the best option and present a great gift to the hunter.

Power bank or additional power supply. 

The standard connectors of many LED flashlights – headlamps, portable, wrist, GPS navigators or rangefinders, radios and radio stations allow you to charge away from other power sources using a power bank. Yes, and a smartphone left in the car or at the base, not turned off, will be promptly charged upon returning from the hunt.

Winter equipment with heating. 

Progress does not stand still, and mittens, insoles, vests and blankets with electric heating, including autonomous ones, can be a great gift. After all, not always the hunter's resting place will be warmed up by those who meet in advance. Yes, and to warm your hands or feet away from civilization on the route is worth a lot.

Hunting sled-sled in the form of a plastic trough. 

Manufacturers of plastic products made of polyethylene produce a wide range of hunting drags of various sizes. This item, despite some simplicity and utility, is a good and budgetary gift. It can be dragged along both on foot and with the help of a snowmobile. In the trunk of a car, this type of gift will not allow the blood flowing from the butchered carcass to spoil the coating and fabric upholstery of the cabin. Inventory fits into the shovel, and speeds up the loading process. Even if the hunter already has a similar accessory, another one definitely won't hurt, even if he is less likely to be dragged along during the hunt, he will definitely be in the trunk of a car on the sidelines.

Motodog. 

Hunting, like love, is submissive to all ages, but health, alas, does not improve with age. And if earlier tens of kilometers were "hunting", then at retirement age, significant forest distances become too much for many. In this case, the recently appeared motorized dogs are an excellent alternative to an expensive snowmobile in all respects. They fit in the trunk, and have excellent cross-country ability, and are quite affordable at a price.

Drone. 

This type of device will allow, for certain types of hunting, to determine where the animal has gone or where the wounded prey is hiding. A certain "unsportsmanlike behavior" should not be embarrassing, because the beast is able to leave before the hunter reaches the point of its detection, and the drone itself, thank God, does not yet know how to shoot. After all, hunters are not embarrassed by an optical sight or binoculars, which radically improve the vision given to us by nature. Yes, and the possibilities of photo hunting can be expanded in a revolutionary way.

Gift card for a tourist or hunting equipment store. 

The standard idea of ​​a universal gift, which is worth resorting to only in the absence of other ideas and the exact conviction that this particular store is often visited by a hunter.

Aneroid barometer

 . A high-precision mechanism for additional hunting markings will bring practical benefits, as well as perfectly fit into any interior and remind you of bright episodes of leisure.

Hunter kits

 . Not a set – just a dream. Knives of different calibers, dishes, tablecloth, knife sharpening device, gas cylinder, tourist stove, corkscrew, lighters, spices, and many other devices for outdoor activities and hunting.

Hunter vest

 . An excellent gift with convenient pockets for cartridges and a softening pad that protects the shoulder from the painful recoil of the gun.

Mantel clock "Hunting for a wild boar"

 . The boar is a coveted trophy, a symbol of the struggle for success, dignity and honor. The figurine will bring peace and good luck to the house of the hero of the day. Bronze handmade clock will perfectly fit into the interior, decorate a fireplace or a table.

Thermos

 . The choice of stainless steel devices is very wide. Find a gift option in a stylish leather case, decorated with artistic pyrography.

Gift set

 . Give the birthday boy an elite set from Zlatoust engravers. Author's products with nominal engraving made of Damascus steel and brass are covered with nickel and gold. The set includes a flask, a knife, an ax and 2 glasses. An expensive set is not afraid of time and mechanical stress. Great choice for a keepsake.

Binoculars

 . Choose with impact resistance and weather surprises in mind. A good option is a shockproof rubberized device with a matte surface. There are binoculars filled with dry nitrogen, with the ability to absorb moisture. Glasses do not fog up and do not freeze – this is very valuable when examining the area. Be sure to check its hand comfort and smoothness of the settings control when buying.

Infrared camera

 . A modern hunter's gadget is an infrared camera for surveillance in any weather, in night mode.

Bag

 . The hunter walks a lot, carries with him a lot of necessary things that require a compact and competent layout. Hunting bags are different: leather game bag, backpack, waist bag.

Sports compass

 .

Hunting souvenirs

 . The collection of hunting trophies of the hero of the day can be replenished with thematic souvenirs, paintings, bronze figurines of the corresponding theme.

Thermal sight

 . Hunting is becoming more and more technologically advanced. Modern gadgets make the process easier: they indicate the route, help at night, lure animals. A thermal sight with a screen and a viewfinder will make the weapon as effective as possible. Some models have a video recording function.

Hunting flashlight in a durable housing with a brightness adjustment function.

Water flask in a leather case.

A backpack chair is a special backpack that can transform into a comfortable folding chair.

Soft picnic blanket.

Campfire taganok – a device designed for cooking, used as a stand for pots.

Thermos or thermo mug with an original pattern or personalized inscription.

Quality thermal underwear.

Waterproof and shockproof watch with commemorative engraving.

Weather station for planning trips to nature.

A portable coffee machine that can be used both at home and outdoors.

Cabinet or safe for storing weapons for hunting.

The GPS navigator protected from hit of moisture and possessing shock-proof properties.

Night vision device for hunting in the dark.

A men's camouflage belt is a good birthday present for a hunter husband.

Weapon case or safe.

Case for weapons.

Reliable mobile phone that holds a charge for a long time.

Good hiking bag.

Tent or sleeping bag – summer or winter option.

Action camera for fixing the process of hunting.

Comfortable hunting boots complete with waterproof socks.

UV lamp against mosquitoes, flies and other insects.

Food thermos for food with containers.

Portable gas grill.

Themed chess with figures of animals.

Dog GPS collar (if the birthday boy has a pet that he takes with him on a hunt).

Mosquito suit.

Collector's edition of a book that is dedicated to hunting or weapons.

Beautiful painted cup holder.

Picnic set complete with reusable tableware.

An awning or a hammock for rest during long walks.

Stylish men's umbrella in the shape of a gun.

Weapon belt or holster.

Shooting headphones for sports shooting.

Souvenir model of a grenade or weapon.

Stylish personal Zippo lighter (with personalized engraving), designed specifically for use in extreme conditions.

Portable stove – will help to warm up in a cold forest, as well as cook food, dry wet clothes or shoes.

Multifunctional Swiss knife in a wooden case.

Folding set consisting of a table and chairs.

Leather travel bag.

Weapon cleaning kit.

Camping stove in a bag, made in the form of a lattice stand. It will help to prepare a delicious lunch in the field.

A walkie-talkie is a gift to a hunter friend with whom you go hunting together.

An electronic call that imitates the voices of birds and animals, as well as the sounds of nature.

Battery for mobile phone charging powered by solar energy.

Painting depicting nature or animals.

A multifunctional shovel equipped with the most useful tools.

Radio controlled micro quadcopter.

A laser rangefinder is a device that allows you to measure the distance to a distant object with an accuracy of a millimeter.

A small gift sculpture in the form of a hunter, weapon or any animal.
Relatively budget and versatile hunting gifts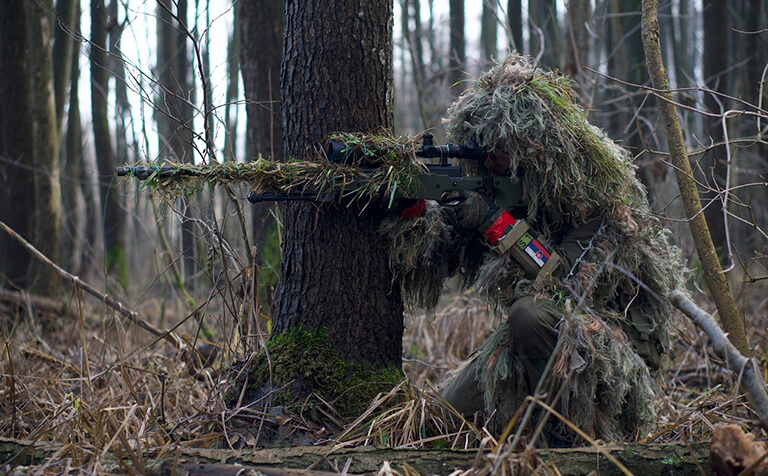 The ultimate utilitarian goal of hunting is to get meat for food. Gone are the days when people could eat raw cuts of meat, so relatively hunting and kitchen accessories can be a gift for a hunter.
Below you will find original ideas that allow you not to ignore the hunter, making a gift that is budget-friendly for the giver and expensive for the recipient. The main thing is that these gifts are not bought in a hunting shop, the range of which the hunter knows perfectly well. Surprise, that's what exists, to pleasantly surprise the recipient of the gift.
Knife sharpening tool. Hunters use edged weapons for their intended purpose – for skinning and butchering prey. No matter how good a knife is, sooner or later it will require additional sharpening. As a rule, manufacturers supply their products with a whetstone, but almost always it is a very simple tool that differs in workmanship from the knife itself. A high-quality sharpening kit may well be a budget gift and at the same time answer the question – what to give a hunter inexpensively.
A set of knives and tools for processing prey at home.  While hunting, the prey is freshened and cut into large pieces. At home, before laying in freezers, meat and poultry must be cut into smaller pieces. Often, such work is done by the hunter himself or together with his wife. A high-quality set of knives, special scissors, will facilitate such work, and is directly related to the final and most comfortable part of the hunt. Most likely, it will be highly appreciated not only by a tired hunter, but also by his family half.
Cutting board for the kitchen with a hunting symbol or pattern. A similar gift can be made with carpentry and artistic skills with your own hands. One side is patterned, the other side is functional. Even a drawing made by children for dad, burned out with a simple electric burner, will touch the spiritual strings of a stern hunter.
Atlas determinant of species of animals, birds, traces, plants, mushrooms.  The Guinness Book of Records was born as a result of a dispute among hunters about which duck is the fastest. Since then, disputes on the topic of who flashed there in the distance, or under which tree the halt was located, do not stop among people who spend the day in nature and sincerely enjoy this process. Flipping through the illustrated guide, on a campsite or in a hunting lodge, will bring many pleasant moments to hunters who are truly passionate about the diversity of the environment and fauna. The lack of Internet in places of recreation, the correct format and quality of the publication will make such an atlas an excellent gift for a hunter.
Thematic applications for smartphones. Imagine that you are haunted by the question of which bird makes certain sounds. Or what constellation is above you. Many of these questions can be answered quickly by dedicated smartphone apps. Of course, such topics are not so popular as to appear in the first pages of the search, but, nevertheless, helping dad hunter install such an application on his phone and teach the older generation to use such a program would be a good step and a budget gift. And if the programs allow you to record the voice of a bird, point to the sky and highlight the name and drawing of the constellation – such a program will bring many pleasant minutes in nature, and will allow the proud father to brag among friends: "they say, my daughter made such an original gift."
Temperature probe with timer, buzzer and magnetic display. Many hunters prepare their own dish from game, the meat of which has slightly different taste, nutritional and organoleptic parameters. Cooks who are accustomed to the usual meat of farm animals and poultry can easily make a mistake and not fry or bake the prey enough, which, in the conditions of hunting prey, is not always acceptable from a veterinary point of view. The probe, being a budget kitchen accessory, will allow you to control the temperature inside a piece of meat and prevent embarrassment by additional and re-installing a dish with a trophy in the oven, and pretty soon it will become a very useful "device" in the hunter's kitchen.
Quality tea and fees.  Carrying a jar of honey or jam with you is an unacceptable luxury on foot. Donated tea, herbal Caucasian collection, Ivan-tea, own mix with mint, currant, thyme, St. John's wort. Not a standard taste in nature, smells and aftertaste will be perceived sharply and appreciated. They drank banal tea on the hunt more than once, try to be original, and after the hunt, with a high degree of probability, you will receive well-deserved compliments.
Raincoat. Inexpensive, but very useful gift for a hunter. It will help protect the birthday boy if it rains during the hunt. To diversify the gift, you can choose a raincoat in a beautiful case – it will be even more convenient to take it with you on outings. The main thing is that the thing itself should be neutral or camouflage colors.
Tourist compass. An indispensable gift for a hunter, especially if he is going on a trip to an unfamiliar area where there are no visible landmarks. It can be a liquid or magnetic tourist model, you can also give an electronic compass – it determines the cardinal directions using electronic circuits, can show time and even temperature.
Binoculars. Another great inexpensive gift for a hunter. However, not every binocular is suitable for a birthday person – hunting options should have special properties and parameters, so you should buy a gift in a specialized store.
Hiking thermal blanket. Some hunters who are really passionate about their hobby get out into nature both at night and in the cold season. It happens that they go into the forest for several days or even weeks. If the birthday boy is one of those people, he will love a comfortable blanket that keeps warm – with this inexpensive gift, a man will no longer freeze.
The hunter can also be given the following inexpensive gifts :
Pouch or pouch for cartridges.

A set of camping utensils.

Gas-burner.

Barbecue or a set of skewers.

Waterproof organizer or cover for money and documents.

Small cooler bag.

Collapsible canister for drinking water.
A few more original gifts for the hunter
Camping lantern-column. A great birthday present for a hunter is a compact LED flashlight that can be used as a light source or charger for gadgets. An indispensable thing for those who spend a lot of time in nature and often stay overnight.
Barbecue apron . A good and practical gift for a man who loves not only outdoor trips, but also cooking. The kit usually includes skewers, a knife, a salt and pepper shaker, as well as a collapsible camping taganka – all these things fit perfectly into the pockets of a universal apron.
Hunting vest. During the hunt, a man may need various little things that you need to constantly carry with you, but there is not enough space all the time. To solve this problem, give your hunting husband or dad a utility vest with plenty of pockets for storing essentials. It evenly distributes the entire load throughout the body.
Statuette from a photograph. Of course, such a present will not come in handy during the hunt, but it will surprise the birthday man and cheer him up. It is a comic cartoon in volume, looks like a mini-copy of a person who celebrates his birthday. You can make this figurine in a hunting outfit so that the gift is themed.
For lovers of spearfishing, you can donate the following things:
Modular picture in the marine theme.

Wetsuit, mask, fins. A practical gift, but you need to choose it together with the birthday person (to try on things).

Equipment maintenance kit.

Lead weights designed for diving and spearfishing.

Underwater flashlight.

Waterproof bag for diving equipment.

Diving camera.

Combined smokehouse for the catch.
What to give a hunter with your own hands
The shops sell a huge variety of goods for people who are fond of hunting. But if the birthday boy has everything, and you don't know what to give the hunter for his birthday, try to make a surprise with your own hands.
Stylish photo frame made by yourself. 

A good gift for a hunter dad. You can make a cardboard frame or buy an ordinary one-color blank and decorate it with branches, leaves, stones or feathers. Insert a picture of the birthday man on the hunt or with his family into the photo frame.

T-shirt with printed image. 

A gift for those who are proud of their hobby. You can draw a thematic drawing or write a congratulatory inscription ("The best hunter", "Real hunter", and so on). To do this, use fabric paints.

Stylish storage box. 

What can you give a man for his birthday who is fond of hunting? Most likely, he will need a case for hunting equipment. You can buy it at the store or make your own. In this box, the birthday boy will be able to put cartridges or various little things that will be useful for his hobby. The case can be made from an old box or crate.
How to guess with a gift and not make an irreparable mistake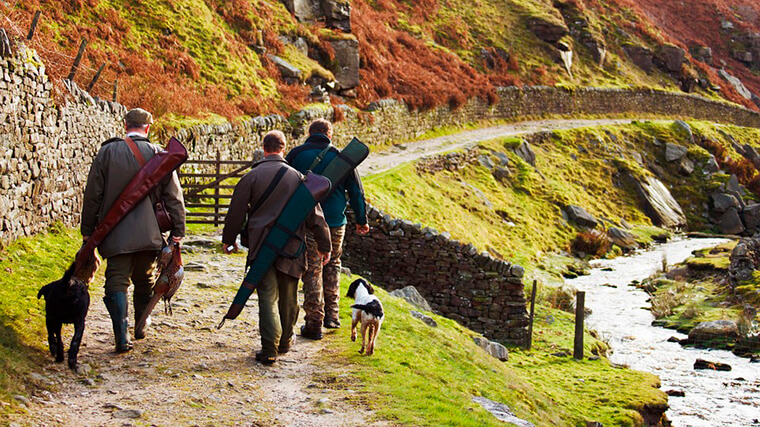 It is difficult to choose a good gift for a man who is fond of hunting, especially if you know little about this hobby. The following tips and tricks will help you choose and give the best birthday present:
A birthday present for a hunter does not have to be related to the birthday man's hobby. However, this is a win-win option that a man will definitely like, especially if hunting for him is not just a way to spend his free time, but a significant part of his life.

Buy only good quality branded items that will not let you down at a crucial moment. At the same time, the gift does not have to be expensive, the main criterion is quality. This is especially true of clothing and equipment – the hunter will be in the air for a long time in very different weather.

If you are not exactly sure what to give a male hunter, you can coordinate this moment with the birthday man in advance. He will tell you what he lacks at the moment. If you want to surprise him, try talking to his family or friends who are also into hunting.

To decide on a specific present, study what type of hunting the birthday person likes and what animals he prefers to hunt. There are many varieties of this hobby, and for each you can find a lot of gift options. When choosing a present, the season should also be taken into account – if your gift is useful only after six months, it will not bring proper joy.

Determine the cost of the gift in advance – if the present is very expensive, it will put the birthday person in an awkward position. Also consider your relationship with the recipient and the occasion – for example, on Hunter's Day you can give a small souvenir, and a birthday present should be more solid.
They do not look at a given horse's teeth. This is a classic expression that can be used when a gift is for a "general" purpose, and, sooner or later, it will come in handy in everyday life. With pleasure, a mistake in a gift will most likely be perceived as a gift "for fuck off", which is unacceptable in principle when it comes to a friend, husband or dad hunter. Further, "thesis" are the basic principles for choosing gifts.
To understand what kind of hunting we are talking about is stupid to give traps to a falconer who is fond of falconry or a game bag for a bird who likes to go out on an elk.
Imagine how much the hunt took possession of the soul of the recipient of the gift. It is one thing when hunting is an occasional trip to nature, even with a weapon in hand on duty (the format of a meeting of business or service partners), and it is completely different when a person is waiting for the opening of the season more than the onset of his own birthday. The second option greatly expands the possibility of choosing a gift for a hunter's husband for his birthday, because the wives are already tired of hearing about hunting, and at the same time, they will easily give an answer about what exactly their missus is raving about.
Do not consider obligatory items as a gift – a gun, a safe, a gun case, ammunition. An exception may be the situation if the hunter is a close person, and it is known exactly what kind of gun he dreams of, the existing weapons do not fit in the old safe, and what brand and caliber cartridges the birthday man prefers.
What is better not to give a hunter a birthday
Not all gifts will be equally useful and interesting to a person who is fond of hunting. There is a category of gifts that a man must choose and buy on his own. Here are some examples of bad gifts for a man:
Handmade hunting clothes. 

Knitted scarves, hats and other things should be given only for wearing in the city. If you want to give something related to hunting, ditch the homemade clothes. The hunter's outfit should not slip, but should be comfortable.

Alcohol. 

Contrary to popular belief, not all lovers of fishing and hunting like to drink. It is better not to give various alcohol-themed souvenirs, as well as alcoholic drinks. You must be sure that the birthday person will appreciate such a gift correctly.
The worst gift is a stuffed trophy obtained by another hunter.
Conclusion
Not everyone loves and understands hunting, but those who are passionate about it are able to be obsessed, in a good way, with hunters. Even if to you personally, hunting seems unreasonable in modern conditions to kill innocent animals, this does not mean that hunting is not a beautiful and noble pastime.
This is a passion and an ancient occupation, which by no means guarantees the success of each trip, requiring considerable specific knowledge, physical health and self-control of the hunter.
Many hunters, in addition to trophies, need recognition. By showing attention to the interests of the birthday man, you will bring him true joy. A practical gift or an aesthetic souvenir, chosen with a soul, will be remembered for a long time.
Look at hunting through the eyes of an interested person, ask sincere questions to real hunters, and you can make a unique gift for your loved one or friend. After all, the answers will be given from the heart, and choosing how to please the hunter will be a matter of technology.