Choosing what to give a girl for 14 years is quite difficult – yesterday the birthday girl was a child, now she is starting to grow up rapidly and turn into a girl, her desires and mood often change.
However, it is quite possible to choose a good present – the main thing is to pay attention to the birthday girl and find something really worthwhile.
What can you give a girl for 14 years so that she is happy, and also remembers this birthday and the present you gave for a long time?
List of the best gifts for a teenage girl on a significant date of 14 years:
TOP 94 ideas What you can give a girl for 14 years
Teddy bear or other animal – many girls at 14 years old still like stuffed animals.
Stylish hiking or city backpack, laptop bag.
Xbox or PlayStation game console – some girls are equally interested in video games as boys.
Diary for secrets with a secure lock.
Board game – "Monopoly", "Evolution", "Equivoki", "Mafia", "Imaginarium" or others.
Silver or gold jewelry – a beautiful pendant, pendant, ring, earrings or bracelet for a daughter for 14 years.
Items for decorating the room – pillows with a fashionable original pillowcase, a soft bedside rug.
External battery for charging gadgets.
An e-book with the favorite works of the birthday girl loaded into it.
Mountain bike or model for walking in the city.
Gyroscooter is a modern electric means of transportation around the city.
Stylish umbrella with an original print.
Perfume or toilet water.
Kigurumi – funny pajamas in the form of a rabbit, cat, giraffe or panda.
3D case for a smartphone, tablet or other gadget.
Portable speaker system or high-quality music speakers.
Monopod – a tripod for beautiful pictures on a mobile phone, including group selfies.
Soft fur plaid with sleeves or bedding with the image of the girl's favorite hero.
Scratch map of the world or illuminated globe for a young traveler.
A set of decorative cosmetics – foundation, mascara, lip gloss, eye shadow palette.
Beautiful cosmetic bag complete with comb and mirror.
A thermal mug of the original form with a lid is an inexpensive gift for a 14-year-old girl.
Stylish silk scarf or scarf.
Aroma lamp complete with essential oils or a set of decorative candles.
Dressing table with a large mirror in the girl's room.
Hair care equipment – hair dryer, straightener, electric curlers, curling iron or styler.
A set for creativity – a picture for embroidery, kits for sewing toys at home, a set of beads.
An original accessory for a computer or laptop – a mouse and a pad for it, a luminous keyboard or a stand.
Roller skates with protection.
A set of jewelry – bracelets, rings, pendants, hairpins of the original form, made by hand. You can give a niece for 14 years.
Nice jewelry box.
Designer sunglasses.
A beautiful youth housekeeper or "smart" keychain that responds to the owner's signal, thus helping to find a bunch of keys.
An item in a girl's collection – it can be a porcelain elephant, a plush crocodile, a coin or a postcard.
Virtual reality glasses.
A smart watch or fitness bracelet that measures your heart rate and counts your steps.
A light tablet for drawing or a magnetic board for writing (complete with special markers).
Fortune cookies – the idea of ​​\u200b\u200bwhat to give a girl for a DR of 14 years inexpensively.
Puzzle – a set of different Rubik's cubes, a perplexus ball.
A 3D pen with which you can draw three-dimensional "pictures".
Inflatable sofa or soft ottoman in the girl's room.
Manicure set (bright bag, inside which should be not only tools, but also nail decorations, various varnishes, drying, etc.).
Heelys (fashion sneakers with rollers).
Glowing home slippers.
Sweets (candy, cookies).
Jumpers (a simulator that involves many muscle groups).
Bath products (foam, powder, salt, bombs, essential oils).
A fashionable gadget (phone, tablet, laptop, iPad, camera, etc.).
Sneakers, slip-ons or sneakers.
Sports accessories (yoga mat, water bottle, comfortable sneakers, sports bag, etc.).
Keyboard for computer with backlight.
Wireless headphones.
A backpack that you can color yourself.
Bananka (belt bag).
A set of lenses for a smartphone.
Mug with a compartment for cookies.
Wireless dance mat.
Set for making chocolates.
LED belt buckle.
Aqua farm.
Jar for smoothie or cocktail.
Bedside rug with long pile.
Fur earmuffs.
A set of cosmetics for teenagers.
Designer table lamp.
Slippers-uggs.
Eternal pencil or reusable notebook.
A set of bright silicone laces.
Cap with a luminous visor.
Hat and snood.
Glitter body milk.
Orchid in a pot.
Beauty box (surprise box with a set of cosmetics).
Handbag, purse or clutch.
Neurorope for one leg.
Gel ant.
Florarium.
Selfie and broadcast set.
T-shirt with a cool inscription.
Pen-crib.
Large angel wings (for a gorgeous photo shoot).
Handmade soap in a beautiful basket.
Fluffy pencil case.
Painted handmade scarf.
An easel for drawing and a set of quality paints.
Bean bag or bright pouffe.
T-shirt with equalizer.
Interactive piggy bank.
Mittens with muzzles of animals.
Automatic nail file.
Predatory plant.
Luminous shoelace.
Hair ornaments (hairpin, headband, set of rubber bands, etc.).
Fine jewelry (a bracelet with charms, a cute gold or silver ring, an unusual pendant, studs, etc.).
Original gifts for a teenage girl for her birthday
At 14, a girl wants to be different from her peers. Original and unusual gifts will help in this.
Consider buying the following items if you want to give something special:
Unusual lamp. At the age of fourteen, girls pay attention not only to their appearance, but also to the interior of their favorite room.
Give the birthday girl a beautiful and original lamp in the form of the moon, the Earth or another planet, a rotating night light or a starry sky projector. It can also be a designer table lamp that will help the girl while studying.
Apparatus for making cotton candy. An original gift for a daughter, granddaughter or niece for 14 years. If the birthday girl does not like cotton candy, you can buy a popcorn or ice cream machine.
Such things are easy to use, they do not require special knowledge or skill – you can make a delicious dish with them at home.
Instant camera. Teenagers are actively exploring the world, they like to photograph beautiful things, places, as well as themselves and their friends.
Support the girl's passion and give her a fashionable little thing – an unusual camera that prints pictures immediately after pressing the button. Years later, the girl will be able to find photos and remember happy days.
If you do not want to be limited to the presentation of universal presents, you should consider non-standard options.
Below are original gifts that will benefit. Memories of this surprise will last a lifetime!
Music pot. A miracle pot that will turn any plant into a musical instrument. A speaker and a light are built into the pots. You can control it using a special application installed on your phone.
Cache-pot will allow a teenager to feel like a real musician. Any touch to the plant will be accompanied by a melodic sound. It's like playing the piano, and pleasant lighting will create a unique atmosphere in the room.
Alarm clock mat. A great idea what to give a girl from her parents, especially if it's hard for her to wake up early. The rug wakes up with a sound signal, which will turn off if you only stand on the product with both feet.
It is impossible to deceive him by lowering one leg from the bed. In addition, you need to stand on it for at least 5 seconds, otherwise the sound signal will continue to work.
Plaid jacket. An original gift for a girl. This is a cute soft toy that quickly and easily transforms into a cozy hooded blanket.
The toy can be used as a pillow. The product is convenient to take on a trip or on a picnic to cover yourself with chilly evenings.
The blanket does not require special care, it can be washed both by hand and in a typewriter. Just choose a fairy-tale hero and go surprise the birthday girl.
Illuminated table for sand painting. A great gift idea for the girl who has everything. Especially creative people will like the present, as sand painting helps to develop artistic and aesthetic perception. This is a wonderful opportunity to express yourself, which sometimes teenagers lack so much.
The girl will develop the accuracy of movements, coordination, speed, as a result of which she will get real works of art.
Other ideas for original and unusual gifts for a 14-year-old girl:
A set for self-growing a flower or other plant.
A set of flip art with which the girl can make a beautiful portrait on her own.
Interactive piggy bank in the form of an ATM or a safe.
A set of non-extinguishing candles.
Soft toy warmer in bed.
Gel ant farm.
An interactive ball of magical predictions.
Alarm clock-target or "smart" model that will wake you up with your favorite melody with a gradually increasing sound.
home planetarium.
Luminous shoelaces are an inexpensive gift for a 14-year-old girl.
Ideas for inexpensive birthday presents for a girl at 14
Even with a limited budget, you should not have any difficulty choosing a gift. After all, there are many interesting options for how to please the birthday girl.
If nothing comes to your mind, use the following recommendations. Any of these presents will be able to make a positive impression on the girl.
Magic colorful curlers. A suitable gift for a friend who dreams of having curly locks.
A beautiful hairstyle will turn out without much effort, with a minimum investment of time. Such curlers have the shape of a spring, into which a curl must be threaded using a special hook.
The main thing is that curlers do not spoil the hair, winding them without heating. The result can be admired in a few hours.
Thermocup with the possibility of replacing the picture. An interesting idea of ​​​​what to give a girl for 14 years. The young lady will be able to feel like a designer, changing the picture according to her mood.
The image inserted between the two walls of the thermocup can be removed and replaced with any other (inscription, photograph, etc.).
Dream Catcher. An interesting gift for a girl on DR. In addition to being an extraordinary interior decoration, the thing is designed to absorb the negative energy that reigns in the room at night. A kind of amulet that attracts good dreams, inspiration and joy.
The circle, inside which the threads are intertwined, and feathers hang from below, is customarily hung at the head of the bed or in the window opening so that the sun's rays fall on it during the day. They are able to cleanse the amulet of everything bad.
3D magnifier for smartphone. The gift is inexpensive, but pleases with its practicality.
The product is able to enlarge the image on the phone screen by 2-3 times. If a girl spends a lot of time watching TV shows, on social networks, while experiencing discomfort, a smartphone magnifier will solve this problem.
The eyes will not strain, and therefore tired. The product is compact in size, it is convenient to take it with you on a trip, school, to the country, so that you can watch a movie or read a book with pleasure at any time.
What useful gifts can be given to a 14-year-old girl
Many tend to choose practical gifts, but you should not go too far when handing kitchen utensils or household appliances to the birthday girl.
Start from the interests of the girl, then your present will give her positive emotions, leave pleasant memories. If you don't know what to give a child for 14 years, pay attention to the suggested ideas.
Flash LED with mirror. One of the most suitable options that you can give a girl for 14 years. Many teenagers maintain their blogs, channels on the Internet. Good lighting is essential for capturing quality content.
The flash is attached to any phone model, ideal for selfies or videos in the dark. The product significantly improves the quality of photos and videos, and thanks to its compact size it fits in your pocket.
Portable printer for phone. Use this idea if you don't know what gift you can give a girl for 14 years.
This is a pocket printer that connects to your phone using Bluetooth. The device is suitable for printing photos, notes and other information that can fit on 57 cm wide roll paper.
Maintenance of the device does not require large expenses, the only expenses are the purchase of special receipt paper, which is sold in any stationery store.
Illuminated makeup mirror. If you are still thinking about what to give a girl for her 14th birthday, get a special mirror with which she will learn the correct order of applying makeup.
The light bulbs built into the product illuminate the face from all sides, allowing you to evenly apply cosmetics and take care of your face without making mistakes. You can use the mirror at any time of the day and anywhere.
"Smart" column. Perfect gift for my daughter. This is a portable speaker with which you can listen to high-quality music, as well as learn useful information or just chat with an interesting interlocutor.
The device will turn on the music, tell you about your favorite singer or actor, help you find out the weather for the next few hours or days, and tell you the original recipe. A real find for a teenager!
beauty gifts
The most relevant birthday gifts for a girl at the age of 14 will, of course, be items related to fashion and beauty.
These are win-win options, at the sight of which any young lady will come to indescribable delight.
Kanekalon set. Colored pigtails are an interesting idea if you have not yet decided what gift to give a girl for 14 years. Artificial strands are used to create original hairstyles, including Afro braids.
Kanekalon in its structure resembles a strand of natural hair, only their color can be varied. The gift will appeal to a girl who likes to stand out from the crowd.
Luminous LED shoes. A great present for a true fashionista. It can be sneakers or uggs, which have recently been at the peak of popularity.
The sole of the shoe has a built-in LED backlight with several modes, which can be turned on using a special button. Comfortable and unusual shoes that can be worn in any weather are sure to please any girl.
A set of combs with colored crayons for hair. With the help of such a present, the birthday girl will be able to change her image at least every day. The kit comes in 6 different colors that have a slightly oily texture, so they color hair easily and quickly.
It is recommended to apply crayons on wet strands, then their color will be brighter. The crayons are washed off without problems at the first washing of the head.
Chameleon lacquer for nails. The varnish is able to change its shade depending on the time of day, lighting, angle of view. The technology of its application is no different from the usual.
Chameleon lacquer can be applied both on the base coat of nails and on a dark substrate, then it will sparkle with new colors. A gift will certainly please a young lady who loves to experiment with images, strives to be different from everyone else.
Cool gifts for a 14 year old girl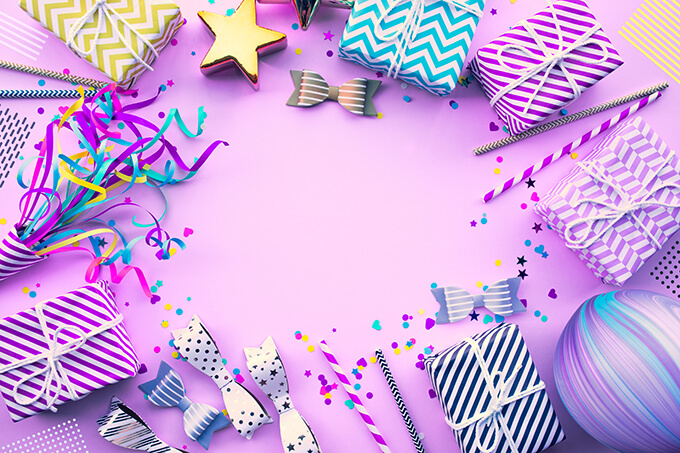 Teenagers are quite changeable personalities, so it can be extremely difficult to please them with a gift.
However, if you are sure that the birthday girl is not deprived of a sense of humor, you can safely choose a present from this category. Here are funny and unusual gifts, but in no way offensive.
Raincoat in a case. Poncho-raincoat in a bright case will amuse the birthday girl. The main thing is that such a present will not stand uselessly on the shelf, with the help of a special carabiner, it can be attached to a bag or backpack, then no vagaries of the weather will be terrible.
The product will reliably protect not only from rain, but also from wind. This is a necessary thing for walking, hiking, tourist trips.
Electronic piano gloves. Funny gloves are exactly what you need to cheer up. One has only to put them on, how you can safely play music anywhere, having only a hard surface.
The whole secret lies in the sensor built into each finger. Gloves are able to imitate different sounds: piano, xylophone, violin, guitar, etc. The product has a built-in speaker that allows you to adjust the volume.
Mixer mug. This is an original cup that automatically stirs the drink, you just need to press a special button located on the handle.
The mug is equipped with a sealed lid, so you can safely put it on your desktop next to your laptop without fear that it will turn over.
Also, it is convenient to take it with you on a trip, as you can stir the drink without the help of a teaspoon.
A few more ideas for what to give a girl for 14 years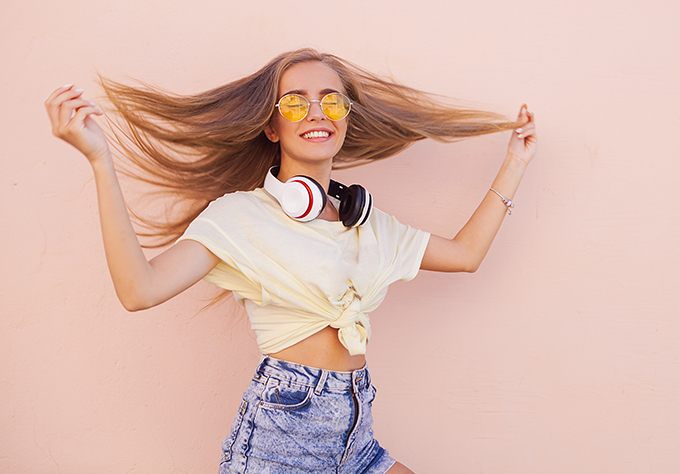 Every teenager is different and each of them likes certain things. This is important to consider when choosing a birthday present.
What to give a child of 14 years old to a girl, depending on her hobbies? List of ideas:
Music. If a girl is interested in music, you can give her an instrument – a guitar, a synthesizer, mini-drums or a ukulele. More budget options: a microphone for singing karaoke, a case for a musical instrument or a tutorial on how to play it, a set of strings.
Sport. Some girls at the age of 14 are actively involved in sports – you can give her a volleyball, dumbbells, a gymnastic wheel, a professional hoop, fins or a good tracksuit.
Drawing. Is the birthday girl interested in drawing? Give her a quality easel, a large sketchbook or sketchbook, and a set of natural bristle brushes or quality paints.
Dancing. Give a girl who likes to dance a special dance mat, which is a platform with bright pictures and buttons. These mats are connected to a computer or TV.
The science. If a 14-year-old teenage girl is fond of science and interesting experiments, you can give her an electron microscope, a telescope, as well as a set of a young chemist or physicist.
What to give a girl 14 years old with your own hands
Handmade things are now in fashion, so the birthday girl will appreciate such a gift.
Rest assured, a product made in a single copy will be regarded as a work of art. You will definitely succeed, just be patient and use the following tips.
Bouquet of napkins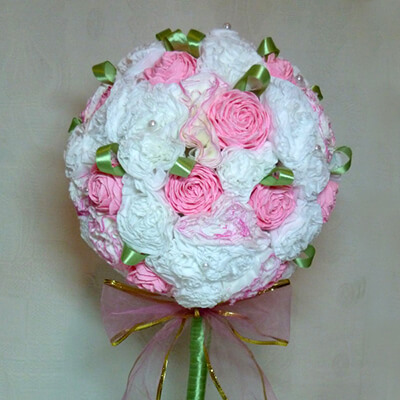 A flower arrangement made from paper napkins will make no less impression than a bouquet of fresh flowers. But such a present will please the birthday girl for much longer. To make a voluminous bouquet quickly and easily, follow the step-by-step instructions.
What you need:
Multi-colored three-layer napkins;
Scissors;
stapler;
Scotch;
Wire;
Green paper;
Decorative elements (ribbons, beads, etc.);
Packaging for flowers or a beautiful basket.
How to do:
From one tissue paper, cut out 5 cm by 5 cm squares. If you want to make large buds, make 10 cm by 10 cm squares;
Then fold the squares into a stack, fix in the middle with a stapler. Round off the corners using scissors;
Make equal cuts along the edge of the resulting composition. Then lift the edges of each of the layers towards the center. It is necessary, as it were, to "fluff up" the flower;
Make stems out of wire, for this wrap it with green paper. Use tape to attach the flowers to the stems;
Collect the bouquet, pack it in special paper or arrange the composition in a basket.
Chamomile with wishes on the petals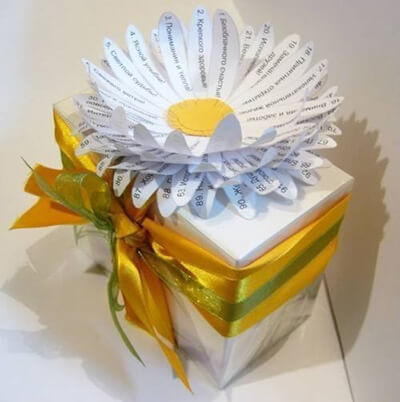 A great way to express your feelings for the birthday girl. To create a flower, you do not need special skills, just a little free time and improvised materials. Be sure that such an original congratulation will not go unnoticed.
What you need:
Paper yellow and white;
Glue;
Simple pencil;
Compass;
Scissors.
How to do:
Using a compass, draw a circle on white paper;
Cut lines from white paper, give them the shape of petals, rounding the edges;
Write a wish on each petal. For example, "Attention and care!", "Optimism!", "Fulfillment of desires!", "Good luck in all your endeavors!", "Excellent mood!" And so on;
Lay the blanks one on top of the other, gluing them together. As a result, you should get a large voluminous chamomile;
Decorate the center of the flower with a yellow center.
Decoupage box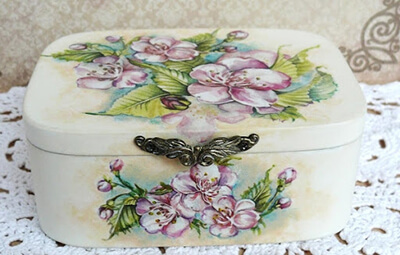 Your gift will be useful for storing jewelry and other small items. The product, in the creation of which the soul is invested, will not go unnoticed. The girl will be happy to use the box and remember you every time.
What you need:
Wooden blank;
Napkins with a beautiful pattern;
Acrylic paint white;
PVA glue;
tassel;
Acrylic lacquer.
How to do:
Cover the workpiece with an even layer of white paint, let it dry. If necessary, you can make several layers;
Separate the top layer of the napkin, select the fragments that you plan to stick on the box;
If the PVA glue is too thick, you can slightly dilute it with water. Apply fragments of a napkin to the workpiece, apply glue to them with a brush, preferably from the center to the edges;
When the product is completely dry, it is necessary to apply 1-2 coats of varnish to fix the result.
A do-it-yourself gift will show the girl that you spent your time on her, which means that she is dear to you – this is the main thing in relationships with teenagers.
A self-made present would be nice to receive from a friend, sister, or boyfriend.
List of best ideas:
Box with sweets. Inexpensive, but a nice option to give your best friend for her 14th birthday. You can make a small box with your own hands and fill it with sweets – kinders, packages with gummy bears, the birthday girl's favorite sweets.
Knitted gift. For a 14-year-old granddaughter's birthday, you can give a warm knitted thing – a scarf, mittens, a hat, a sweater or a bathrobe. The girl will be very happy with the cute little thing made by the hands of her beloved grandmother.
Funny and original cup. A good gift for a sister, girlfriend or classmate, which will cheer you up and come in handy in everyday life. You can buy a plain white mug, decorate it with fun stickers, or paint an original image with acrylics.
Do-it-yourself pencil case. If you want to please the birthday girl, give her an unusual pencil case. You can sew such a little thing with your own hands – for this you will need fabric, a zipper, as well as a needle and thread. You can decorate the pencil case with stickers, flowers or pictures painted on fabric with paints.
Tips: How to choose a gift for a teenage girl for 14 years
Not every adult can independently cope with the choice of a gift for a teenager, even if it is a parent who knows his child well.
A few tips to help you choose the best birthday present for a 14-year-old girl:
A hobby item is a great gift option for a teenager. The birthday girl will understand that you are interested in her life and hobbies, and the money given to buy a gift will not be spent just like that. The girl will use your gift often and with sincere pleasure.
The presentation must be current. The interests and hobbies of modern teenagers change very often, this should also be taken into account when buying a birthday present. If a girl liked to dance a few years ago, this does not mean that now she continues to take a great interest in dancing.
You should not buy the first bright and shiny thing that comes across – not all 14-year-old girls like such surprises. If you don't know the birthday girl well, you should talk to her close circle (parents, sisters or brothers, friends) – perhaps they will tell you what to give the girl for her birthday.
Consider your options and budget. Remember that an expensive gift is not a guarantee of success. Sometimes it is better to buy an inexpensive but really useful thing or make a present with your own hands.
Should I give money to a 14-year-old teenager? At this age, the girl is already independent, she is learning to handle money and will be happy if you show that you trust her. If you think that it is too early for a girl to manage money on her own, you can give her a bank card with a certain amount on it.
At the age of 14, a girl is looking for herself – she determines her hobbies and hobbies, shows interest in a particular profession. You can encourage this and give a gift that will help the birthday girl choose her life path, but do not get carried away and do not indulge every whim.
It is necessary to choose a surprise based on different nuances and moments, only then it will cause positive emotions, be useful, and be remembered for a long time. Consider original and useful gifts that do not have a hint of childhood, and also pay attention to the following tips. Then you will definitely be able to please the young lady.
Changing outlook on life.  As the girl grows, her thoughts and interests change over time. If last year she was glad to receive her favorite cartoon character as a gift, this does not mean that such a gift can be given now. It is better to choose a gift based on the favorite hobby of the birthday girl.
Relation degree.  If you are related to a girl, your gift should be necessary, essential. It is customary to present not too expensive things to friends and acquaintances. However, too cheap trinkets will not please anyone.
If in doubt, it is best to ask directly.  In order not to make a mistake in choosing a gift, it is better to directly ask the birthday girl what she would like to receive. However, there are also disadvantages here, so there will be no surprise effect.
Consult with parents . Not every gift will be approved by the girl's parents. For example, if she is brought up in strictness, she may simply not be allowed to use decorative cosmetics.
Be careful. You shouldn't give a girl earrings if she doesn't have pierced ears, and a cute pink handbag will definitely not please a rocker girl, etc.
Flowers.  Be sure to complement your gift with a beautiful bouquet of flowers. The girl, for sure, has seen more than once how flowers were given to her mother, so she will gladly accept your gift, she will feel like an adult.
Social networks and friends of the birthday girl will help you decide on a gift. Check out the birthday girl's social media page. Pay attention to the likes and reposts, for sure, you will find a lot of useful information for yourself. Better yet, talk to the girl's close friends, they can also give you interesting ideas.
What is better not to give a girl a 14-year-old birthday
Transitional age is a difficult time in everyone's life. During this period, the girl needs warmth and care more than ever, she worries about her appearance and reacts sharply to criticism.
Certain gifts can upset or offend a girl, even if you didn't mean to.
List of unsuccessful gifts for a girl for 14 years:
Clothing and personal items. Adults do not always have a good idea of ​​what things are popular with the new generation, what clothes suit a girl and what she likes to wear. Therefore, you should refuse to buy outerwear, dresses and jeans, and especially underwear. Such things the girl should choose herself or with the help of her mother.
Gifts designed to correct the girl. For example, her character or interests. If the girl is not fond of science and even dislikes it, the encyclopedia on chemistry or physics donated by you will not change the situation. Do not try to fix a teenager – this will only spoil the mood of the birthday girl.
Home pet. Before giving such a gift, be sure to consult with the birthday girl's parents, even if the girl herself is ready to take care of a small pet. Alternatively, you can give a hamster, a chinchilla or an aquarium with fish – these animals do not require special care.
Poor quality cosmetics. At the age of 14, the girl actively takes care of her skin, she likes to make up and try on new images. Do not give her low-quality and cheap cosmetics, choose products from reliable, trusted companies – to find them, you can read reviews. This will help prevent damage to young and damaged skin.
Scales, weight loss products, gym membership. Girls at this age are very critical of their appearance, such a present can hurt their subtle soul.
Too useful and necessary presentations. Don't force your opinion on a teenager. If a young lady does not like to study, then the donated encyclopedia is unlikely to convince her otherwise. Birthday is a fun holiday, so gifts should be the same. This category also includes boring home clothes, things for growth, a bank deposit.
Gifts designed to correct flaws in appearance. For example, acne cream, shampoo for oily hair, a book with recommendations on how to lose weight quickly, and so on. An exception, sets of care and decorative cosmetics, donated by mom, aunt or grandmother.
Pets. The girl lives with her parents and still cannot decide on her own whether she should get a kitten or a puppy. This is a very responsible step that must be discussed with adults.
Kitchen utensils, cleaning supplies and more.  Such gifts can be perceived as an insult, a hint of a social role. Therefore, it is better to give preference to something neutral.
Conclusion
There are many options for what to give a girl for 14 years. But none of them, even the most expensive one, can replace love, attention and care. Listen to the opinion of the birthday girl, turn on your imagination and fantasy, then the gift you gave will cause a storm of positive emotions and become one of the most memorable.
The most valuable thing you can give a teenage girl for 14 years is emotions and a good mood.
Be sure to take into account the character and tastes of the birthday girl when choosing a gift, use your imagination and the birthday girl will be grateful to you, and the gift you gave will delight her for a long time.