If you have landed on this page, then you are faced with a difficult task of choosing a good gift for a modern girl or boy 10-18 years old. Adolescence is a difficult period. On the one hand, this is a time of rapid development, the emergence of new dreams and goals, and on the other, a transitional stage, which is accompanied by sudden changes in mood, rebelliousness and maximalism. Yesterday's children suddenly begin to consider themselves adults and demand an appropriate attitude towards themselves.
The mood of teenagers, as well as their interests, change so quickly that relatives sometimes do not even have time to notice these changes. That is why choosing what to give a modern teenager is quite difficult.
Boys and girls at this age are looking for themselves, their behavior and hobbies are very dependent on others. The range of interests of teenagers is constantly expanding and it is important to understand that some of them can become the foundation for choosing a profession. Therefore, in order to choose a good gift for a modern teenager, you need to connect all your powers of observation.
In the article you will find a large selection of presents for boys and girls of puberty that can be presented for a birthday or any other holiday. Also on this page are collected useful tips that will help you choose modern gifts for teenagers. Here you will find a list of things that are better not to give.
Surprising a modern teenager is not easy, starting from the age of 10, he is no longer interested in ordinary children's gifts. Techniques, all fashionable gadgets, hobby accessories and unusual surprises are accepted with great enthusiasm. So, to your attention a large selection of ideas that you can give a modern teenager.
TOP 94 ideas What can be presented to a modern teenager
Instant camera.

Aqua farm.

Electric scooter.

Wireless keyboard.

Alarm clock with a target or a running alarm clock.

Animal hat with ears.

Table hockey or football.

Quadcopter.

Game console.

Virtual reality helmet.

Gyroscooter.

Wireless headphones.

Modern horizontal bar.

Keyboard vacuum cleaner.

3D printer.

Thermal mug with original design.

Temporary tatoos.

Compass in retro style.

Stylish waist bag.

Survival kit.

Illuminated selfie ring.

Fitness tracker bracelet.

Football or baseball.

Multitool.

Punching bag.

Set of radios.

Stylish sneakers or sneakers with luminous laces.

Snow crossbow.

A set of dumbbells for sports.

Original backpack.

Set for playing badminton.

Apparatus for making cotton candy.

Original passport cover.

Kigurumi pajamas.

Longboard.

Set for playing darts.

Eco box with healthy snacks for snacks.

Neurorope, jump rope for one leg.

Electronic designer.

Flying lamp.

Pen with invisible ink.

Table tennis set.

Lego mug.

Set for creating jewelry.

Gaming mouse with backlight.

Computer wheel.

Gamepad.

Pedometer.

Fortune cookies.

3D mouse on the finger.

Flexible keyboard.

Orthopedic pillow that remembers the shape of the body.

Binoculars.

Board game Jenga.

Night vision device.

Original piggy bank or cache book.

Monowheel.

Wrist trainer.

Snowboard.

Watch with leather strap.

Spinning reel.

Bracelet made of genuine leather.

Electronic synthesizer.

Inflatable chair.

Sleep mask with a funny inscription.

Twister.

Tornado in the bank.

Gaming chair.

Globe with illumination.

A set of favorite comics.

Chameleon mug.

Solar powered flashlight.

Keychain for finding lost keys.

Guitar or African drums.

Alarm clock simulating sunrise.

Wood burning kit.

Pillow in the form of a favorite animal.

Coloring by numbers.

Shower column.

Gaiters.

Bag chair.

Electronic book.

Glowing stained glass window.

Yoga mat.

Logic board games.

Air hockey.

Colored crayons for hair.

External hard drive.

Swedish wall.

Metal detector.

Electronic drum set with pedals.

T-shirt with 3D print.

Portable speaker.

Fitball.
We have divided some interesting gift ideas into categories to make it easier for you to choose what gift to give your teenager.
Original gifts
Among teenagers aged 13  and older, unusual gifts are especially appreciated, which, moreover, can impress friends. At this age, they strive to stand out from the crowd and in every possible way emphasize their individuality.
Here are some original gift ideas that the modern teenager will certainly be delighted with.
Dance mat . Modern dance mats are easy to connect to your TV or laptop. You need to turn on the music and dance, stepping on the lit up arrows on the rug in time.
You can play alone or compete with friends. At the end the winner will be determined. Thanks to this rug, coordination and speed of reactions will develop.
Smart pen . This interesting and useful gadget can digitize hand-written notes, subsequently turning them into a text file. Recordings must be made on a special tablet.
A perfect gift for a creative teenager of 17 years old and for someone who is preparing for final exams. All school assignments can be stored in digital format.
Kinetic sand . With it, a teenager can mold the figures of people, animals, plants and favorite characters, as well as model the items needed for schoolwork. Thanks to a large set of colors, there will be where to unfold the fantasies of boys and girls. It is best to give such a present to teenagers from 10 to 14 years old.
Apparatus for making popcorn . Many modern boys and girls like to spend time with friends watching movies. And popcorn is always ready for the movie. Therefore, such a gift will certainly be received with delight.
The popcorn maker will not only simplify the task, but also impress your friends. In addition, you will not need to spend money on buying ready-made popcorn.
Disco ball . In addition to watching movies together, teenagers often have parties. And the best accessory at a party that sets the atmosphere during dances is a disco ball with reflected and diffused light rays.
Useful gifts
When choosing a practical gift for a teenager, it is worth remembering that it must be consistent with his current interests and hobbies. Otherwise, the present will be accepted without much enthusiasm.
Therefore, you do not need to buy a gift based on your ideas about what a teenager might like. Here are some great gift ideas.
Telescope . This is a solid and, of course, useful gift that can determine the subsequent hobbies and even the profession of a teenager. It is really worth spending money on such a thing if you want to instill in a young man or girl a love for the natural sciences and a passion for knowing the laws of the universe.
Thanks to modern telescopes, you can see not only the moon, but also see the planets of the solar system, nebulae and the light of distant stars that are not visible to the naked eye.
Reusable notebook . With such a notebook, you can forget about the draft. You can rewrite assignments as many times as you need. It's easy to erase what you've written and start all over again. An original and practical gift for any student and for those boys and girls who are passionate about drawing.
Microscope . If a teenager has begun to get involved in natural science and, in particular, biology, then this is a really useful gift. The study of the structure of plant and animal cells sometimes fascinates children so much that they later go to study as doctors or biochemists.
It is important that the child has practical experience, and not just a theory that cannot be felt and tested in practice.
Smart watch . One of the most useful gadgets that you can give a modern teenager. Thanks to him, you can count steps, see the total distance traveled per day, measure your heart rate, calculate the number of calories burned, track sleep phases and much more. Synchronizes with the phone, after which it notifies you of calls and messages.
In addition, such watches look stylish and will surely impress your friends. Parents can use this watch to set up access to the location of the child, so that they always know where he is.
Inexpensive gifts
If your budget is very limited, then you can find a good and at the same time inexpensive gift for a teenager. In this case, of course, you will have to show imagination so that the present does not look too budgetary or does not become another thing thrown into the far corner of the closet.
So, here are some good ideas for what to give the modern teenager inexpensively.
Selfie monopod . Many teenagers love taking selfies for social media profile pictures or being photographed with a large group of friends. To take beautiful photos from different angles, fitting everyone and everything into the frame, a monopod is very useful. You just need to press one button and it's ready to go.
A set of colored pencils and pastels . One of the best gifts for a creative child who is passionate about drawing. With such a set, you can draw not only on landscape sheets and whatman paper, but also try your hand at drawing on canvas.
You can paint beautiful landscapes, still lifes and portraits with pastels, and make small sketches and sketches with pencils.
Inflatable sofa . If there is not enough space in the room, and friends who come to visit need to be accommodated comfortably, then such a gift will solve this problem. And when you need space for games or dancing, the sofa is easy and simple to blow off and put away in a closet.
Tattoo sleeves . Most modern teenagers want to stand out from the crowd and attract attention with an unusual appearance.
Real tattoos, of course, will not be allowed for a teenager at this age, but tattoo sleeves will perfectly complement the image of any young tomboy. And of course stand out among peers.
Desktop organizer . Thanks to such a gift, the chaos that is happening on the table of many guys and girls can be properly organized. There are compartments for pencils, pens, scissors and rubber bands. In a word, under everything that is usually difficult to find on the desktop the first time.
There are gifts that are perfect for both girls and boys. And there are those that are better divided by gender. For example, young princesses love to bring beauty and they can pick up the appropriate gift, and young people are often passionate about assembling complex models of designers.
Gifts for boys
A young guy no longer needs children's toys that delighted him a couple of years ago. The young man has new hobbies and hobbies.
Most often, a modern teenager boy  is interested in fashionable gadgets and all things that contribute to the development in his current hobbies.
Hiking inventory

 . Young people actively learn about the world around them and love to go hiking. To do this, the guy may need things like a tent, a sleeping bag, a small thermos with a carabiner, and a solar-powered camping flashlight. This set will allow you to go with friends to relax in nature at any time. You can also add a compass, binoculars and a multi-tool here.

Constructor

 . There is a category of boys who can spend whole hours assembling a new designer or model of a car. Modern designers allow you to assemble miniature space stations, ships and rockets.

Action camera

 . An active and mobile young man can film his bike rides with friends, snorkel and take underwater photos, and use the camera on ordinary trips out of town with friends. Such a gift will help to capture all the interesting moments in life and share them with friends on the Internet.

Skate

 . A teenager who likes to spend time actively and goes in for sports can be presented with a bright skateboard. It will encourage the child to spend more time outdoors with friends. Especially if they also have skateboards. Now it is fashionable and can introduce a young man to a certain subculture. And of course, it will tighten up physically.
Gifts for girls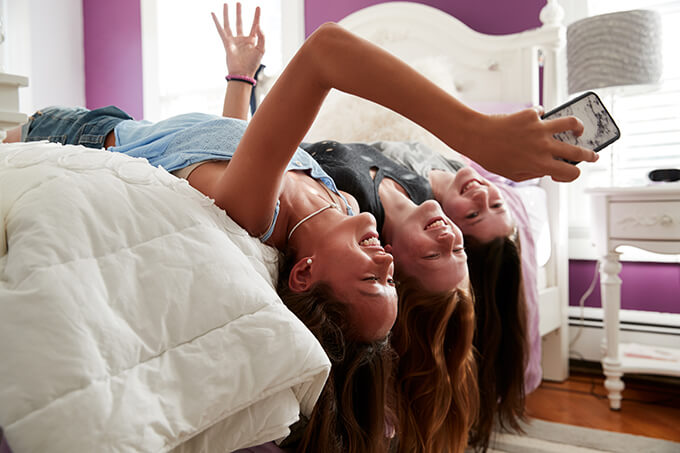 Girls are no less demanding on presents in adolescence, and besides, they are ahead of the guys in development. Toys are no longer relevant, books are boring and you want to have something better than your girlfriend. There is a restructuring of the psyche and a change in appearance, and the mood jumps from positive to sharply negative.
The femininity begins to awaken in the girl and it is better to choose presents, keeping this in mind. And also, in order not to miscalculate with a gift, you should find out about the girl's dreams.
Cosmetic mirror with illumination . Many girls dream of such a mirror. Thanks to a special backlight, you can see, and therefore mask all the imperfections on the skin with makeup.
As a result, the young maiden will be ready to conquer the world with her impeccable appearance. The mirror can be of different sizes, from a miniature desktop version to a large outdoor one.
Styler or electric curlers . The styler is a universal thing for all those who like to create intricate hairstyles every day. With it, you can curl or straighten your hair, do styling.
At the same time, you can quickly lay a couple of strands, or you can make a complex hairstyle. Electric curlers are a simpler and more budget option, but thanks to them you can also quickly make a beautiful perm.
Electronic translator . This is a small pocket translator, somewhat reminiscent of a telephone. It is especially useful for a girl studying foreign languages, as well as for those who travel often.
The device recognizes the voice and translates incomprehensible words. Allows you to easily navigate in an unfamiliar country, can work without an Internet connection.
Adviсe
To please the modern teenager is not at all easy. On the one hand, you want the same fashionable things and gadgets as your friends, and on the other hand, there is an urgent need to stand out and be a unique person. In addition, it is important for boys and girls to know that their interests and tastes are taken into account. You should not try to impose on them what you think is right, good, necessary. All this is likely to be taken with hostility. So, let's figure out what else should be guided by when choosing a present for a modern teenager.
Try to talk to the hero of the occasion and find out about his current interests, hobbies, hobbies and dreams. In accordance with this, you can pick up as a gift a thing that will help him develop in his favorite business.

You can invite the teenager to choose the area from which he would like to receive a gift. It can be a fashion gadget, sports equipment or a thing to create a new image. The proposed choice will avoid resentment, disappointment and misunderstanding.

When choosing a gift, remember that a teenager no longer considers himself a child, even if it seems to you otherwise. The present should be chosen as if it were a gift for an adult.

Pay attention to what the teenager is looking at in stores. Sometimes the gaze of boys and girls involuntarily lingers on what they like. This could be a great gift idea.

Relevance. If in childhood a girl or boy loved to draw, this does not mean that they are interested in it at the moment. Moreover, past hobbies are sometimes rejected entirely, causing only irritation and negativity. In this case, cardinal changes in tastes are possible.

Do not buy a gift based on your tastes. If you like something, it does not mean that the hero of the occasion will like it. You choose a gift not for yourself, so you need to take into account the tastes of a young man or girl.

Don't buy the first trinket you see. This is a sign of inattention on your part. However, the gift does not have to be expensive. A symbolic present is enough, but at the same time useful.

Make a surprise. Let your child know that you are not going to give him a new gadget or other thing that he asked for. As a result, he is very formed after all, having received the desired gift.

And vice versa, if you are short of money, you should not promise your child to buy some expensive thing. Immediately specify the boundaries of possible gifts in value.

Go for the trick. Say that you have already bought a gift and offer to guess what it is. The first few things that a teenager names will be the most desired gifts.

Pay attention to friends. See what they have that the hero of the occasion does not have. He probably wants something similar. It can be a smart watch, a portable speaker or stylish sneakers of a fashionable company.

Clothing and footwear. It is quite possible to give them to teenagers, but at the same time you must understand the style and preferences of a young man or girl. It is better if this thing will attract attention and stand out from the crowd.

Gather all your friends. This will be another surprise for the teenager. In addition to the gift, he will receive a wonderful company for the evening.

Wrap your gift in an original way. You can wrap it in several layers of paper, gluing them well with tape. While the hero of the occasion will unravel his present, you will surely see excitement and a great storm of emotions in his eyes. Each layer of packaging can be accompanied by sweet wishes. Be sure to tie a festive ribbon on top of the gift.

Do not forget also about congratulations when presenting a gift. Come up with an inspirational speech or a poem. You can buy confetti, crackers and party hats if you are celebrating a birthday. As an addition to the main gift, a girl can buy a bouquet of flowers.
What is better not to give
We have provided many interesting gift ideas for today's teenagers, but there is also a whole list of things that are not recommended to give. Such presents can upset or offend the hero of the occasion.
Gifts for school

 . These things are worth buying for no particular reason. As a gift, they are inappropriate.

Gifts hinting at flaws

 . It can be a cream for problem skin or tea for weight loss. Anything that can remind a teenager of his possible shortcomings is unacceptable and can be very hurtful.

Gift for show

 . No need to give something, just to keep up appearances. Such presentations do not cause any emotions, and sometimes they can offend. It's a sign of inattention.

Pet

 . A pet can be given only if this gift is agreed with the hero of the occasion and his relatives. First, it is a big responsibility. Secondly, even if you know that the family wants to get a cat, it is not certain that they will like the character and habits of the animal you have chosen.

Low quality items

 . Especially cheap cosmetics, which can provoke allergies on the skin, which is already undergoing hormonal surges. It is better to buy one thing, simple, but at the same time of decent quality.

Courses in subjects and tutors

 . A child may expect as a gift, for example, new wireless headphones, but will receive additional activities and burdens. Such things cannot be a gift.

Abstract gifts

 . Gifts that cannot be felt and touched. For example, you can tell your child that you put a certain amount in the bank for his future car. This may be good, but at this point in time, the teenager will simply feel disappointed and, most likely, the mood will be spoiled.
Conclusion
When choosing a present for a modern teenager, remember that at this age attention is as important as the thing itself that you give. Having learned about the dreams and current interests of a girl or a guy, you can easily pick up a good gift that will leave pleasant impressions and vivid emotions.