A woman in a position more than ever needs care from a man, so you should seriously think about what to give a pregnant wife for her birthday.
Pregnancy is the most desirable and crucial moment in the life of a future mother. Due to the special condition and hormonal changes during this period, women are very capricious. Therefore, they are difficult to please. And future dads are at a loss, not knowing what to give their pregnant wife for her birthday.
A birthday present for a pregnant wife should carry a special meaning and be useful during her interesting situation.
TOP 46 ideas that you can give a pregnant wife for her birthday
Pillow in the shape of a long horseshoe filled with polystyrene foam. Such a product is convenient to put under the back, stomach or between the legs. After the birth of the baby, the pillow can also be used – it will make the feeding process more comfortable;
Fitball . With the help of this unit, it is very convenient to do aerobics, which improves flexibility and coordination, as well as relieves tension from the back and legs, which is extremely important for women in position;
Foot massager . The device is able to relieve fatigue from the limbs, activate blood circulation and prevent the development of varicose veins, which most women suffer from in anticipation of a child;
Spa certificate . The best gift for a pregnant wife is a neck or leg massage;
Photo album . A gift to a pregnant wife in the form of an album for photographs of herself in a position and with a baby (including ultrasound images) is a win-win option. A pregnant wife will definitely appreciate such a touching thing, especially if it is handmade and has an original design. Albums made according to an individual sketch can have many pockets in which it is convenient to store various memorable little things;
Leg hammock . Women who are expecting a baby, regularly experiencing fatigue in their legs, will definitely appreciate this device. It is attached under the table and helps to relax and avoid problems with veins;
Camera . Some representatives of the weaker sex do not like to pose in front of the camera, but they are happy to take pictures of everything around. This may become a new hobby for your chosen one. In addition, the device will come in handy even after the birth of a child – with its help you can replenish your home photo collection with high-quality pictures of your baby;
Juicer . This item of household appliances will allow the expectant mother to stock up on vitamins and trace elements from freshly squeezed juices;
Subscription to the pool or yoga . It has been proven that moderate physical activity promotes relaxation, relieves muscle tension and prevents excessive weight gain;
Depending on the hobby : if the pregnant wife loves to read, give a noteworthy publication; collects puzzles – present a new copy of 3000 pieces; collects indoor plants – buy a new flower, etc. It is important to take the choice responsibly so that the present does not look too simple;
You can spend the weekend in a cozy boarding house . This option is appropriate in early pregnancy. Since with toxicosis it is very useful to spend time in the fresh air.
Multicooker . Healthy nutrition of a pregnant woman is the key to the health of her child. For this reason, the multicooker will be a very good gift. It will also make cooking easier and save time for your wife.
Purifier, humidifier or air ionizer.
Big basket with fruit and elite chocolate.
Comfortable seat for hiking, picnics and other outdoor activities.
Necklace, pendant or pendant.
Large cozy plaid with sleeves.
Folding tray table and breakfast in bed.
Bath set: cozy bathrobe, terry towel and slippers in the form of animals.
A set of natural, hypoallergenic cosmetics for pregnant women.
A chic fur product: a fur coat or a parka.
Box for watches and jewelry with several compartments.
Warm sweater with a funny pattern.
Outdoor fountain with lighting.
Multicooker for cooking healthy food.
Heating blanket.
A table salt lamp that purifies the air, saturates the brain with oxygen and relieves fatigue.
Anatomical mattress for a comfortable stay.
Needlework kit for a wife who is fond of handmade.
Chocolate fondue fountain.
Comfortable classic or original backpack with a bright pattern.
Wall or table clock with an alarm clock.
Florarium with orchids.
Aroma lamp with illumination.
Inflatable sofa for relaxation.
Big soft toy.
A transforming chair that turns into a comfortable mattress-bed.
Soft puff.
Wireless headphones for comfortable walking.
Comfortable rocking chair.
Romantic bed linen made of silk.
Lunchbox with heating function.
Thermal mug or thermo glass with engraving or original print.
Modern gadget: mobile phone, e-book, player or tablet.
Relaxing foot bath.
Relaxing decorative fountain or biofireplace.
Additional birthday gifts for pregnant wife
In addition to the above gifts for a beloved woman in a position, the following options may be suitable gifts:
Jacket-transformer . If a man knows exactly the size of his wife's clothes, the best gift for a pregnant wife is a transformer jacket. The advantage of this wardrobe item is that a woman can use it during pregnancy, to carry a child in the future, and even when the baby grows up and the gained kilograms go away;
Future mom's diary .Considering the forgetfulness and distraction of girls in a position, this gift to a pregnant wife is of particular relevance. Such a book will not let you forget about everyday affairs, planned visits to the doctor, test results, names of drugs, necessary things for the baby, etc. Moreover, modern diaries contain a lot of useful information for women who are expecting a baby;
Annual subscription to a pregnancy magazine or pregnancy book . You can get detailed information about all the changes in your body, childbirth and raising children from such publications.
Professional photo shoot for the expectant mother;
Comfortable underwear or a belt-bandage for pregnant women;
Blender, yogurt maker or double boiler;
Fitness mat;
The prenatal sound system is a safe gadget that allows the baby to listen to music, songs and fairy tales right in the womb;
Set for needlework – embroidery, knitting or drawing;
Comfortable pajamas made of natural fabric;
An anti-stress toy with a pleasant to the touch filler;
Fitness bracelet or activity tracker;
Lava lamp or night light with sound and light effects.
DIY gifts for a pregnant wife
A gift for a pregnant wife can be made independently. The expectant mother will be surprised and will be glad for your attention when she sees a surprise.
DIY gift ideas for a pregnant wife on her birthday:
Bouquet of fruits;
DIY photo frame;
Diary of pregnancy, made using the scrapbooking technique;
Pillow for pregnant women, sewn by yourself;
Frame for a mirror or picture;
Vase, cup, various decorative accessories for interior decoration (made of clay);
Beautiful painted jewelry box;
Handmade soap made from natural ingredients.
Organizer for small things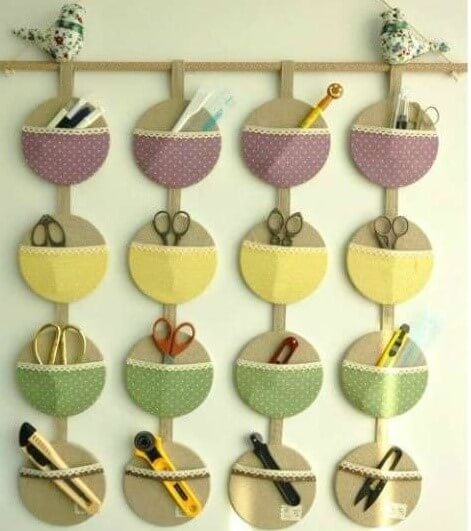 Give your pregnant wife a handmade organizer – thanks to him, she will no longer lose small, but necessary things. To make a gift you will need:
old CDs;
glue gun;
fabric – several different segments;
braid.
The process of making an organizer for pregnant women :
Take the fabric and cut out the circles in the shape of disks (leave allowances for gluing). There are two circles per disk and one half circle for the pocket.
Cover the discs with cloth. To do this, use a glue gun.
Take the braid (ready-made strips of fabric) and connect the pockets with the circles.
Make a loop on the topmost pocket – you can use it to hang the organizer on a wooden or plastic holder. You can skip this point and hang the pockets separately.
Night light starry sky"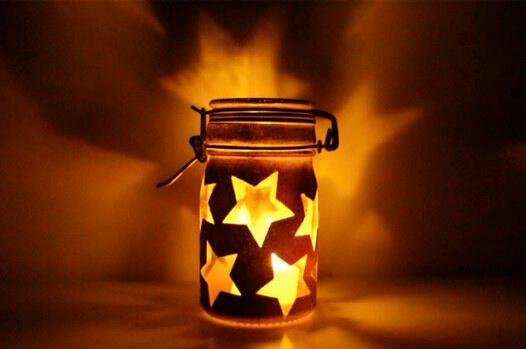 A simple master class on making a night light that can be placed in the bedroom. Such a lamp will delight and soothe the pregnant wife. Materials for making a night light:
ceramic or glass jar;
spray paint;
LED candle;
star stickers.
Master class :
Attach the star stickers securely to the jar (including the lid).
Cover the jar completely with spray paint. Wait for it to dry – this will happen in a few hours.
Turn on the LED candle, place it in the jar and secure the lid. A beautiful night light is ready.
How to choose what to give a pregnant wife for her birthday – Tips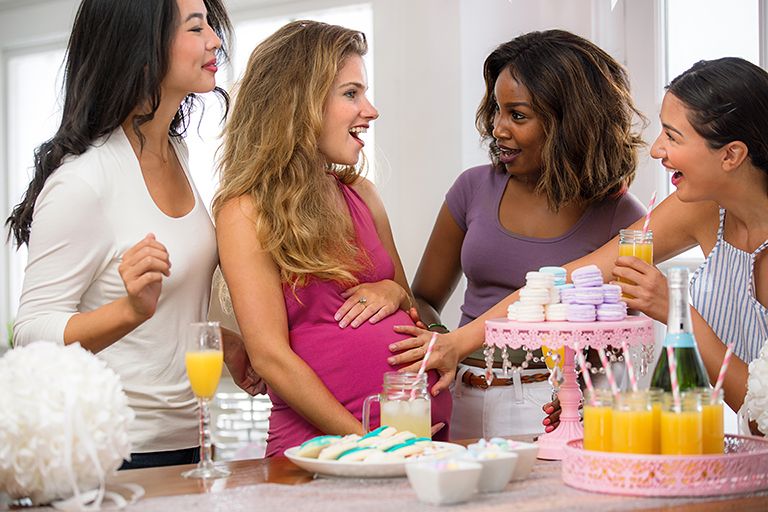 There are no universal recommendations on what to give a pregnant wife for her birthday, because everyone has different ideas about good gifts. In order not to miscalculate, it is worth focusing on the character of your wife.
For pragmatic women, gifts that bring benefits are suitable. Surprises in this case are inappropriate. This type of women is considered the most problem-free – they usually voice their desires themselves. They can make things even easier by asking for a gift in the form of money or certificates. The situation is more complicated with romantic persons who prefer surprises or are embarrassed to make specific orders. In such a situation, you will have to rack your brains about what gift to give to a pregnant wife.
There are several tricks to help you find out exactly what a pregnant wife wants :
Approach her and announce the prepared surprise . She will definitely be interested and try to guess what exactly her husband bought. The listed things are what she really needs.
Pay attention to her behavior while shopping . If she comes to the showcases with jewelry or dresses, and lingers near them for a long time, you need to look for a gift there.
Some girls sometimes hint what they want . You need to analyze the words of your wife.
We must not forget that the weaker sex is particularly capricious, and even when hormones come into play, it is quite difficult to predict their reaction to a particular gift.
Thus, the choice should be approached very carefully, weighing all the pros and cons and remembering the preferences of your spouse. In any case, a birthday present for a pregnant wife should be special, just like her current situation.
What is the best gift for a pregnant wife?
Some gifts can be blacklisted when it comes to girls expecting a baby. So, TOP-5 forbidden presents:
Confectionery . Even if the expectant mother constantly mentions that she wants sweets, and you have found a pastry chef who knows how to cook the most beautiful and delicious cakes, this is not the best option for a gift. As a holiday present from a beloved man, such things look too simple, as if he did not want to try;
Floor electronic scales . Of course, this unit allows the expectant mother to always keep her weight under control and, if necessary, take timely measures to correct it. However, a woman in a position can react sharply to everything related to her weight, and the gift will only cause negative emotions;
Perfume and other cosmetics with a pronounced aroma . Firstly, often tastes regarding smells change during the period of bearing a child. Thus, even if you know your spouse's preferences well, it is better to refrain from such presents so as not to miscalculate. Secondly, strong odors can cause an attack of toxicosis;
Children's things . Sometimes a pregnant wife may suffer from excessive superstition and consider it a bad omen, which will cause a negative reaction as a result. In addition, gifts can be given to a child after birth; during pregnancy, it is better to choose gifts dedicated exclusively to mother.
Conclusion
A responsible attitude and an attentive approach will prevent punctures and simplify the process of choosing a gift for a pregnant wife for her birthday as much as possible. If the task still seems overwhelming, reach out to other people close to your wife. In a conversation with them, your chosen one could express a desire to receive this or that present, then you will only need to make her dream come true.