Choosing what to give a young man is not as easy as it might seem at first glance. During a romantic relationship, we are sensitive to every detail, especially the choice of gifts. Therefore, we often start thinking and searching for gift ideas long before the upcoming event.
If there is very little time left, but there are no ideas, a selection of the best and original gifts will come to the rescue. Here you can find ideas of what to give for a young man's birthday, an anniversary or any other occasion.
A gift can be quite inexpensive, but if you choose it with a soul, then a young man will definitely like it. After all, despite the fact that men are not as romantic as girls, they still enjoy gifts from their loved ones.
Today you will learn what to give a young man for his birthday, learn how to pick up presents for other holidays. Hurry up to see for yourself that the search for a gift can turn into a pleasant and exciting experience. After all, if you manage to please with a present, in return you will receive an incredible amount of pleasant emotions!
TOP 71 ideas What you can give a young man
Shaker for cocktails.

Cooling stones for drinks.

French press for brewing tea.

Portable speaker.

Shaver.

Wireless keyboard.

Snowboard.

Bag chair.

Space nutrition.

Cool baseball cap.

Cool alarm clock (running away or flying away).

Small but powerful flashlight.

Wallet or purse.

Set of tools.

Eternal soap.

Hot dog maker.

Paracord (survival bracelet).

Vitamin set consisting of jams, jams or different types of honey.

Keychain-eternal match.

Folding chair.

Salt lamp.

Sports headphones.

A barrel of honey.

Multitool.

Polo shirt.

City backpack.

External battery with flashlight.

Fitness bracelet.

Case for business cards.

Running shoes.

Aromatic accessories for the interior.

Pair of bracelets with engraving.

Knitted gloves and scarf.

Bathrobe.

Handmade sweets.

Folding wooden comb.

Money clip with initials.

Wall or pocket key holder.

Tennis or badminton rackets.

Name belt with engraved buckle.

Aquarium with fish.

BBQ set.

Bag or briefcase for papers.

Cardholder.

Sports bottle.

Electronic book.

Orthopedic pillow.

Kigurumi.

Vintage shoe shine set.

Swimming kit (goggles, fins, cap).

Elite perfume.

Stylish set of cosmetics for men.

Leather gloves.

Sketchbook with a set of pencils.

Sweatshirt with a funny print.

Table game

Purse

Car humidifier

Foldable keyboard

Smartphone Lens

Sports water bottle

Set of luminous glasses

bookmark lamp

Massage pillow

Skateboard

Clipper

Car mini vacuum cleaner

electric grill

Gift certificate for sports nutrition

weather forecaster

Wireless charger
Original gifts
At the beginning of a relationship, you want to surprise your boyfriend with originality, good taste and a sense of humor. To impress, you can make an original gift that causes delight and surprise. Let it not be very useful, but it will definitely be remembered.
Therefore, if you cannot find the answer to the question of what to give a young man, it's time to turn to the next selection of presents.
Here you will find original surprises that will not leave anyone indifferent.
Extreme Survival Kit . The original idea of ​​what to give a young man for a year of relationship. The present will appeal to conquerors of new peaks, diggers, cyclists, bikers, hunters, fishermen, etc.
The universal set includes a set of tools that will come in handy in an emergency: a knife, a flashlight, a multitool, a flint and other equally useful accessories.
Shower head with colored LEDs. Color shower will paint the bathroom in bright colors. The backlight color changes depending on the water temperature.
The device works without batteries, the flow of water activates the LEDs. To determine the temperature, you do not need to stick your hand under the water, just look at the color of the backlight.
Such a present would be appropriate to give both to a young man of 17 years old and to an older guy.
Leather and steel bracelet. An interesting gift for a young man on the DR for 18 years. The bracelet looks very impressive, but it costs much less than accessories made from precious metals.
The decoration does not darken with time, is characterized by high strength, durability, does not corrode or deform.
Also, the bracelet is easy to adjust in length, it does not require special care.
A USB refrigerator is a small device that connects to a laptop and is designed for one can of a drink. The mini refrigerator is able to keep the temperature of the drink cool while working at the computer or playing.
A smart expander is a novelty in the world of health gadgets. It performs the same functions as the classic model, but now with the help of a smart device you can control your performance.
The expander connects to a smartphone, you can control the performance in the application, you can also install mini games that are controlled by the expander.
Inexpensive gifts
It is not always possible to buy an expensive gift, but among inexpensive gifts you can find worthy options.
If you do not know what to give a young man inexpensively, take note of the following ideas:
A set of LED electronic candles. 

This gift can be given at the beginning of a relationship. At first glance, these candles are no different from the classic version. Only they are controlled by a remote control, equipped with a timer, absolutely safe, despite the imitation of fire. You can use candles anywhere: as a decoration for a holiday, as well as on trips, during outdoor activities, etc.

Box with sweets

 . Pick up a beautiful box and fill it with the young man's favorite sweets. Many men have a sweet tooth, so such a gift is unlikely to leave anyone indifferent. Complete the gift with a note with romantic words or a card.

Original keychain

 . Even if he already has one, there will always be a place on a bunch of keys for a little thing from a loved one. The keychain can be in the shape of a favorite movie character, with a car logo, or something interesting for a guy.

A hammock for legs

 is a good gift for those who spend a lot of time at the computer. It helps relieve fatigue and make work more comfortable. The hammock is attached under the table cover, during the working day it is convenient to put your feet on it.
Useful Gift Ideas
Men at any age prefer gifts that are useful. They do not like trinkets that serve as interior decoration, another thing is practical things that are often used in different areas of life.
In order not to make a mistake with the choice, pay attention to:
Chair back cushion. The orthopedic pillow repeats the anatomical curves of the body, therefore it reduces the load on the lumbar region, improves posture, and liberates the thoracic spine. The thickness of the pillow and its position under the lower back can be independently adjusted.
The product does not require special care, it can be both cleaned with a vacuum cleaner and machine washed.
Anti-sleep for drivers. This device is gaining more and more popularity. It allows you not to fall asleep at the wheel, designed for drivers who spend a lot of time on the road without quality rest.
Antison is a real find at night, when there are practically no cars on the track, and the traffic is monotonous. The device is attached to the ear and reacts to the tilt of the head. The product can serve as a great gift for 20 years.
Computer glasses.  This is an indispensable thing for a guy who works at a computer.
The lenses of these glasses are coated with a special coating that protects against electromagnetic radiation by absorbing blue-violet rays. At the same time, the product transmits light and provides good image contrast.
Bedside mat with backlight. At first glance, this is an ordinary bedside rug, but at night it turns into a lamp that gives a soft, diffused light.
The mat requires absolutely no effort to turn on, you just need to put your feet on it and it will light up. Pleasant light will envelop the room, help the eyes quickly get used to the twilight.
On top of the product is covered with a kind of cover, which can be easily removed to clean and give the mat a well-groomed appearance again.
Gifts for leisure and hobbies
A great idea that you can give a young man, start from his hobby. Most likely, your young man has a favorite pastime. If you can't single out something specific, think about how he likes to spend his free time.
If a guy likes to sit on the river bank with a fishing rod in his hands, give him a fishing set . The contents of the kit may vary. Choose it at your discretion. For example, you can give a large set of lures or pick up a good spinning rod and accessories for it.
For a guy who is fond of cooking, you can give a set for making sushi . Even if he has not tried himself in this skill before, he will be happy to try something new for himself. The set can also be different in composition.
Guys who prefer to spend their free time actively, going on a trip, will appreciate the snorkel mask . The mask opens up diving from a new perspective. Full face mask allows you to enjoy the beauty of the underwater world with maximum comfort.
Set for cooking shish kebab . There is hardly a person who does not like outdoor recreation with barbecue. The guys in this business feel responsible for cooking the meat. Let your young man feel like a pro with a barbecue set.
If a young person does not yet have a hobby, then you can push him to a new hobby. For example, donate a ukulele . An unusual musical instrument that is easy to master if desired. A person who is not indifferent to music will definitely be interested in a new instrument.
Romantic surprises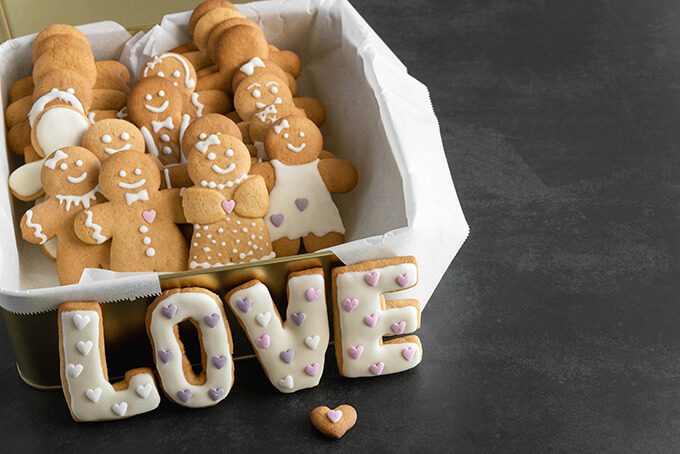 When you are looking for what to give a young man for an anniversary, then in this case, of course, a romantic present would be appropriate.
The following selection of gifts will come to your rescue.
Mittens for lovers. The set consists of two mittens and one huge mitten, which is sewn in such a way that two people can hold each other's hands, while they are warm.
Such a set will allow you to "not part" with your loved one even in severe frosts. It's so nice every second to feel the love and support of a loved one.
Paired hoodies . The perfect way to tell a guy how you feel. It is also a great option for a creative photo shoot. A hoodie is a versatile piece of clothing that will help out in any weather.
This is a sweatshirt that is worn on cool summer evenings, not to mention winter. In addition, thanks to the same clothes, your couple will always be in the spotlight.
Umbrella for two. Often such an umbrella is called family . The product has a larger size than other models, so under it you can easily hide from bad weather together.
When folded, as well as in weight, it is no different from other umbrellas.
Sky lantern in the shape of a heart. It's hard to imagine a more romantic gift. This bright and unusual present is launched into the sky after making a wish. It is a symbol of hope and bright feelings.
The flight of a paper lantern takes about 20 minutes and all this time you can enjoy a pleasant sight. Such emotions are remembered for a long time.
What to give a young man for a year of relationship
If you are looking for gift ideas for a young man for a year of relationship or another event that is important for the two of you, then pay attention to those options that will emphasize the significance of your relationship. They will become a reminder of romantic events for many years.
Engraved bracelet

 . You can engrave a phrase that will describe your feelings. Choose engraved bracelets from any material, depending on the budget you are counting on. You can make the same bracelets for two, on which the phrases will complement each other.

Elite perfume

 . You need to be careful with this gift, preferably if you are already familiar with the guy's tastes. But if you make the right choice, then this fragrance will evoke pleasant memories of you in a young man.

Mittens for two

 will be useful to you for joint walks in cold weather. Includes three mittens. One of them is made for two. Inside you can hold each other's hand. What could be more romantic.
Cool gifts to keep fit
Here we are talking not only about fashionable clothes or stylish accessories, but also about a beautiful, toned, athletic body.
Unfortunately, not everyone has enough time to go to the gym, but you can conduct full-fledged classes at home.
The main thing is to choose the right sports equipment.
Balanceboard. At first glance, this is a very simple simulator. However, it will compete with professional gyms for training and will bring great benefits to the body.
Snowboarders will especially appreciate it, as the balance board allows you to improve coordination, teaches you to keep balance well, strengthens the muscles of the buttocks, legs and hips.
Press roller. Well, who does not dream of beautiful press cubes, so the young man will definitely not refuse such a gift.
Regular training contributes to an intensive tightening of the abdominal muscles, and the projectile also provides a uniform load on the muscles of the body and abdomen. The roller is characterized by ergonomics and low weight.
Jump rope with jump counter. Jumping rope has long grown into a form of serious cardio training and is called skipping. The benefits of this activity are difficult to overestimate.
Such training perfectly develops endurance, improves coordination, blood circulation, corrects posture, strengthens almost all muscle groups.
Dumbbell simulator Shake Weight.  This revolutionary exercise machine allows you to conduct full-fledged classes at home. The secret of uniqueness lies in the fact that during classes, the dumbbell moves, which makes training even more interesting and effective.
However, this projectile does not cause difficulties in use, and the result will not be long in coming.
DIY gifts for a young man
If you still have not decided on a present, do not rush to get upset. After all, you can always get out of the situation by making a gift yourself, using improvised materials.
If you think that this is impossible, I hasten to dissuade you by offering several interesting options.
Men's candle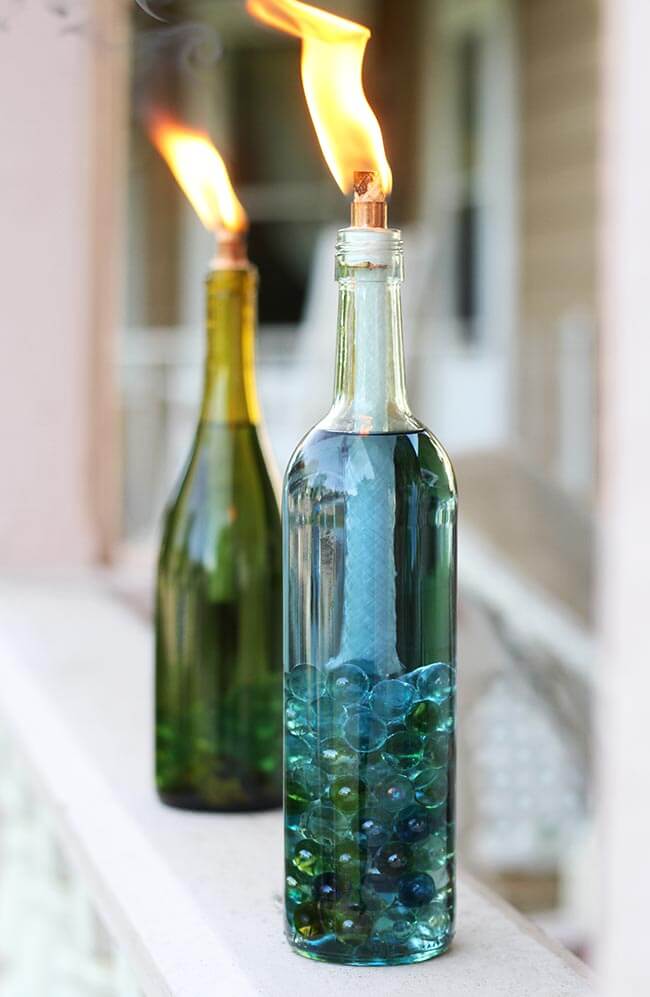 An interesting idea for a guy who never leaves original and beautiful things unattended.
Follow the step by step instructions and you will definitely succeed.
What you need:
a bottle of wine (it must first be washed and cleaned of stickers);

glass colored balls (for decoration);

burner fluid (alcohol based);

watering can;

essential oil;

insulating tape;

wick and holder for it.
How to do:
fill the bottle with glass beads 1/3;

using a watering can, pour the liquid into the container. Essential oil is also added at this stage. Enough 10-15 drops. Choose the aroma depending on the preferences of the young man. If there are none, take a neutral smell;

a holder must be inserted into the neck of the bottle. Use any cylinder or metal ring. To secure the holder tightly, wrap it with electrical tape;

pick up the wick of the right size and place it in the bottle. The gift is ready for delivery!
sweet poster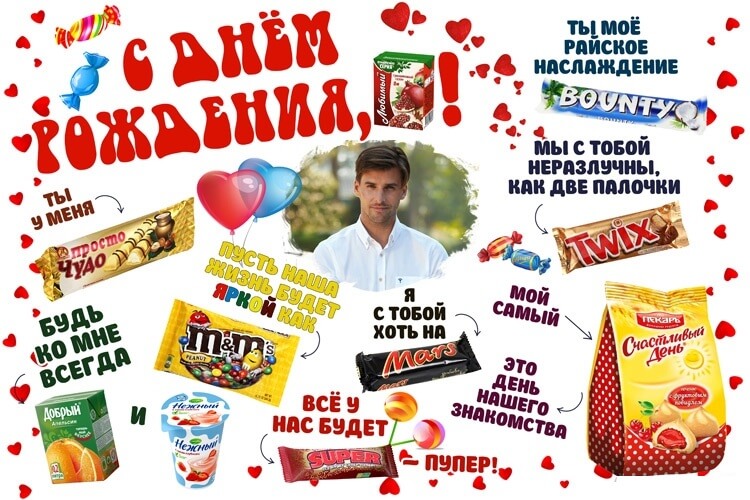 The way to a man's heart is through his stomach. Try to "appease" the young man with sweets and other delicacies, however, give them in an extraordinary way.
What you need:
whatman large size;

colored pencils or markers;

photographs (preferably joint);

colored cardboard or paper;

glue (preferably a glue gun);

double sided tape;

various details for decoration (beads, ribbons, buttons, etc.);

all kinds of "sweets" (bars, chewing sweets, cookies, juice, etc.).
How to do:
using a simple pencil, draw a diagram on the poster of what and where will be located;

make a base (paint over where you need the background, cut out colored paper in the shape of hearts and stick them on, use photos);

write congratulations with felt-tip pens or pencils;

add decorative elements;

stick sweets using glue or tape. Hurry up to please the hero of the occasion.
fortune cookies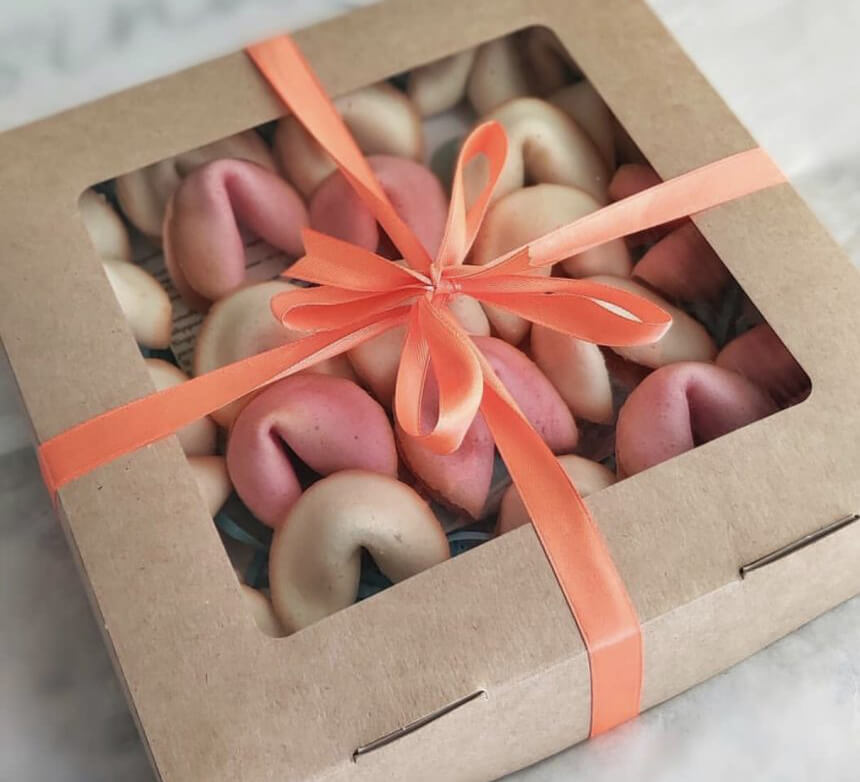 Few will refuse the prospect of knowing their future, especially if it consists of nothing but amenities. Therefore, rather go to the kitchen to prepare the most unexpected and delicious present in the life of a young man.
What you need:
40 g flour;

60 g of powdered sugar;

two egg whites;

20 g butter;

wishes notes.
How to do:
rub the butter with powdered sugar until a soft homogeneous mass is formed;

add proteins to the resulting mixture, mix thoroughly;

add flour in small portions;

knead the dough until smooth. It should resemble liquid sour cream;

cover the baking sheet with parchment, spread the dough with a spoon, try to give the blanks the shape of a circle;

bake cakes for about 5-7 minutes, in an oven preheated to 200 degrees;

take out the cookies with a spatula, and while it is hot, give it the desired shape, while not forgetting to put the leaves with the wishes inside.
Box with 100 reasons why you feel
A box with 100 reasons is one of the most original ways to confess your love. It will require very few materials, your time and imagination to make it. First you need to make a box. You can take a ready-made one, glue it with paper or cloth, decorate it with a ribbon and a sign with an inscription.
You can experiment with the shape of the box: take a round, square or heart-shaped. And if a suitable box was not found, a glass jar will serve as a replacement.
When the box is ready, you can start writing the reasons why you love the young man. You can type text on a computer, then print it and cut it. And you can write everything by hand. Ready notes must be rolled up into a tube and tied with a narrow ribbon. You can add a small plush toy or sweets to the notes.
Scarf
A hand-knitted scarf will keep you warmer, and looks nicer and nicer than those sold in the store. It takes a little skill to make. But since this is the easiest thing to knit, anyone can do it.
The scarf can be knitted or crocheted. There are many ways to knit scarves. But the simplest and most common is a 2×2 gum. Depending on which threads you have chosen, you need to dial such a number of loops that will be the width of the scarf. Knit to desired length. The finished scarf can be decorated with pom-poms.
Adviсe
Finding suitable gift options for a young man is difficult. However, you can simplify your task somewhat by studying the tips below. So you can think through every detail and definitely not go wrong with the choice.
Haste is not the best adviser. In order for a gift to be liked, it must be conscious, thought out to the smallest detail. Then its cost will play absolutely no role.
Budget . In addition to money for a gift, be sure to save a small amount on packaging. You can make a beautiful gift with your own hands. Get wrapping paper, complete the surprise with a postcard.
Hobby. Any person will be pleased to receive a thing related to his hobbies. However, if you are a layman in this area, then it is better not to risk it, but to purchase a gift certificate to the appropriate store.
The level of your relationship. If you and a young man are in a close relationship, you can give him items of a personal nature. Choose a neutral present for a guy with whom you do not have much in common.
Character . For a liberated, positive person, you can buy a present with humor, however, if you choose a gift for a serious guy, stop at the classic options.
The moment of delivery . In addition to beautiful packaging, think about what you will say when you present a gift. It's good if you remember some story from life, but you need to prepare in advance.
Choose a gift not for its value, but for its value to a person . An expensive gift is good only when it is really desired. But an inexpensive gift can be no less desirable, but one that fits the spot.
Get a little creative . An ordinary gift can be made unforgettable, you just need to put a little love into it. For example, a set of cosmetics can be packed in a box, add cute little things there and you will already receive a gift box, and not a banal shower gel.
If you want to make a pleasant surprise, do not ask in advance what to give . First, if your relationship has just begun, this question can be embarrassing. And secondly, it is more pleasant to receive a gift unexpectedly.
Don't go overboard with originality . It is not always necessary to try to present the most original gift that will gather dust on the shelf. Sometimes it is better to choose a practical and useful thing, but to present it in an unusual form.
What is better not to give
When looking for ideas of what to give your beloved young man, please note that there are some options that will be out of place. Especially if your relationship has just begun.
Don't give animals

 . Getting an animal is a responsible step, and a person must be ready for it. An unwanted animal in the house will only bring trouble. And if you still have an allergy, it will be doubly unpleasant.

Be careful with the choice of clothes as a gift

 . When a person independently selects a thing for himself, he looks at how the thing sits on him, what he will combine it with, whether this model suits him. Buying a thing blindly, you can make a big mistake, and your gift will remain on the shelf.

Do not give too expensive thingsif

 your relationship is at an early stage. This will put him in an awkward position, especially if the holiday involves the exchange of gifts and his gift will be unequal.

Items that support bad habits

 . A lighter or alcohol may be considered a popular gift, but you shouldn't give such gifts to the person you're building a relationship with. After all, you only want the best for him.
Not every gift will be to your liking, even if it is bought from a pure heart. Do not forget that there is a category of gifts that you should refuse to purchase, since they will not bring positive emotions to the hero of the occasion, and in some cases, even upset or offend him.
Memorable souvenirs. 

If you are going to "please" a young man with various figurines, medals, congratulatory diplomas and other items that supposedly decorate the interior, do not rush. No guy will be delighted at the sight of such a gift.

Gifts with double meaning. 

It's strange to hand dumbbells to a guy who is not friends with sports. Most likely, he will regard such a present as a hint that it would not hurt him to pump up. Therefore, it will not be surprising if a young man is offended by such a "surprise".

Women's gifts

 . A bouquet of flowers, a bunch of balloons, a cute plush toy can hurt the hero of the occasion. Such a present, in any case, will look strange. Therefore, it is better to take a closer look at a set of tools for the home.
Conclusion
Choose and give gifts from the bottom of your heart! But do not forget to take into account the interests and preferences of the hero of the occasion. Put yourself in his place, think about what would make you happy the most. A gift thought out to the smallest detail will be remembered for a long time, it will bring a lot of positive emotions, joy and admiration!