Iron horse, leather, metal and beard – these are the first associations with the word "biker". The love of motorcycles and speed, the desire for freedom and the rejection of dogmas – these people are special.
What can be given to a motorcyclist that will tremble in the soul of a seasoned man?
Here are ideas for useful presents for a biker: for a birthday, February 23, New Year and just like that, for the mood!
TOP 91 ideas What can be presented to a Motorcyclist
A desirable gift for a biker will be items that correspond to his hobby:
Clothing, spare parts, accessories, souvenirs, collectibles, motorcycle equipment from Harley Davidson. A very good gift is a set of tools. A large Premium Tool Kit for 50 thousand or an All-in-One Folding Tool multitool (about 8 thousand rubles).
In order not to purchase a fake, contact only the official dealers of the company, including online sites.
Bluetooth headset. The headset is a fragile thing, so you should give preference to manufacturers with service centers in your area. The brands Cardo, Interphone, Midland and Sena are officially represented in Russia.

Motochehol for iron friend.

Action camera. A small camera with water and shock resistance will allow you to shoot extreme shooting and capture the adventures of a biker. There are many options, but it is better to focus on well-known brands: GoPro, Sony, Drift, TomTom and Garmin. One of the high-quality and affordable models in the GoPro line is the GoPro Session camera. Many speak positively about budget devices from Xiaomi or SJCAM.

Subscription to thematic magazine.

Motor backpack. The "right" accessory should be roomy, lightweight and waterproof. Reflective details for added safety will also come in handy. Or a leather men's bag.

Candles, oil filter, chain. The biker will definitely be surprised by such a practical gift.

Motocase What a great gift idea for a motorcyclist husband.

Airbrushing on the helmet. One of the original ideas of what to give a guy to a motorcyclist for other holidays.

Disks for wheels.

Shelf for helmet and gloves.

Visor wiper.

Titanium crockery: pot, teapot, set of mugs. Flask in a leather case.

Thermo mug.

A set of knives.

Walking saw.

Thermal underwear, cycling socks.

Drinking system or hydrator (hydropack). The device allows you to drink while driving, without stopping. A useful and simple device that will come in handy in the arsenal of any active person, including a biker.

Sliders or arcs.

Motorcycle alarm. With or without a beacon, with a code, a cable, a built-in siren and a vibration sensor.

Tubeless tire repair kit. Standard equipment: tools, harnesses and compressed air bottle. Unscrewing the screw from the wheel on a long journey, the biker will definitely remember you with a kind word.

HONDA NSR Electric Motorcycle RC Model RC toy in 1:8 scale with a movable racer figure, powered by a power battery.

Tickets for motological evening with "Time-out".

Camping equipment (primus/gas or multi-fuel burner, armchair, sleeping bag, tent). If your biker is a fan of gatherings of like-minded people and traveling.

torque wrench.

Mounting blade.

Headlamp.

Steering damper.

Self-inflating rug (under the growth of the birthday man) or pillow.

Waterproof GPS navigator (or rain cover for the navigator).

Chain lubricator.

Tank bag with magnets.

Gel cushion on the saddle.

Shockproof and waterproof camera.

"Armor-piercing" tablet for extreme conditions with a powerful battery.

Camcorder or DVR.

Folding bucket-canister for water.

Bag-transformer MAXBAG.

Bixenon for motorcycle.

Heated handles.

Flashlight built into the helmet.

Compressor. Of the available models, there are good Chinese electric pumps sold in Russia under the Ring brand.

original mirrors.

Multitool. Not a bad idea what to give your father a motorcyclist on February 23rd. This is an indispensable assistant on the road to tighten the screw or unscrew something. From expensive knives, Leatherman and Victorinox devices are noted, from simpler ones – Ganzo. The "cheap and cheerful" option is multifunctional Chinese knives of their own brands.

First aid kit. It is not required by law, but common sense dictates that it may come in handy. The cost is from 200 rubles and depends on the content and form factor.

Genuine leather wallet. Biker and leather are two inseparable concepts. Finding a practical accessory with the logo of a bike or your favorite brand is not easy. It is better to look for leather biker wallets with a unique dressing, inlaid with stingray or cobra leather on the Internet. They are often equipped with a chain to keep the wallet from falling out of the back pocket while riding.

Chain maintenance kit (lube, cleaner and special brush). For those who are not happy owners of a motorcycle with cardan drive. Ready-made kits are rare, so you can make a kit yourself. The most famous manufacturers of such motorcycle chemicals are Motul and Liqui Moly.

GPS tracker.

Cigarette lighter socket. Better than 2 USB.

Holder for your mobile phone.
The most important thing for a biker is the opportunity to brag. This means that the necessary technical characteristics, design, and historical value of the brand are required.
Unfortunately, this is a very expensive present, few people can afford it. We do not recommend this idea .
Equipment and accessories: 24 ideas for style and protection
This topic deserves a separate section. The "right" outfit is not only a stylish look. When something goes wrong, reliable protection will keep you healthy and save your life.
Moto glasses. Eye protection and one of the main elements of style, an emphasis on belonging to motorcycle culture. If you want your man to have the best accessory, choose a modern and reliable model from Baruffaldi.

Motobots.

Motorcycle gloves from a good manufacturer with reliable protection. For beginners, budget models up to 3 thousand rubles are suitable: Thor S15 Spectrum, Ride 100% COGNITO, RST IOM TT 2239 TEAM CE, FOX 360, Ride 100% HYDROMATIC BRISKER.
Accessories for experienced bikers cost 5-7 thousand rubles: ICON JUSTICE MESH RED, DAINESE AIR HERO, HELD AIR BLACK 7, OXFORD RP-2 SUM GLOVES TECHBLACK, RST TRACTECH EVO CE 2579 GLOVE FLO RED.
Gloves for professionals: ALPINESTARS GP PLUS, DAINESE FULL METAL D1. These are models of the high price segment: from 12 to 25 thousand rubles.
Protective jacket with shell made of durable overlays.

Jacket-leather jacket. Riding sheepskin coat, jacket + vest, leather vest with lacing.

Protection for elbows and legs. This is an additional piece of equipment.

Helmet. The most important thing in equipment. Choose an accessory that suits your friend's riding style. Remember what model he dreams of, start a conversation on this topic the day before. Bikers love everything unusual and even mystical. They will appreciate helmets in the form of a skull, a mythical animal. Popular models include the Santiago Chopper.

Motorcycle raincoat with hood.

Motorcycle jeans with kevlar. Special inserts are made from this super-strong fabric for potentially vulnerable places: knees, sides of the thighs.
Best Men's Models: Komine PK-718 SuperFit Kevlar D-Jeans, Starks Snail, Icon 1000 Rouser, First FRTS-5 BLUE. For lady bikers: Macna Jenny, Dainese D19 K Riding Lady Jeans, Starks Lady Snake stretch. Motorcycle jeans cost from 8 thousand rubles and more.
Biker jeans have become a compromise solution that allows you not to change clothes after moving from home to work.
Buff (leather bandana).

Stylish wrist watches in biker style will appeal to fans of extreme sports. Choose high-quality options – shockproof and waterproof.

Gloves with "janitor".

Thermal underwear, cycling socks.

Safety glasses with Bluetooth and player.

Cossack boots.

Stripes and other bells and whistles.

Original belt buckle: collectible, with stones.

Leather belt. For example, the excellent Swiss brand Rokker. Genuine leather, retro style, original logo – everything you need for a severe biker look.

Compression shirt.

Knee pads.

Neck apron.

Balaclava (if worn).

Keds. High laces and berets are a movie cliché. Bikers love comfortable shoes. Take a look at D'Acquasparta's handcrafted sports sneakers. Convenience is their main feature.

Jewelry: rings, chains, necklaces, earrings, leather and metal bracelets. For example, a bracelet in the form of a bicycle chain. For a girl, a bracelet with an original insert made of snake skin is suitable.
More biker gift ideas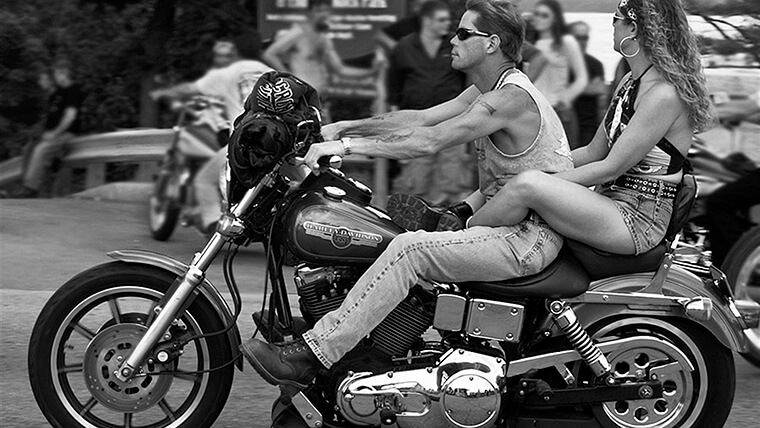 Bike copy. The motorcyclist will be sincerely happy to receive a high-quality replica of his own iron horse on February 23. Models with the largest number of parts can be found in the showrooms of official dealers. For example, BMW releases mini-copies of S1000RR, R1200GS and R Nine T in 1:10 format. An expensive pleasure: for a collectible BMW toy, you will have to pay from 6 thousand rubles and more.
You can give a model for self-assembly. From the LEGO constructor, you can assemble the BMW R1200GS.
Do not forget that the best gift is the one made by yourself. Surely you still have time to assemble bike origami from the official Yamaha website.
T-shirt under the order. Tip: Find a club of model owners on the Internet, like your biker, get inspired by ideas. Using the thermal rolling method or hand airbrush painting, you can create a unique thing in which a friend will speed up in a club house and at motorcycle rallies.
A cool option is a T-shirt with a playful inscription on the back: "If you see THIS inscription, then my woman fell off a motorcycle." Bikers and black humor are inseparable. The gift is sure to please!
Certificate for a tattoo parlor. Choose a trusted salon with a good reputation.

Life insurance. Why not make a practical gift – a policy?

Motocosmetics. A must for the avid motorcyclist. Conditional categories: means for the care of equipment, and for the bike. The former include sprays for cleaning helmets and visors from dirt and insects, products for leather clothing, impregnation from rain. For a motorcycle – a saddle skin care product, a mild cleaner for chrome parts, a spray for cleaning the engine, disc, pads, polishes, napkins, polishing cloths.
In the winter "dead" season, the biker will be messing around with a faithful iron friend, "bringing shine", waiting for spring, roads and speed.
Symbolic gifts
For the new year, you can give souvenirs and inexpensive presents that any biker will perceive correctly:
calendar with bikes or girls on motorcycles;

keychain: bikers love to wear huge keychains with a variety of keychains in the shape of a skull, motorcycle, helmet or other biker paraphernalia;

stickers for fuel tanks and other tuning for a moto-horse;

lighter;

a set of rivets for leather jackets or vests;

flags;

metal mug, nominal, with engraving;

thermos;

a beautiful poster for a motorcycle theme for a garage;

some motorcyclist's travel book;

atlas of Russia or Europe (as detailed as possible);

cartoon, figurine or portrait from a photo.
Motorcycle enthusiasts are special people. Iron horse, speed and freedom are the main components of their amazing life.
Knowing the preferences of the hero of the day and the motorcycle model, you can correctly choose accessories: unusual mirrors, chrome pipes, original seats.
Tips: How to choose a gift for a biker
When thinking about what to give a male motorcyclist, find out in advance the make, model and generation of the motorcycle. The type of motorcycle should be taken into account: bikers on sport bikes differ significantly from bikers on choppers or classics. Both in character and wishes for motorcycle presentations.
It's best to just ask what you need. A surprise in this case will not work, but you will not be trapped by buying an unnecessary thing. Your biker will appreciate the attention and serious approach to choosing a gift.
If you are going to purchase a specifically motorcycle item, be sure to consult with the future owner.
The biker will bombard you with brand names, part names and their equivalents. If you don't understand the information, or in case of severe time pressure, you will prefer to give an envelope or a Gift Certificate to a travel or motorcycle shop. Such a gift looks somewhat "impersonal", but it can be much more practical for a birthday person.
Brutal jewelry, which is respected by the "iron" pros, can be found in stores with rock paraphernalia. Research what a friend is wearing and find a similar style. And if the fantasy refuses to work, take a look at the Hot Leathers website.
When choosing a gift, do not hesitate to ask consultants in specialized salons the most stupid (in your opinion) questions.
Go outside the box with the gift wrapping: present a muffler, generously tied with a gift ribbon.
Choose quality nickel or chrome plated products for your bike. You can order a nominal engraving – the present will become exclusive.
Gifts with your own hands (and not quite your own)
What to give a motorcyclist without using the "gift yourself" trick? The best present should remind you of a two-wheeled friend.
For example, a beer mug made to order in the form of a cylinder of his Magna. It will be inexpensive – you get a sketch of a part on the Internet, take it to a familiar turner. Almost any part of the bike is suitable for the base: headlight, suspension strut, muffler. The only question is fantasy.
Another option is furniture made from motorcycle parts. For example, whiskey glasses made from pistons, an original table made from gears or a crankshaft, a table lamp from a headlight or a chair from a saddle. You can give a system unit with modding in motostyle.
An embroidered bandana made by the hands of a loved one on February 14 will be worn by a biker for many years.
A good idea is to present an embroidered themed panel. Or decorate a denim jacket with a brutal appliqué.
What is better not to give a motorcyclist
Do not give the biker generic gifts: traditional gifts for "ordinary" people do not impress them. But every motorist will appreciate a practical and modern accessory for his bike.
Motorcyclists spend a lot of time behind the wheel. For this reason, it is not the best solution to present alcohol.
Do not buy specific items that you do not understand without first consulting. The salon sells a variety of accessories. If you make a mistake with the model, even the most branded item will be absolutely useless.
Do not give bikers yellow gold jewelry. It's not their metal.
Instead of a conclusion
And now about the gifts for the winter, sad for two-wheeled people, time. This is a time of stagnation: the season is over, the new one is far away, the horses are in warm garages …. What is a biker to do?
You can admire the models of motorcycles. And drink beer. Bring the biker a miniature likeness of his faithful steel friend. Or a beer mug with motorcycle symbols.