14 years is a time of change. The boy grows up not only physically, but also mentally. He is on his way to the honorary and long-awaited title of "adult", because the presentation of the passport is just around the corner. It is no longer possible to call a teenager, who is yesterday's baby, a child. Yes, and all children's gifts become inappropriate.
If your son, nephew, friend or acquaintance of a boy is planning a birthday, then you definitely have a question – what to give for a fourteenth birthday. The main thing to remember is that the main trend in the life of teenagers is trendiness and the desire to have everything newfangled and relevant. Therefore, before choosing a gift for a child for 14 years, you should familiarize yourself with the latest features in the world of gadgets, computer games and modern entertainment.
This guide will help you with various birthday gift ideas for a boy. You will find many options for both simple and unusual, both budget and expensive presents. After reading the article, you will definitely know what to give a teenager.
You definitely won't come to the celebration empty-handed, only with the best gift, from which your birthday person will be completely delighted!
TOP 102 ideas What can you give a boy for 14 years
Electronic piggy bank – safe.

The original book that formed the basis of the game, for example, an exciting post-apocalyptic novel (The Witcher, Assassin's Creed, STALKER, etc.).

Passport cover is a symbolic gift for 14 years.

Flexible silicone keyboard.

Interactive scratch poster with fun activities.

Swiss backpack.

Latest gadget: smartphone, netbook, tablet.

Bracelet or keychain – multitool.

Gift set of space food in tubes.

Bicycle: mountain, high-speed, road, walking.

Stylish baseball cap.

Virtual reality glasses.

Smart watch.

Yandex.Station mini.

Wireless headphones with a case – recharging.

Webcam and microphone for chatting in games or with friends.

Wireless speaker.

Board game – strategy.

RC buggy or airplane.

Collapsible dumbbells.

Cool alarm clock, for example, with a target.

Synthesizer.

Accessories for the cyclist: bike computer, bike bag, gloves, handlebar holder for a bottle or phone, alarm.

Binoculars.

Set of radios.

Guitar.

Good ball – football, basketball.

Electroskate.

Kit for creating a levitating device.

Kick scooter.

Air hockey.

Stick with a puck.

Penny board.

Fins and mask.

Stylish laptop cooler.

Frameless chair – bag.

Apparatus for making popcorn.

Skis and accessories to them.

Spyglass.

Balanceboard.

Cool boots or sneakers.

Night vision goggles.

Gyroscopic hand trainer.

A series of popular comics.

Quadcopter.

Action camera.

Age-appropriate metal detector.

Electronic book.

Mechanics Galileo.

Basketball hoop.

Controller in the form of a steering wheel, pedals or joystick.

Game console XBox or Nintendo.

Survival kit.

Led reflectors.

Electronic drum set.

DJ console.

Prefabricated models of military equipment or racing cars.

Bright wristbands.

Chess.

Mug-mixer, mug-knuckles.

Dock station.

Graphics tablet.

Smart electric toothbrush.

Lightbox on the wall with an interesting plot.

Sports kite.

Solar-powered robot constructor 6 in 1.

Tubing.

Set of a young magician. The boy will feel like a real illusionist.

Speakers for PC with light music and fountains of lights.

Shaver.

Globe – night light, levitating, pith.

Set: gaming mouse pad, gaming mouse, backlit keyboard.

Cup with USB heating.

A poster with motivating inscriptions for a teenager's room or with favorite characters.

Tarzanka.

Buildable rocket launcher that connects to USB.

A box of sweets from Europe and America.

Instant photo camera or SLR.

Sketchbook, creative diary, training diary.

Motivational scratch calendar (every morning the boy will be able to erase the protective layer to read and complete an exciting task during the day).

A laundry bag in the shape of a punching bag or a basketball hoop.

Megaminx is one of the most popular and addictive puzzle games among teenagers.

Light bar for reading. You can add an interesting book – a bestseller in the genre of adventure, fantasy or detective.

Upgrade for a PC: external drive, video card, RAM, hard drive, SSD drive – in addition to additional gigabytes, it also affects the speed of the computer.

Stylish waist bag (beltback) – will complement the daily bow for walking.

Luminous or magnetic shoelaces.

A tent for a young tourist, a camping lantern with a built-in column, a set of camping utensils, an inflatable sofa – a lamzak for resting on land and water.

Attack helicopter with a gyroscope.

Dumbbell alarm clock.

Telescope.

Cool gifts: prank sets, keyboard vacuum cleaner, USB fan or refrigerator for one can of soda.

The anti-gravity machine rides on walls and ceilings.

Clothing or accessories with the symbols of your favorite team or heroes.

Diary with black sheets. Can be completed with a disappearing ink pen.

The table is a transformer for a laptop.

Original desk lamp for study, for example with smartphone charging function.

interactive robot.

Fashionable sports bag.

Boxing gloves.

Set for tennis.

Sets from the series "Your own master" (woodcarving, assembling an alarm system for a room).

Explorer travel kit.
Inexpensive, versatile gifts
A good gift is not always expensive. There are many budget surprises that can cause joy and interest, especially if they are chosen with current trends and creativity in mind.
If the boy lives in a separate room, then you can present  original things for his personal space on the DR.  A teenager will most likely not appreciate a picture or hooks for clothes, but a flying or running backlit alarm clock will appeal to you. And also in the room you can donate:
Pillows in the form of car wheels . Such an interesting element for the room will definitely appeal to a lover of racing cars and cars. The birthday boy definitely did not receive such a gift as a car wheel. You can guess for a long time about the gift, but you definitely don't foresee this.
The decorative model "Pirate Sailboat" will appeal to a boy who is passionate about the sea and to someone who decorates a room in a marine style. You can buy a ready-made model or a prefabricated version.
Table mini-tennis – perfectly fit into the interior of any room. It will allow the boy to have fun with friends, improve coordination and physical condition. The table is easy to assemble and disassemble, taking up minimal space.
More original examples of inexpensive gifts for a 14-year-old boy:
Solar-powered flashlight with radio functions and phone charging. Such a gift will cost inexpensively, but boyish delight is guaranteed!
Tetris case. A unique gift for a boy, which, in addition to perfectly protecting the smartphone from damage, will allow him to enjoy fun games (snake, tetris, racing, and so on) from the back of the phone.
Videos.  Roller skating is not only a fun activity, but also very useful: it strengthens the muscle group and the cardiovascular system. It is better to choose a sliding model, for growth.
A paracord bracelet  is not only a stylish accessory, but also an indispensable assistant in hiking, outdoor games. Paracord is a durable nylon cable that includes additional accessories and tools such as a flashlight, saw, carabiner, fishing line and hooks for fishing and much more.
A projection keyboard is  a projection of the keys on any horizontal surface, and a reader that follows the movement of the fingers.
It is not necessary to have a special computer for a laser keyboard, the device can be easily connected via Bluetooth.
A selection of presents for an intellectual and creative Child
The boy is an intellectual, loves science and has a desire to study complex areas – then a thematic thing will be the best birthday present.
As a basis, you can take the following options for interesting gizmos for creativity:
The Tesla Plasma Ball  was invented by the great inventor Nikl Tesla. In our time, the ball has been adapted and supplemented with modern technical achievements.
Due to a special gas, it begins to glow, voltage arises, hence such an interesting effect of a lightning discharge arises.
3D wooden puzzle in the form of a map of the world. An unusual puzzle in which the boy will be able to assemble the whole world from elements in the form of scale models of real countries. Then the assembled map can be glued to the wall in the room.
Space projector. Space, constellations, galaxies, a black hole… Having assembled the projector from the details, the boy will discover the world of stars.
You can also purchase  a projector-explorer of the ocean floor. Which will show images of ocean views from original National Geographic images, inhabitants and species of the underwater kingdom.
The Lego constructor  is distinguished by a variety of series, with different levels of complexity. Therefore, you can easily select the necessary set.
There are thematic, plot, classic and even robotic kits that are interesting to collect not only for children, but also for adults.
IQ Cube This is a puzzle game in the form of a transparent cube that transforms into an entire playing field, with more than 80 3D puzzles and their solutions. The game develops concentration, logical thinking, problem solving skills.
The boy is a creative and extraordinary person, give him a  spray for graffiti  – if there is where to draw, for example, your garage or fence. Or an airbrush with a spray gun and paints to create at home.
It is better to choose a quick-drying paint for graffiti, it is also suitable for decorative and design (design) work, for working on metal and concrete.
Options for surprises for an active Boy
If the boy is filled with a thirst for movement, attends sports sections or likes hiking with friends, then you can choose the appropriate category of things as a gift.
For example, one of these:
Dumbbell alarm clock. The alarm clock is made in the form of a dumbbell, but this is not the main secret. To turn it off, the birthday boy will need to complete at least 30 repetitions of the exercise.
And only then the alarm goes off. Therefore, if a boy loves sports, and waking up in the morning is a surprise for him!
Aeroball is  a cool birthday present for a 14 year old boy. Disk shaped, with soft sides.
Due to the built-in fan, the ball "floats" across the field under the influence of air flow on it. Therefore, you can play even at home, without fear of breaking anything.
A crossbow for a teenager is  no longer a child's toy, but quite a serious model that can help instill interest in this sport.
It can be used in training or just shooting at targets.
Stunt scooter –  you can choose a model for a novice rider, or for an amateur and a pro. The stylish and bright design of the stunt scooter will make the teenager stand out on the street and in the skate park.
"Paws" for practicing strikes –  suitable for both pros and beginners. It will allow you to work out the accuracy, coordination and force of impact. Training with a father or a friend will allow you to imitate a real fight, imitate a real fight, which is much more effective than training with a pear.
It is also important to consider that for a mobile and sociable boy, an  intangible present can also be an excellent gift . For example, such as:
certificate for archery, paintball, climbing wall;

karting, wind tunnel flight;

ticket for a match or concert, quest.
Such gifts will allow you to have a great time with friends and gain impressions.
Fashion accessories for a young dude on his 14th birthday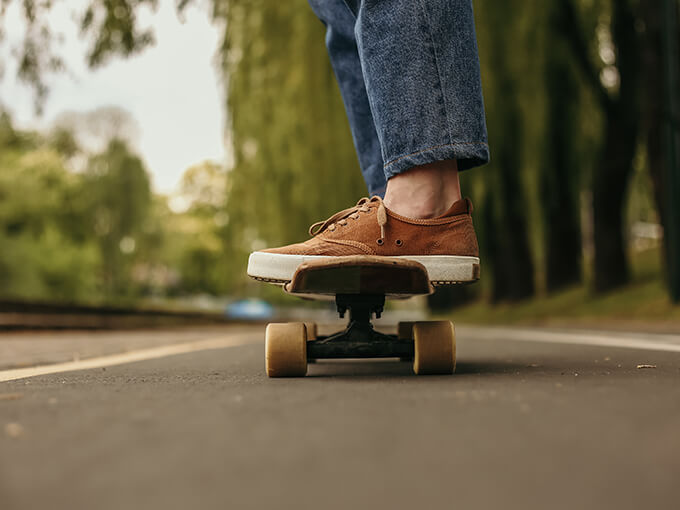 The age when the boy is already forming his own style and image. If your birthday boy wants to be "brighter than everyone" – help him with this and give him an actual present. A few top options among teenagers:
A fashionable belt is  a very functional piece of clothing. The main thing is to choose a modern model, for example, a classic one – a leather version, a stylish textile belt in khaki color.
A leather bracelet with silver inserts is  one of the options that you can give your beloved boy for 14 years.
A stylish hand accessory made of leather is becoming an increasingly popular gift among male teenagers.
The interactive t-shirt is  a stylish item with a luminous element, which uses a new modern led technology.
For example, a model with a guitar will allow the boy to play pre-prepared musical riffs, extracting sound with light finger movements.
Luminous LED sneakers –  such sneakers with a luminous sole appeared recently, but have already become a hit on Instagram.
If the budget does not allow, you can please the birthday boy with LED laces  – this is a real find for a guy who is used to being the center of attention.
Boxing with trendy socks. A gift in the form of bright and funny socks in boxes will delight any young fashionista.
Each pair has a top drawing and brings with it only pleasant emotions and a positive attitude. A great idea and a ready-made solution for what to give a teenager for 14 years.
Hoodie.  Without a hoodie, it is difficult to imagine the wardrobe of a modern teenager. It is better to choose a model with a hood and a convenient sleeve pocket. And, most importantly, with trendy prints and trendy shades, such as khaki.
TOP Gadgets Every Boy Dreams Of
In the modern world, gadgets are present in the life of everyone, especially a progressive teenager.
They brighten up everyday life, allow you to communicate with friends, study Internet resources and much, much more. You can find a good gift in this collection:
Fitness tracker. First of all, the gift will make you move more, instead of sitting at home at the computer. An animated target indicator, moisture and shock protection, call and messenger notifications – all this and more in a smart bracelet.
Smartphone stabilizer. If a child is fond of video filming, then this device will be a great gift for a growing blogger or a future filmmaker.
Such a present will help support the boy in his first steps towards success.
Phone projector. With such a gift, a teenager will be able to view videos and photos from the phone on any surface, be it a room wall or another surface!
A great gift that does not require power supply, creating an enlarged image as well. most importantly, without harm to the eyes, unlike displays.
Metal headphones with Bluetooth –  models, both all-metal and those in which this material is combined with plastic. Robust, reliable, stylish, with a significant headroom, youth-oriented headphones.
Backpack with LED screen. Unusual, interactive, youthful and incredibly stylish backpack. The main difference from a regular backpack is in the interactive LED display, which is able to reflect any picture.
Delicious gift for boy
Look for inexpensive but nice gifts for a 14-year-old boy – then give something that you can eat and get a lot of fun!
The main thing is to choose the delicacy that the teenager will like. Below are a couple of delicious ideas:
A set of snacks in a wooden box is  one of the worthy decisions on what to give a child for 14 years. A surprise box filled with your favorite snacks will delight any tomboy.
This is both an intrigue before unpacking treats, and tastes of new delicacies. Inside can be: chips, snacks, crackers, space food, drinks, etc.
Gift box of magic beans with a tape measure. The famous candies from the popular film about the wizard Harry Potter. Candies with sweet and nasty flavors (chocolate pudding, stink bug, toothpaste, slop and many, many other unusual flavors) plus a roulette of flavors for a fun game with friends.
Delicious help in a jar. Do not want your gift to be lost among a bunch of others again? Give a jar of "Delicious help", which will definitely cause a spark of surprise in the eyes of the birthday boy.
Unusual and original, surprising and enthralling: with sweets, sweet gifts with a humorous presentation, etc.
Chocolate set stylized as school stationery or tools. This original and very tasty box for a 14 year old boy. Screwdrivers, keys, hammer and other tools made of delicious chocolate!
What is better not to give
There are a lot of interesting gifts, it will definitely not be possible to list them all, but most of them were listed above.
However, there is a category of things that definitely should not be presented to a teenager, whether he is your son, beloved boy or good friend. Gifts for a boy for 14 years, which you should not give:
Didn't add

 . Many relatives try to give the child everything that they themselves received in childhood. You and your child are different people, grew up at different times, with different upbringings. Therefore, it is better to listen to the desires of the boy, and not to his unfulfilled childhood dreams.

Bad quality

 . Buying gadgets and other surprises in dubious stores is not a good idea. Firstly, they can be made from low-quality materials. Secondly, quite often such gifts break on the first day. Therefore, if a child wanted a Sony Play Station, then you should not give the Chinese version.

Gifts out of season

 . Children, regardless of age, live in the present day and, of course, want to use the gift for its intended purpose "here and now." Instead of waiting for spring to ride a bike, having received it, for example, in winter.

An abstract surprise

  is usually done by parents. Be that as it may, the child expects to receive a gift for DR here and now, and not sometime there. For example, money set aside for education, or the future of a car. There is no mention of any holiday.

School supplies (stationery, teaching aids, courses)

 . Quite often, adults, chasing practicality, tend to buy such things. But, do not forget that a birthday is a holiday of fun and for a boy such things will not be the best option.

Gifts from the past

 . This is what the boy asked for on previous birthdays. Interests in adolescence change quickly. Choose a present for a teenage boy, taking into account his current interests, otherwise your gift may be met with coldness.

Clothing

 . Representatives of the strong half of humanity, both small and growing, will treat such a gift with indifference. Items of clothing, regardless of age, are perceived by them as commonplace, because parents will buy everything they need without a holiday.
Adviсe
It is rather difficult to catch the moment when childish boyish delight is replaced by pragmatism. Therefore, when choosing what gift to present to a future birthday man and an almost adult man, it is important to take into account age and psychological characteristics.
Relevance  is about fashion and modern realities. All seasonal chips, new gadget models, styles, popular brands, trends – all this is a priority. Like a form, such a thing unites. Compliance is not an excess, but a way of communication among today's teenagers. Therefore, when choosing a gift  , do not forget to take into account the trends of the XXI century.
Dialogue –  of course, in modern everyday life, it is not always possible to allocate time for communication. Especially with parents to ask about school, friends, etc. However, it is enough to listen and hear, then you yourself can easily replenish this guide of popular gifts.
The alternative is  good . The boy wants an expensive iPhone or set-top box – but there is no way to buy either one or the other? In this case, teachers recommend asking general questions, for example, they say, we choose a gift for you. Help, which is better – something for your room, study or hobbies?
Stop children's assortment. Children's time has long passed, this must be accepted and taken into account. All even newfangled cars can be perceived with hostility. You can try to offer him items from the list above, and the boy will definitely make it clear what present he will be happy about.
Also, do not forget that it is at this age that the desire to stand out or, at least, to be like everyone else, not worse, intensifies. Boys at the age of 14 become pretentious about their appearance. Therefore, wardrobe details, fashionable shoes will be excellent gifts. And, do not forget that you are choosing a gift not for yourself, but for a teenager with specific preferences and tastes.
Personification  – a boy at this age is very sensitive to the appointment of gifts. He has a personal space separate from other family members. Therefore, new wallpapers in his room instead of the old ones can seriously hurt the individualist. After all, these are ordinary things, but you need a special gift.
It must also be remembered that men at any age appreciate the benefits and practicality in gifts . Therefore, various souvenirs and trinkets that delight girls are unlikely to be appreciated by boys. But a suitcase of tools, a gaming keyboard or a pocket fishing rod is just what you need.
Any of your gifts must be packed  in a beautiful box, or at least tied with a bright satin ribbon. After all, it creates a festive mood and stirs up interest in the gift.
Conclusion
Of course, it is generally accepted that "the main thing is not a gift, but attention" – but still, it's worth giving the choice to the first one. After all, any person, regardless of age and gender, will be pleased to receive something unusual, to experience a feeling of slight awe and anticipation from a gift. Yes, and a good answer to the question of what to give a boy for his 14th birthday is completely on the surface. The main thing to remember is that it is important for a teenager that others agree with his adulthood and independence. Therefore, the surprise should be taking into account new, matured tastes and hobbies.