Are you invited and wondering what to give the bride for the wedding? Can't decide on an original present for a bachelorette party? Gifts for the newlyweds can be different – practical, romantic, unique, "indecent" or cool. We have collected ideas for every taste.
And you will also learn what presents are best to avoid, how to cheer up guests at a wedding and a bachelorette party, which document confirms the "quality" of the bride, and much more.
TOP 102 ideas What you can give the bride
In our list you will not see traditional sets, jewelry and vacuum cleaners. We decided not to mention popular gifts.
Glass pendant with 3D laser photoengraving. A romantic option to give the bride to the groom as a keepsake of the wedding.

Horseshoe for happiness. A simple and original idea with a small budget. With different purposes – from home decor to jewelry.

Breakfast table in bed. The newlyweds can take turns having a small morning feast.

Automixer "Nepodgoraika". In order not to be distracted by preparing breakfast, but to devote time to yourself. One of the ideas that you can give the bride for a bachelorette party is original and useful at the same time.

Teapot in the shape of a heart.

Personalized bracelet "Heart on the lock".

Painting with Swarovski crystals.

Choco-puzzle from a photo of a girl.

LED lamp "Orchid". The idea is not bad if you are thinking what to give the bride's parents.

Souvenir tree made of minerals "For happiness and love".

Pearls for wine.

Present with the image of a couple: wall clock, beach bag, pillow, iPhone case 

. 

A printed edition about the newlyweds, a glass heart with a photo, a lock with a name engraving, an alarm clock with a photo of the newlyweds – personal gifts are most appreciated. And also – a painting from a photo on canvas, an unusual funny cartoon symbolizing the hobby of the bride or groom, a photo mosaic portrait made up of hundreds of small pictures, a poster in the form of a wedding date from a photo, a portrait on canvas from words …

Set of two slate boards. For sweet messages to each other.

Suitcases case-pilot for a honeymoon trip.

Water balloon with hearts and photo of lovers. It is enough to shake this magical object, and the scarlet hearts will shoot up, filling the space with their dances.

"Passion Meter" The secret of the device lies in the warmth of the hands of the bride and groom. A spectacular and touching surprise will show your soulmate how hot your love is.

Silk scarf from Ungaro. As an example, what to give the bride from stylish trendy accessories.

Jewelry box or roll.

Chocolate fountain.

A set of nominal glasses for wine or mulled wine.

A set of electronic candles.

Music box "Two hearts".

Gold bar in a gift card. Unusual, creative, valuable present. Plastic is decorated in a wedding style, there are options with words of love. You can order a card with a personal design: with a photo and wishes. A gift that will be remembered for a long time will only become more expensive over time!

Silver or gold coin.

A set of rattan furniture. Wicker furniture is fabulously beautiful and will fit into the interior of a country house or balcony.

Projector of the starry sky or reflections of sea waves with music for relaxation.

Glass furniture. Bedside tables, a coffee table on wheels are useful and pretty items.

Lamp with a photo in the style of "Love is".

Certificate in the store of household appliances. Instead of a bulky multicooker or microwave, give a certificate for a similar amount. And you don't have to drag the box, and the couple doesn't have to think why they need a third coffee maker. A prosaic, but useful and prudent gift.

A framed triptych with photos of the newlyweds. A good idea what to give the bride's parents at the wedding.

Soft toy "Wedding Bears" or fashionable plush Basik "Heart as a gift".
Original gifts for the bride
If you are looking for a creative/useful/cool/romantic gift for the bride, this section is for you.
Unusual gifts for the bride
Papyrus on order. A romantic letter on papyrus from the second half, a scroll of "12 commandments of a happy marriage" with the image of Peter and Fevronia – from relatives.

Portrait of happy lovers on a mirror surface.

The couple's personal website. On the web resource, the main "milestones" in the life of the newlyweds are noted: acquaintance, first date, first joint vacation. They give a virtual present with parting words to continue the family "chronicle", emphasizing each wedding anniversary. Let the guests leave warm wishes in the "Congratulations on the marriage" section.

Collective dance from the bridesmaids. It can be danced in the midst of a banquet or while walking around the city.

Romantic video. A colorful film or slideshow of the best shots of a love story. Complete the video with gentle remarks from SMS correspondence. Another idea is to make a film about the girl's past "free" life, including childhood photos, shooting nostalgic places and objects from childhood.

A collage of joint photos placed in the form of the word LOVE or the date of marriage.

Flight in a hot air balloon. A romantic surprise will give a lot of beautiful memorable photos as a keepsake. Emotions last forever! Give a flight to couples who prefer an active lifestyle and are not afraid of experiments. Don't forget to notify the wedding planners.

Blind hand. This is a set of special plaster and a mold that allows you to take a cast of the hands of lovers right at the wedding. Then a touching masterpiece will decorate the newlyweds' house.

Beautiful box for a wedding dress. Helpful idea. The bride will appreciate the unusual but practical approach.

Paired T-shirts, pillows, sets of towels, bathrobes, mittens for lovers – cute little things will remind you of vivid feelings for each other. The present will become exclusive if you order a monogram embroidery with the initials of the bride and groom or their common surname. A playful option is paired T-shirts with the inscription "One field of berries" or "I want him / her."

Groom and bride dolls. Miniature copies of the heroes of the celebration, made to order.

Swimming with dolphins.

Romantic date on a yacht for two. Or a certificate "Dinner on the ship."

Spa treatment certificate, Japanese massage or chocolate wrap, Balinese facial gift certificate.

Photo session in the style of Love Story. Pay for your wedding or honeymoon shoot. Discuss preferences in advance, and implement the idea only after obtaining consent.

Flash mob. Fashionable unexpected action will cause real delight. The main thing is to find performers. For example, place people with posters with wishes and balloons along the road to the registry office. A wonderful sight – a massive dance flash mob from strangers.

wedding show. Laser show, lady show, burlesque style, "living statues", soap bubble show, light show, fire show. Creative present.

Wedding floristry. She "makes" the holiday, sets the mood for the main day in the life of the newlyweds. Flowers give bright colors, emphasize the solemnity of the moment. A flower arch, wedding baskets, stylish bouquets and preserved flowers turn the banquet hall into a personal paradise. What flowers to give the bride? Be creative, donate, well, a lot! Taking on the "floral" part of the wedding costs is a very good gift.

Suite for the wedding night. Take some of the wedding hassle on yourself: book a luxurious suite for the newlyweds. Believe me, they will appreciate such a present!
Check with the groom first if they booked the room themselves.
Merry bachelorette party
The wedding ceremony is made unforgettable by an unusual scenario, touching emotions and a beautiful image of the bride. What else?
The atmosphere of a bachelorette party will always remain in my memory: funny contests, funny presents.
Original ideas for those who are puzzling over what to give the bride for a bachelorette party from her friends:
Bridesmaid set for a bachelorette party: a white T-shirt with the appropriate inscription and a fluffy two-layer veil.

Man control panel. This is a soft toy with balls inside. If the groom does not even play along with the bride, then the gift will at least relieve stress.

T-shirt with a print of a semi-nude bust in beautiful lingerie and the inscription "Bachelorette party. Today we'll break away "or" Everything that was at the bachelorette party … remains at the bachelorette party.

Pillow for the car with the inscription "Keep your distance. I'm married!".

Role-playing apron in one of the themes: "Businesswoman", "Amazon", "Marriage Special Forces", "Nurse".

"Beer" helmet "Playboy". A pink helmet with fur and shiny ears will free your hands at a party: cans of alcohol or energy drinks are placed in special holes.

Stripper. A striptease at a bachelorette party is a classic example of what to give a bride a cool gift for a bachelorette party. For more mystery, before the arrival of the actor, blindfold the bride. If you celebrate farewell to freedom in a club or restaurant, be sure to coordinate the appearance of a stripper with the administration.

A jar of useful tips. Make an interesting souvenir for a bachelorette party. Stock up on a beautiful jar and unusual paper. Each friend writes her advice or wishes for a long family life on a separate piece of paper. Then parting words are folded into a jar and handed to the bride.

Satin cushion with a photo of the bridesmaids. Order this little thing if you are thinking about what to give the bride for a bachelorette party as a keepsake of this fun day.

Plush slippers Teddy Bear.

Obsessive black patterned eye mask, garter, lace bralette or neckband.

Fortune cookies "AMORalnoe".

"Necklace" of … condoms with a pacifier in the center. The present is accompanied by wishes of love and a speedy addition to the family.

Lamp "Marriage is a way out!". An original lamp in the style of the glowing "Exit" sign that you often see in movie theaters. Only instead of the standard green field – pink.

Mittens-mittens in the form of boxing gloves.

Pink fur handcuffs. For adults – adult gifts. A popular gift "with a hint" for the first night of the wedding (and all subsequent ones). You can choose another color, but pink is a classic. You can attach a postcard with detailed instructions for use.

Sleep mask "Sleeping Beauty", "Her Majesty deigned to sleep."

Decision Maker "Heart Sex Instructor". A piquant present for lovers who prefer erotic experiments. It helps to make a love decision, liberates the shackled newlyweds: after all, the position is offered from above! The manufacturer calls the toy "a storehouse of love magic and erotic wisdom." You just need to concentrate the flows of yin and yang, shake the device, and get a picture-answer.

Wish bell. Choose the desired sticker: "I want happiness!", "I want money!", "Enough sleep!", "Go to bed!", "Take out the trash!", "I want a fur coat!", "Don't yell at me!". A desire voiced in this way will cause a smile and positive, and will certainly be fulfilled.

Nominal apron "Always right".

Souvenir rolling pin with the inscription "A woman's main weapon", "Repay your marital debt in rubles." The rolling pin is often mentioned in jokes about negligent husbands. Present it with the wish that the future spouse never give reasons for its use.

Boxer T-shirt with "I'm a better kisser than I cook" slogan.
Cool things for the bride and groom
If you are thinking about what to give the bride for a wedding to entertain both the couple and the guests, use our ideas:
Funny purse of immense size. Present with a hint of the ability to save money.

Umbrella for two: with one handle and a double "jointed" canopy, designed for lovers. The budget version of the first common roof over your head …

Edible panties of the bride – a spicy "dessert" for the wedding feast. Fragrant thick jelly underwear can be eaten right on your young wife!

A hand mill is a guarantee that everything will grind and be good!

Order "Marriage!" for a brave bride who was not afraid of the difficulties of family life. The order can be made to order: with an individual design and engraving.

Anti-clock is a wall-mounted chronograph with an unusual dial. Instead of arrows and numbers – the inscription "Food, love and sleep" or "What's the difference!?". As you know, happy hours are not watched … A playful gift is perfect for the bride and will correctly set up the routine of married life with an emphasis on love.

Dishes with the inscription "For good luck!". Attach detailed instructions to the gift on how to properly beat the dishes during a marital conflict.

Barrel of honey. Present a small barrel of honey and a cash gift. And wish for a honeymoon to eat all the honey and spend all the money.

Saw-souvenir for the wife. The hidden meaning is to nag her husband and achieve everything that is planned.

Joking evidence of the ownership of a plot of Mars Square.

Bed linen with an original print: with the image of a naked couple, with stylized images of a man and a woman, with erotic pictures. "Kama Sutry" sheet.

Sign on the door with meaningful text: 

"

 Lovemaking in progress" or "We'll get a little naughty", with the image of rabbits in love.
It is very important if the newlyweds do not live alone:
Strip game Sea battle "Erotic".

Bell "Ring for love" or "Ring for sex".

Unusual piggy bank. For example, in the form of an Alternative Mortgage brick or a Cash Deposit ATM.
Funny DIY gifts for the bride
Comic presents cheer up, create an atmosphere of laid-back fun. You can make them yourself.
Here's what you can give the bride for a bachelorette party and wedding:
"Hedgehog gloves". A funny present from an ordinary pot holder decorated with push pins. Let her keep her young husband in tight rein!

Souvenir massive rolling pin "Weapon against mistresses" for the "education" of her husband. Write "Superfine" on it, decorate the base with frightening spikes.

Transparent piggy bank with two compartments: for husband and wife. The fun is that all the coins always end up only in the wife's cell.

Funny "Panties for two". Sew underwear of a huge size so that the young ones can fit at the same time. Thanks to the "cowards" the newlyweds will get as close as possible to each other.

"Necklace" of toilet paper rolls: for cleanliness in a relationship.

Canvas bag with the inscription "Pud of salt". It is customary to greet newlyweds with bread and salt. A funny idea is to give it instead of a loaf.
Comic certificates and award documents
You will make the guests and the bride laugh by handing over a playful "official" document:
Power of attorney for full ownership of the heart.

Diploma for completing the "Worthy Brides" course, confirming that the bride is ready to move to a new level – a good wife.

Driver's license to drive a baby carriage.

"Technical passport of the bride" with "operational" characteristics: equipment, functionality, precautions, warranty.
Pranks for the bride
The overall impression of a funny gift depends on the method of presentation and the appropriateness of the joke.
For example, a real present is placed in a beautiful box. In exactly the same put unnecessary dishes. It is handed over in the first place, with the words that inside is a rare service. Giving a "gift", "accidentally" drop it. There is the sound of breaking dishes. They pick up the box and again try to hand it over with words of congratulations. Then they "unexpectedly" miss it again … When the stunned guests realize that this is a joke, the young ones are handed the "correct" box.
Handing over a funny gift, they make a speech about the fact that there was not enough money to implement the plan. But this is a start. And they give:
lifeline for the future yacht;

nice mouse pad for a new computer;

number for the door of a new apartment;

hanger for a chic fur coat.
And 7 more gift ideas that are handed out with playful comments:
Vacuum cleaner with warranty. Give the bride a gift box with a vacuum cleaner and a cool "guarantee" (a broom with a bright bow). Tell the future hostess that if the electricity suddenly turns off during cleaning, a broom will save the situation.

To make family life full of positive, give the bride rose-colored glasses.

The symbol of wealth will be the "shovel, which rows money" – a children's scoop, pasted over with coins.

If the couple lives in the groom's house, give the bride slippers with bells, with parting words: "So that you do not wake up your mother-in-law, and walk on tiptoe."

The mother-in-law can give the bride an ordinary metal basin. And list its advantages: to wash, wash, ride down a hill, cook Olivier for the New Year.

The air conditioner is presented with the words that "without it, the newlyweds will be too hot from love.

"Wedding Harvest" Present a basket of fruits by coming up with a rhyming comment "We give cabbage so that it is thick in the wallet", "We give carrots so that the bride loves her mother-in-law."
Tips and tricks on how best to choose a gift for the bride
Wedding gifts are not only participation in the arrangement of the family hearth, memorable souvenirs and family heirlooms. No less important are vivid emotions, spectacles and funny pranks.
You can't go to a wedding without a gift, it's disrespectful and indecent. If there is no money, turn on creativity. For example, create a wedding calendar in any graphic editor, print it to a private printing house.
A good symbol, which is more connected with happiness than with the theme of love, is the Golden Fish, the fulfiller of all desires.
An important tip is to give animals to people who love them and will definitely take care of them.
If original ideas do not inspire, and you do not want to bring traditional gifts, give money. This is a win-win option: a young family has many grandiose plans, finances cannot be superfluous.
Come up with an original way of presenting: in a jar with the inscription "Cauliflower", in the form of a bridal bouquet, in a photo album. You can give a prepaid gift card.
What to give the parents of the bride from the parents of the groom ? Everyone has different opportunities. To avoid embarrassment, an inexpensive souvenir is appropriate – a good wedding photo album in a leather cover with embossed corners.
Keep receipts so that in an awkward situation you can return the product to the store, replacing it with a similar one. For this reason, it is wise to purchase gifts a couple of days before the wedding.
Avoid cheap gifts. It is indecent to come to a wedding banquet with a trinket. There is no upper cost limit, but the minimum is based on the cost of a banquet place.
You can not give presents with a check or a price tag. Sometimes guests thus emphasize their generosity. Do not do this – the gesture is contrary to gift etiquette. The check can be left in the box only if the product is under warranty.
If you decide to present household appliances, use a gift certificate. Instead of a bulky multicooker or microwave, give the opportunity to choose for a similar amount. And you don't have to drag the box, and the couple doesn't have to think why they need a third coffee maker. A prosaic, but useful and prudent gift.
What bouquet to give the bride?
Opt for flowers in delicate pastel shades that emphasize the purity and charm of the bride.
Wedding floristry is often based on seasonality. Bouquets of tulips or lilies of the valley are suitable for a spring wedding. In summer, give preference to roses, orchids, gerberas. Charming compositions are obtained from armfuls of daisies with bright patches of cornflowers. Autumn brides receive chrysanthemums and asters. And at the winter celebration, roses and lilies are spectacular.
If you decide to give the bride a bouquet of lilies, keep in mind that the flowers exude an active aroma. And not everyone likes it.
Camellias, gladioli and daffodils are considered undesirable at a wedding. According to beliefs, they symbolize some kind of loss. Carnations are considered to be too "official" flowers.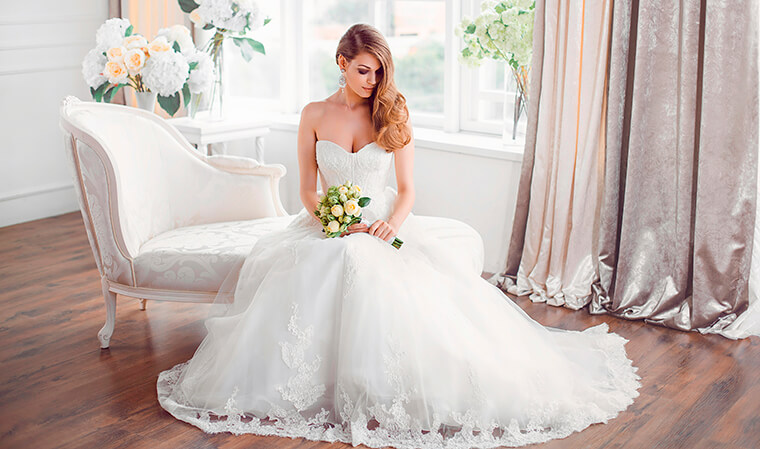 A bouquet of yellow flowers will be misinterpreted: as a harbinger of betrayal and separation. Choose flowers with a light scent, avoid intrusive scents.
Remember the main thing – you can give flowers to the bride absolutely everything. If a girl loves yellow chrysanthemums and does not believe in prejudice, donate boldly.
What is better not to give the bride
What should not be given to the bride for the wedding? When choosing a gift for the young, they are guided by the rules of etiquette and signs.
Watches, electric shavers, mirrors, items from the category of piercing and cutting. It is believed that these presents can provoke troubles in family life and even separation.

Roses with thorns. The reason is the same. Before giving a bouquet to the bride, be sure to cut the thorns.

Old paintings, antiques. Even valuable antiques are not suitable as a present. Such things carry the energy of the former owners. And it's not always positive.

Natural pearl jewelry. Unfortunately, stylish and luxurious pearls at a wedding symbolize tears.

Plants in pots. Some people are biased towards this cute present. Even a money tree can upset them. According to legend, indoor flowers can have a bad effect on conception.

Vase. Do not give young people an empty vessel – it symbolizes childlessness. Give a vase along with a bouquet of flowers or fill it with candy (the promise of a sweet life).

Empty clutches, bags, purses and suitcases. They can mean lack of money. To "neutralize" superstition, put a bill inside.

Very fragile things. In a wedding mess, they are easy to break, which will be a bad sign for the newlyweds.

Baby stuff. A wedding is a celebration of the newlyweds, all the presents are for them. The exception is comic presentations. In addition, many are sure that things are not purchased for a child in advance – a bad omen.
What you give the bride is a matter of taste. The main thing is the sincerity of wishes.