When the birthday of the oldest member of the family comes, I want to please him and prepare the best surprise. What can I give my grandfather for 60 years?
It's quite difficult to choose what to give grandfather for his 60th birthday – at this age, many already have everything, and they don't need anything.
However, you can pick up a practical, original or unusual gift – here is a list of the most suitable ideas:
TOP 43 ideas What you can give your grandfather for 60 years
Telescope or spyglass.

Cane handmade.

A metal detector is a gift for an active and interesting holiday.

Leather purse or stylish cover for documents.

Garden swings are a great gift for a grandfather who lives in a private house or spends a lot of time in the country.

Table football or futsal.

Gardening Tools.

Gold-plated set with glass holder and spoon.

A pipe, tobacco, a cigar humidor, or a Zippo signature lighter if Grandpa smokes.

Functional table lamp.

Thermos or thermo mug with personalized engraving or original drawing.

Warm mittens or gloves are an inexpensive gift for a grandfather for 60 years.

A table salt lamp is not only stylish, but also a useful home decoration.

A Japanese rock garden that will allow you to relax, focus and put your thoughts in order.

Lotto with barrels made of natural wood.

A portable, battery-operated radio that allows you to listen to news, music and interesting radio programs.

A set of glasses for cognac or whiskey.

Mountain bike or trainer for an active grandfather.

New household appliances, especially if the grandfather lives alone – a microwave oven, a refrigerator, a stove, a robot vacuum cleaner.

Collectible chess or checkers in a gift box.

Satellite dish and large screen TV.

An elegant notebook or diary for personal notes.

A set of spinners, a new fishing rod, a camping lantern for grandfather, who is fond of fishing.

A high-quality weapon case, chamber or multifunctional knife for a hunter.

Fountain pen produced by a well-known company for a respectable man.

A warm bathrobe and house slippers are a cute and romantic gift for grandpa.

Compact umbrella in a classic men's style.

A universal lawn mower, electric saw or other item that will facilitate the work of the birthday man in the garden.

Tea or coffee service with photos of the whole family.

Wine set in a wooden case.

Antique stylized portrait in an unusual interior (from a professional artist).

Case for handmade glasses.

Coffee maker or coffee machine for a lover of an invigorating drink. If grandfather loves tea more, you can give him a painted teapot for tea leaves.

A chic leather armchair is a wonderful gift for the head of the family for 60 years.

Personalized gift set of honey or jam.

Electric fireplace – desktop or floor.

Stylish tie and shirt accessories such as a chic tie clip or cufflinks.

Home brewery.

Bag or briefcase made of genuine leather.

Genealogical tree or large genealogical book.

Mini-bar in the form of a globe or a small bookshelf.

Tula samovar with engraving is an original gift for grandfather's birthday.

A branded wrist watch or fitness bracelet that can measure heart rate, count steps, and also work as an alarm clock.
Gifts for grandfather for 60 years from granddaughter
For a grandfather, it is first of all important to feel love and attention from close relatives. And who can give this love to the birthday man, if not a beloved granddaughter?
The gift should show grandpa that you always remember and care about him. Ideas what to give grandfather for 60 years from his granddaughter:
Digital photo frame. Even if the grandfather does not understand modern gadgets, you can give him a photo frame – by pressing just one power button, the birthday boy will be able to admire family pictures that change every few minutes.
To do this, you need to set up the gadget yourself and upload photos and video files there.
The book is the best gift. A grandfather who loves to read can be presented with a collection of books by his favorite author or a collection of poems by one of the famous poets.
Alternatively, you can find a rare book related to his hobby – about weapons, hunting, fishing, cars, travel.
You can also donate specialized reading glasses, a rocking chair and a blanket – with these items, the reading process will be even more comfortable.
Orthopedic pillow and mattress. If you don't know what to give grandfather for his 60th birthday from his granddaughter, pay attention to high-quality orthopedic pillows or a mattress.
This is a gift that will show grandfather that you care about his health – such mattresses distribute the load over the surface and provide an anatomically correct body position during sleep.
What to give grandfather for his anniversary from his grandson
Even if the grandfather is not very emotional, it is important for him to receive attention from all close relatives.
Not only the granddaughter, but also the grandson can show love and care for the eldest member of the family.
A gift from a grandson can be practical and useful in the household. Here are some great birthday gift ideas for grandpa from a beloved grandson:
Home weather station. Older people are often interested in the weather forecast. For a grandfather's birthday, a grandson can give an electronic weather station that accurately predicts the weather, and also knows how to measure the humidity in the room.
If grandfather cares about his health, you can buy an ionizer or humidifier for the apartment.
Case for tools. If your grandfather spends a lot of time in the garage, you can give him a stylish and convenient case for storing tools.
Some men retire at the age of 60 and start spending time in the garage – such a birthday man can buy a mat for recumbent work, a multifunctional shovel, or just a set of the most necessary tools.
Portable electric grill. Men at any age simply love to get out into nature with their families and fry kebabs.
To make this process even more pleasant, you can give your grandfather an electric grill or electric barbecue. You can also present personalized skewers in a stylish leather quiver.
DIY gifts for grandpa on his 60th birthday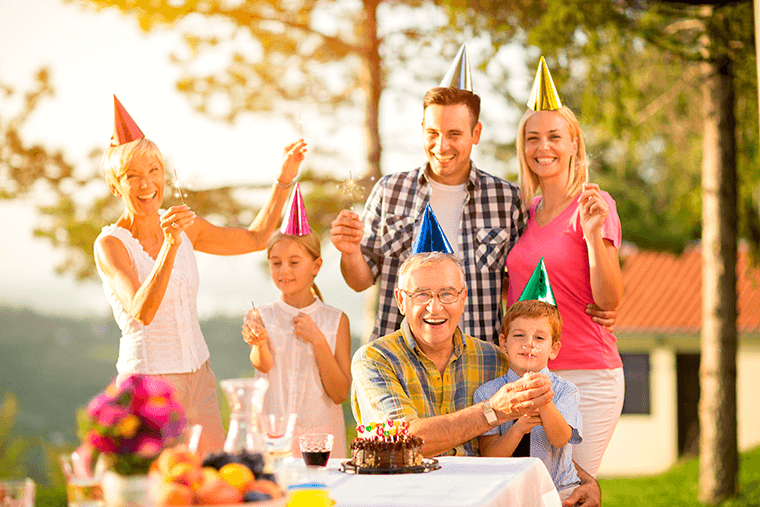 What can you give your grandfather for 60 years with your own hands? – Grandfather will be happy with a gift that is made by his beloved granddaughter or grandson himself.
This is a great alternative to store bought gifts.
If you want to put your heart and soul into surprise grandpa for his 60th birthday and give him something handmade, pay attention to the following ideas:
Preschoolers or younger schoolchildren can give grandfather a hand-made application or a colorful picture. Another interesting idea is a postcard made using the scrapbooking technique.

A beaded picture embroidered with your own hands is a good gift for your beloved grandfather from a little grandson or granddaughter. In the picture, you can draw a picture related to the hobby of the birthday man.

Painted cup or personalized plate. What to give grandfather for 60 years with his own hands? A commemorative plate with an image that is drawn by yourself. To do this, you will need acrylic contour paints and spray varnish to fix and protect the picture.

Photo collage. Write congratulations and wishes on a large drawing paper, stick family photos or pictures from your grandfather's past. A cute and warm 60th anniversary surprise in addition to other gifts. Alternatively, you can make a beautifully designed photo album with family pictures from different years.

A case for glasses or a phone is an original gift for a grandfather for his 60th birthday. You can make a cover with a thick fabric, as well as scissors, needles, threads and buttons. You can decorate a gift with beautiful embroidery.
Tips: How to choose a gift for grandfather for 60 years
What to look for when choosing a gift, so that the birthday person would be pleased, and the gift item would serve him happily ever after?
The following tips and tricks will help you make your grandfather's birthday truly memorable:
Surprise your grandfather by preparing a grand celebration for a significant date. Invite all close relatives, friends and comrades of the hero of the day. If the budget allows, organize a performance with the participation of toastmasters or artists so that the celebration will be remembered for a long time by both the birthday man and the guests.

Men are not as sentimental as women; first of all, they prefer practical gifts. Think about how the birthday person will use your present, whether it will be useful to him or not. A practical item that you will need in the household is a win-win gift idea for Grandpa's Birthday.

When choosing a gift, be guided not by the age of the grandfather, but by his desires and priorities, as well as by his character and lifestyle. A birthday boy who lives in the village will most likely not understand anything about a new mobile phone. Remember also that some people at the age of 60 live a modern life and are versed in technology – you can give such a birthday a gadget.

Another "life hack" when choosing a gift for your beloved grandfather: consider his hobbies. The birthday boy will be glad that you paid attention to his hobby and bought something really useful. Give an athlete a good shape or sports equipment, a fisherman or a hunter – a thing that is useful in nature, for example, a good flashlight. A car enthusiast will be delighted with massage seat covers, and a book lover with a collector's edition of a book by his favorite author.

Men can be given flowers, especially on such memorable dates as an anniversary of 60 years. Please your beloved grandfather with a beautiful bouquet. What flowers can be given to grandfather? It can be gladioli, edelweiss, irises or dahlias. Attach a large card with congratulations from all relatives to the flowers.
What is better not to give grandfather for his 60th birthday
Some gifts are not suitable for giving to friends and family on an anniversary. Most likely, grandfather will not be offended by you and will not show that he does not like your gift.
However, you should carefully choose a present and, if possible, abandon the following ideas:
Money. Most often, a grandfather expects a gift from a grandson or granddaughter, chosen with a soul. Show your imagination, find a more worthwhile gift for your beloved grandfather. In addition, giving money to a person who is much older is not accepted – it is considered bad form.
Shaving accessories. Shaving foam, facial skin cream, simple machines – such a gift is commonplace to give even on February 23, to say nothing of a birthday. However, if you want to gift a high-tech razor, feel free to do so – you can choose a cordless, waterproof model or a razor with trimming attachments.
Fake brands. You should not buy things for your grandfather for his birthday that will become unusable after a few uses. If you do not have the opportunity to buy a branded item, find an analogue on the Russian market. Domestic manufacturers often offer reliable and inexpensive things.
Underwear or bed linen. These are too personal gifts that should be given only to loved ones. Most likely, grandfather buys underwear on his own, and women most like to receive bedding as a gift – prepare something more practical for grandfather.
Medals, award cups and useless figurines. Another souvenir given for a birthday is cute and beautiful, but such a gift will be left on a distant shelf and forgotten. It is better to give preference to practical things that grandfather will use for a long time.
Gifts that will remind you of your age. Your grandfather is a man in his prime, so you should not give gifts that will remind the birthday man of his age or, even worse, of old age. The list includes all sorts of joke certificates of pensioners or gifts with the engraving "It's time to retire." Also, do not give medicines – it is better to purchase such things separately.
Items for decorating the apartment. Women are more inclined towards home improvement, so it is worth leaving such gifts for them. A 60-year-old grandfather is unlikely to be happy with cute trinkets – caskets, vases, a set of seasoning jars, curtains and other similar gizmos.
Conclusion
There are many things that you can give your beloved grandfather for his birthday.
Please the elder member of your family with a pleasant and useful gift, show a little attention and care, arrange a real holiday on this day – this is what our close relatives need most of all.