Of course, there will always be skeptics for whom the fact that you can give a cat a real gift will come as a real surprise.
However, if you are reading this article, then you are not one of them, and the question of what to buy a cat or a cat for a birthday, New Year or other holiday really worries you.
Consider the TOP ideas of what kind of gift you can give a cat or a cat for this or that occasion.
TOP 17 ideas What to give a Cat or a Cat
An original toy made of quality materials (we are not talking about banal squeaky mice or jingling balls, but, for example, toys with feathers, twine, luminous products, special teasers, a ball in a tunnel, a tumbler toy, a pointer with a mouse projection, etc. .);

Cover for a veterinary passport with an original print and compartments for important little things (doctors' business cards, prescriptions, etc.);

Favorite treats or a pack of expensive elite food that is not included in the daily diet of the animal;

Scratching post (even if one such product is available in the house, a spare will not become superfluous);

Animal house, equipped with posts for claw point and climbing, a cozy sleeping place, as well as places for food and toilet;

Cosmetic kit for hygiene and beauty maintenance of your pet, consisting of various shampoos, moisturizers, conditioners, hair combs, etc.;

Cat bed with soft bedding and sides that make it even more comfortable;

An interesting tunnel for a cat with numerous entrances and exits (if necessary, it can be folded and removed);

Toilet-house, allowing the animal to retire at the right time (prevents the spread of unpleasant odors and pieces of filler throughout the house);

Mini hammock for motion sickness of a cat;

Cat massager, equipped with special brushes, which are pleasant for the cat to rub against, and a rubber tip for sharpening teeth;

A capsule-address placed on the pet's collar in case it gets lost;

A play cover that can replace bags, boxes and pillowcases loved by all cats;

Frame with pet paw print made of clay or plaster;

An impressive supply of elite filler;

Stylish wardrobe items that allow you to walk your pet even in cool weather;

A trip to a beauty salon specially for animals, where experienced specialists will tidy up your pet's coat, claws, etc.
What to give a cat for a birthday
However, they remember the date of the birth of their pet by heart and believe that you can give a cat some kind of treat for its birthday. The options in this case could be:
Special drinking fountain . The decision that you can give a cat such a device for his birthday will be most welcome if your furry friend has adopted the fashion to drink not from his own bowl, but from your mug or tap. The device filters the liquid, providing the animal with access to fresh and clean water at any time, so the cat will not need to look for sources of life-giving moisture outside of it.
Interactive food toy . If you want to increase the activity of your couch potato, and the question "what to give a cat for its birthday?" does not find an answer, this option will be a real salvation in your situation. We are talking about a device consisting of many tubes into which food is poured. To get food, the cat will have to pick it up with its paws. Thus, the pet will be able not only to eat, but also to maintain its physical shape every time during the meal.
Aquarium with goldfish . When thinking about what you can give a cat for his birthday, pay attention to this idea.
Firstly, such a vessel with a living creature inside will become the main entertainment for your four-legged friend, who will be able to watch the fish with enthusiasm for hours.

Secondly, the aquarium will enliven the interior of your home and become its stylish addition.
What to give a cat for Cat Day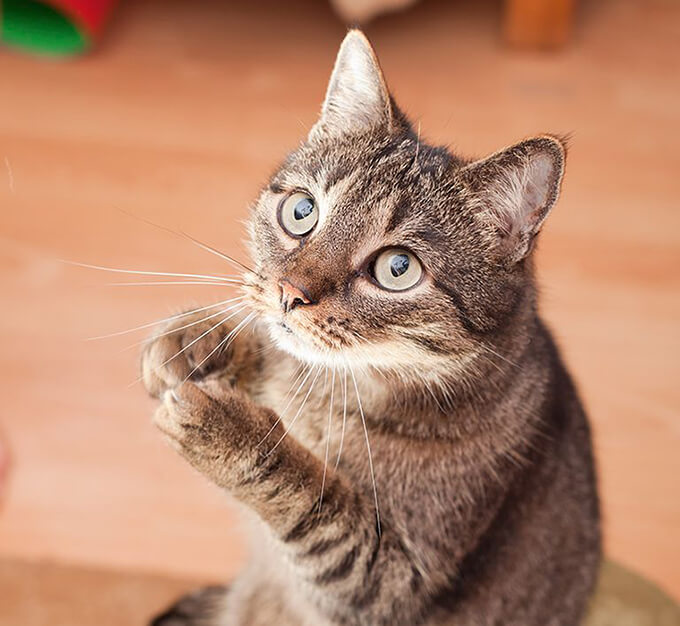 This holiday is symbolically celebrated in Russia on the first day of spring – March 1.
Obviously, if we were cats, this day would be no less important for us than our birthday, so the question "what to give a cat for Cat Day?" shouldn't seem weird. You can get out of the situation by pleasing your pet with the following presents:
Rug under the bowl . Usually, the owners decide that such a thing can be given to the cat, based on the fact that the animal leaves behind pieces of food on the floor.
The end result is a tedious sweeping and mopping process, while a special mat can simply be placed under a tap or walked over in the shower.
In addition, modern rugs have a stylish design, so they can become an original design for a corner reserved for placing everything necessary for feeding an animal.
collar . If you think that this is not what a pet wants, then look at this gift for a cat from a different angle.
It is believed that giving a cat for Cat Day must be something useful, both for the animal and for the owner. So, the present in question is not only a decoration for your pet, but also an opportunity to walk in different places with the owner.
Not many owners pamper their cats with walks in new and interesting places for them.
Brush-trimmer with self-cleaning function . Deciding that you can give the cat the device in question, the probability of making a mistake with the choice is reduced to zero. Most cats and owners (if the brush is not purchased for their pet) will say "thank you" to you: the first – for an incomparable massage and the opportunity to get rid of excess hair (especially in the summer and spring), the second – for the release of furniture, carpets, clothes, etc. .d. from unwanted hair.
What to give a cat lover
There are cases when, surrounded by people who do not recognize the expediency of gifts for animals, there is a person who treats our smaller brothers and presents for them with special respect.
In order to maintain friendship with him and stay true to his principles, it is worth considering what to give a cat lover – the answer to this question will be the very compromise, since, in fact, the thing will not be intended for a pet.
Good solutions in this case can be:
Souvenir plate with a photo of a pet . It is obvious that giving a cat such a present is pointless, since the animal simply will not appreciate it. But a caring owner will be pleased to admire the image of his pet.
An alternative to the product in question can be a regular picture or poster, but a neat plate will look nicer and less pretentious.
Handmade photo album "Best moments with my pet" . You can decorate the book with a variety of materials: beads, ribbons, colored paper and cardboard, stickers and pendants in the form of fish, cat footprints, milk cartons, etc.
In addition, many believe that giving a cat lover this kind of thing will be very useful from a practical point of view.
Often, there is no separate place for pictures with an animal in a home photo collection; it seems inappropriate to insert them into family albums, because a separate album is just right for storing them.
Certificate for purchase at a veterinary pharmacy or pet store . There is no doubt that giving a cat and its owner the opportunity to acquire something useful for the animal is a brilliant idea.
It's no secret that high-quality toys, food, fillers and medicines for our four-legged friends are not cheap, and pet owners have to deny themselves something in order to please their pet.
Thus, with this present you will not only please a cat or a cat, but also make life easier for its owner.
How to choose what gift to give a cat
You can wish a happy birthday to a cat with a cute present. Choosing what to give a cat is not at all easy, especially if it is not your pet, but, for example, friends or relatives.
Of course, the above lists can be a real lifesaver, but even among these options, you will have to make a choice.
To find a really right gift that will appeal to a particular animal, following our recommendations will help:
Follow the animal, namely its behavior, temperament, habits, lifestyle and preferences. For example, it makes no sense to give the previously mentioned address book or harness to a cat that does not go outside the apartment, and it is advised to purchase an interactive food toy for fluffy couch potatoes, for whom sleep is more important than physical activity;

Give preference to non-banal, interesting things. Obviously, the owners most likely already have the most necessary, simplest toys and accessories for caring for a cat, but as a rule, there is not enough money and time to buy something unusual;

Consider the conditions of the animal. For example, you should not give a large house for a pet if there is not enough space in the apartment;

If you are looking for a present not for your pet, ask its owners directly: what to give a cat? They certainly know the tastes of the animal and will help you choose a dream gift for him;

Think about what you would give your four-legged friend if you need to find a gift for someone else's pet. If there is no opportunity to consult with the owners of the animal, start from the preferences of your cat. Of course, this method does not guarantee a 100% hit on the target, because. all animals are different, but the probability of guessing at least will be higher than choosing at random.
What is better not to give a cat
When choosing what to give a cat for a birthday or any other holiday, you should think not only about what gift to give the cat, but also about what things to avoid.
So, the stop list includes such presentations as:
Unnecessary things

 (for example, a pet is unlikely to show interest in a figurine in the form of a cat, and for its owner it will most likely become another souvenir gathering dust on a shelf);

Harmful gifts

 . Many people think that giving a cat a bag of popular cat food for a birthday or any other occasion is the best solution. At the same time, few people think about the fact that this product contains many additives, dyes, thickeners and other substances harmful to the animal's body;

Dangerous toys

 . Most donors are sure that you can give a cat another toy for its Birthday, Cat Day or New Year – the pet will never refuse it and will be busy with a new item for a while. However, many of them can carry a danger to the animal. This is especially true for items made of glass and other fragile materials, too small things that are easy to swallow, etc.
Conclusion
In search of what to give a cat, loving owners or just interested people often not only find a worthwhile present, but even manage to purchase several useful things at once. Thus, the main thing is to approach the choice with mind and soul, show all your love and care – then the pet will definitely appreciate your work and thank you with kindness and exemplary behavior.