Husbands are special people in our lives, which can be difficult even for the most sophisticated wives in this matter. It seems that ideas are in the air, but nothing is pleasant, and time flies.
The New Year holidays are approaching, and it's time to choose a gift for the dearest and closest people, including for your beloved husband. However, choosing a worthy and interesting present for a husband is not so easy, even if you know your spouse's preferences and hobbies well.
In this article you will find a list of ideas for what to give your husband for the New Year, as well as tips on how to do it right. You will also learn what not to give, so as not to spoil the special atmosphere of a magical New Year's Eve.
TOP 52 ideas What can I give my Husband for the New Year
There are a lot of options for good New Year's presents – you just have to gather your strength and connect your imagination, then you will understand what to buy for your loved one.
Ideas for what to give your husband for the New Year:
A rare book related to her husband's hobby – about weapons, hunting, cars, travel, etc.

Wine set.

Humidor. Wooden cigar box with humidifier and hygrometer.

Men's skin care set.

Wallet-purse.

Double sided leather belt.

Trimmer 2-in-1. 1 nozzle for beard, eyebrows and sideburns, 1 nozzle for nose and ears.

Men's toilet or perfumed water.

Leather apron.

Wireless charger.

Orthopedic pillow.

Sweater in New Year's style. It is possible in the style of Famile Look.

Survival kit.

Game console.

Alarm clock messenger.

Electric scooter, unicycle.

Thermal socks, thermal underwear.

Souvenir ship model.

Headphones JBL.

Precious cufflinks.

Spinning.

Hammock for legs under the desktop.

New Year's plaid with sleeves.

The car/helicopter on radio control.

A kit for constructing a robot from scratch.

Board for a skateboard, skiing.

Electronic book.

Neck pillow in the form of a spiral.

Document holder

Traveler's diary. In order not to forget anything, write down all the impressions.

Heated seat cover.

Handheld vacuum cleaner for car

Set of tools.

Gamer mouse.

Folding sun lounger.

Electric Toothbrush.

Folding knife (multitl).

Wrist Watch.

Bow/Crossbow with arrows.

Virtual reality glasses.

A set of panties with reindeers/snowflakes/trees, etc. As an additional gift to the main one.

Compact DVR.

Warm bathrobe complete with soft slippers.

Soft pajamas.

Honey or cone jam.

A set consisting of glasses for mulled wine and spices for its preparation.

Hat, scarf and warm gloves.

Felt boots with an unusual color, made in a modern style.

Ice fishing box.

Piggy bank in the form of a symbol of the coming year.

Illuminated hookah, if the husband is fond of smoking.

An animal hat is a hat made of faux fur in the form of the ears of a wolf, hare or other animal.
Often, over the years of family life, the wife manages to give her husband so many gifts that after a certain number of years the fantasy runs out, and the choice of a gift becomes a problem. Young couples under 30 also face this problem.
Do not be discouraged if you are knocked off your feet in search of what to give your husband for the new year. There are many options that you have not even thought about. Puzzling over what you can give your husband, do not forget that you need to pick up a thing with a soul.
Below you will find a few more lists of gifts and suggestions for what to give your husband for the new year and be sure to choose what gift to give your husband for the new year.
Romantic New Year Gifts for Husband
A romantic New Year's gift is a win-win. Despite the fact that some men are cold about romance, everyone will be pleased to find a special gift under the tree, chosen with warmth, attention and love.
List of the best romantic gifts:
Sweater with deers. Banal at first glance, but a very warm and romantic gift for your beloved husband. Buy a cozy sweater made from wool and decorated with Christmas reindeer. Such a gift has not lost popularity for several decades, and will not cease to be relevant for a long time.
gift box . A box in which you will collect various items. For example, it can be: a mug with an inscription, a gingerbread in the form of a Christmas tree, a pair of socks, an expensive bottle of cognac, bags of nuts, coffee, etc.
Kraft envelopes. On which is signed "Open when …". For example, "… you feel cold" and put a pair of socks and a note "Keep your feet warm" in an envelope, or "Open it right now" and put a postcard and chewing gum "Love is …" in it.
Wish Fulfillment Certificate. An interesting and inexpensive gift.
BOX for the coffee lover. Includes a copper cezve, a mechanical coffee grinder, a long-handled spoon and several varieties of coffee.
Blanket with sleeves. A cute and useful gift for the New Year. He will definitely like a man who often freezes on cold winter evenings. Now the beloved husband will be warm, sitting in front of the TV screen or doing any other business.
Bake a cake, cupcakes, gingerbread, fortune cookies. 
What unusual can you give your Husband for the New Year
Gifts for a husband do not have to be classic, sometimes you can turn on your imagination and buy something special. A spouse who likes unusual things and original gifts can purchase the following gizmos:
Snow blaster. A winter toy that delights not only children, but also adults. With its help, you can sculpt, as well as throw the main projectile of the winter season – snowballs. If your husband likes to have fun, feel free to give him a snow blaster.
Time capsule. It is a vessel with wishes for the future, which the husband will be able to open only in a year. Write a kind letter or note in which tell about joint plans for the future, as well as why you love your husband. You can put the letter in a bottle or a beautifully designed jar.
Bubble calendar. Calendar in the form of a meter roll with days-polyethylene bubbles. Inexpensive and original.
Also, something interesting as a gift for a husband for the New Year can be created by a needlewoman wife:  

a sweater, a vest, a fashionable snood with a hat, a scarf, even a plaid.

Slippers, socks heated by USB.

Comic book "The reasons for my love."

Antibooks. 

These are hooligan paper items for a cheerful mood. For example, a mug stand with the inscription: "Put the cup down and go to work already." Inexpensive and original.
SMS flashmob. Order congratulations and different cities by SMS or phone.
Edible bouquet. It may consist of various sausages, beer, nuts, fish, etc.
Cheerful first aid kit. Where of the medicines lies: Antibubnin, hangover eliminater, poheron, optimistin, something, golovanebolin, etc.
Horizontal hookah.  Modern technologies are gaining more and more popularity.
Ideas for practical gifts for your beloved Husband on New Year's Eve
Men appreciate practicality, this also applies to New Year's gifts. However, not necessarily a useful gift can be boring and unoriginal. Pay attention to the following ideas if you want to make a practical present for your husband:
Thermo mug. 

A good gift for a person who likes hot drinks. You can buy a thermo mug for the car if the husband often uses the car or a simple mug for the office, outings or home use. A gift can be made personal by putting a cute congratulatory engraving on it.

Bath set. 

A wonderful gift for a man who likes to go to the bath, especially in cold winter. The set may include a bathrobe, slippers, special hats, several towels, a washcloth, as well as jars of various essential oils to add to the water.

Massage chair. 

Modern chairs can perform full-fledged massage sessions, completely relaxing the muscles and restoring normal body functions.

Training apparatus. 

Now you can find a lot of small-sized equipment.

New generation massage mat and pillow. 

Accessory for a healthy lifestyle. A good gift, suitable for those who often have back and head pain.

Gadget. 

In the modern world, a smartphone or tablet is already a necessity. Without gadgets, neither in work nor in modern life.

Portable solar charger. 

It is not always possible to charge the gadget using the mains. Portable charging, in this case, will become a lifesaver.

Fitness bracelet. 

A very useful thing in today's world. Can monitor your physical activity in real time.

Stylish umbrella. 

The variety of models presented today on store shelves allows you to choose an accessory for every taste.

Case with keyboard for tablet. 

It's practical, comfortable, stylish. You not only get a reliable accessory to effectively protect your tablet, but also a compact keyboard.

Stand for a laptop. 

Allows you to comfortably use your computer in any conditions.

 
Erotic ideas for a gift to her husband for the New Year
Monotony in bed gets boring over time. You can take the same Kama Sutra and diversify your relationship with your husband, or you can give your spouse a present for the New Year, make him a stunning surprise.
Here are a few of these options, the first three of them are budget gifts:
KamaSheet. 

Something between the Kama Sutra and the Twister game.

Erotic cubes "Where and How". 

Instead of dots on the cubes there are inscriptions and drawings.

Interactive scratch poster 100 pos. 

Erase the scratch layer and put the pictures into practice.

Cekc toys. 

If you are embarrassed to go to the Sex Shop, then you can pick up a gift in the online store.

Private dance in erotic lingerie. 

An unusual solution if you haven't done it before.

Erotic dance at the pole. 

You can take lessons in advance, and prepare a surprise.
A few more original gifts for her husband on New Year's Eve:
Scratch-poster "Cook and eat". A real find for true gourmets! Scratch poster with hundreds of dishes that will motivate you to try and explore the national cuisines of the world.
Bar canister. Shall we refuel?
Scratch map of the world. The most original and cool gift for travelers. Pin your travels and memories on the scratch map and get motivated to complete the entire map.
Honey with gold. For those who want to try a lot in life.
"Tasty Help" Attractive design for delicious confectionery. An original and tasty gift for all occasions.
Men's silver bracelet. Can be personalized with engraving.
Tips and tricks: how best to choose a gift for Husband for the New Year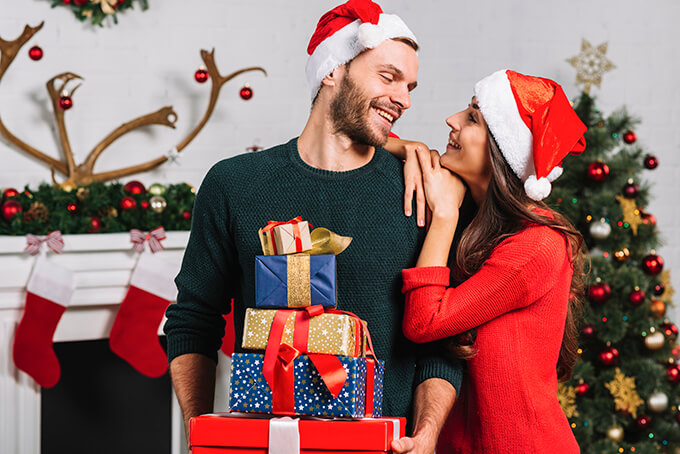 New Year's Eve is a magical time, and any loving wife wants everything to go perfectly, from the festive table to the exchange of gifts.
When choosing a surprise for your husband, follow these tips, and then your holiday will definitely be unforgettable:
Choosing a gift for your spouse for the New Year is difficult, but possible, especially if you know about his hobbies and interests. The main thing is to show love and care for your loved one, making this holiday special for both of you.

An expensive gift does not mean a good one. You can buy something inexpensive, but that your husband will definitely like and raise his New Year's mood. In addition, if you have a difficult financial situation, you can always make a gift with your own hands.

A man will be pleased to receive a gift that is related to his hobby, especially if he is a connoisseur of practical presents. Even if you do not support your lover's passion, try to understand him, and then the husband will get a lot of pleasure when he sees what you have prepared for him.

A good holiday consists of little things – put a gift in a colorful package, write a letter from Santa Claus, designed specifically for your husband, be sure to put a present under the Christmas tree. All this will help create a magical atmosphere and maintain the New Year's mood.

Now there are a lot of opportunities to order a gift for a husband online. It will be made (if necessary), packed and sent, you will only have to receive and present it.

    Try to find out in advance what gift your husband wants to receive from you. He will be pleased that you remember.

    The price of the gift doesn't really matter. The attitude of the spouse to this gift is important.

    Think not only about the gift, but also how to present it in an original way.

    Make a Christmas gift.

    If the choice of a gift is very difficult, it is better to ask the husband directly what he wants.
What is better not to give your husband for the New Year
The first souvenir that came across, bought at a kiosk on December 31, is an unsuitable gift even for a distant relative, and it should not be given to a husband even more so. You should also discard the following bad ideas:
Non-unique gift. 

When buying gifts for family and friends, do not forget to buy something special for your beloved man. Most likely, the spouse will be upset if you give him the same gift as everyone else.

Soft toy. 

If you have looked after a beautiful toy in the form of a symbol of the coming year, it is better to give it to your sister, mother or girlfriend. Men usually do not see the point in soft toys, and prefer more practical gifts.

Alcohol. 

New Year is a kind and magical holiday, on which it is customary to give something special. Alcohol can be put on the festive table, but you still shouldn't buy it as the main gift for your husband.

Items for interior decoration. 

Not a suitable present for a husband. If such a gift does not carry any practical, memorable or romantic value, it is definitely not worth giving it. We are talking about all kinds of napkins, tablecloths and curtains.

A very expensive gift. 

It is not customary to give expensive things and items on New Year's Eve – this will embarrass your husband and make him feel like a debtor. Save the family budget and give something inexpensive, but original and interesting.
Conclusion
It is difficult to find a person who does not like to receive gifts, especially on New Year's Eve, when the air is filled with an atmosphere of magic, kindness and good mood. Every woman wants her gift to be special. Show your imagination, take into account the interests of your beloved man, give up banal gifts, and then your husband will definitely like your present.