Christening is a special date in the life of a child and his parents. This is not just another holiday – this is the day when a child gains protection in the person of his guardian angel.
It is customary to celebrate this bright holiday, and the question of whether it is necessary to give gifts for baptism can be answered in the affirmative. Since many try to baptize children in the first months of life, the kids themselves are unlikely to remember anything, therefore, when choosing a present, remember that it should be special and contribute to the spiritual growth of a person throughout life.
If you were lucky enough to witness this wonderful event, but you don't know at all what gifts are given for baptism, then after reading this article, you will decide exactly what you will present as a gift to a little Christian.
Below you can find a list of gifts and tips on how to choose a symbolic and, at the same time, practical gift.
TOP 114 ideas What can be presented for Baptism
Icon

. You need to understand that the best place to purchase such things is, of course, the church. In this case, you can choose a suitable amulet from three options. The first is a nominal icon containing the church name of the baby, which he is called during the ceremony. Also, no one forbids presenting a measured icon, the length of which corresponds to the growth of the recipient at birth. In this case, the patron saint must be depicted on it in full growth. No less popular are universal icons. It is believed that it is better to give a girl an icon of the Most Holy Theotokos for baptism, while for a boy the image of St. Nicholas the Wonderworker will be closer. Regardless of gender, an icon depicting a Guardian Angel will always be appropriate, which must be hung over the crib of the baptized. Sometimes it's not easy to make a choice especially if the baby has any special features. For example, for children with poor health, the icon of Panteleimon the Healer is more suitable, and the face of the Holy Matrona will protect the baby from troubles and bad weather – a priest can help make the final decision.

Children's bible

 . Modern publishing houses fill such books with such colorful and vivid illustrations that for many kids they become one of their favorites. In addition, the entire text of the Bible is presented in large print in the form of simple stories that even the smallest children can understand. Naturally, it will not be possible to immediately interest a child in such a present (due to his age and level of development), however, as practice shows, a little later, many children cannot do without such a book not a single day.

Gold or silver jewelry

 . In this case, we are not talking about a pectoral cross. When choosing what to give a boy for baptism, it is appropriate to give preference to a pendant on a chain. It can have an icon or a personal engraving (for example, with the boy's date of birth, his name, metric, etc.). In the case of a girl, the choice is, of course, more extensive – a similar pendant, ring, earrings, bracelet, pendant, etc.

Silver spoon

 . Such a present can also be personalized by making an engraving on the product, for example, with the name of the future owner and the date of his / her baptism. By the way, today many people prefer whole sets of such dishes, consisting of cutlery, plates and cups.

Coin made of gold or silver

 . On one side of it, the image of the Guardian Angel with the date of christening can be applied, and on the other – the name and birthday of the recipient.

Gift sets of clothes

 (slips, bodysuits, overalls and other cute little things for children, decorated in the same style) or a fluffy white dress for the first birthday of the crumbs.

Everything you need in the bathroom

 – a comfortable bath tub, rubber toys, a soft towel embroidered with the name of the child and a small cross, and much more.

A high-quality stroller with a cradle and a walking block

 (if the parents baptize the baby almost immediately after birth and have not yet had time to acquire this necessary vehicle).

A beautiful birch bark or porcelain box

 , in which you can store a pectoral cross, the first cut off curl or a child's missing tooth;

Socks or booties.

Toys

 (developing mat, crib mobile, soft toys, ball pool, tolocar, etc.).

High chair or baby lounger.

A set of a silver frame

 with a photo of a newborn and a wall cross that can be placed next to it or above the bed of the gifted person.

A picture embroidered with your own hands

 on the theme of baptism (can be done with beads, by cross-stitching, etc.).

Accessories for a crib

 (sides, a canopy, a set of bed linen, a warm blanket, etc.).

Volumetric soft letters-pillows, repeating the name of the baby.

Cocoon-nest for a newborn, in which he will feel more comfortable and safer.

A bag for storing the first strand of a baby (you can also embroider his name, dates of birth and baptism on it).

A book with parables and Orthodox fairy tales.

Cake decorated on the theme of christening.

Radio babysitter.

Icon with the image of a guardian angel.

Communion breastplate.

A poster showing the prints of the hands and feet of the baby.

Cushion for a cross.

A thing with a baby's name embroidery (for example, a bodysuit or a bib).

Wooden panel with angels.

Napkins for candles (they will protect your fingers from dripping wax during the ceremony).

Envelope for a curl.

Holy water from the Jordan River.

Baptismal set (suit, bonnet, socks, etc.).

A miniature baby cross or a regular pectoral cross.

A set of several blessed oils.

Decorative pillow with an embroidered commemorative date.

Blanket-cape with a hood.

Bed linen for a crib.

An incense of gold or silver.

Music mobile.

Personalized pacifier holder.

Textile doll in the form of an angel.

Named bath towel.

Embroidered picture on the theme of baptism.

Photo album handmade.

Poster metric.

Children's hanging swing made of fabric.

Night light with soft light and soothing music.

Candlestick in the shape of an angel or in the shape of a vine.

Cake with thematic symbols.

Silver rattle.

Booties-shoes for the first steps of the baby.

Warm quilt.

Folder-tablets "10 commandments".

Blanket sheet.

Prayer book for children.

Humidifier.

Spoon with a bell.

Nominal stadiometer.

A book about the life of the patron saint, whose name the child is named after.

Side in the crib in the form of a braid.

Red thread amulet from Israel.

Silver bowl or mug.

A set of cards for a photo shoot by months.

Bottle sterilizer.

Nest-cocoon for a newborn baby.

Homemade cakes for the festive table (for example, gingerbread with Orthodox symbols).

Chaise lounge for the baby.

Toy warmer with personalized embroidery.

Decoration with the inscription: "Save and save."

Icon (for example, a girl with the face of the Virgin, and a boy with the image of the Savior).

Thermal insulating folding soft mat for the play area.

Cross with a crucifix on the wall.

Consecrated oil with myrrh, nard and frankincense.

Rug-plaid from plush yarn.

Cute little things for a child sewn or knitted by hand (blouses, booties, etc.).

Electric dryer for baby clothes.

Wooden lamp with family name.

Birth certificate folder.

Icon lamp and oil to it.

Prayer plaque in a gift box.

Special stand for icons.

Basket with hygiene products and cosmetics for the baby.

Orthodox board game with an interesting educational storyline.

Porcelain figurine on a Christian theme (it will always help put your thoughts in order, tell you the right direction).

Pouch with personalized embroidery for storing christening accessories.

Tooth cutter.

A set of cupronickel or silver children's tableware engraved with the name of the child and the date of the event.

Valuable generic thing, inherited.

Pillow letters that fold into the name of the child.

Bilateral handmade blanket.

Photo frame with hand and foot prints.

Terry robe with personalized embroidery.

Feeding kit (special rubberized spoon, bibs, baby aprons, etc.)

Jerusalem incense.

Children's set of towels.

Chain or strong cord with precious metal clasp.

Set of linen of gentle shades in a crib.

Named rodent.

Photo frame made of noble metal.

Pillow toy.

Gold or silver pendant in the form of an angel.

Silver cup.

Small silver bracelet with a cross.

Coconut mattress in a crib.

A set of euro diapers with Velcro or zippers.

Swinging center.

Silver pacifier.

Incense from Mount Athos.

Medallion, inside which you can insert a photo.

A set of rattles and rodents.

Decorative plate with your text.

Porcelain cup for holy water.

Salt lamp with the image of an angel.

Money in a beautiful envelope (if there are no options at all).

Holy land from Israel.
Choose a present with pure thoughts and warmth in your soul, be sure to take a bright mood with you, then during the sacrament you will be able to experience a lot of exciting moments that will leave pleasant memories behind!
Original gifts for baptism
The sacrament of Baptism is a rite that has come to us since ancient times and has undergone many changes since then.
If you do not mind moving away from tradition, there are gifts that are appropriate to present on the day of baptism. Below are the best of them.
Measured icon depicting the patron saint of the child. Nowadays, such a sacred ritual as writing an icon in honor of the birth of a baby is a little forgotten. And if you do not know what to give a child for baptism, take note of this original idea.
The icon received this name because its size corresponds to the growth of the baby at birth. It is designed to protect the baby from everything bad: bad looks, evil thoughts, earthly temptations.
Most likely, your gift will turn into a family heirloom and will be passed down from generation to generation.
Silver bell.  This is not only a great gift for baptism, but also a powerful amulet that will protect the child from an evil eye or evil spirits.
First, the baby will play with it, listen to the bewitching healing ringing, and then carefully store it.
On the bell, you can make a commemorative engraving (quote, wise thought, advice, etc.). Your gift will not only look expensive and elegant, but also be useful, since the healing properties of silver have been known since ancient times.
Memory box.  It will be possible to store the baby's curl, the first fallen milk tooth, etc. in it. Such a box is better known as "Mom's Treasures".
You can purchase a ready-made version or order a box from a craftswoman who will create it according to your preferences. In any case, your gift will be very valuable and will be remembered for a long time.
Useful Gift Ideas for Baptism
In the question of what to give for baptism, there are no strict rules. Therefore, when choosing a present, you can be guided by your preferences or pay attention to the needs of the family.
When young parents have a baby, there is always a use for practical things.
Plaid with a toy. A great option if you have a question about whether gifts are given for baptism. This gift set is made of microfiber, suitable for use in a stroller or crib, and will also come in handy when the child grows up.
At first glance, the product looks like a rolled-up roller, resembling a soft toy: a sheep, a bunny, a teddy bear, etc. One has only to pull on the special ribbons, as the toy turns into a warm and cozy blanket that will warm you on cool evenings.
Silver water ionizer. It is known that silver has healing properties, purifies and disinfects water, so such an ionizer is not only a fashionable thing, but also a very useful accessory.
This product is made in the form of a chain, at one end of which there is a figurine (for example, a fish, a snowflake, an anchor, etc.), and at the other end there is a special clip. The ionizer is very easy to use: just put it in water for a day, after which you can use it without worrying about your health.
A set of children's muslin sheets. Muslin is cotton, a natural material that is great for baby's skin.
The main advantages of such products include hypoallergenicity, elasticity, breathability, wear resistance, they do not need to be ironed, they dry very quickly, and pleasantly touch the body.
To make the gift look original, you can build a cake from diapers, supplementing it with diapers and other useful things.
traditional gifts
Gifts are an integral element of the ceremony, so you need to carefully prepare, knowing in advance which presents must be presented without fail. If you are wondering what to give for baptism, carefully study the proposed options from this category.
Kryzhma. Usually such a gift is purchased by the godmother. It can be just a piece of white fabric, but towels that are decorated with lace, personalized or regular embroidery are more popular. After the baby is taken out of the holy font, he is wrapped in a kryzhma, which symbolizes purity and sinlessness.
This sheet is kept throughout life, it is believed that if you cover yourself with it during an illness, then it will certainly recede and the person will recover.
Do not forget to pre-consecrate the fabric with the priest.
Candles for christening. This is a mandatory attribute of the Sacrament of Baptism. Carefully selected candles will not only fulfill their intended purpose, but can also become an adornment of the rite itself, they will look beautiful in the pictures. After that, they should be kept at home and lit only on special occasions.
Candles can be bought for a church shop and decorated at your discretion (for example, decorate with ribbons or special skirt napkins that protect your hands from dripping wax), there are also ready-made sets of accessories for baptism made by craftsmen.
Christening shirt. According to tradition, it should be a long white shirt, symbolizing spiritual purity and joy. And if kryzhma is considered the individual property of the human soul, then the shirt can be passed down from generation to generation.
Nowadays, it is customary to select a baptismal outfit, starting from one's material capabilities and aesthetic taste. So, for a girl you can buy an elegant dress, and for a boy – a suit. The main thing is that the fabric is pleasant to the touch and does not cause unnecessary discomfort to the baby.
Silver spoon. The tradition of giving silver items for christening came to us from ancient Russia. Most often, a child was presented with a silver spoon, then after the ceremony it was placed in a cradle to protect it from the evil eye and conspiracy. Many believed that this particular metal attracts wealth and prosperity.
In our time, it is also customary to give silver spoons, which are not only preserved for a long memory, but also become very useful in everyday life.
Since silver has bactericidal properties, a spoon is used for the first feeding of a baby, and water is purified with it.
Options for what to give for Christening to a girl
Many are lost when choosing a gift and do not know at all what can be presented to a girl so that she and her parents are satisfied, and the present is really useful. Thanks to the following ideas, you will definitely decide what kind of surprise you will come to the celebration.
Small gem earrings. It is difficult to say when girls can have their ears pierced. Some parents decide to do this when the baby has not yet reached a conscious age, others are waiting for their daughter to grow up.
In any case, your gift will be useful. It is desirable that the first earrings are made of high-quality gold, so the risk of allergies will decrease significantly, and the puncture will heal faster.
Pick up small models, pay attention to the lock, it should be securely fastened and not cause discomfort to the baby.
Elegant dress, moxas and a headband. Great idea for a christening gift for a girl. Such an outfit will certainly cause tenderness among the invited guests, and in just a few years the baby will admire herself in the pictures.
Choose a beautiful set of light colors and satin elements, be sure to complement it with fashionable "moxas" (booties) and an elegant bandage that will match the dress.
Soft toy with a metric. The personalized toy will become a reliable friend of the baby. It can be a bunny, a cat or a bear cub on the tummy of which the name of the child (or the first letter of the name) and the date of birth are embroidered.
Products are made from high-quality materials, filled with hypoallergenic holofiber, do not have small parts, they can be washed in a washing machine without any problems.
Slingbuses. A great gift for a baby, which is first used as a teether, and then the girl herself will wear them with pleasure.
Products are also known under the name "beads for feeding". They are made by craftswomen who use only unpainted wooden beads and cotton threads in their work. You can order beads in a classic version or with cute characters.
Interesting thoughts, What to give for Christening to a Boy
If you were invited to the christening of a little boy, the first question that arises is: "What to give." It is much easier to choose presents for other holidays, but such a special day happens once in a lifetime, so the gift should be appropriate.
Do not despair, the following options are distinguished by their originality and will be remembered for many years!
3D  night light in the shape of an angel.  It will act as a symbol of the victory of light over darkness, and will also give the child a sense of security and comfort.
This is a very suitable idea for what to give a boy for baptism.
Such a night light will decorate any interior and will always remind the child and his parents of a significant event in life. Most often in such lamps there is the ability to switch colors, which you can choose according to your mood.  
Commemorative coin.  On one side of the product, the Guardian Angel and the date of the christening are depicted, and on the other, the name of the child and his birthday.
This gift is a memory for many years. It is presented in a beautiful case and looks very solid. A souvenir coin will emphasize the importance of the holiday and how carefully you prepared for it.
Silver pendant with a prayer. You can be sure of your purchase, as the pendant can be worn on the same chain with a cross.
This is a good option that you can give a boy for baptism. The product will serve as a constant reminder of the power of prayer and that a person has a heavenly patron who can be contacted for help. First of all, it is a symbol of faith, and only then an ornament.
Precious metal pin. It is believed that such products will protect the child from the evil eye. For a boy, choose strict options that he can use throughout his life.
There is an opinion that the more expensive the metal from which the pin is made, the stronger its protective properties will be. However, this is not entirely true, in fact, the more the product shines, the more it distracts a person who has negative thoughts.
What to give for baptism from godparents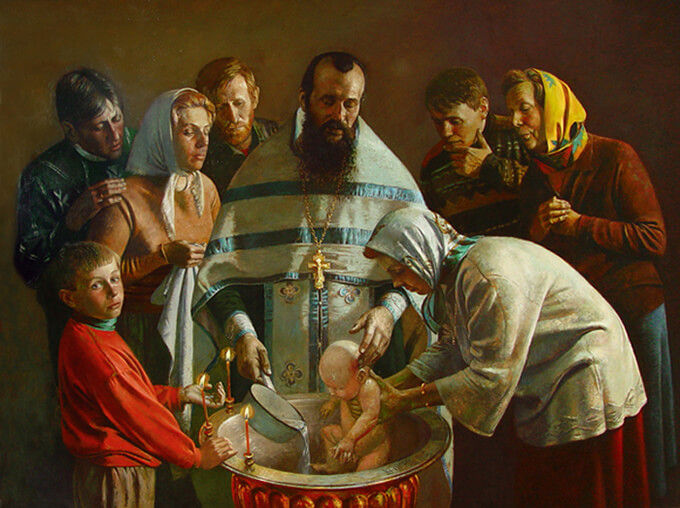 Starting from the moment of the ceremony, the baby acquires two more very close people, comparable in their importance to blood parents. We are talking, of course, about the godparents. So, what to give a godmother for the baptism of a child or a godfather:
Baptismal attire . You can give a godson for baptism just a baptismal shirt. Answers to the question "what to give for a girl's christening?" options such as a dress, a sundress, a bonnet can become. At the same time, white socks will become a universal present, regardless of the gender of the person being presented.
If the ceremony is planned to be held in the cold season, you can add a warm blouse to the church attire. It is important to remember that all clothes for such an occasion should be white, as it symbolizes purity and purity.
A distinctive detail of your gifts that can make them unique can be personalized embroidery, which you can do yourself or ask for help from masters in your hometown.
Neck cross . When choosing what to give for baptism to a boy or girl from godparents, the first thing that comes to mind is a pectoral cross. When choosing this decoration in a church or a store (by the way, in the latter case it will have to be taken to the church and consecrated in advance), you should focus not on the high cost, but on the material from which it is made and safety for the child.
So, it is better to give preference to silver rather than gold jewelry without sharp edges and corners, as well as stones. The chain can be purchased complete with a cross, but it is even better to buy a strong thread that the baby will use for the first years of his life.
What to give parents for baptism
Baptism is a holiday not only for the baby, but also for his mom and dad. As a rule, they treat this day with great trepidation, because now their beloved child is under the reliable protection of God.
Given this, a present should be provided not only for the little hero of the occasion, but also for his parents, who will undoubtedly be pleased to receive such gifts as:
Large family photo in a beautiful frame or poster . What could be better than memorabilia that, by their very appearance, reminds you of the most important thing in life? A beautifully framed photograph of the whole family is the best example of this.
There is also nothing shameful in presenting such a present after the christening, in order to be able to print a picture taken on this important day. In this case, it will be symbolic to indicate the date of baptism on the back of the photo.
The presented present is easiest to give to your grandson for christening, since, as a rule, it is easy to find good shots in the archives of grandparents;
Casts of the baby's legs and arms . This idea is becoming more and more popular every year, which is not surprising, because such a little thing gives parents the opportunity to admire the tiny hands and heels of their children many years after their birth.
You can supplement the casts with a cute photo of the baby, as well as indicating his dates of birth and baptism. It is, of course, better to conclude the overall composition in a three-dimensional frame that can protect it from dust and mechanical damage;
Composition of sweets, a bottle of Cahors and a figurine in the form of an angel . Most likely, this is not even a present, but a pleasant sign of attention to parents in whose life a significant event has taken place.
They will be able to celebrate it with sweets and wine, and the angel figurine will remind them for many years that their child is under divine protection, as well as a good gesture on your part. It is better to place the whole set in a large basket or a beautiful gift bag.
Inexpensive gifts that you can give for Christening
Baptism is a joyful event, after which godparents, relatives and friends generously endow the little Christian with gifts. However, the cost of presents on this holiday is completely unimportant, the main thing is that they are imbued with a special spirit, handed over with pure thoughts and faith.
Peas or beans. The sacrament of Baptism is shrouded in many signs that have survived to this day. This is a symbolic present that can be used as an addition to the main one.
It is generally accepted that such a gift will help the child grow up eloquent, resourceful, and be able to find the answer to any question. Since ancient times, it was believed that if a baby has difficulty pronouncing the letter "p", it is enough to fill his mouth with peas and develop clear speech, beautiful pronunciation.
A set of casts for the hand and foot of the baby. A suitable gift for a baby's christening. With it, you can create a unique personalized composition that will be remembered for a long time.
Do not worry, all materials used in the work are hypoallergenic, so they will not harm the health of the baby. Creating an impression does not take much time, and if the print does not work out the first time, there is an opportunity to redo it until the material dries.
Vessel for holy water. For the first time, a child gets acquainted with holy water just at the time of baptism, later on it becomes an indispensable attribute that gives healing, frees from bad thoughts, and strengthens the spirit. Therefore, water should always be at hand, and it is most convenient to store it in a special container.
However, do not forget that you cannot give an empty bottle as a gift, be sure to fill it with liquid. You can buy such a vessel in specialized stores or in a church shop.
Tips: How to choose a christening gift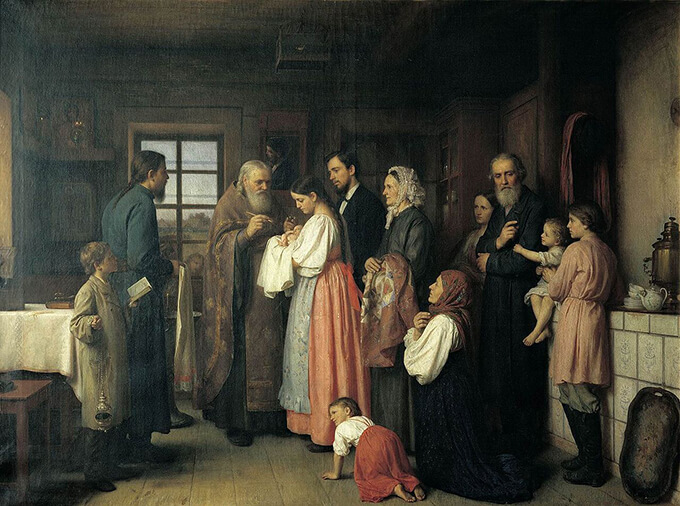 The baptism of a child is a tradition that requires a special, extremely delicate approach. This applies not only to the godparents of the baby, but also to all other guests invited to the event.
In order to really please parents and demonstrate our good intentions towards the baby, we advise you to follow a number of recommendations:
Having decided that an icon is the best gift on the day of christening, one should take into account its popularity and agree in advance with other friends and relatives of the family who is going to present which icon. It will be strange if the baby in the room subsequently has the same icons depicting the Virgin and Child, but several different patrons will not interfere with the child;

On this occasion, it is better to give preference to symbolic gifts. However, if for some reason you do not have the opportunity to purchase this kind of presentation, feel free to take practical things. Even if they are in no way connected with Orthodox traditions, sooner or later they will still come in handy for the baby;

As for godparents, it's just better for them to opt for church gifts – their mission as newly minted spiritual mentors is to introduce them to spiritual life, and such things will be the first step on this important path;

There is nothing shameful in discussing this or that present with the parents of the recipient in advance. Perhaps the item you have chosen is simply not needed by the family, or they plan to receive it from another guest – such a conversation will help to avoid embarrassing mistakes;

If all the gifts that are suitable, in your opinion, are taken apart by other guests or among them there is not one that you would like, present an envelope with money to the baby's parents. Of course, this gift is not very suitable for such a bright holiday, but sometimes it turns out to be very useful for the family and makes it possible to purchase really necessary things. In addition, the addition of his memorable souvenir, consonant with the celebration, will be able to save the situation;

Whichever option you choose, complement it with a bouquet of flowers for the baby's mother. It will be a beautiful gesture towards the woman who created a miracle – she brought a new person into this world, and she deserves gratitude for that. Too bright and fragrant colors are better to prefer delicate compositions in pastel colors.
Each guest invited to the Sacrament of Baptism faces the difficult question of what to give the baby. Present options can be varied, but before you start choosing, it is advisable to study the criteria, thanks to which you are guaranteed to be able to choose a worthy gift.
Consider the wishes of the parents. If you have the opportunity, discuss gift options with them in advance. Otherwise, there is a high probability of making two identical gifts. Also, it would not be superfluous to congratulate your mother on this important event by presenting her with a bouquet of flowers or a fruit basket. Parents will be very pleased if you offer your help in organizing the holiday.
Folk omens. In general, it is customary to give christening gifts related to spiritual life, reminiscent of a religious ceremony. But in some regions, ordinary worldly things are also presented, the main thing is that they were chosen, both with Christian and natural human love, were beneficial and liked by both sides.
Traditional Presents . The godparents have a great responsibility, they will be engaged in the spiritual upbringing of the child throughout their lives, so on this day the godmother can present a kryzhma, a bag for storing a cut strand of hair, festive clothes, a godfather – a cross (it is not at all necessary that it be precious, this is a personal decision). If desired, you can also give a chain, a silver spoon, an icon, an amulet, etc. All these things, if they were not bought in a church shop, must be consecrated. Also, there is an unspoken rule according to which the godfather pays for the ceremony, however, if he does not have such an opportunity, this is not necessary at all.
If choosing a gift is a real problem. It is better not to buy the first gift that comes across, but to present money. Choose a beautiful themed box or envelope for your gift. Treats will also be appropriate, especially if you cook them yourself, such a surprise will be received favorably and will be able to complement the festive table.
What is better not to give a child for christening
Recently, it is generally accepted that any gift can be presented for baptism, the main thing is that it does not contradict generally accepted traditions. But to make your choice a little easier, here is a list of gifts that you should avoid buying.
Towel.  An exception, kryzhma, which is acquired by the godmother. It is believed that the towel symbolizes the road, and giving it to separation.
Massive pectoral cross. Many believe that the larger the cross, the more life trials will fall on the fate of a baptized person.
Stitching and cutting objects. In addition to the fact that it is not safe to give such things to a child, according to popular beliefs, they bring quarrels, discord, disagreements to the family.
Large or loud toys. In the first years of life, the baby will not pay attention to them. Such things take up a lot of space, accumulate dust in themselves, which can cause allergies. Toys that make sharp and loud sounds can be very frightening to the baby.
Cheap things. You should not buy low-quality items, cheap fakes, etc. It is better to purchase a small but necessary present that will please mother and child for a long time. Also, do not purchase products knowing that they will not be useful.
In order not to cause disappointment or bewilderment on the part of the parents of a newborn, gifts such as:
Alcoholic drinks . This gift is considered completely unsuitable for such a bright day, the only exception is Cahors, as it is recognized as church wine (it is believed that it symbolizes the blood of Christ).
Conclusion
It is not so easy to decide what can be presented for baptism to a newborn, especially if the theme of the church is not close to the donor. In any case, whichever option you choose, it should symbolize purity and spirituality, even if it has nothing to do with Orthodox traditions. The very thoughts of the donor should be filled with warmth and love for the baby, then the present will be received with sincere joy and gratitude.