New Year holidays are a great occasion to make the best gift for your wife for the New Year. At this magical time, the relations of relatives become closer, they prepare together for a family holiday, set the table and make gifts to each other.
However, the representatives of the stronger sex often face the problem of choosing the right gift, as they do not know what to give their wife for the New Year.
In this article, you will find some interesting, practical and romantic gift ideas for your wife on New Year's Eve, as well as learn what surprises are best to stay away from.
TOP 97 ideas What to give your wife for the New Year
A set of honey with gold, jam from pine or spruce cones.

A set of iced gingerbread cookies, fortune cookies, cupcakes or a candy and champagne arrangement.

Beautifully decorated basket with exotic fruits.

Large chocolate figurine in the shape of a snowman or Santa Claus.

Jewelery storage box, ring holder or large cosmetic case, separate cosmetic table or drawer.

Set for embroidery with beads, cross stitch, yarn for knitting, fabric for sewing or other hobby kit.

Lovely women's wrist watch.

A mug, the pattern on which appears when you pour hot water, is an inexpensive, but truly New Year's present.

Lunchbox, thermos or thermal mug with a beautiful New Year's design.

My wife's favorite fragrance from an expensive perfume boutique.

Foot massager or relaxing foot bath.

Hair styling kit complete with curling iron, iron and hair dryer with different attachments.

Set for manicure and pedicure at home.

Eyeshadow palette from my wife's favorite brand.

Long pillow or floor lamp with family photos.

Fur earmuffs.

Soft dressing gown with wide sleeves complete with a terry towel.

A set of beautiful underwear in delicate or bright colors.

T-shirt, sweatshirt or hoodie with a funny Christmas print.

Soft and bright kigurumi pajamas.

Heated slippers.

Mittens or scarf-snood – a warm gift for your beloved for the New Year.

Home hammock.

Suitcase or travel kit with neck pillow and sleep mask.

New trendy coat or collar.

Animal hat – a hat made of faux fur with ears like a wolf, hare or other animal.

New model of smartphone or tablet.

An e-book loaded with my wife's favorite books.

Wireless microphone for karaoke.

Instant camera.

A pocket photo printer that allows you to print pictures from your phone anywhere.

Eco alarm clock that plays nature sounds or your favorite music to wake you up easily.

Home planetarium or starry sky night light for romantic people.

A beautiful clutch that will match your wife's favorite dress.

A beautiful cover for a passport or business card.

Ladies handbag or purse.

Aquarium-garden – a fish with a flower on top, which purifies the water.

Florarium – a beautiful flower arrangement under a glass dome.

Fondue set.

Small chocolate fountain.

Shakers with a book of recipes for various cocktails.

A set of singing champagne glasses.

Coffee machine complete with aromatic coffee.

Auger juicer.

A set for making sushi and rolls, as well as Japanese-style dishes.

Paired pendants – you will give one to your wife, keep the second.

Decorative sofa cushion of the original form.

Thermal calendar is a calendar with a touch cover that shows the date and interesting information about it when pressed.

Portable audio system stand for tablet or mobile phone.

Portable biofireplace with live fire.

Soft ottoman or gymnastic ball.

Pillow-antistress with a soft filler.

An electronic lamp is a fluttering butterfly in a jar.

A jar with a blooming rose that does not wither for about five years.

Table for bath or breakfast in bed.

A beautiful candlestick or set of candles with a colorful New Year's design.

Illuminated makeup mirror.

Ice skates or skis.

Nominal piggy bank of the original form.

A magic ball that gives a random answer to a given question.

Keychain with search function and backlight.

Leather diary with dividers, notebook or personal diary in pleasant colors.

Aroma candles.

Back massager.

Handmade soap in the shape of a snowflake, Santa Claus, Christmas tree and other New Year's attributes.

Bath bombs.

Multi-baker for making waffles, sandwiches and meats.

Chocolate postcard.

Soft plaid of large knitting.

Soft slippers with LED lighting.

Decorative pots for indoor plants.

Confectionery accessories.

Lace underwear set.

Hot tub.

Beauty case.

Curling iron or hair straightener.

Dishwasher.

Illuminated mirror.

Sewing machine.

Soft puff.

Fur coat.

Sports bracelet with heart rate monitor and pedometer.

Professional hair straightener.

Robot vacuum cleaner.

Humidifier.

Starry sky projector to create a romantic atmosphere.

Fondue set.

Honey with gold for massage.

Selfie accessories.

Sketchbook.

Wish book.

Word portrait.

Hanging chair.

Romantic greeting on papyrus.

Flowers in ice.

Dance mat.

Ceramic mini fountain.
Original gifts for the wife for the New Year
Cute cards, sweets and souvenirs are classic New Year gift options. You can give trinkets as an additional surprise, and choose something more interesting as the main present. On the upcoming New Year's Eve, you can surprise your beloved wife with the following original gifts:
Aroma lamp with a set of oils. On New Year's holidays, I especially want to decorate the house and fill it with pleasant smells, while creating a magical mood. An aroma candle will help with this. The principle of its operation is simple – water is poured into the bowl, into which a few drops of essential oil are added, then a candle is set on fire, and a delicate aroma begins to spread throughout the room.
Wall or table lamp with your general photo. A wonderful gift for the New Year holidays for a dreamy and romantic person who will surprise her beloved and will definitely be remembered for a long time. It is a light LED box, on top of which a poster with any image is attached. You can hang a beautiful luminous picture in your living room or bedroom to always admire the photo.
Poinsettia. A charming and very beautiful exotic plant, which is also called the most beautiful spurge or Christmas star. During the flowering period, it is decorated with red, pink or cream leaves. If the wife likes to take care of flowers and plants, she will be delighted with such a gift. Other ideas: a mini Christmas tree or a blooming orange tree.
Every man wants to please his beloved woman with the best gift. In this case, you need to think in advance what exactly can surprise your beloved and make her happy. If there are no ideas at all, you can donate:
Roombox . It is an interior designer, which, when assembled, looks like a miniature room. The Christmas model includes a cozy winter house, a magic sleigh with a reindeer, Santa Claus and a snowman.
Instagram . Every woman shares her pictures on the social network Instagram. Therefore, Instagram is one of the best options for what you can give your wife for the new year. Photos from a social network are used to create an album. It is recommended to decorate the present with festive packaging in order to create a little intrigue at the time of presenting the gift.
Hollywood star. The figurine will be an original gift to his wife for the New Year. A Hollywood star will show a woman that she is the most important and dear person for a man.
A couple more interesting thoughts on what to give your wife for the New Year
New Year's Eve is the best time to please your beloved wife with gifts for beauty and self-improvement. Here are some gift ideas for your loved one:
Set of natural organic cosmetics. It includes products for face and body skin care. In addition, you can find quality hair sets.
Certificate in the SPA -salon . This is the best way to show concern. The wife arrange a little rest from household duties and devote the whole day to herself.
Sauna for the face . A cosmetic preparation suitable for cleaning, rejuvenating and moisturizing the skin. With its help, the spouse will noticeably change, feel confident and desirable.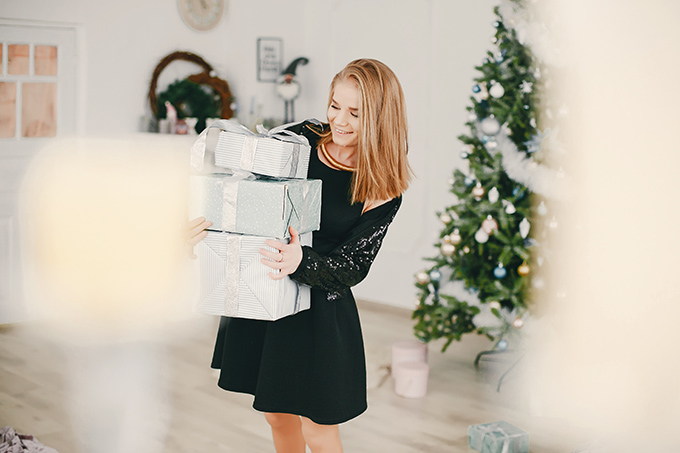 Every man wants to give his beloved the best gift that will cause a storm of positive emotions and will be remembered for the whole next year. If you have not yet chosen what to give your wife for the New Year, pay attention to the following ideas:
Beautiful decoration. 

Now in any beauty store you can buy jewelry at a reasonable price, and in terms of quality it will not be inferior to jewelry. Choose and give your beloved wife a beautiful pendant, a cute bracelet or elegant earrings for the New Year. You can also find handmade jewelry that will exist in a single copy. Usually such things are sold in specialized stores or on the Internet.

Smart watch. 

Beautiful and elegant smart watch counts the number of steps taken, controls the depth and duration of sleep, and also notifies the owner of calls and messages received on the mobile phone. A useful gift for girls who go in for sports or just watch their health.

Set for spa treatments. 

The perfect gift to warm up on cold winter evenings. Collect or buy a complete set of natural beauty products that are soothing, stress-relieving, and beneficial to the skin. It can be shower gel, bath foam, gentle body milk and face cream. Add an aroma candle to the set to make the New Year's surprise even more romantic.
Inexpensive but practical gift ideas for your wife for the New Year
New Year is a holiday for which it is not necessary to give expensive presents. However, any, even an inexpensive gift should have a practical value. A list of ideas on what to give your wife for the New Year is inexpensive, but practical:
Blanket with sleeves. 

The perfect thing to give your wife for the New Year. In a cold winter, you often want to wrap yourself in a blanket, sit in your favorite chair, turn on a good movie, or just relax without thinking about problems. A soft and comfortable plaid with sleeves of your spouse's favorite color will help you take a break from the hustle and bustle. You can purchase a blanket for one person or a double model to keep warm together.

Transparent snow globe 

. 

A popular New Year and Christmas souvenir that your wife will definitely like. In the ball there is a house, a Christmas tree, Santa Claus, a snowman or any other model. If you shake this thing, artificial snow begins to swirl inside it. The snowball symbolizes childhood, innocence, and warm family relationships.

Sensory gloves. 

The idea that you can give your loved one inexpensively. With this thing, you can use your smartphone and other gadgets on the street in winter – silver threads are sewn into the gloves that conduct electricity and allow the screen to respond to pressing. This is a very useful gift for those who want to use their smartphone in the cold without freezing their hands.
DIY gifts for the wife for the New Year
The most creative and talented husbands can please their loved ones with homemade gifts. Handmade gifts embody love, warmth and care. Therefore, the spouse will definitely appreciate the efforts of the beloved man.
Christmas decorations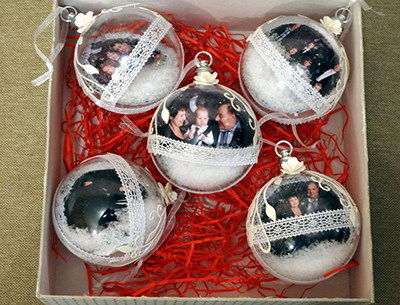 For the presentation you will need :
Photo;

white lace ribbon;

7 transparent plastic or glass balls;

thin satin ribbon of a snow-white shade;

7 decorative flowers;

glue;

scissors;

sequins;

tea spoon.

gift box.

wide satin ribbon;

rain for the tree
Manufacturing process :
Remove the metal ring and pour into the ball with a teaspoon of glitter.

Slightly roll up the photo with a tube and transfer it to a Christmas tree toy. Gently straighten the picture inside the balloon.

Fix the metal ring. Pass a thin satin ribbon through the hole and tie a small bow.

Glue a lace ribbon in the middle of the ball.

Fix a decorative flower next to the metal ring.

Make 6 more balls.

Place a rain for the Christmas tree in a gift box.

Lay out homemade balls.

Close the box and decorate it with a wide satin ribbon.
Christmas cookies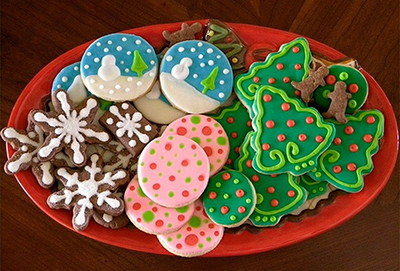 For the presentation you will need :
170 grams of honey;

400 grams of flour;

1 tsp cinnamon;

0.5 tsp nutmeg;

100 g of sugar;

1 tsp dry ginger;

130 grams of butter;

2 tsp soda;

1 chicken egg;

molds in the form of a snowflake, a Christmas tree, a sock and a hat.
For glaze :
1 egg white;

200 grams of powdered sugar;

3 drops of lemon juice;

food coloring in different colors.
Manufacturing process :
Put honey, sugar, cinnamon and dry ginger into a small saucepan. Mix the ingredients.

Put the saucepan on medium heat. Stir the ingredients during cooking so that the mixture does not burn. Cook until sugar is completely dissolved.

Pour the prepared mass into a deep bowl. Add baking soda and mix ingredients thoroughly.

Cut butter into cubes. Pour it into the caramel mixture and stir.

Break the egg and beat the mixture with a blender.

Pour flour into a container and knead a homogeneous dough. Wrap the workpiece in cling film and refrigerate for an hour.

Preheat oven to 180 degrees.

Roll out the dough on a baking mat. Attach the molds to get the necessary shapes. If not, you can use a stencil.

Send the dough to the oven for 10-15 minutes.

Start preparing the glaze. In a separate bowl, mix the egg white and powdered sugar. Mix ingredients until smooth. Add a few drops of lemon juice. Re-mix the ingredients.

Beat the protein mass with a mixer. You should get a thick snow-white glaze.

Take the cookies out of the oven and let them cool.

Divide the icing into separate bowls and mix it with different colors of food coloring.

Decorate the cookies with frosting of your choice.

When ready, serve homemade cakes to the festive table.
Jar of best memories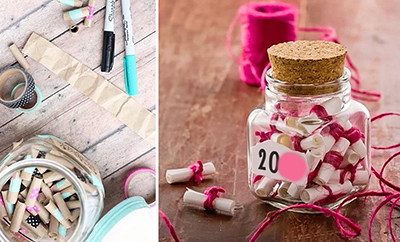 It will require :
glass jar with a lid;

thin satin ribbons of different colors;

black helium pen;

glue;

markers or markers;

paper;

scissors;

ruler;

pencil.
Manufacturing process :
Make small rectangles on sheets of paper. Cut out shapes.

Write on each rectangle the best events, impressions and memories of the year.

On the front side of the blanks, make small drawings with felt-tip pens or markers.

Roll each rectangle into a tube and tie them with ribbons. Make a small bow on each blank.

Cut out a random shape from paper. Write a year on it, then stick it to the jar.

Place all blanks in a container and close the lid.
Tips and tricks on how best to choose a gift for your wife for the New Year
The festive table is laid, the clock will soon strike twelve, and it will be time to exchange gifts. To make this New Year's Eve unforgettable for your wife, you need to choose the right gift and present it.
The following helpful tips will help you:
To surprise your beloved woman, watch her for a while before the holiday. What she talks about, what products she pays attention to in stores. Most likely, she will let it slip or try to hint at the desired gift.

A gift for the New Year can be practical or romantic – in the first case, it is necessary to give useful presents, in the second – cute things, and they should be presented as a surprise.

Do not forget to put the gift in a beautiful box, or use special gift wrapping. Add Christmas decorations – balls, cones, spruce branches and attach a handmade card. Then your gift, let it be simple and inexpensive, will cause real delight.

The best gift for the New Year is not the one that costs more, but the one in which you put a piece of your soul. If you take into account the preferences of the wife, her hobbies and interests, she will definitely like your gift.

New Year is a wonderful holiday during which you can give New Year-themed items. During this period, things that symbolize comfort, as well as clothes and accessories for warming up on cold winter evenings, will be relevant. For example, you can give a blanket, socks, mittens, a soft and comfortable sweater.

The gift must be relevant. Give what is useful to your beloved wife right now. For example, it is better to give a warm hat and scarf than a new beach swimsuit – to use it, the wife will have to wait until next summer.
Effective delivery. Every woman loves when presents are beautifully packaged. In addition, the spouse will get real pleasure from unpacking the New Year's gift.
The more presents, the better. It is much more pleasant to receive several small surprises at once than one big gift.
Age matters . The preferences of a 20-year-old spouse will be different from the tastes of a 40-year-old woman. Therefore, it is necessary to take into account the age of your chosen one, so as not to miscalculate with a surprise.
Warm words . In addition to the main gift, the wife will be pleased to hear congratulations and wishes from her beloved man.
Examples of bad gifts that are better not to give your wife for the New Year
Of course, no man wants to upset his beloved. However, some gifts can contribute to this. Refuse to buy the following presents if you want the holiday to be perfect:
Stuffed Toys. 

Men love to give women toys, but this gift has long been considered banal and uninteresting. Such a surprise can be made at the beginning of a relationship, but your beloved wife should choose something more serious. Most likely, a toy donated for the New Year will simply collect dust.

Banal souvenir. 

Figurines, magnets and other souvenir items with New Year's symbols should not be given. This will show your wife that you haven't given much thought to what to give her. Such gifts will not convey your warm feelings, and will lie on the far shelf until the next New Year. The exception is the snow globe, which is so loved by children and even adults.

Household appliances and household items. 

Try to avoid such presentations. If the wife herself wants to receive a vacuum cleaner, a set of pots or pans as a gift, feel free to give it to her. In another case, it is best to give something intended for the spouse herself, and not for the whole family. However, you can give unusual things – for example, an ice cream maker or fondue.

Things that hint at imperfections. 

Anti-wrinkle cream, weight loss products, scales showing the percentage of fat are gifts that can offend an impressionable and vulnerable woman. It is worth giving such gifts to your wife, if only she herself asks you about it.

Poor quality and fakes. 

If you are picking up clothes or equipment, remember that it is better to buy products from unknown but conscientious manufacturers. In the weather for fashion brands, you can buy a low-quality fake that will become unusable after a few months of wear or use.

Alcohol

 . This is an unsuccessful gift option, even if the spouse appreciates quality drinks.

Items hinting at flaws

 . For example, scales, a gym membership, etc.
Conclusion
New Year is the warmest winter holiday, an integral part of which are gifts. People with excitement and trepidation run around the shops on the eve of the holiday, choosing a present for their loved ones, and their happy faces and smiles make this day special.
That is why it is important to know in advance what to give your beloved wife on New Year's Eve. Remember that the main thing is your attention, care and responsible approach to choosing a gift. Only in this way will you make your wife happy, and therefore the whole family with her.