An envelope, a postcard, a piggy bank, a bank account, … – options for how to give a woman money will not run out as long as people are ready to give money to loved ones. If you decide to give the lady this modern gift, present it in a non-trivial way. This will destroy the prejudice that money cannot be given, and you will be able to show the sincerity of your affection and respect for a woman.
Below you will find the best ideas on how to give money to a woman in an interesting way. This will relieve all participants in the process of feeling awkward, and will replace it with genuine joy on both sides when presenting a monetary surprise.
TOP 54 ideas How to give a Woman Money
Banknotes will be an appropriate gift in any situation, but many are concerned about the question of how to give money to a woman in an original way. Handing banknotes in an envelope has long been irrelevant. Each of us wants the gift to be memorable and cause a storm of positive emotions. You can show your imagination or use already proven options on how to present a cash gift in an unusual way.
Any of the ideas proposed here will not look like a banal buyout. Thanks to the tips, you can easily create a picturesque composition of banknotes, learn how to hide them in objects or things. An unusual frame will be another unexpected present. From now on, you can no longer worry about preparing a surprise! Just effectively give money as a gift that will definitely find a use.
1. Red envelope . According to Chinese philosophy, it is in such an envelope that money will multiply.
2. Lunch box . Fill it with unusual crunchy "food".
3. Hollow stone . In such containers, it is customary to hide the keys in front of the house. You can apply it differently.
4. Unusual stack of stickers . Make a hole in a stack of note papers and insert bills for delivery.
5. Book on financial literacy . Hide the bills in the spine of the work. Let a woman not immediately discover your true gift!
6. An airbag is a modern option on how to give money for a woman's anniversary. Sew a sofa cushion and fill it not only with batting or fluff, but also with money before handing it to the lady.
7. Talisman "Vase of Wealth" . Without filling, it is not customary to give a single container. Such a bowl should not remain empty either. What do you think?
8. A jar of cereals . Mix it with unexpected "ingredients" and present it to the woman.
9. Wallet . Remember that it should not be empty when handing it to another person? Use this to give a woman money.
10. Red velvet box with an inscription on the lid . On it you can indicate the magic words: "Luck", "Prosperity", "Wealth". Each denomination of the banknote must have its own compartment.
11. A container for storing greenery is a modern solution for how to give money for a woman's birthday in an original way. Fill it with green bills and hand it to the hero of the occasion with parting words on how to use the container in the future.
12. Book-safe . The decision on how to give money to a woman in an original way. Get a book, for example, corresponding to the profession of a woman. Cut out a recess inside that will be suitable in width and length for a banknote. This will be an impromptu money box. Tie it with a ribbon before serving.
13. Photo frame . Make it yourself or use ready-made products. Such a souvenir has an advantage: in addition to a photo, you can put several banknotes into it.
14. Soft toy . Get a soft toy in clothes with a pocket, put money inside it. This is a very cute and unusual way of presenting banknotes.
15. A phone case with a double bottom is an idea how cool it is to give money for an anniversary and surprise a woman.
16. Socks with a secret . Manufacturers of the most popular accessory in the world decided to beat the legends of socks stuffed with money. On modern socks, you can find a secret zippered pocket where you can store money or a card. Put a couple of banknotes in your socks and seal them. Let the lady herself discover the cache after a certain amount of disappointment from the first impression.
17. Treasure chest . You can make it yourself or buy a ready-made box and style it like a pirate treasure. Use for filling coins, banknotes, fake banknotes and decorations.
18. Flashlight . The cheapest model is suitable for handing over money. Remove the filling from it and put in a new – twisted package of banknotes.
19. Packing chips . Wipe the inside of the jar, ventilate it. Insert the rolled-up bundle of banknotes inside and close the lid.
20. A handbag or clutch with banknotes invested in a pocket . As you know, a beautiful bag is not just an accessory in the image of a woman. Inside this thing, no matter how strange it may sound, there is a strategic reserve for all occasions. Therefore, having received such a gift, a woman will experience double joy: her collection of handbags will be replenished with a worthy copy, and she will have a certain amount in her hands that she can spend at her discretion. This is one of the best ways to give banknotes for your birthday in an interesting way.
21. A bouquet of flowers with an envelope and a note . Nothing will melt a woman's heart like a bouquet of favorite flowers presented in time. And if it comes with such a nice addition, then you will definitely like it.
22. Album with banknotes instead of photographs . Another idea is to give money in an original way for a birthday or any other holiday. Such a present will look spectacular if you insert money mixed with pleasant wishes or cool predictions into the pockets for pictures. Write them on colored slips or colorful paper that is used to create postcards. This is a good example of how beautiful and original to give money to a woman.
23. Notepad with a money bookmark . Such a gift will be useful both for business women who do not let go of their diary from their hands, and for dreamy people who prefer to write down their thoughts and feelings in a diary. A bookmark in the form of a banknote will surprise and delight the fair sex at the same time.
24. Miracle curlers . Get curlers and put a rolled-up bill inside each of them. Such a gift can be presented in a basket decorated with hairpins, hairpins, combs, etc.
25. Jewelry box filled with money . Almost every woman has a chest of jewels on her dressing table. Therefore, having presented such a gift, filling it with financial resources in advance, you definitely will not be mistaken.
26. Cake made of money . First you need to exchange large bills for small ones, then twist each of them into a tube and fix it with an elastic band. Next, try to build a three-story composition resembling a cake. From above, be sure to decorate your work with an elegant bow. It's a good idea how to give money for a woman's anniversary in an original way.
27. Money butterflies . To create such a gift, you will need colored paper. Cut out butterfly wings from it, and place a bill rolled into a tube in the middle. Put the finished butterflies in a gift box.
28. A basket of money . Get a small beautiful basket (for example, from under flower arrangements), decorate it with ribbons or bows. Roll up banknotes so that they resemble a "bag". Tie them with a ribbon, then they will not lose their shape, place them in a basket. A great option, how cool to give money to a woman.
29. Box of chocolates with money . This seemingly simple gift will make a woman very happy with its unusual content. When she opens the box, instead of sweets, she sees banknotes rolled up in the form of sweets.
30. Balloon with money . To create such a surprise, you will need a lot of small bills. Just put them in a balloon, then inflate it and hand it to the hero of the occasion. Believe me, she will be indescribably delighted when the balloon bursts and sees a kind of money salute.
31. Money bouquet . All women love flowers, but such a bouquet will be received with special gratitude. Simply roll the banknotes into a bud shape, fix them on wooden skewers, and pack them in a special film for flowers. Use this idea if you don't know how to give money for an anniversary to a woman in an original and unusual way.
32. Money tree . Such a gift is guaranteed to please a woman who is fond of gardening. Take a small pot, make branches and stems from improvised materials, decorate them with "greenery" (beautifully folded banknotes).
33. Money in the diary . Get a beautiful dated notebook and attach a banknote to each holiday, you can also write a comic wish, for example: "Spend your vacation at 100".
34. Kinder surprise . To make such a gift, you need to try a little, but the result is worth it. Carefully unfold the "egg", divide the chocolate into two halves, remove the yellow center from there and remove the toy from it. Put the folded bill inside and repeat all the steps in reverse order.
35. Money on a silver platter . Choose a decorative plate, you can make a personal inscription on it, put a photo on it. Put the money on a dish and present it to the woman.
36. Lipstick . Any woman will be glad to receive new cosmetics, and when she sees a bill rolled up inside a lipstick bottle, she will be simply happy from the realization that she can buy even more cosmetics. To make the woman immediately discover the surprise, invite her to touch up her makeup.
37. Money in a bottle . A message in a bottle is always a mystery, so this gift will intrigue a woman very much. To create it, you will need a beautiful decorative bottle and a piece of paper that needs to be artificially aged. Write a congratulation on it, roll it up, put a folded bill inside. Put the message in the bottle.
38. Passbook with your own hands . Make a special book, on each page of which a bill will be glued and advice on where to spend it.
39. Money in a nesting doll . Each doll will need to be wrapped with a banknote, and you can put a coin in the smallest nesting doll. The woman will spend the money, but the matryoshka will remain in her memory. Every time she looks at her, she will experience pleasant emotions.
40. Packaging with tights . This accessory in a woman's wardrobe will never be superfluous. Put banknotes in a box with tights, complement your gift with a note saying: "May there never be holes in your budget."
41. A method called: "Chickens do not peck money" . Souvenir eggs in the Faberge style are now on sale. This is a small box where you can easily hide money. To make the gift look even more interesting, purchase a decorative nest (for example, in needlework stores). Put the egg in the nest and hand it to the hero of the occasion.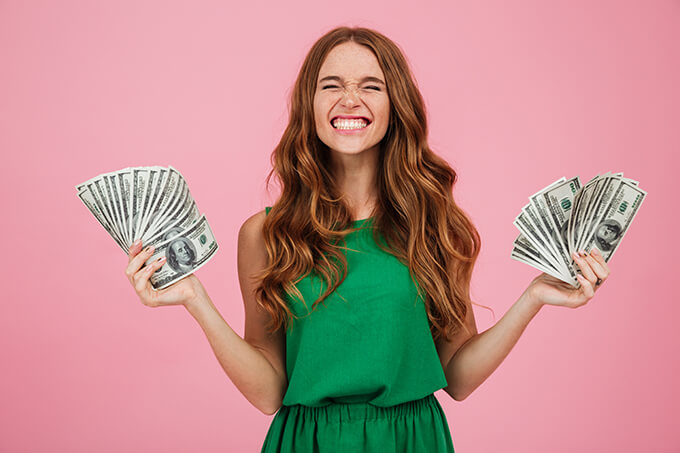 42. Piggy bank . Everything is very simple here: you need to buy a piggy bank, fill it not only with paper money, but also with pennies, so that it is heavy. A woman will be able to break it to spend money on her needs, or continue to save for a dream.
43. Big box . To make a real surprise, you will need to choose a large, beautiful box and several small ones to put them into each other like a nesting doll. Cover each box with wrapping paper, and invest in the smallest box. Fill a large box with helium balloons so they pop up when opened.
44. Huge cookie with bills inside . It is also called the cookie of fate, because in addition to money, several small predictions are put inside. Do not forget, they must be positive so as not to spoil the woman's mood.
45. Holiday card . Just buy a greeting card, glue rolled up money on it, and make an imitation of fire on top. Your composition should resemble candles, blowing out which a woman can definitely fulfill her dream.
46. ​​Picture in a frame . A great way to give this seemingly boring gift to a connoisseur of beauty. Choose a suitable frame, make a bright substrate, place a bill in the middle, leave the inscription: "My savings for a rainy day."
47. Desk calendar for the whole year . You will need a lot of bills of small denominations, as many as there are days in a year. Just stick them on each leaflet. So, a woman's day will begin with a little surprise.
48. Money in ice . Choose a small container, fill it halfway with water, then put the bills inside, pre-packed in a waterproof bag, add liquid. Inside you can add a small bouquet of flowers, so the gift will look even more spectacular. Send your "composition" to the freezer, after it freezes, take it out and hurry to give it to the hero of the occasion. To make the moment of presentation even more spectacular, present a small hammer along with the ice floe.
49. Money in a festive dish . One of the most creative ways to give money to a woman is to hide it inside a holiday treat, like a cake. Just remember to put the bills in a plastic container first. Invite the hero of the occasion to cut the cake and treat the guests, warn that a surprise awaits her inside.
50. Chocolate with a surprise . Even if a woman does not like sweets, it does not matter, she will definitely like such a gift. Get a regular chocolate bar, remove the packaging from it. Make your own or order a festive wrapper in the printing industry, on which indicate the name of the woman, write a few nice words. Wrap a treat. Do not forget to place banknotes under the packaging.
51. Bag of money . Anyone can make such a gift. You will need a small bag (you can buy a ready-made one, for example, an organza gift bag, or sew it yourself), draw a dollar sign on it. Inside, fold the bills, each of which will be rolled up and tied with a ribbon.
52. Quest . Such an exciting activity will be remembered by the hero of the occasion for a long time. First, look for a chest where you can hide treasures (money). Next, draw a map, the more intricate it is, the better. Mark the location of the treasure with a cross. Present the card itself in a frame.
53. Money in the bank . This is a very interesting idea how to present banknotes, since the phrase: "I give you money in the bank" usually evokes associations with a bank deposit.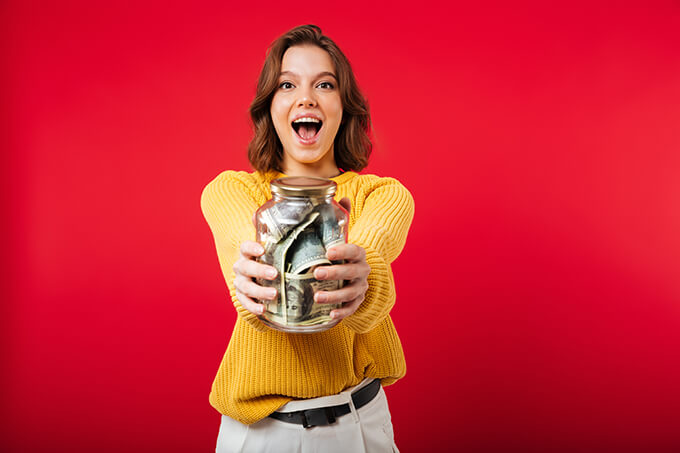 It is advisable to use a glass jar on which you can write: "The most reliable bank account", "Cauliflower", "Dried greens", etc.
54. Money in a clay pot . To make such a gift, you will have to use both banknotes and coins of different denominations. Place paper money at the bottom of the pot, and generously sprinkle coins on top.
Tips: How best to give money to a woman
In search of options for how fun it is to give money to a woman, it is important to keep the line between giving a gift in a funny way and expressing your own emotions in relation to the recipient.
In order for everything to go smoothly, you need to know how and in what to give money to a woman.
Make sure the lady doesn't mind being given money for an anniversary or other holidays. If she does not accept such gifts, refuse this gift option. If she favors the gift of money, you can continue the preparation.

Choose banknotes and coins so that they look aesthetically pleasing. Torn, worn banknotes and coins with marriage, with traces of corrosion or mold will deprive the solemnity of the moment of delivery.

Do not take bills out of your wallet, hastily handing them to the lady. It's ugly and looks like alms.

Take care to present money beautifully for a woman's birthday. Be sure to put a postcard with your signature in the envelope, and also express your wishes to the hero of the occasion orally.

Hand an envelope or a box of money not into the hands of a woman. Put the money bag on the table.

Give an even number of bills. Feng Shui experts say that in this way money will keep harmony with each other and will multiply.

Don't state the amount. When giving money as a gift, it is not customary to publicly state how much money you are giving.

Connect with other guests. Giving money in a clubbing, as well as large gifts, is also accepted. According to esotericists, this is a good start. This is how a cash flow is formed, because this surprise already looks like a created "object". A strong bond is formed between the givers and the recipient of a common monetary gift.

Choose the right moment. Giving money for anniversaries is a common practice in our country. Usually, it is on round dates that people plan major purchases or important events. They need money. Use all your talents, write a short ode to a lady to give money in verse for a woman's anniversary. She will be doubly pleased with this.

Keep a balance. Money as a gift to a woman should not be too little and not too much. The first will hurt the recipient of the money, and the second will cause her embarrassment.

Reject vulgarity. So that the gift does not look indecent or cause awkwardness between you and the woman, complement the money with a small gift. Even a box of chocolates will do.
If you are thinking about how unusual it is to give money for a birthday, but do not know how to do it, consult with other holiday guests in advance about the amounts that they will give. Give a woman about the same amount as other participants in her celebration.
Remember that money is not given to lovers, spouses, seniors in age, social status, or colleagues alone. All this will look unworthy.
There are dates when a cash gift is also not allowed. These include: March 8, Valentine's Day.
It is important to remember the answer to the question : what is not a cash gift? A certificate for services or goods, the repayment of debts for a woman, a bank deposit or a bill of exchange are not only monetary offerings. They have several additional functions under them: from "instructing" where to spend money, to educating thrift.
Undoubtedly, money is a great gift for a birthday or anniversary. However, before handing banknotes to a woman, the following rules must be considered.
Be tactful. 

If you are picking up a gift for a woman whom you have known not so long ago, it is better to ask her how she feels about money gifts. Remember that comic options for presenting money can only be used if you know the hero of the occasion well and are sure that her reaction to your gift will be positive. Also, do not advertise the number of donated banknotes and their face value.

Do not forget about the attention and congratulatory speech. 

No matter how much you plan to give to the hero of the occasion, be sure to accompany your gift with pleasant words. Together with money, you can give a bouquet of flowers or a box of chocolates, do not skimp on compliments.

Avoid banality. 

Do not give money in an envelope (even if it is beautiful and festive) – this is very boring. Explore in advance the options for how to pack banknotes in an unusual and beautiful way. Then the birthday girl will definitely not be offended and will remember your present for a long time.

The appearance of banknotes. 

Banknotes do not have to be new, but it is not customary to give shabby banknotes. It is unacceptable to give a trifle (only if this is not provided for by the scenario), prepare large denomination banknotes in advance.
Conclusion
Choosing a gift for the fair sex is not an easy and delicate process. If you do not have time to find or make a worthy present, you can always donate money. However, do it in an unusual way, so that the woman will remember the very moment of delivery for a long time. Choose one of the proposed methods, turn on your imagination, use improvised means, then you will be able to present the banknotes familiar to everyone brightly and extraordinary!
The desire to give money to a woman in an unusual way is a good idea if you are friends with a lady, are related, or she herself asked for just such a gift.
Feel free to please a loved one with crispy banknotes for a birthday, housewarming or other occasion.