If your girlfriend is expecting a baby and she has a birthday, then at this moment it is better to give her something special, something that is important for her during pregnancy.
Women in an "interesting position" often change their mood, tastes and preferences, many of them do not want to advertise their pregnancy, therefore they do not accept gifts for a child who has not yet been born. Do not forget that the health of the baby depends on the mood of the mother, so your surprise should evoke positive emotions in the woman, pleasantly surprise her and be useful. If you still can't figure out what to give your pregnant friend, pay attention to the detailed list of gifts. Each of them is selected taking into account the specifics of the special position of a woman, will certainly encourage her, help to cope with physical discomfort during this wonderful period.
Below you will find the best ideas of what to give a pregnant friend for her birthday, the most original and interesting for her.
TOP 67 ideas What you can give a pregnant girlfriend for her birthday
When the question arises of what to give a pregnant friend, all sorts of fun things for a newborn come to mind. Get those thoughts out of your head right away. You will still have more than one opportunity to please the baby, and now dedicate a gift to your friend, because very soon she will have completely different worries!
A stylish album in which a friend will paste pictures with a tummy.

Fitball.

Purifier, humidifier or air ionizer (during the period of bearing a baby, pregnant women often suffer from nasal congestion).

Pillow for pregnant women.

Blanket with sleeves.

A special diary for a pregnant woman, in which you can record the dates of visits to the doctor, his recommendations and appointments, test results, a list of necessary purchases for the birth of a child, etc.

Multicooker or steamer.

Juicer.

A small thermos for walking or a thermal mug.

Relaxing foot bath.

Fitness bracelet for monitoring the physical condition of the future mother's body.

Heating blanket.

Warmer toy.

Orthopedic mattress for a comfortable stay.

Soft puff.

Large basket with tasty and healthy fruits.

Instant camera – with its help, a friend will be able to capture various happy moments during pregnancy.

Jacket-transformer – you can use it both during pregnancy and after the birth of the baby.

Kigurumi is a soft and warm jumpsuit in the form of any animal.

Vitamin complex designed specifically for pregnant women.

Robot vacuum cleaner.

Eco alarm clock – this device wakes up gently and affectionately with the help of nature sounds and soft lighting.

Electronic floor scales so that the expectant mother monitors her weight.

Kitchen scales.

A set of utensils made of medical steel, which does not contain harmful elements and dubious impurities.

A needlework kit (knitting, sewing, scrapbooking) is a good gift to take your free time and spend it with benefit.

A set of fragrant tea complete with honey or jam.

"Bol's necklace" – a pendant with a small bell that has a calming effect on the baby in the stomach (from the 20th week).

Pillow for pregnant women.

Convenient backpack for walking.

Beautiful linens.

Steamer 

blender

 .

Photo printer.

Beautiful hairpin.

Bath towel set.

Night light with music.

Set of wooden combs.

Heated sheet.

High quality water filter.

Electronic book.

Tea pot

  .

Florarium

 .

A set  of 

stickers

  to decorate the room.

Beautiful box for jewelry or other small things.

Fortune cookies.

Set for growing plants.

Japanese zen garden.

Warm boots.

Belly stickers or temporary tattoos.

Original slippers.

Home flower in a pot.

Set for preparation of oxygen cocktails.

Smart watch for health tracking.

Bedside table lamp.

Set of themed  

cupcakes

 .

Bedside fluffy rug.

Things to create home comfort (for example, beautiful capes for chairs or stools, designer curtains, etc.).

Duvet.

Back massager.

Mat for yoga or  

fitness

 .

Voice picture (you can capture the baby's heartbeat).

Watch-projector (so that at any time you can admire the starry sky).

Cookbook for breastfeeding mothers.

Pillow under the waist.

Natural shampoo with mild ingredients.

Desktop or floor  

biofireplace

 .

Rotating  

photo frame

 .
What to give a pregnant girlfriend for her birthday original
Many mistakenly believe that picking up a gift for a pregnant girlfriend is not an easy task in itself, and finding something original is the same as jumping over your head.
If you are not one of those who give up easily, and set out to give the girl an unusual gift, we advise you to pay attention to the following ideas:
Portable fetal heart rate detector . Of course, it is not necessary to talk about the high accuracy of the presented device – it is still not a professional device used by doctors.
However, with its help, a woman can at any time check for a heartbeat in the fetus and maintain some kind of connection with him. With your present, you will save her from unnecessary worries.
A friend who is expecting a baby will definitely appreciate this device, because what could be more magical than hearing your baby's heart beat?
Baby tracking device . You can give useful things for pregnant women.
Sometimes the shocks of a small creature in the mother's womb are so weak that it becomes almost impossible to track them, because of which anxiety begins to grow in the woman's soul.
The device in question will help to fix the shocks and count their number, restoring peace to the family;
Set for making a plaster cast of the tummy . In this kit, the hero of the occasion will find everything you need to create a cast: plaster bandages, sandpaper, gloves and cream.
The end result will remind her friend of the wonderful period of bearing a baby all her life and will become a touching decoration for a bedroom or nursery.
At first glance, it may seem that there are not so many gifts for the expectant mother. But if you look, you can find original ideas. The most successful options are presented to your attention.
Mexican  bola . The expectant mother can hang this pendant around her belly. It makes pleasant sounds that the baby will hear from about 16 weeks. The baby gets used to this melodic ringing and after birth, hearing familiar sounds, calms down faster.
No doubt, every expectant mother will appreciate such a gift! The pendant with the image of heels has the shape of a ball, it is made of brass,  silver- plated on top , which ensures its durability.
Ready-made bag-set to the hospital. This is one of the most suitable gifts for a friend who is about to give birth. Pregnant women are very anxious, especially if this is their first child, so they are going to the hospital with special trepidation. Reassure the expectant mother by giving her such a useful gift.
The bag is assembled according to the requirements of many maternity hospitals, as well as the needs of a woman. At the most exciting moment, you don't need to worry that you can forget something, you just need to take the necessary documents with you, a ready-made bag and feel free to go towards your baby.
Memories storage box. This box is also known as "mother's treasures". Pregnancy is one of the most beautiful periods that a woman experiences throughout her life.
However, it is not always possible to capture happy moments in memory. In such a box, you can store a pregnancy test, an ultrasound scan, a tag from the hospital, the baby's first booties, the first curl and many other things dear to the heart.
It's not a bad idea that you can give a pregnant girlfriend just like that.
Beauty box. This is a box inside which is a line of products for pregnant women. If your friend is expecting a baby, she needs to use special cosmetics, such as anti-stretch marks, anti-cellulite cream, hair strengthening shampoo, prenatal body massage oil, etc.
In this box, she will find everything she needs, for which she will be very grateful to you.
Inexpensive gift ideas for a pregnant woman
As you know, not everything is measured by money, attention and care are important for a pregnant woman. In order to make a nice gift for a girl in a "special position", you do not need to empty your pockets at all, just use the following ideas.
Future mom's diary. With the help of this convenient diary, the expectant mother will know what is happening with her body and how the child develops throughout the entire period.
She will feel much calmer, as there is always a cheat sheet at hand that will tell you how to contribute to a healthy pregnancy, what tests you need to take, what you need to buy.
This small book contains a lot of useful tips, mom will also be able to take notes and make observations. This is a very suitable idea for what to give a pregnant friend just like that.
Frame for an ultrasound picture. Hurry up to buy this gift if your friend is in position. The frame is a silhouette of a pregnant woman, an ultrasound image is inserted into the abdomen.
Your girlfriend will really like this way of storing pleasant memories, she will undoubtedly be grateful to you for this gift.
The frame is made from environmentally friendly raw materials, mainly oak wood. As you know, this material is characterized by strength and durability, so it will please the eye for many years.
A set of oriental sweets. A wonderful present for a pregnant woman. She will gladly enjoy such sweets as Turkish delight, halva,  pishmania .
In addition, these delicacies have a positive effect on the entire body, for example, they strengthen the cardiac and vascular systems, activate brain activity, help prevent diseases of the digestive system, strengthen vision, and improve skin condition.
Compression stockings for childbirth.  This is an inexpensive but very useful gift for every pregnant woman.
The use of compression stockings during childbirth will help to avoid many complications, the most common of which are varicose veins and blood clots. Stockings support muscle tone because they tighten the skin, creating a pressure effect.
Useful gifts for a pregnant friend
Any gift, chosen and presented with a soul, will bring positive emotions to the expectant mother.
But it is better if he can also facilitate the period of pregnancy. No woman will refuse practical presents presented in this category.
Fitball . This gift will be appreciated by both a pregnant woman and a young mother. The benefits  of a fitball  for a woman in position are invaluable.
Regular exercises on the ball help to strengthen many muscle groups, and also effectively cope with tension and pain in the lumbar region and back.
After the baby is born,  the fitball  will also be useful, with its help it is very convenient to rock the baby, and a woman, performing simple exercises on it, will be able to get in shape faster.
Smart scales for pregnant women. It is not customary to give this measuring device to a woman, unless she is in an "interesting position."
This is a very suitable option for giving a pregnant girlfriend a birthday present. After all, she, like no one else, understands the importance of regular weighing. With such scales, she will no longer need to wait for the next visit to the antenatal clinic. These models can act as a home nutritionist.
Given the height and parameters of the body, as well as a pleasant feature of a woman, the scales give practical recommendations, determine the difference between weighings, etc.
Comfortable pajamas made from natural fabrics. It is important for a woman during this period to feel comfortable, so such a gift will come in handy.
Remember that pajamas should be bought in a special department for pregnant and lactating mothers, then it will not constrain the growing tummy, will not cause allergies and irritation.
Such specialized clothing takes into account changes in the body, so it fits perfectly on the figure.
 Activity  tracker . A pregnant woman is not a crystal vase, and if there are no contraindications, then physical activity is a must. Therefore, it is a good idea what to give a pregnant girlfriend for her birthday.
The main thing is to choose the right set of exercises, then the expectant mother will feel better, and the child will develop harmoniously.
The activity tracker  will help you to control your condition, as it is equipped with such useful features as a pedometer, heart rate monitor, etc.
Gifts for beauty and health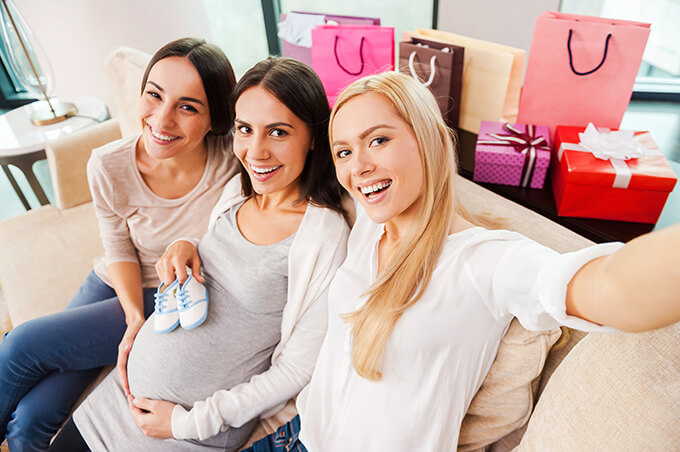 Pregnancy is not a reason to forget about your health and appearance. Therefore, when choosing a gift, pay attention to practical things that will allow the expectant mother to be in good shape and look attractive.
If you can't think of what to buy, use ready-made ideas.
Cream for stretch marks.  This effective tool will help avoid the appearance of ugly stripes (stretch marks or  striae ) that appear due to active weight gain and a growing belly.
The cream makes the skin more elastic, effectively nourishes it, saturates it with useful components. Experts say that the cream should be applied every time after a shower or pool. These simple manipulations significantly reduce the risk of stretch marks.
Sling jacket . Every woman wants to look stylish. If the pregnancy period fell on the cold season, such a jacket is very useful for the expectant mother. The size of the jacket is adjustable with a wide insert, so it can be worn at any stage of pregnancy.
Sling insert is sold in the  kit , so the jacket is put on even when the baby is born. It will allow you to make comfortable walks with a child in a  sling  or  ergo- backpack.
Natural honey in a beautiful package. If you are sure that a pregnant woman is not allergic to honey, you can safely give such a gift. It has beneficial properties for both women and babies.
For example, it is used for colds, when it is undesirable to use medical drugs, honey also has a positive effect on the formation and growth of the fetus, relieves tension from the bronchi and blood vessels.
A set of medicinal teas. Herbal teas during pregnancy are not only possible, but also necessary. Ivan-tea infusion, mint tea, chamomile, with rose hips will be especially useful.
All of them contain a set of vitamins and minerals useful for both the expectant mother and her child, in addition, they perfectly cope with morning sickness, anemia, digestive tract problems, soothe and relax.
DIY gifts for a pregnant girlfriend
It's no secret that the most sincere gift is the one you made with your own hands. A piece of the soul is invested in such things, so it is doubly pleasant to accept them.
Here you will find several interesting options for presentations, the creation of which does not require large financial costs or special skills. All you need is a little free time, a little imagination and patience!
Soap made from natural ingredients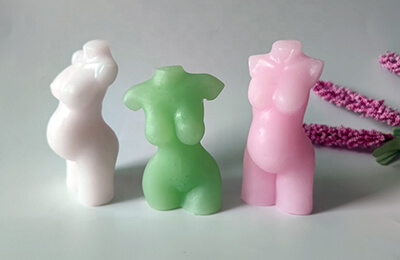 It is desirable for the expectant mother to use organic hygiene products, so she will gratefully accept your gift. Thus, you will show not only attention, but also show how much you care about the health of mother and child.
What you need:
soap base 100 grams (you can buy it in needlework stores);

food coloring;

a teaspoon of vegetable oil (apricot, almond, peach, etc.);

15-20 drops of essential oil;

additives (for example,  

scrubbing

  components – coffee or oatmeal);

soap mold;

dishes that will need to be used to melt the soap base.
How to do:
the soap base must be cut into small cubes and melted in a microwave or in a water bath;

add all other ingredients and mix thoroughly;

pour the resulting mass into the prepared form;

leave it to cool down nicely, in about half an hour it will be ready.
natural beauty  
scrub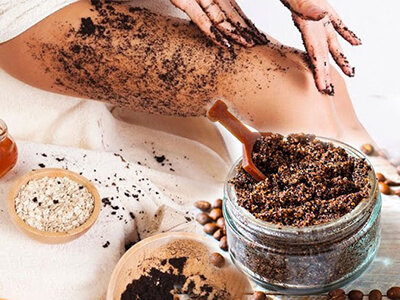 The skin of a pregnant woman needs daily moisturizing and cleansing. The last procedure can be done with a  scrub , which not only has an  exfoliating  effect, but also saturates the skin with natural antioxidants.
What you need:
200 grams of coffee;

5 drops of orange essential oil;

2 tablespoons of olive oil;

Nice container to put this mixture in.
How to do:
coffee needs to be ground in a coffee grinder or take already ground, you can also use coffee grounds;

add all other ingredients, mix until smooth;

place in a jar or other container. Decorate it with a bow or ribbon.
Candle set
Pregnant women love to surround themselves with beautiful things that create a cozy atmosphere in the house. Therefore, such a gift will be useful to a friend and will make her very happy.
What you need:
a mold for candles (it can be any container made of glass, tin or plastic);

paraffin or wax;

dishes in which you will need to melt the wax;

cotton thread;

wooden stick (you will need to fix the wick on it);

dishes for a water bath.
How to do:
inside each candle mold, lower the cotton thread, fasten it at the top with a stick (you can use a regular pencil);

after cutting the wax into small pieces, melt it in a water bath (do this slowly and over low heat);

pour melted wax on the bottom of each candle mold, try to set the wick (cotton thread) in the center, wait until the wax thickens (this will take a few minutes);

fill the form with wax;

leave the candle until completely solidified (this will take about a day);

then cut the end of the cotton thread to the desired length and remove the candle from the mold.
What to give a pregnant friend just like that
A birthday or other holiday is a great occasion for a gift, but sometimes you want to please your beloved friend who is in a position and give her something for no reason.
An unexpected surprise will surprise and cheer you up – during this period it is especially important to monitor your emotional well-being. The best gift ideas for a pregnant friend just like that:
Folding table-tray. Some pregnant women, especially in the last months, find it difficult to actively move around and even stand a lot.
A tray table is a great gift idea if your friend is having the same problem. In addition, this is a very cute and romantic gift – a friend will now be able to enjoy delicious breakfasts in bed.
Nitrate tester and water hardness meter. During pregnancy, it is more important than ever to watch your diet. Special devices will help with this – the first checks any food for the presence of nitrates, the second measures water hardness
. With the help of such a gift, a pregnant friend will be able to choose the most healthy food and water so that the baby is born healthy and happy.
Salt lamp. It is a stylish night light, consisting of natural rock salt and a light bulb that heats the crystal, after which the amount of negative ions in the air increases.
Thus, the device purifies the air and takes care of health – relieves fatigue, improves mood and general condition of the body.
A salt lamp is used in the treatment of allergies and even rheumatism, as well as other diseases. An indispensable thing in the house of a pregnant girl.
What to give inexpensively to a pregnant girlfriend for her birthday when finances are limited
Undoubtedly, a beloved friend in anticipation of a child deserves a useful and original present. At the same time, everyone has difficult times, and then it seems that it is impossible to find a worthwhile gift for a low price.
However, the lack of finances is not a reason to give up – just show your imagination, devote more time to shopping, and ideas will come to your mind. If this does not happen, it is worth considering options such as:
Leg hammock. Great gift idea for a pregnant friend. It will come in handy if the future mother has not yet gone on maternity leave and spends her working time sitting at the computer. Then she can take the hammock home and use it there.
This is an inexpensive, but very practical gift for the comfort and well-being of a girl in any month of pregnancy.
Useful sweets .Looking for something original and, at the same time, tasty for a girlfriend in a position, it is obviously worth abandoning the usual sweets in the form of chocolates, sweets, cakes, etc. First of all, products without chemical ingredients in the form of nuts, dried fruits, natural marmalade, etc. should fall under the scope of your attention. They will not only not harm the health of the expectant mother and baby, but will not allow a woman to gain unnecessary kilograms, while remaining in a good mood;
Coloring book for adults . Such publications, as a rule, are also aimed at putting the nervous system in order. The type of activity in question can be considered a kind of meditation, since in the process of painting small details, the birthday girl will calm down and be distracted from unnecessary experiences.
How to choose what to give a pregnant friend for her birthday
In an effort to please a girl in a position on her birthday, it is important to follow a few recommendations when choosing a present:
Try to cheer up your friend on such a day and focus on how beautiful she looks in her new look. Your task is to distract the birthday girl from worries about the gained kilograms, problems with the skin, hair, and only emphasize her dignity. Special care products for pregnant women, fashion accessories, certificates for cosmetic procedures, etc. will help in this;

Do not buy things designed exclusively for the unborn baby. Firstly, many pregnant women have a negative attitude towards the purchase of children's clothes, toys, etc. in advance, as they believe that this is a bad omen. Secondly, now the life of the birthday girl already revolves around preparing for the upcoming birth of her beloved child, and she probably wants to enjoy the attention to her own person, at least on such a day;

Choose a gift that will be associated with pregnancy and the postpartum period. It may seem to some that this rule contradicts the previous recommendation, but this is not entirely true. In fact, the donor is simply required to present a thing necessary to ensure the comfort of a woman during the bearing and birth of a child, and not for use by the baby himself. Many future mothers are so preoccupied with their current situation that they are perplexed by things that are not related to the baby;

If the holiday is rapidly approaching, and there are no bright thoughts about what to give a pregnant girlfriend for her birthday, you can ask the birthday girl a direct question about her desires. Remember that you have known each other for a long time, so there should be no embarrassment or embarrassment. If you still want to arrange a surprise at all costs, contact other close people of the hero of the occasion or just other girls in position – perhaps they will throw good ideas.
Adviсe
If you're worried that your gift might irritate your pregnant friend, just heed the following tips. They will help you choose a worthy present that will not only warm your soul, but also leave positive memories for many years to come.
Be guided by the needs of the expectant mother. Think, perhaps there is something that your pregnant friend dreams of, but cannot afford. Or the family has already planned the purchase of some big purchase, then it is better to participate financially.
The attitude of the expectant mother to her position.  Many women hide their "interesting position", then you do not need to focus on this. If your friend is superstitious, give her a neutral non-pregnancy gift.
Holiday appropriate. Be sure to consider the reason why you are buying a gift. If you just want to please a woman, give her a small but nice present, and for her birthday make a more impressive gift.
Preferences of the expectant mother. When choosing a gift for a future baby, be sure to consider the color scheme. For example, some women prefer blue or blue for a boy, pink for a girl. Others, on the contrary, are against purchases of such a plan and prefer universal shades.
What is better not to give a pregnant girlfriend for her birthday
Deciding on a present for a pregnant friend can be very difficult. Making a list of what you definitely shouldn't give will help make the task easier. Inappropriate gifts for a birthday girl in anticipation of a baby can be considered:
Items that can harm the health of a girl

 . We are talking about alcohol, certificates for extreme entertainment, exotic treats, etc.;

Things that pregnant women do not need. For example, roller skates, leather belt, etc.;

Living gifts. 

The thoughts of a pregnant woman are occupied with her baby and the upcoming birth, so she will not like a four-legged pet or an exotic flower. And after the birth of a child, she simply will not have time to care for them;

Everything your baby will need

 . Why it is important to observe this rule was written above, so it is better to refuse rattles, booties, strollers, etc .;

Highly scented perfumes and cosmetics

 . The sense of smell of a girl in position may not respond adequately to a pronounced aroma, even if a few months ago he was her favorite. As a result, such a present may simply not please the hero of the occasion or even cause another attack of toxicosis;

Acne remedies, a certificate to the gym and everything that focuses on any shortcoming of a girlfriend

 . It is important to understand that any person will not be happy when he is reminded of the problem, especially when it comes to such emotional and sensitive creatures as girls in a position;

Household items associated with household chores – for example, a frying pan, cleaning kits , etc. The exception is really useful gifts or things that the birthday girl herself could ask for;

Cakes, pastries, cookies

 – all this will look like you just dropped in to drink tea and visit the girl. If you have already decided to give your friend something sweet, knowing about her addiction to confectionery, try to find something exclusive and original;

Travel and gift-experiences

 involving physical activity. Keep in mind that even the most active woman in position can find it difficult to move around with her stomach, especially in recent months.
It is very difficult for many to decide on a gift for a future mother. There is a category of presents that are unacceptable for a woman expecting a baby. In order not to get into an awkward position, not to upset an already impressionable woman, carefully study the list of what is not recommended to give.
Conclusion
All pregnant women are waiting for a miracle, but there is no cliché for choosing a gift for them. Just try to show your friend a careful and attentive attitude, pamper her and protect her from stress. Such pleasant moments will be remembered much more than the most expensive, but soulless gift.
A well-chosen present for a girlfriend in position will allow the girl to feel real care for herself. Do not skimp on gifts for a pregnant birthday girl, strive to pamper her and approach the choice wisely – then no hormones can spoil the mood of the hero of the occasion.