You were unexpectedly invited to a holiday by an old comrade, colleague, former colleague, classmate, or do you need to find something to give to a familiar man whom you hardly know? Not a problem! Yes, the task seems difficult, because the gift is intended for a distant person whom you know well, and therefore some of the options that come to your mind may turn out to be unsuccessful and put the person in an uncomfortable position.
Of course, the specific choice of what to give a friend for a birthday or other celebration depends on his social status, character and age. Also, his hobbies and preferences can be a good clue. But, you don't need to directly ask about the present, but quite often you can understand from a conversation with him what he would like to receive as a gift.
The main thing is that the gift you choose should carry a positive mood and be unexpected. Just imagine what personalized item would cause a pleasant surprise in a man. It can be inexpensive, not branded, it is important that it be chosen and presented in a good mood.
To help you, we have compiled a list with many relevant and interesting gifts in different situations for an unfamiliar man, which you can choose, guided by the subtleties and secrets of delivery, which you will also find in this article.
TOP 92 ideas What you can give a friend
Swiss knife.

Detailed model of a sailboat.

Clay cezve for coffee.

Meat axe.

Coffee beans with different.

Box with oriental sweets.

Portable charger.

Survival kit.

Basket with exotic fruits.

Multitool.

Portable fire.

Sundial with compass.

Chess.

Difficult wooden puzzle.

Composite model.

Taiga set.

Chased coaster with a classic faceted glass.

Multifunctional shovel 10 in 1.

Sommelier set.

Bar coasters.

Smart wallet with charger.

Monopoly is an adult level.

Vitamin set consisting of mini-jars of honey, jam or syrups.

Meat thermometer.

Wool poncho plaid.

Board game for the company.

Shoe horn with an unusual design.

Manual coffee/spice grinder.

Thermal calendar.

Alco-flavored jam, such as lingonberry bourbon.

Electric pulse lighter.

Home weather station.

Set of hot sauces.

Charcoal soap for traditional shaving.

Assorted teas with exotic flavors.

Chameleon mug.

Beverage dispenser.

Box – an organizer for tools, gear. A box of alcoholic marmalade.

Sports filter bottle.

Camping lantern.

Honey with edible gold.

Fountain pen in a wooden case.

Raincoat.

Cooler bag for outdoor recreation.

Electric corkscrew.

Salt lamp.

Compact biofireplace.

Wall key holder.

Kilt towel.

Folding travel chair.

USB heated mug.

Belt.

Smart dumbbells.

Shaker.

Skewers with carved wood handles.

Vintage wine.

Flask-carbine.

Column.

Stylish cane umbrella.

A glass of Stocks.

Sports gloves.

Illuminated hookah.

Bamboo broom for a bath lover.

Tubing.

Bath set of oak mugs.

Flexible keyboard.

Pedometer.

Cool piggy bank with a password and account display.

Gardening Tools.

Plaid in the car.

Set for cooking meat in a case.

Fire knife.

Himalayan salt plate for roasting meat, vegetables.

Cooling stones for drinks.

Craft chocolate set.

Thermos coffee pot.

Army dry ration.

Eternal pen.

Himalayan salt glasses.

Rozetkus.

"Male" figured chocolate in the form of tools.

Flip clock.

Metal business card.

Pen-set for survival.

Electric ignition for firewood and coal.

Guinness Book of Records.

A set of desktop accessories – trays, coasters, glasses and boxes for stationery.

Aeroball.

Vehicle interior care products.

Home electric grill.

Tactical gloves.

Magnetic holder for the car.
Gastronomic gifts for a friend
An edible gift option is one that will not leave anyone without a smile.
Not every man goes to the gym, has a summer house or collects a collection of books.
But everyone, without exception, needs food. Therefore, such a gift will be most welcome, always.
A "male" bouquet  is a classic version of a gift for a new acquaintance, whose tastes and interests you still don't know well.
Such a bouquet can be ordered in the flower department or assembled independently, for example, from the following components:
a bouquet of crayfish;

composition of meat delicacies;

nuts and dried fruits;

sweets and snacks;

vegetables or fruits.
Alco candy. If your friend has a sweet tooth, but you don't want to give a banal box of chocolates, feel free to hand out chocolates with alcoholic filling.
This is a delicious assortment of Swiss dark and milk chocolates, with an unusual praline filled with alcoholic cocktails: margarita, herbal liqueur, cognac, rum, etc.
Nuts and urbechi –  an option for a lover of everything natural, healthy, healthy. Urbech is grated nuts and seeds on stone millstones, without added sugar. It perfectly satisfies hunger and gives powerful energy to the body, increasing its immunity.
And, nuts are natural sweets with a lot of vitamins, fiber, nutrients. Such a box can be bought as a set or assembled independently.
A set for mulled wine is  a wonderful gift for the new year or a winter celebration. The box contains everything you need to prepare a traditional drink, like at a Christmas market.
Such a present is created for pleasant evenings with your favorite warming drink!
Inexpensive gifts for a friend of a man
There are situations when an event is coming in life, but there is no big budget, and it becomes difficult to find something good. In such a case, you need to arrange a brain storm and come up with something original, but inexpensive.
Below are a few ideas of what to give a man you know symbolically. Perhaps some of them will help you adequately please the representative of the stronger sex.
Phone stand,  which can be standard or equipped with an additional speaker, light and charging function. It can be made of plastic, metal, wood and have a flexible or swivel mount.
It is also a practical and stylish accessory for your desktop, bedside table, car interior, which will not allow you to lose your cell phone.
A smartphone case made of silicone or wood is  a gift option when you need to congratulate inexpensively.
This is not just an accessory and protection for a smartphone, it is also a stylish element that emphasizes the individuality of its owner. The main thing when buying a case is to choose a design that will appeal to a person and take into account his tastes and interests.
A black bath towel with personalized embroidery is  a universal gift for any occasion: February 23, New Year, etc., anniversary, etc. Perfect for home use, baths and saunas or the beach on the sea.
The towels are easy to wash, have a long service life, and decorative embroidery will make it unique.
Cheerful poster with a plan to conquer the world. Another idea of ​​what to give for a birthday to a friend who often travels, and also, this is an original piece of furniture. It is a card with a protective layer, as soon as its owner returns from the next trip, he erases the protective layer from the next defeated geographical unit.
An original, unusual, and most importantly, a very practical present for any modern person who does not understand life without travel!
Attributes of your favorite team. It can be a scarf or a sweatshirt, a T-shirt or shorts, a hat, a ball, towels and mugs, and even phone cases are popular among fans of all ages.
Of course, it is not a fact that a man will constantly wear clothes with the symbols of his favorite team. However, avid fans have various things in their arsenal that speak of their commitment to the game, and your present will be able to replenish it.
Universal gifts for an unfamiliar man
Looking for what to give a friend of yours, then take a look at the following universal ideas that will be useful to most modern men. These solutions are practical and very affordable.
The box is a surprise. For example, with accessories for a fisherman, tourist, attendant or coffee lover. The gift is a wooden box. Inside, you put your themed gift, and nail the box in.
To open a gift, a man will have to put a little effort and time, so he will be already impressed with the gift even at the stage of opening the box.
Climatronic-heater of the car interior. It has a compact size and works from the cigarette lighter, while blowing both passengers and the windshield. It is easy to use – just plug it into the cigarette lighter socket.
Practical – when fishing, going out into nature, hunting in bad weather, the climatronic will help you quickly warm up the interior, defrost the windows and warm the seats.
Sports kit (towel, water bottle, case). A useful gift for a lover of the gym and other active sporting events. Includes water bottle and cooling towel.
After all, there is nothing better than wiping yourself with a cool towel after an active workout or on a hot day. The bottle has a carabiner that can be easily attached to a sports bag or backpack.
A solar battery is  a cool gift for a friend who is fond of hiking, fishing, hunting, or just likes to get out into nature often.
The main purpose is the ability to charge any electronic device, regardless of weather conditions and location. The panel is lightweight, waterproof, and quite affordable for a gift to a friend.
Oriental coffee set is an  original gift that will not leave anyone indifferent. The set includes several Turks, a brazier and quartz sand.
The coffee drink prepared in this way is richer and more aromatic. The brazier can be used both on an open fire and at home, on the stove. Such a present for making coffee in the sand will make the process of its preparation simple and convenient.
Hobby Gifts
If you know what your friend is interested in, but at the same time do not understand this area at all, check out the ideas below that can inspire you to buy that very missing gift!
Looking for the right gift for a man who  loves an active lifestyle associated with travel and hiking, pay attention to the following options: water filter, karemat, gas cutter, wood chip oven, compression bag, folding table, teip tape, hiking belt, silicone utensils or marching ecological soap.
For a mushroom picker  , you can purchase a simple wicker basket, a convenient multi-tool knife, a headlamp with a charging function, or a transforming panama hat with protection against insects.
If you love  fishing,  give a map of fishing exploits, an echo sounder, an electronic bait, a joke certificate, a walkie-talkie, a thermal bag, a feeder chair, binoculars, a cube winter tent, an ice ax or a wood-burning firebox.
An avid coffee lover  can be given : a measuring spoon for coffee and a clamp, a cappuccino maker, a geyser coffee maker, Scott Rao's book "Professional Barista's Manual", Chemex . 
You have recently met and are looking for what to hand  over to a male car enthusiast , then take a look at a set of floor mats, a car vacuum cleaner, a car multitool, a heated lunch box from a cigarette lighter, a compact car wash, a car refrigerator, a document cover or a starter charger.
Gifts  for an athlete:  collapsible dumbbells, a press roller, an air humidifier, tvs-headphones, a training diary, vitamin complexes, a desktop punching bag, a raclette box, a stylish bag for sports shoes, professional anatomical insoles.
But what can you give a man as a token of attention if he is  the soul of the company and just a hospitable person:  gadgets for music, a boombox, props for various fun competitions and board games, a barbecue "kebab", an instant camera, a "bouquet" of bath brooms, a set essential oils, a mold for ice shot glasses.
Useful gifts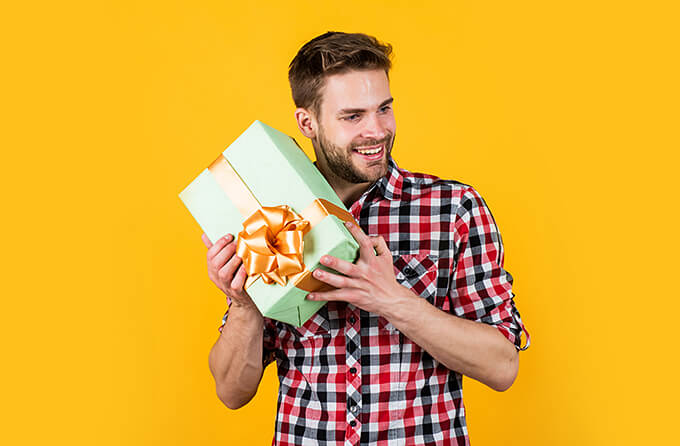 Choosing practical gift options, you should consider his lifestyle. If there are difficulties with the choice, then if possible it is better to ask the hero of the occasion directly what he would like to receive.
Also, if you wish, you can purchase a certificate for a thematic department corresponding to a friend's hobby or use one of these options:
Skeleton watches are a  real pleasure and aesthetics for watch gourmets. This watch is not easy – it is the discovery of the secret of the mechanical heart of the watch. An ornate pattern of details, a balance wheel…
Such an accessory is a mechanical watch, in which parts of the mechanism are partially or completely left open, visible through a window in the dial or back cover.
The watch has a respectable appearance, which makes it an ideal gift for a good friend.
A set of rocks  in a gift box. A prestigious gift for a worthy man – a connoisseur of good drinks. The set includes special glasses (rocks) made of black glass and stones for cooling the drink without losing its taste. This gift option is for those who are already tired of giving alcohol in a package.
The set is decorated in a wooden box and aesthetically filled with delicious Swiss chocolate, nuts and jam from ripe fruits and berries.
An electronic ashtray  that draws the smoke on its own. A gift for a stubborn smoker who cannot live without cigarettes at home, at work, or in the car.
Such a gift will free others from passive smoking, you just need to turn it on before smoking, and all the harmful smoke will be immediately absorbed by the smart invention. The main advantages of such a gift:
silent;

purifies the air;

portable;

minimizes the number of conflicts associated with cigarette smoke.
The tactical tomahawk hatchet is  a type of axe, with one difference, it has a blade that can be used for chopping. Forged black steel construction, shock-resistant tip, blade, comfortable carved handle, deliberately sharp contours – all this is an aggressive style of the product that will impress any man.
Tomahawks are made of stone or steel, it is better to choose the latter option. This ensures that it won't rust, last a long time, no matter what you do with it.
Device for rotating skewers. Thinking what to give to a good friend, then feel free to give a skewer. Such a device will allow you to cook fragrant barbecue without much difficulty, reducing cooking time by up to 35%.
And constant rotation will make the meat juicy, evenly fried, seasoning and marinade will not burn. Assembly and installation of a rotating device takes no more than a minute.
Adviсe
Below are some useful recommendations that will help you choose a gift for your boyfriend for his birthday or any other occasion.
relationship level. The choice of a gift, first of all, depends on the nature of the relationship with the person. It is better to give a work colleague or acquaintance something neutral, excluding things of a personal nature. Especially for an unfamiliar person, try to avoid specific things, and choose universal presentation options.

Reason for celebration. The holiday also leaves its mark on the choice of what to give a man he knows for his birthday. For example, on New Year's Eve or on other occasions, you can give a symbolic present, while choosing a gift for an anniversary or wedding should be approached with more responsibility.

Quality is the main thing that the hero of the occasion will pay attention to first of all. Men are practical by nature, they care about the functionality, brand and quality of the thing, and not its appearance. Today, modern stores offer a huge range of gifts with an excellent price-quality ratio.

Men are always proud and positive about what they are passionate about. Surely he himself has repeatedly shared with you what he needs for his hobby or what he wants to try. This can also include successes, achievements and virtues, and this is what can be a good help when choosing what to give a guy you know. Just find out about the man's hobbies and go shopping.
The main thing that you should always remember when choosing a gift for a friend is not exactly what you are going to give, but how you will present it, because this is a real art – to give with a WOW effect, joy and attention.
What is better not to give a friend
Thinking about what you can give a man you know, you should immediately exclude personal hygiene items, shaving accessories and underwear. Agree, a gift should bring joy and interest, and not close household holes.
Toolbox . At first glance, one of the most masculine gifts. However, if a man has a head and hands, he already has all the necessary tools, and if not, he does not need them. And in general, men are quite scrupulous about the choice of such things, therefore, if you are not 100% sure about a particular model, it's better not to risk it.
In the top of the most hated gifts for men,  clothes are not the last.  Firstly, modern men prefer to choose their own wardrobe, and secondly, such a gift can be chosen for a loved one, and not for a friend or colleague at work. Such a surprise will certainly not be pleasant, but rather cause bewilderment.
Objects and things that contradict the hobbies of a person. If your friend is a heavy smoker, then you do not need to give him anything to rid him of this habit. Just completely forget about it. This includes things that, one way or another, indicate human shortcomings (scales, exercise equipment, medicines, etc.).
Funny gifts.  Such a gift can put a person in an awkward position. Such items are not at all suitable as a gift for the New Year, wedding, etc., and are appropriate only for close friends and relatives.
Unreasonably expensive things.  Relevant if you are Abramovich. Otherwise, a scarf for 10 thousand or branded socks for 5 thousand, which are unlikely to fit a jacket for 1.5? There are, of course, inveterate fashionistas, but they are usually seen immediately, for the rest, such gifts will only cause bewilderment.
Eliminate dishes and all its components . Most men are practical by nature, so even if it has an aesthetic appearance, such a present is unlikely to be met with special enthusiasm. However, if your friend is a big connoisseur, for example, of foamy drinks, then you can give him an "ice" beer mug.
Perfumes and cosmetics  are also not the best idea, as a gift to an unfamiliar man, you are unlikely to choose the same fragrance, and besides, your friend may not use toilet water or aftershave cream at all.
Office supplies  are a useful gift, but it is not always suitable. This option is considered a corporate gift, which is usually given at the workplace. Therefore, handing over the office, even branded, is only worth it to a male colleague.
Conclusion
As a gift to an unfamiliar man for his birthday, you can present a wide variety of things, from budget ones to rather unusual and solid ones. Match the degree of your acquaintance, the occasion, the situation, and how you want to further develop your relationship and go for a gift. Believe me, it is better if you give a purely symbolic gift than overstep personal boundaries, embarrassing a person and making him feel indebted to you.