Of course, most often newlyweds are given a common gift for two, but there are situations when the bride already has a good gift, or there is another need to give a separate gift to the groom, for example, on a separate occasion ( coinciding with a birthday or other holiday ).
This is where the question arises – what to give the groom for the wedding? At such a moment, the question immediately arises: what is better to give, what should not be given, what souvenirs or original amenities would be appropriate on such a day from friends, guests, mother-in-law.
Below you will find lists of ready-made solutions and gifts.
TOP 27 ideas what to give the groom for a wedding
If you are a supporter of newfangled trends and also think that it is simply necessary to give the groom a separate present on his wedding day, then you can pick up something suitable from the following list:
Poster, which captures the joyful moments of the meetings of the groom with the donors. Such a gift may have other variations – for example, it can be a beautiful crystal with a photograph or a whole photo book ;
A useful device for the home. Many people think that to give the groom at the wedding you need something that will help create comfort in the future family nest. For example, if the spouses plan to live in a private home, this could be a fireplace , a barbecue , or an outdoor stove . City dwellers can be presented with a home theater or a powerful audio system ;
Congratulations film . In such a video, it is better to involve as many close people of the groom as possible, so that each of them leaves their wishes to the newlyweds and expresses their warmest feelings towards him;
Comic cup , which can be decorated with an original inscription like "To the conqueror of her heart" or "The most reliable shoulder";
Fire show , during which the speakers will write the names of the newlyweds or draw a heart in a fiery composition;
Candy bar . Having decided that organizing a special zone with sweets for the wedding would be an ideal option for the groom, it is better to discuss the idea in advance so as not to accidentally duplicate the idea;
Wedding trip . Obviously, only fairly wealthy guests can give the groom such a present. If you are unable to collect the full amount, but still want to organize a surprise, arrange with the parents of the newly-married spouses in advance and buy a ticket together;
Certificate for a wedding night in a luxury hotel . Such a gift will be especially relevant if the young do not have their own housing and they live in the same area with their parents;
wedding clip . The services of an experienced videographer are not always affordable for young people, and if a group of friends or relatives do it, big expenses can be avoided. In addition, a promptly edited film can become a memorable and touching end to a festive evening;
Money tree .Of course, you can present the hero of the occasion with a symbol of wealth in the form of a well-known plant – such a gift will look relevant in the hands of the main earner in the family. However, a more practical, but at the same time meaningful presentation will be a tree with leaves in the form of banknotes;
Joke certificate . Such a document may give a man the right to "operate a pram" or "occupy a seat against the wall in the matrimonial box", for example;
Holiday cake . Thinking about what you can give the groom, do not doubt that he will definitely appreciate if you take on some of the issues of organizing the celebration. For example, you can free your future husband from worries about a birthday cake and order a confectionery product with funny figurines and wedding-themed inscriptions;
Caricature . You can pre-prepare a comic portrait of the groom in order to give the bride plenty to laugh at her chosen one, even without the personal presence of a man – his photograph is enough;
Celebration artist . An alternative to the above option could be to invite a master who can quickly draw portraits or cartoons. This approach will allow not only the newlyweds to keep a memorable drawing after the wedding, but also the guests;
Theatrical production , in which you can humorously demonstrate the characteristics of the characters of the spouses or play out situations from their future family life;
Song , which tells about warm feelings for the groom and his beloved;
A certificate for dinner at an expensive restaurant, where the newly-made husband will be able to bring his wife on the day of the first wedding anniversary;
Certificate for participation in rafting, parachute jumping, hiking in the mountains, etc., if the head of the family is an adherent of extreme recreation. If the bride shares such hobbies, the certificate can be paired.
Green souvenir . Since the wedding day is sometimes called a "green wedding", it is supposed to give some kind of souvenir or gift of a green color on this day. You can give a houseplant, a green bow tie or a tie, dollars, green coffee, etc.;
Identical t-shirts with a useful or unusual romantic inscription;
A good genealogical book or a completed genetic tree of the bride;
Nice expensive perfume;
Parting letter with a speech;
Candy umbrella (under a toast about good weather in the house);
Brick painted with gold paint. (commentary to the gift "foundation stone to build a good family");
A picture with branches and paint so that all guests during congratulations can leave their "imprint" of the hand, as a keepsake;
Money in a barrel of honey with the inscription "for the honeymoon".
What to give the groom's parents
Some wedding guests, especially close relatives, consider it necessary to make surprises not only for the main heroes of the occasion, but also for the groom's parents.
If this point of view is close to you and you are puzzling over what to give the groom's parents at the wedding, you should consider the following ideas:
Bath towel set . An inscription embroidered on an individual order will help to make such a seemingly banal gift original. So, for example, the words "Best father-in-law" and "Best mother-in-law" can flaunt on products;
Portrait of parents together with their son and their newly made daughter-in-law . Again, the painting may have been painted beforehand or during the celebration. If you decide that giving the groom's mother or both parents at once such a work of art is a brilliant idea, you will be able to kill two birds with one stone: both parents will be pleased, and the bride will be pleased to become part of a common family portrait;
Comic medals . This present, although it looks very economical, can evoke touching feelings among parents who have become emotional on their wedding day with the inscriptions or engravings "Best Dad" and "Best Mom";
Theater or concert tickets for parents on both sides . The presented gift will look especially advantageous from the bride's parents, because in this way they will show their desire to get to know new relatives better;
Pedigree book . When thinking about what to give the groom's parents, give preference to symbolic gifts related to family ties and roots. Naturally, only relatives of the groom or very close people of this family can start compiling the book. The described product can become a real family heirloom, passed down from generation to generation.
What to give the groom on his wedding day from the bride
Many brides want to please their newly-made husband on their wedding day and give him a special gift. If the bride is puzzled over what to give the groom for the wedding, the following ideas may come in handy:
Thing made by hand . Most girls believe that giving the groom a product of their own making means giving him a piece of their love and warmth.
Options for such a gift can be a scarf with embroidered initials of the couple, a box with a common last name, a decorative pillow with a joint photo, a self-decorated breakfast tray, and much more.
Dance . You can use the help of friends and prepare a whole dance number for your loved one. What mood it will be – lyrical or humorous – the girl will decide, but in any case, the video accompaniment of the performance will be a great addition.
If the young wife is embarrassed to perform in front of the general public, you can prepare a dance intended only for the eyes of her lover. Do not forget that giving the groom something personal and intimate from the bride for the wedding is a win-win option.
Star . A newly-made husband will remember such a romantic gift all his life, looking at the sky every night and imagining that the star of his family is shining somewhere far away.
A chain with a pendant or a bracelet with a pendant . It seems to some that it is banal to present such a product to the groom on the Wedding Day from the bride, but many treat such things with trepidation and carefully store throughout their lives. Inside the pendant or pendant, you can hide a joint photo or order an engraving with the date of the wedding or the names of the newlyweds.
The Book of Love . Thinking about what to give the groom on their wedding day, many brides opt for this present because of its symbolism and romance. In such a publication, a girl can express warm feelings in writing and once again confess her love to her chosen one.
It would be useful to leave room in the book for future entries in order to eventually tell the full love story to your own children.
What to give the groom for a wedding from friends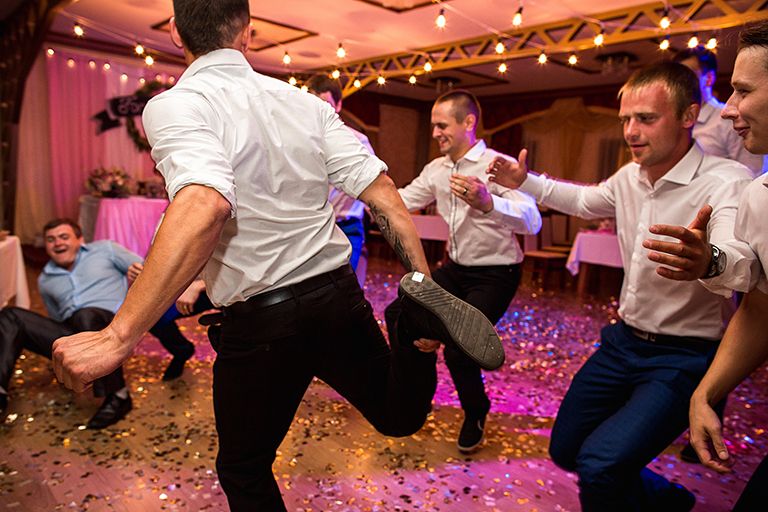 On such a day, friends take far from the last place at the wedding, since it is they who see off their well-known person from the single world to the world of the married. And no one else knows the groom better than friends.
Therefore, gifts from friends can be very different, original, funny, interesting, necessary.
A useful device for the home. Moreover, you can give something big and expensive, since there are many of you and you can gather for such a purchase by everyone. It can be a fireplace, a barbecue oven, a home theater or a powerful system;
A beautifully designed wedding gift for the groom. It can be a jar filled with money from all friends at once with a creative inscription such as "For a rainy day", "Contribution to a young family", "For black Friday", etc. There may be bills hidden in a photo frame. You can also create a money tree with banknotes, planted in a real bowl.
A barrel of wine, for a son or daughter;
Safe;
Tent;
Antiques;
Silver ingot (and leave gold for a gift for a "golden" wedding);
A suitcase inside with money and champagne (commenting, "everyone gives money in envelopes, but we decided not to trifle");
Banknotes in pillowcases. The bride and groom pretend to sleep on such pillows, and then pull out, without looking, one piece of money. Whoever has a more expensive bill – he will be the head of the house);
Bouquet of sausage, bottle of vodka and dried fish;
Bath set.
Also, friends can get together and buy one thing, big and useful.
What is better not to give the groom for the wedding
There is a stop list of gifts for the groom. It does not matter who they will be from – from the bride's parents, friends, relatives or anyone else – you should not give them. This list includes:
piercing and cutting objects (to constant quarrels between spouses);
Antiques and old paintings (the negative energy of previous owners can be transmitted);
Handkerchiefs (to tears);
Clock (symbolize the imminent parting);
Cufflinks and tie clips (according to the belief, a husband gifted with such a thing will easily turn into a henpecked man);
Mirror (will give rise to quarrels between the newlyweds);
Empty vase (to the childlessness of a married couple);
Climatic equipment in the form of fans and air conditioners (to windy relationships and a quick cooling of feelings);
Sets of candles (unfortunately in the family).
As it has already become clear, all of the above gifts are not customary to give because of superstition. Even if the gift is received from very close people who definitely wish the couple only happiness, for example, from the bride's parents, it can be perceived negatively.
In addition to things symbolizing bad omens, you should not buy gifts that will be clearly out of place at this kind of celebration.
It is believed that it is indecent to give the groom's parents to their son a personal present that has nothing to do with his new family, no matter how much they want to pamper their child.
Many consider jewelry to be the best gift. However, it is better not to choose gold, since only two people can give each other products from this metal on this day – the bride and groom.
A present to the head of the family in the form of a gold chain or bracelet will look pretentious.
Everyone knows that you often want to give the mother of the groom to your son children's things and thereby push the young to the speedy birth of grandchildren.
Such a present can be negatively perceived by the newlyweds, as it is considered an unlucky sign. In addition, the tastes of the younger generation and older people often differ – perhaps the chosen things simply will not be appreciated.
It is believed that you can give the parents of the groom at the wedding to your son something for the house in the form of interior items. However, this option is also quite risky, since you can simply not please the tastes and preferences of the newly-made family, and the thing will turn out to be unnecessary.
It is better to present the hero of the occasion with a certificate for a purchase in a furniture salon or a home goods store.
It is bad manners to hand over used items to the groom at the wedding. We are talking about various knick-knacks or old household appliances that it is time to throw away, but the hand does not rise.
CONCLUSION
A wedding is a special event in the life of every person. If you want to present a separate present to the newly-made head of the family, try not to think about the cost of the thing, but choose a gift that will demonstrate your sincere joy for him. In this case, positive emotions on the part of the groom are provided, and you will only have to enjoy the wonderful result of your labors.