To teach kids to explore the world, to be a strict mentor and a good friend, to become a second mother – to understand, comfort and love … Without good mentors, we would have grown up completely different. Gift ideas as a token of gratitude, practical advice, something about inappropriate presents – our article will help you figure out how to evoke positive emotions in the teacher and bring real joy.
There are many reasons for presenting gifts to a kindergarten teacher – professional holiday (September 27), birthday, Women's Day, New Year, graduation.
When the group in the kindergarten has just formed, and the parents are not yet familiar with the preferences of the mentor, the universal present is flowers and sweets. As you communicate, it will become easier to show originality.
What to give a kindergarten teacher, as well as a nanny, a music director and a psychologist, to really please them ? You might like our ideas.
TOP 44 gift ideas for a kindergarten teacher
Elegant umbrella (practical gift).

Magnetic board with crayons.

The original night light (creating the illusion of a starry sky, with multi-colored wax figures slowly taking on a bizarre shape). Traditional design sconce with soft light or comfortable table lamp. Cozy gifts will help you cope with daily stress and relax.

Indoor plant. Without flowers, houses seem lifeless. If the caregiver is an enthusiastic florist, give a beautiful plant to her collection. A flower can add a homey feel to your group's room. A good idea is to present it complete with the original planter.

Florarium.

Aqua farm with plants and fish.

Eco cube

Bamboo serving napkin set.

Aroma lamp and a set of essential oils. Instead of a traditional ceramic model, purchase an ultrasonic aroma diffuser that sprays healing essential vapor in the air. During the cold season, a device with the "right" oil will protect you from the flu. This gadget has several backlight modes.

Antistress toy.

Mug in knitted clothes.

A set of cute spice jars.

Silicone molds for baking.

Set of stylish glasses or coffee cups.

Cutlery set.

Transparent or porcelain teapot, coffee or tea service.

A set of quality towels or napkins, beautiful potholders for the kitchen. Or a huge bath towel in a beautiful package.

The original set for serving olives.

Vase for flowers or sweets.

Household appliances: electric kettle, iron, blender, original toaster (for example, with a smiley face), coffee grinder, juicer, hair dryer, food processor. A home gadget is a good idea if you are wondering what to give for Teacher's Day or September 1st, when the group will meet in full force after the summer holidays.

Cozy soft blanket or bath towel.

Spice grinder.

Thermo mug.

Set for making sushi and rolls, recipe book. It's a good idea what to give the teacher for her birthday if she is a fan of Japanese cuisine.

Crustybox. It is appropriate for a young teacher to present this creative set of items of a certain theme. If she loves dogs, she'll love the Mister Woof box with funny prints.

Portrait from a photo on canvas. For example, the Renaissance style is for an older teacher, and pop art is for a young girl.

Biofireplace. Warm gift for home.

Table fountain.

Stole.

Photo album with an unusual cover.

Christmas decorations: wreath, bell, star. New Year's handmade toys, a beautiful artificial Christmas tree. Winter brings holidays that everyone likes equally: both children and adults. Educators are no exception.

Painting on canvas.

Decorative panel with backlight.

Original tablecloth.

Creative alarm clock (flying up or running away).

Bedding set.

French press.

A set of sofa cushions or a funny relaxing travel pillow.

Nice handbag mirror.

Electronic book.

Wall Clock.

Compact container for storing music discs, portable music speaker. This is a good gift for a music director.

Baking pots or fondue set.

Basket with cosmetics (masks, creams, salts and bath foams).
Goodies and sweets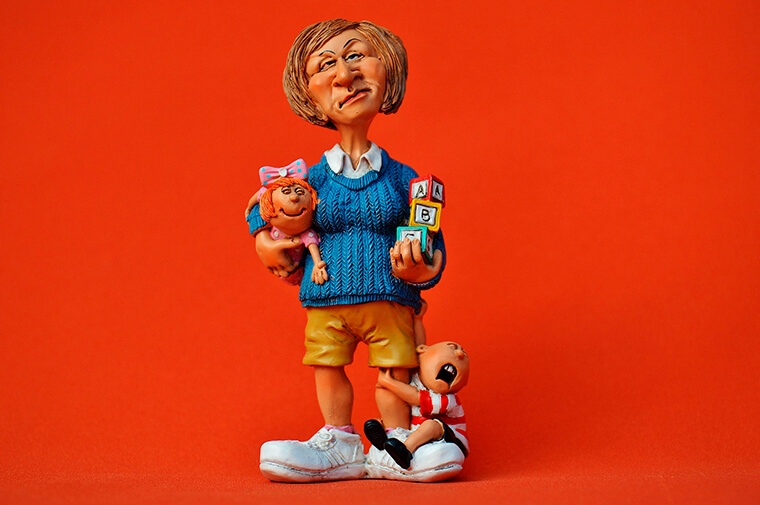 A true woman will always enjoy a delicious treat. For example, like this:
Painted gingerbread or cupcakes.

A box of Swiss chocolates "Mozart".

Fruit basket. Or an example of modern food floristry – an edible bouquet of vegetables, fruits, sweets or delicacies. This is a new fashion trend for unusual gifts. Its popularity is quite understandable:
It's unusual and cool;

A delicious composition can be eaten, and not thrown away like a withered bouquet.
An original present for March 8 is ordered from craftsmen or made independently. To create, it is enough to arm yourself with imagination and a little patience, having previously visited the nearest supermarket.
A gift set of honey or a jar of unusual honey with gold.

Gift set of tea, coffee or spices.

Personalized box with cookies and predictions.

Themed cake from a professional confectioner. You can order a dessert decorated with images of a teacher surrounded by children (photo printing on edible paper).

Box with flowers and macaroons.

Handmade Belgian chocolate figurines.
Original gift ideas for a kindergarten teacher
A flower arrangement for the holiday is a traditional gift. If you order a beautiful bouquet of the teacher's favorite flowers from a professional florist, and even out of season, there will be a lot of emotions. It looks like a fairy tale – a bouquet of lilacs on New Year's Eve.
A cute author's toy is an original and exclusive gift. A wonderful craft: sewn, knitted, felted, easy to find on the Internet.
It happens that the teacher is not ready to accept a gift personally for himself. In this case, you can make a present that is useful for the group and interesting for children.
For example, a soft carpet with cartoon characters for a playroom, a wall panel with a children's theme, a humidifier, an aquarium or new pets in a living corner.
You can help equip the playground: donate seedlings or benches for the garden, make a beautiful flower bed.
Another idea is to give a good color printer for printing methodological materials, creating a photo chronicle of the group.
DIY gifts (Handmade)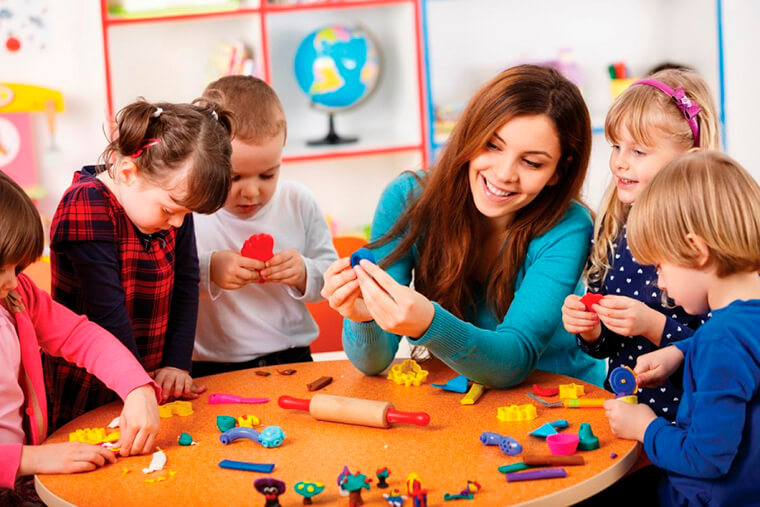 Many people have a strong stereotype that gifts "with their own hands" are made by children or those who do not have the finances for something worthwhile. This is not true. Exclusive gifts carry warmth, attention and care. A cute little thing, tastefully created by a talented person, will be an excellent sign of attention for the New Year or March 8th.
Collage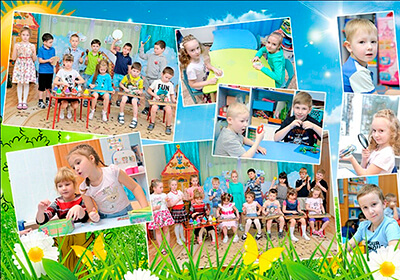 If you make a collage of photos of kids and insert it into an ordinary wooden frame, you get a valuable and memorable thing worthy of a place of honor on the wall of the playroom.
Original panel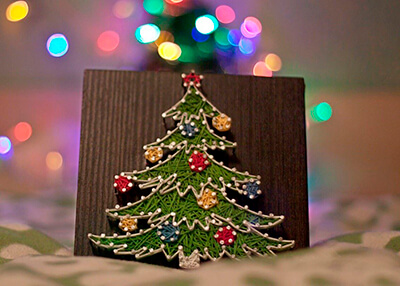 Great themed gift. You can create any figure, timing the present for Christmas, New Year or just like that, inspired by the original silhouette.
You will need :
boards or plywood;

image template;

thick threads (mulina or yarn);

thin small carnations;

masking tape.
Step by step process :
Sand the wood base. If desired, varnish or paint.

Attach a loop on the back.

Attach the desired template with tape.

Punch it along the contour with nails. Height and spacing should be the same. Remove the pattern.

Creative stage. Tie a thread to one carnation, cut off the tail. Wrap the studs randomly to create sharp corners. You need to change direction and be sure to use every carnation.

Fasten the thread, cut off the tip.

Put the panel vertically, step back 2-3 meters, admire. It's a joke)
The figurine can be additionally decorated with beads, sequins and other small elements.
What else to give?
Gift can be tied :
a warm blanket on giant knitting needles is a stylish and cozy accessory;

shawl – for walks in the garden in cool weather;

funny toy.
Or sew :
elegant tablecloth;

beautiful curtains for the group;

stylish accessories made of leather or denim – if they fit into the image of the educator.
Create :
original box;

wooden shelf or planter;

scrapbooking photo album;

unusual bouquet of miniature teddy bears.
Graduation party is a special day. The kids will sing a farewell song, play a scene about the life of the group, read touching poems.
Touching gifts from kids
Children can please their beloved mentor by making simple and cute souvenirs with the help of their parents:
paper application;

figures from salt dough or plasticine;

flowers from napkins;

eggshell mosaic;

composition of dried flowers.
On napkins with uneven stitches, in unique children's drawings, boys and girls leave their own unique mark. The first vivid impressions of the preschool period are the most valuable gifts for a person who gives a piece of his soul to the kids.
Tips: How to choose a gift for a teacher
When the teacher is affectionate and attentive to each child, I want to sincerely thank him. When choosing and presenting a gift, remember the important subtleties.
A teacher at any age is, first of all, a woman who is not indifferent to things that can touch a woman's heart.
Find out what your child's mentor is into. It is not forbidden to ask directly.
If she loves art, tickets to the theater or to an exhibition, an art album with illustrations of classics of painting or photos of historical sights will be a good present.
Knowing your hobbies, it's easy to pick the perfect pinpoint gift. Educators breed fluffy cacti or fist-sized strawberries, become pros in e-sports, or love the kanzashi technique. Buy something for your favorite activity or a certificate for a master class – your gift will be received with special appreciation. This is a great idea to give the teacher a birthday present from yourself.
Order a calendar with a joint photo of the group and the teacher. It will be original and pleasant.
Take an interest in the problems of the kindergarten. Your help can be the best gift.
If choosing gifts for multiple caregivers, give preference to gifts of equal value. And do not forget about assistants – after all, their help is invaluable. It is the nannies who wipe the babies' noses and butts, weave pigtails and put on tights. It will be fair if the nanny gets a worthy gift.
The gift doesn't have to be practical. A good gift pleases, creates an atmosphere of celebration, warmth and comfort. Choose a thing that will bring tactile joy, set you in a positive mood: a decorative pillow, a fluffy blanket, a beautiful houseplant.
At graduation, it is appropriate to present a more expensive gift – for example, a coffee machine. Complement this useful but prosaic gift with a sentimental "Diary of Memory".
Let each family fill the pages with drawings, photos, words of gratitude and good wishes. The surprise will be remembered for years to come.
What is better not to give a kindergarten teacher
Many parents are sure that it is easier to give the teacher money: there is no need to rack your brains and look for a good gift. But not everyone will be happy with such a present – cash incentives for staff may be prohibited by the contract. You will put the teacher in an awkward position.
Expensive gifts are appropriate to present for an anniversary or graduation party.

You should not give the teacher personal items that are selected to your taste: cosmetics, perfume, clothes.

You can't serve alcohol. Giving a bottle of wine to a caregiver is unethical.

Jewelry is also not the best gift: jewelry may not be liked, and gold and precious stones are too expensive and not always appropriate.

Do not give the teacher books on self-development from the category "how to learn to love children", "how to become better", "how to be kinder". This may be taken as a hint of character flaws or lack of professionalism. An insulting gift could be a publication in the spirit of "how to become beautiful" or "Effective diets."
Conclusion
The work of a kindergarten teacher is a responsible and difficult one. Choose a present with a sense of respect and gratitude, approach the process creatively – your sign of attention will bring the most pleasant emotions.
To give or not to give – everyone decides for himself. Give with soul, not just for show . And remember – the attitude of the educator to your child is not determined by gifts at all.